I've been immersed in John Hodgman content these days. His podcast is one of my absolute favorite listens and I just finished his newest book, Medallion Status. Throughout all this content, he occasionally mentions how during the summer he goes to Maine and makes breakfast sandwiches for a small store there.
As a breakfast sandwich lover (evidence), I quickly got obsessed with recreating the Hodgman breakfast sandwich. There were a few problems with this:
I have never had a Hodgman breakfast sandwich.
I don't live in Maine.
It's not summer.
So, I scoured the Internet searching for every reference he has made to his breakfast sandwiches and eventually cobbled together a recipe that I thought was authentic. Let's see how I did!
Checking with The Source
Luckily we live in an age where you can just send any celebrity any message and there is a non-zero chance that they will see it and a smaller, but still non-zero chance that they will respond!
I wrote up what I thought was the basics of the sandwich and sent it along to Mr. Hodgman as an Instagram message.
He replied!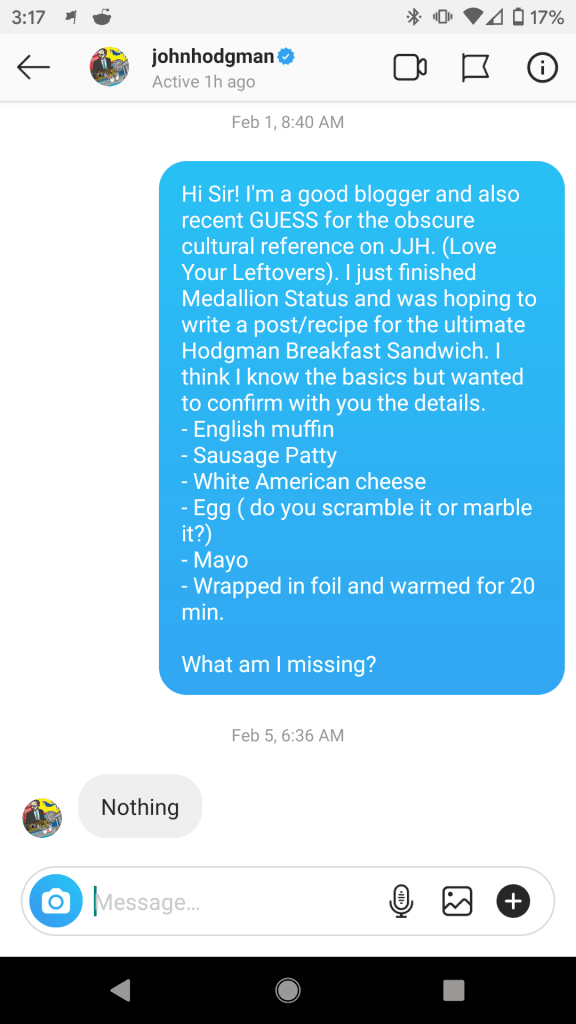 Based on his response, it was pretty clear that I had spent way too much time pondering a simple breakfast sandwich.
Oh well, onward and upward!
Making a Hodgman Breakfast Sandwich
I'm generally more of a bacon guy for breakfast, but I agree that sausage is better on a breakfast sandwich. It's a personal preference at the end of the day, but on this day the person is John Hodgman and he is a sausage guy.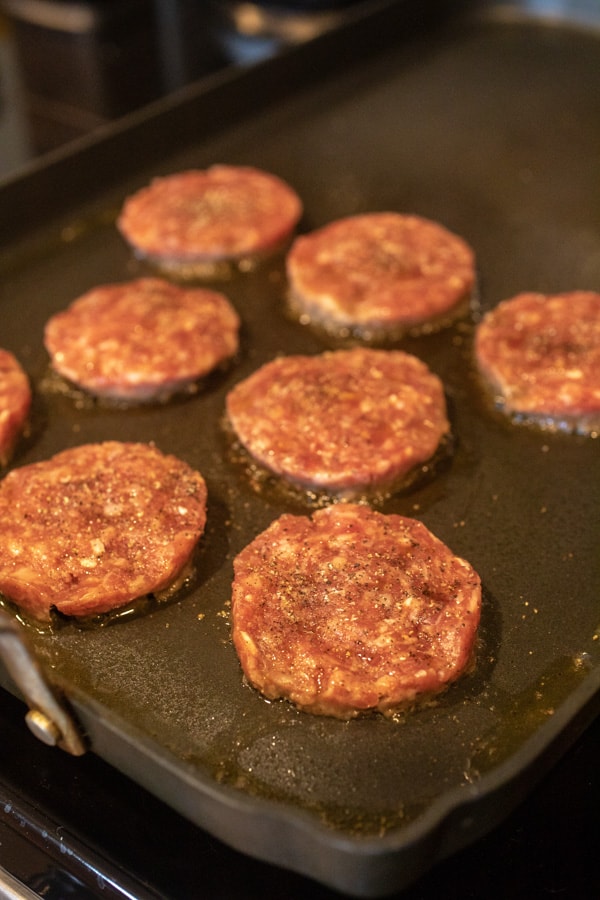 I like about a 1 1/2 ounce sausage patty for each sandwich.
Meanwhile, toast some English muffins!
Now for the possibly controversial ingredient: Mayonnaise! Yes. Mayonnaise on a breakfast sandwich.
This isn't something I've tried before but it is very delicious. I made mine in the shape of a J, but you could choose any letter. H would also be acceptable.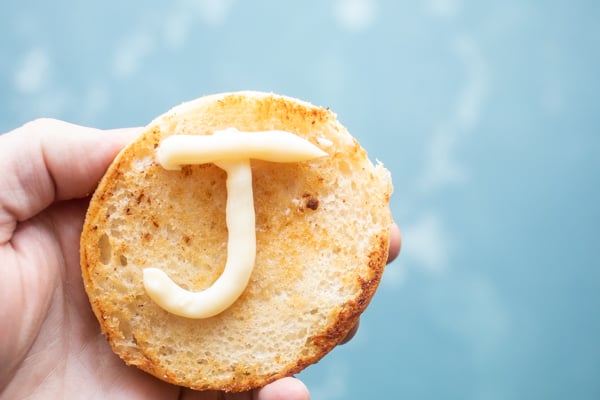 Making the egg for the sandwich is important. I like to make a marbled egg which is easy to do and you don't have to mess up a bowl scrambling the egg.
Just crack it in the skillet and once it starts to cook, you break up the yolk and stir it a bit. Ultimately, you want to fold the egg into the shape of the muffin so it fits nicely.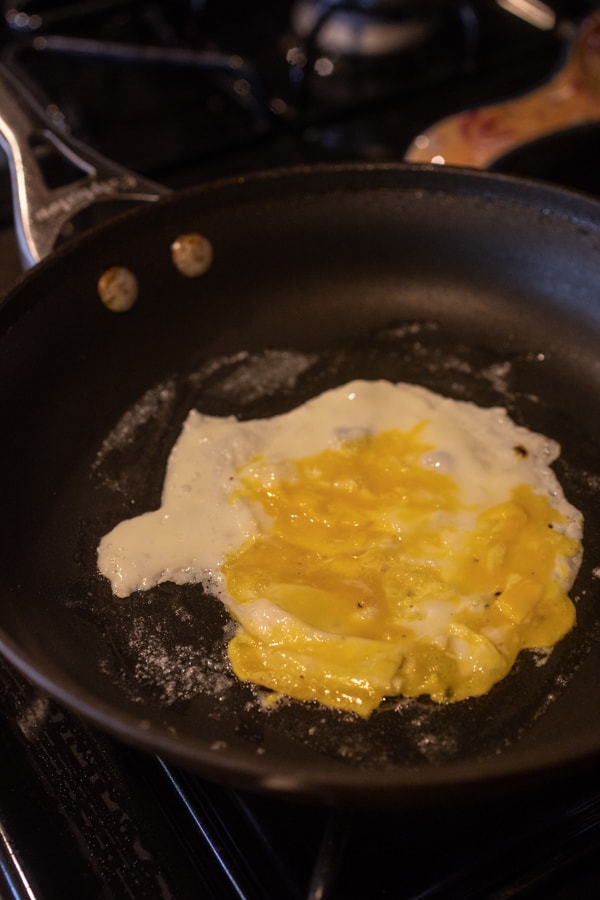 Eggs cook fast, of course, and then you can assemble! Muffin – sausage – egg – cheese (must be white american) – then mayo and muffin.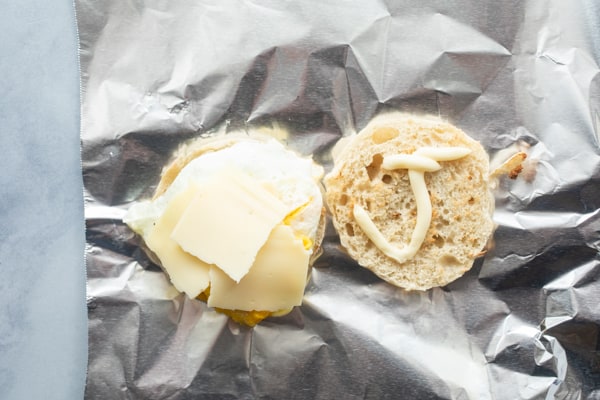 I think the most important step in this breakfast sandwich is to wrap it in foil and let it steam in a low oven for 15-20 minutes. This makes sure the cheese is super melty and also gives a chance for all the ingredients to meld. So good!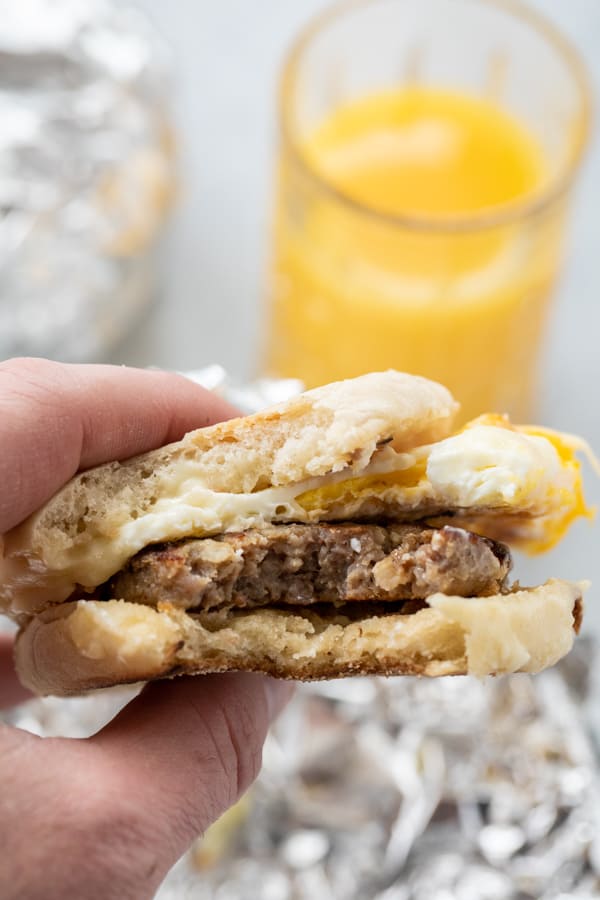 Even though Hodgman prefers American (and I do as well) I made a cheddar version just for comparison. Also delicious!
Turns out breakfast sandwiches are just delicious but I do like his method and mayo is kind of life changing in a breakfast sandwich.
If you were feeding a crowd, you could keep these warm in the oven for a long time and then they would be ready to go!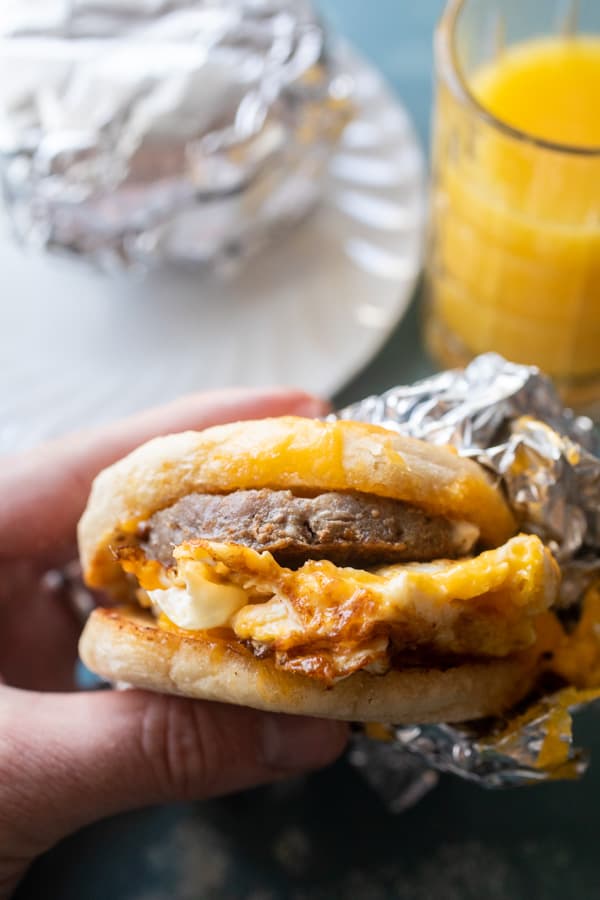 Cheers to funny comedians and very delicious breakfasts!
Hodgman Breakfast Sandwich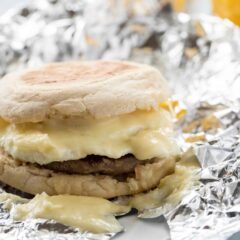 The complete method and recipe for making the John Hodgman breakfast sandwich. It's a good one!
Ingredients
6

English muffins

,

toasted

6

tablespoons

mayonnaise

6

1 1/2 ounce sausage patties

6

large eggs

6

slices

white American cheese

Butter

,

for cooking

Salt

,

for seasoning
Instructions
Preheat oven to 250˚ F. In a large skillet or griddle add sausage patties and cook until they are cooked through – maybe 3-4 minutes per side. Meanwhile, toast muffins.

After sausages are cooked, remove them and add a small amount of butter to the skillet over medium heat. Crack in as many eggs as can fit. You'll probably have to work in batches. Let eggs cook until the whites set, maybe two minutes. Then break yolks and slightly scramble each egg making a marbled egg. Fold eggs into a rough shape of your muffins. Season eggs with salt.

Add mayo to muffin (in the shape of a J obviously). Top with a cooked sausage patty, marbled egg, and one slice of white American cheese. Top with the muffin and wrap sandwiches in foil.

Place sandwiches in the oven and let warm for 15-20 minutes or until needed. You could keep them in the warm oven for a few hours if needed.

Serve sandwiches piping hot out of the oven!
Nutrition
Serving:
1
sandwich
|
Calories:
499
kcal
|
Carbohydrates:
27
g
|
Protein:
20
g
|
Fat:
34
g
|
Saturated Fat:
11
g
|
Polyunsaturated Fat:
9
g
|
Monounsaturated Fat:
11
g
|
Trans Fat:
0.4
g
|
Cholesterol:
221
mg
|
Sodium:
1037
mg
|
Potassium:
271
mg
|
Fiber:
2
g
|
Sugar:
1
g
|
Vitamin A:
477
IU
|
Vitamin C:
0.4
mg
|
Calcium:
279
mg
|
Iron:
2
mg
Did you make this recipe?
Here are some other great breakfast sandwiches!