I realize that, as a nation of Americans, we just finished up a long weekend of possibly over-eating. So, some might think that it's inappropriate for me to be posting such a thing as these Baked Buffalo Chicken Subs right away, but I had no choice.
No choice I tell you!
For one, we are almost to December somehow and I'm sure my posting schedule will devolve into cookies, sprinkles, and gingerbread (okay, probably not). But, it's also heavy duty sports season and these are a thing you will need!
I get it. You probably don't need or want them like… NOW, but you just might want them this weekend or in two weeks or in four. It's my job as a food blogger to plan for your stomach's future you see.
So, maybe don't put them on your meal plan this week but do put them in your back pocket for later.
Baked Buffalo Chicken Subs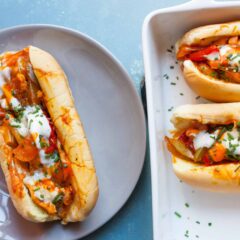 These have some of my favorite flavors and are easy to toss together either for dinner or for a hearty game day appetizer. Spicy and cheesy!
Ingredients
1

pound

chicken

,

sliced thin

1

pepper

,

sliced

½

onion

,

sliced

2

tablespoons

olive oil

Salt and pepper

⅓

cup

buffalo sauce

4

slices

provolone cheese

4

sub rolls

½

cup

blue cheese crumbled

Ranch dressing

,

garnish

Chives

,

garnish
Instructions
Preheat oven to 375 degrees F. Slice chicken into thin slices along with peppers and onions. You can use one whole pepper or a half of two different colored peppers for some variety.

In a large skillet add a drizzle of oil over medium heat. Add chicken and season with salt and pepper. Cook until chicken is cooked nearly cooked through, 6-7 minutes.

Add peppers and onions to skillet and continue to cook until they are soft, another 3-4 minutes. Chicken should be cooked through completely at this point. Stir in buffalo sauce and remove from heat.

Add provolone slices to subs in a baking dish. Spoon in the buffalo chicken filling and top with blue cheese.

Bake the subs at 375 degrees F. for 10-12 minutes until toasted and bubbling hot.

Garnish subs with a drizzle of ranch dressing and fresh chives. Serve while warm.
Nutrition
Serving:
1
Sub
|
Calories:
1388
kcal
|
Carbohydrates:
35
g
|
Protein:
14
g
|
Fat:
132
g
|
Saturated Fat:
41
g
|
Polyunsaturated Fat:
25
g
|
Monounsaturated Fat:
59
g
|
Cholesterol:
122
mg
|
Sodium:
1239
mg
|
Potassium:
93
mg
|
Fiber:
1
g
|
Sugar:
5
g
|
Vitamin A:
298
IU
|
Vitamin C:
1
mg
|
Calcium:
243
mg
|
Iron:
11
mg
Did you make this recipe?
Baked Buffalo Chicken Subs
This recipe starts with the basics: chicken (sliced thin), olive oil, salt and pepper. Get it going in a skillet!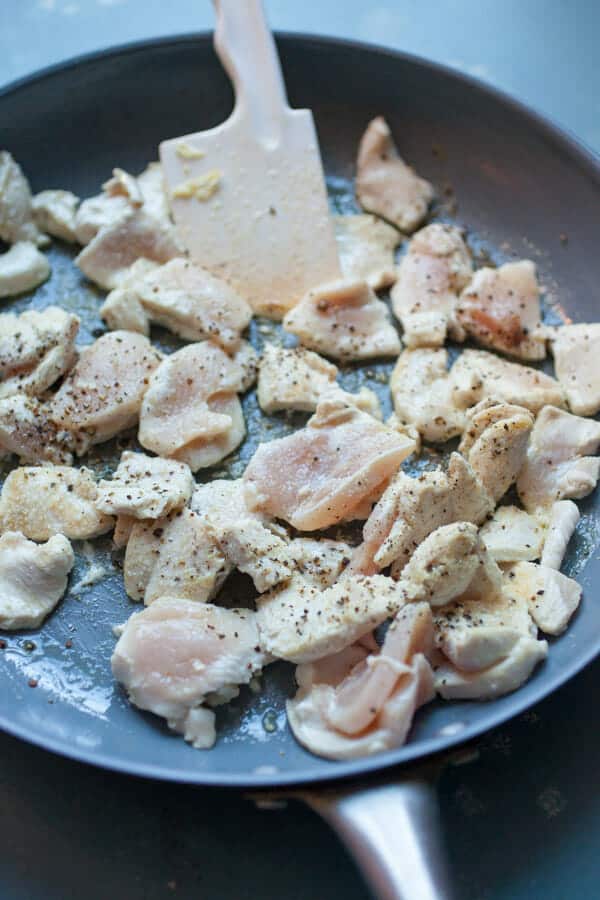 Once the chicken is mostly cooked through, add the sliced peppers and onions. I like to add these because it reminds me of a good cheesesteak.
Keep cooking until the veggies soften a bit and the chicken is completely cooked through.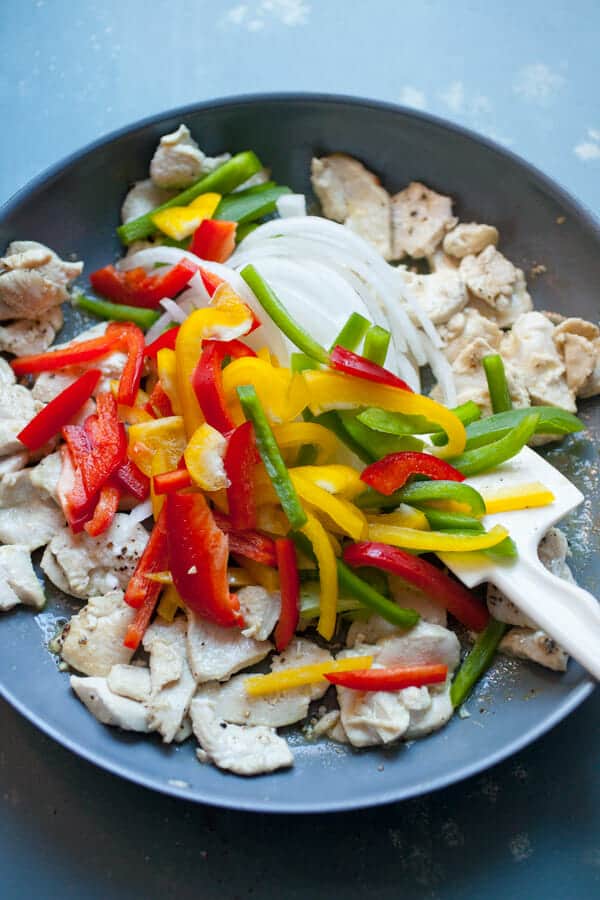 Finally, stir in the buffalo sauce! You aren't making a dip here, people. You just want enough to coat the chicken and peppers. You can always add an extra drizzle to your sub later if you want.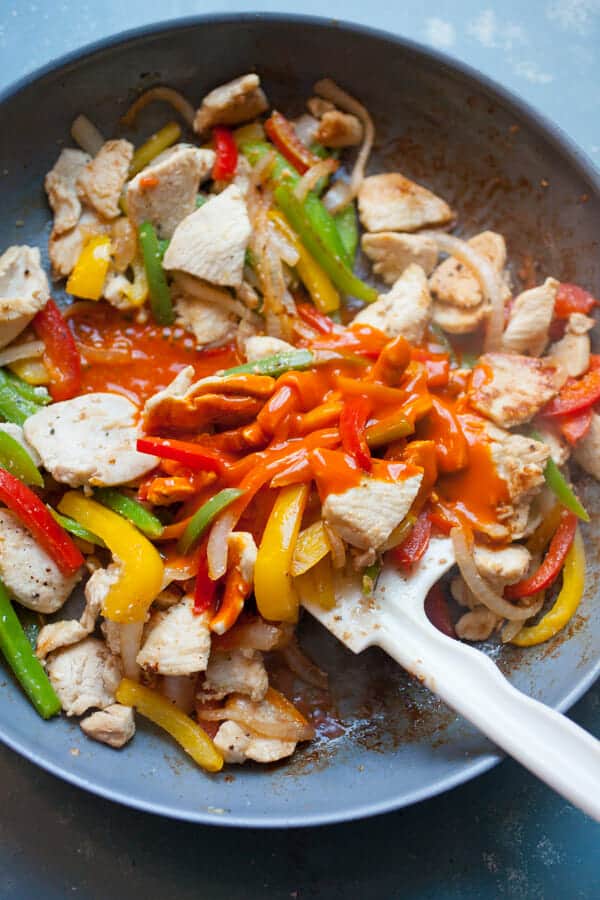 At this point the filling for the subs is ready. You can either bake the subs right away or just keep the filling warm and bake them later if you want. Your call!
When you're ready to bake them, line your rolls with provolone before adding in the chicken filling. This will make them very cheese, but also protect your bun from getting soggy!
I like to top with some crumbled blue cheese as well.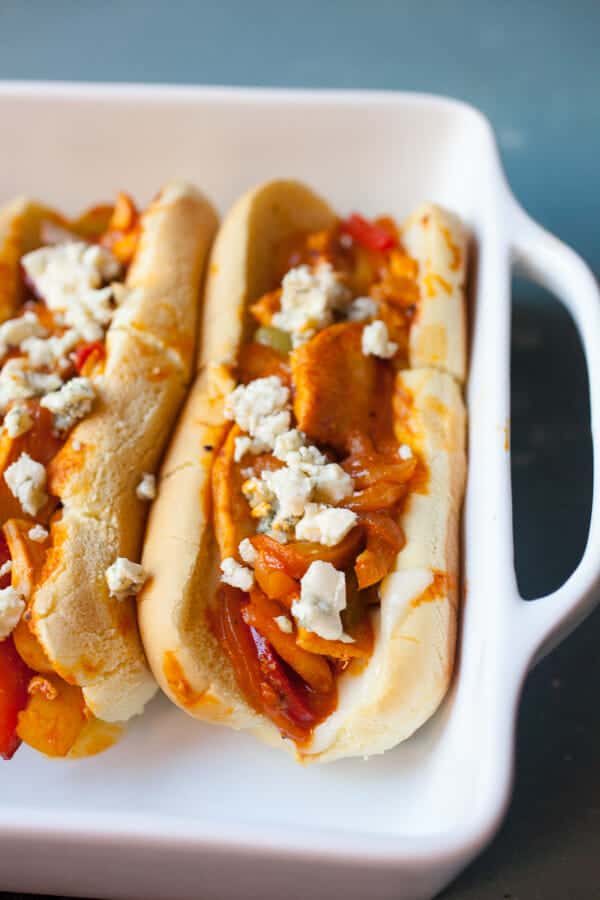 Bake these beauties for 10 minutes or so until the buns are toasted and the cheese is bubbling hot.
Before serving, drizzle on some ranch, extra buffalo sauce, and fresh chives. Hard to beat!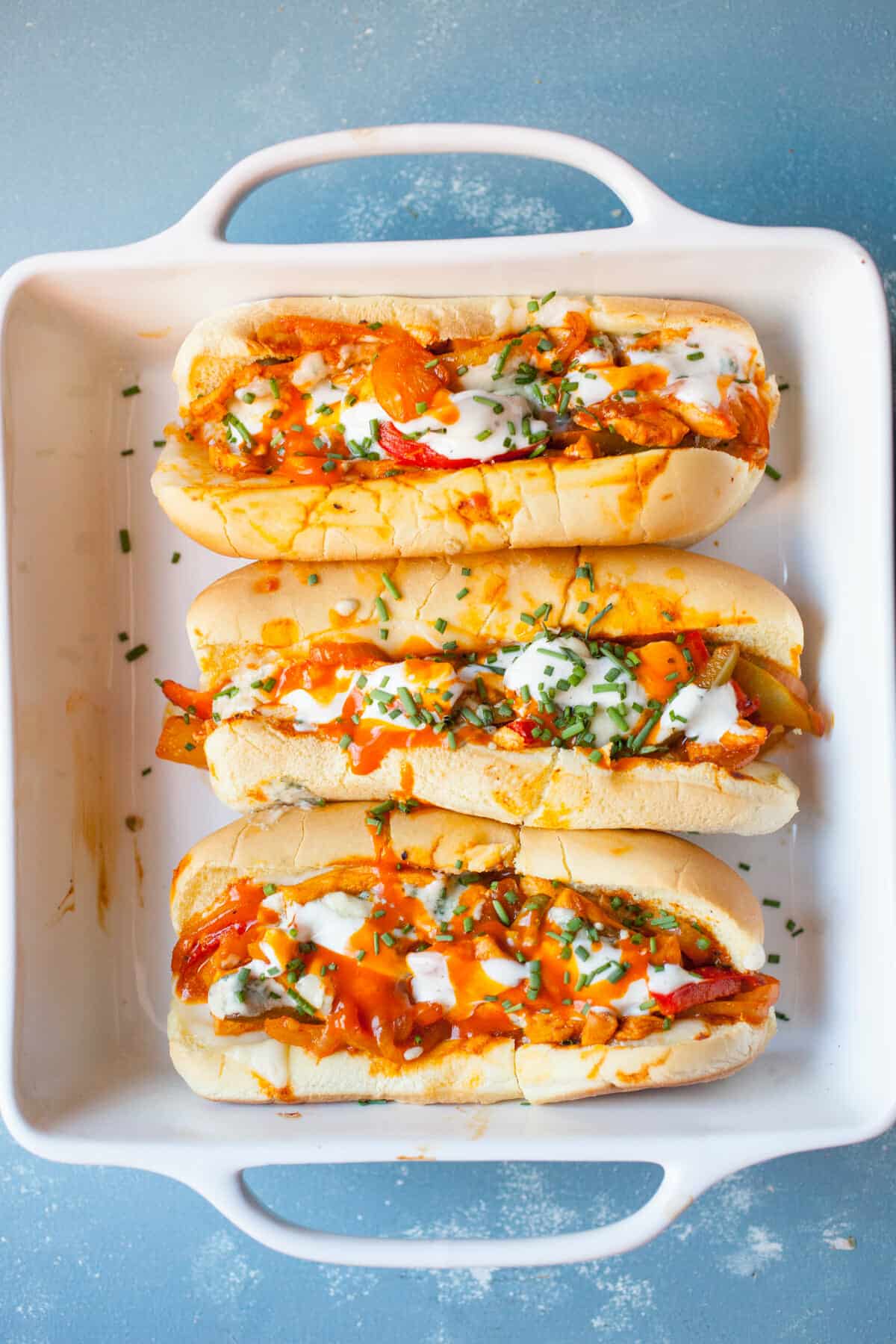 Raise your hand if you are already hungry again even though you just ate so much food this weekend! ME!