During the day, when I'm at home by myself, I drop the thermostat way down in our house to save energy (and dollars). I don't mind the cold and just bundle up in sweatshirts and hoodies while I work. I originally came up with these Soba Noodle Bowls with Mushroom Broth because I wanted something to be simmering on the stove on chilly days!
These noodle bowls have a few ingredients you might be unfamiliar with but I'll give you some good substitutions and most of them are optional. The broth can be simmered together quickly for an hour or so or cooked longer in a slow cooker while you are out. Either way, it's savory and chill-crushing.
And don't forget that soft-boiled egg. It's easier than you think!
Making Mushroom Stock
I have a crazy assortment of dried things in my pantry. I sort of collect them. When I'm dying for some good broth, I raid my dried area and toss in anything that looks good.
On this day that broth included a whole bunch of dried Porcini mushrooms, some Kombu strips, a handful of dried black fungus, and some red chiles.
This is kind of a pish-posh of ingredients and I don't really expect you to have them all or use them all.
I would say the most important ingredients, in order, are:
1) Dried mushrooms
2) Dried chiles
3) Kombu
4) Dried black fungus
Believe it or not, the last two ingredients are getting more common and you can find them in some grocery stores and definitely any Asian market.
Definitely don't leave out the mushrooms, chiles, garlic, or ginger. That's the good stuff.
If you are cooking this quickly, bring a pot to a simmer and gently simmer the ingredients, covered, in about 10 cups of water. Simmer this stuff for at least an hour to infuse the flavors.
Alternatively, you can absolutely toss everything in a slow cooker and set it to low. Let that work for 4-6 hours and you'll be in excellent shape.
The only important thing to note on this broth is that it's completely savory, but has no real seasonings at this point. It you serve it as is, it'll be disappointing.
Be sure to season the broth, either in the pot or by the bowl with dashes of soy sauce, rice wine vinegar, and sesame oil to really bring it to life. Taste as you go. There's no exact amount of seasoning that you need.
When the broth has simmered, strain out the solids and then return it to the pan to let reduce on a simmer while you prepare the other ingredients for these soba noodle bowls.
Soba Noodles and Substitutions
I love soba noodles for these bowls. If you haven't used soba noodles before, they are a thin noodle make of buckwheat flour. I really like them in noodle bowls and noodle salads. You can see my full walkthrough on cooking soba perfectly if you want more info.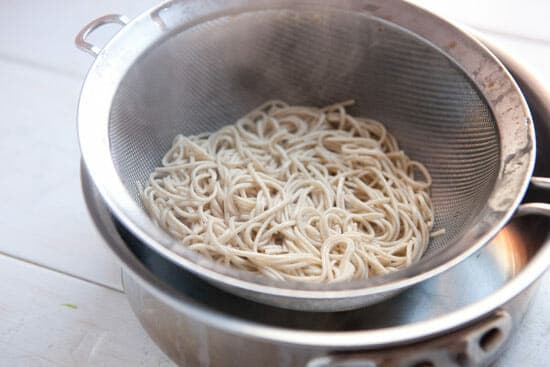 The real danger of soba is over-cooking them so make sure you keep an eye on the noodles.
Are soba noodles gluten-free? It depends. Some brands are, but I would check with the packaging of each brand to make sure.
If you can't be bothered, you can substitute other noodles like udon noodles or even rice noodles.
After you drain the soba, toss in some sesame oil to keep the noodles from sticking.
Other Soba Noodle Bowl Ingredients
These bowls are all about the add-ins and you can use a ton of different veggies.
I recommend sauteing some fresh mushrooms for the bowls. Cremini would be the easiest but I also like to toss in some oyster mushrooms. You don't need a bunch because the broth has a lot of flavor, but it does give the bowl a meaty feel if that makes sense.
I just sauteed my mushrooms in a drizzle of olive oil for a few minutes until they reduced and browned slightly.
The other very important topping for these soba noodle bowls is the soft-boiled egg!
I've written about soft-boiled eggs before and I encourage you to check that post out to see how to really make them without much trouble. I've had great success with that method.
You could also just fry the egg quickly though if that's more your style. Either way, but get an egg in there somehow.
More toppings? Scallions. Carrots. Sesame oil. Sesame seeds. Soy sauce. You got this.
Other options like slivered red cabbage or other fresh herbs like cilantro, chives, or even minced Thai chilies would go well on these soba noodle bowls.
Keep your house cool and your meals warm!
If you have questions on the broth or want other substitutions, leave a comment!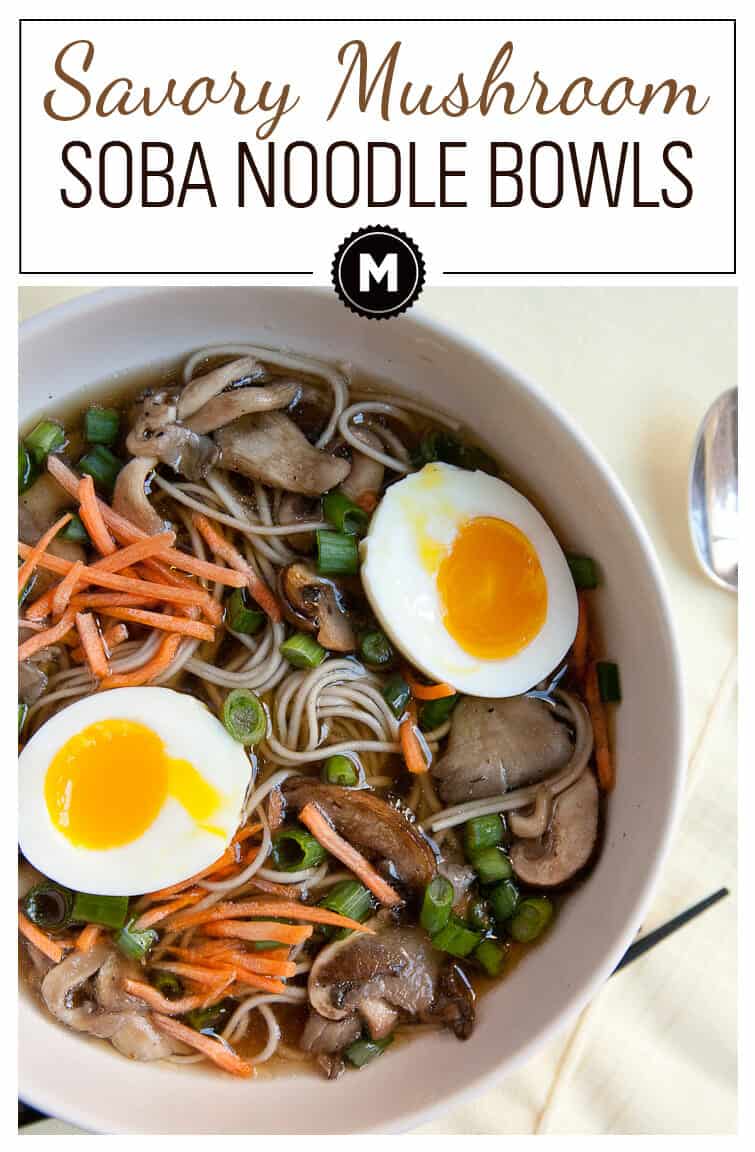 Mushroom Soba Noodle Bowls
Soba Noodles with Mushrooms, savory bowls that start with an easy homemade mushroom stock. Topped with loads of fantastic toppings.
Ingredients
Mushroom Stock:
10

cups

water

¾

oz.

dried Porcini mushrooms

2

large pieces Kombu

5

pieces

dried black fungus

,

opt.

4

dried red chiles

3

cloves

garlic sliced

2

inches

fresh ginger

,

sliced
Other Ingredients:
9

ounces

soba noodles

,

cooked

10

ounces

cremini mushrooms

,

sauteed

2

tablespoons

olive oil

2

tablespoons

sesame oil

Shredded carrots

Soft-boiled eggs

Soy sauce

,

to taste

Rice wine vinegar

,

to taste

Scallions

,

garnish
Instructions
In a large pot, add stock ingredients and bring to a slight simmer. Cover and let the stock simmer for about an hour. Strain out solids and return liquid to a simmer, uncovered, to let it reduce slightly.

In a medium skillet add a drizzle of olive oil over medium heat. Then add sliced mushrooms and cook until mushrooms lose their liquid and brown slightly. Keep warm.

Cook soba according to package in simmering water. Be careful not to overcook. When done, drain soba and toss with one tablespoon of sesame oil.

To make a bowl, divide noodles into bowl and ladle in hot mushroom broth to barely cover noodles. Season broth and noodles with a dash of soy sauce and rice wine vinegar. Top with sauteed mushrooms, grated carrots, sliced scallions, and soft boiled eggs. Drizzle bowl with more sesame oil.

For eggs:

Bring about 1/2 inch of water to a boil over medium high heat in a pot big enough to hold your eggs in one layer.

When water is boiling, add eggs straight from the fridge.

Cover pot and let cook for 6 1/2 minutes exactly.

Uncover pot and run cold water over eggs for 30 seconds.

Peel eggs starting with the larger end of the egg and slowly working up the egg. Cut eggs in half and serve in bowl.
Nutrition
Serving:
1
bowl
|
Calories:
373
kcal
|
Carbohydrates:
55
g
|
Protein:
12
g
|
Fat:
15
g
|
Saturated Fat:
2
g
|
Polyunsaturated Fat:
4
g
|
Monounsaturated Fat:
8
g
|
Sodium:
520
mg
|
Potassium:
576
mg
|
Fiber:
1
g
|
Sugar:
1
g
|
Vitamin A:
1
IU
|
Vitamin C:
0.4
mg
|
Calcium:
121
mg
|
Iron:
2
mg
Did you make this recipe?
Here are a few other great recipes to try!