Potatoes should be one of two ways: Creamy smooth or crispy and craggily! You might be able to guess based on the photos but these Parmesan Smashed Potatoes fall solidly in the crispy category.
Whether you serve these as a side dish or even as a hearty appetizer, these upgraded smashed potatoes are always a hit and will go fast. My kids were skeptical of them because they haven't quite learned the lesson that sometimes the ugliest food is the most delicious. Once they tried them though, they were 100% in.
While these smashed potatoes take some time to make, it's mostly unattended and there isn't a lot of ingredients.
What kind of potatoes to use?
In theory, you could use any potato to make. If you use larger potatoes you'll have to chop them into big chunks before you smash them.
For me though, I always just buy some of these small new potatoes. These are quick to boil and the perfect size for smashing!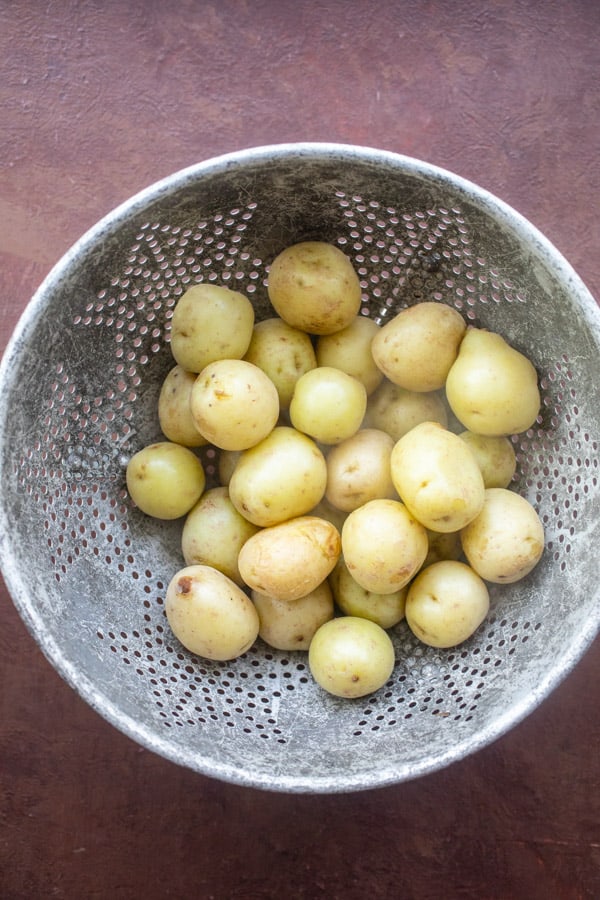 How to Make Smashed Potatoes
First you need to boil the potatoes until they are tender. For the little new potatoes, this should take around 15 minutes in salted boiling water.
Before you smash, let the potatoes cool slightly and make sure they are really dry. This should happen naturally as the potatoes cool.
You could use a fancy kitchen mallet for smashing, but I just use a glass. Easy!
Once you smash those potatoes, add them to a baking sheet lined with parchment paper. This will dramatically help with clean up! Drizzle the potatoes well with olive oil and season with a mix of salt, pepper, Italian seasoning, and garlic powder.
After you smash your potatoes, some of the potatoes may fall apart a bit. That's okay! Just toss them on the sheet!
Baking the Parmesan Smashed Potatoes
Bake these for about 10-12 minutes at 400˚ F. That will get them started. If you add the parmesan too early, it's possible it can burn.
After the first baking time though, remove the potatoes and give them a flip on the sheet pan. Now add the Parmesan!
Return the Parmesan Smashed Potatoes to the oven and bake for a second time. They will need at least 10 but maybe 15 minutes in the oven to get some beautiful crispy edges.
These are looking pretty perfect!
What to serve with Smashed Potatoes?
These are a dreamy side dish. They are hands-off to make and people will love them.
You could serve these with loads of things:
Any hearty roasted protein (roasts, etc.)
Rotisserie chicken
Burgers or wraps
Caesar or Greek salads
These Parmesan Smashed Potatoes quickly rose through the ranks of my side dish list and I will be making them on the regular now. Look at those crispy edges!
Parmesan Smashed Potatoes
This is my favorite way to jazz up roasted potatoes. Smash the potatoes and coat them with parmesan cheese! The cheese forms a crispy crust on the potatoes. So delicious and easy!
Ingredients
1 ½

pounds

new potatoes

1

teaspoon

kosher salt

1

teaspoon

Italian seasoning

½

teaspoon

garlic powder

½

teaspoon

black pepper

½

cup

grated parmesan cheese

2

tablespoons

olive oil
Instructions
Preheat oven to 400˚F. Bring a large pot of salted water to a boil and boil new potatoes for 15 minutes until they are fork tender.

Drain potatoes and let them cool slightly. Then use a cup to smash each potato. Add smashed potatoes to a baking sheet drizzled with olive oil.

In a small bowl mix together salt, pepper, Italian seasoning, and garlic powder. Sprinkle smashed potatoes liberally with the seasoning mix.

Bake potatoes at 400˚F for 10 minutes.

Remove potatoes from the oven and flip them. Sprinkle the potatoes liberally with parmesan cheese.

Return smashed potatoes to the oven and bake a second time for 15-18 minutes until the potatoes are crispy around the edges.

Serve potatoes as a side dish with any grilled or roasted protein.
Nutrition
Serving:
1
bowl
|
Calories:
166
kcal
|
Carbohydrates:
21
g
|
Protein:
5
g
|
Fat:
7
g
|
Saturated Fat:
2
g
|
Polyunsaturated Fat:
1
g
|
Monounsaturated Fat:
4
g
|
Cholesterol:
7
mg
|
Sodium:
541
mg
|
Potassium:
502
mg
|
Fiber:
3
g
|
Sugar:
1
g
|
Vitamin A:
81
IU
|
Vitamin C:
22
mg
|
Calcium:
94
mg
|
Iron:
1
mg
Did you make this recipe?
Here are a few other great potato recipes!