One of the first food trucks I ever had the pleasure of enjoying was a little cart in Austin, Texas. I can't for the life of me remember the name of it (possibly due to beer), but I know that they served very good Korean tacos. As soon as I was able, I rushed home and whipped up these Slow Cooker Korean Beef Tacos in tribute!
The good news is that the filling for these Korean beef tacos is super easy to make thanks to the good old kitchen tool the slow cooker. While the ingredient list looks long, it's worth finding all the stuff.
Once you have the ingredients, the recipe couldn't be easier and definitely ends up being a really authentic and delicious meal.
The spicy, sweet, savory flavors of this beef filling were meant to be shoved in a taco.
Slow Cooker Korean BBQ Tacos
Made with tender beef that's been simmered all day and served with a crunchy slaw and spicy Korean Chili sauce.
Ingredients
3

pounds

beef chuck roast

,

cubed and browned

½

white onion

,

diced

3

inches

fresh ginger

,

minced

6

cloves

garlic

,

minced

2

tablespoons

vegetable oil

½

cup

gochujang

½

cup

hoisin sauce

¼

cup

brown sugar

¼

cup

rice wine vinegar

2

tablespoons

sesame oil

2

tablespoons

soy sauce

1

tablespoon

fish sauce

1

cup

water

Salt and pepper
Quick Carrot Slaw:
2

large carrots

,

shredded

½

small green cabbage

,

shredded

2

red chilis

,

minced

¼

cup

rice wine vinegar

1

teaspoon

kosher salt

1

teaspoon

sugar
Taco Fixings:
Flour tortillas

Fresh cilantro

Sesame seeds
Instructions
Cube roast into large 2-inch chunks. Try to cut off any larger pieces of fat. Season beef well with salt and pepper.

In a large skillet, add a good drizzle of oil over medium-high heat. Add chuck roast cubes and sear well on all sides until browned. Transfer browned beef pieces immediately to a slow cooker.

When all beef is browned, add onions, ginger, and garlic to the skillet along with some water to scrape up any bits stuck to the pan. Cook for a minute and then transfer liquid and veggies to the slow cooker.

Add all other beef ingredients to the slow cooker along with one cup of water. Stir together, cover, and let cook for 6 hours on low.

For slaw, grate carrots and shred cabbage. Remove seeds from chiles and mince finely. Stir together with a big pinch of kosher salt, sugar, and rice wine vinegar. Store in the fridge until needed.

When beef is done, remove and shred. Pour out liquid from slow cooker, but save it. Add beef back to the slow cooker along with enough liquid to make it moist, but not super-wet. Keep warm until serving.

To make a taco, heat a flour tortilla in a skillet or in the oven. Top with shredded beef, cabbage slaw, fresh cilantro, and sesame seeds.
Nutrition
Serving:
1
Taco
|
Calories:
654
kcal
|
Carbohydrates:
37
g
|
Protein:
47
g
|
Fat:
36
g
|
Saturated Fat:
13
g
|
Polyunsaturated Fat:
7
g
|
Monounsaturated Fat:
16
g
|
Trans Fat:
2
g
|
Cholesterol:
157
mg
|
Sodium:
1551
mg
|
Potassium:
1180
mg
|
Fiber:
4
g
|
Sugar:
23
g
|
Vitamin A:
3691
IU
|
Vitamin C:
56
mg
|
Calcium:
115
mg
|
Iron:
6
mg
Did you make this recipe?
How to Make Korean Beef Tacos
There's a little bit of work on the front end of this recipe, but after you do this part, it's smooth sailing and a really easy meal.
You could use a wide range of beef for this dish, but there's no need to get an expensive cut. I recommend using a roast of some sort. You want something in the three pound range and try to find a roast without a ton of fat on it.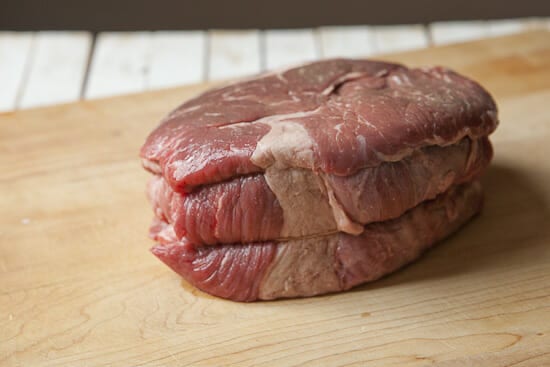 To be honest, I think you could just cube up this roast and toss it in a slow cooker with all the other ingredients and be in fine shape for your Korean tacos.
If you have the time though, it's always a good idea to brown meat before adding it to a slow cooker. It'll make the end flavors a bit more complex. If you have the time, just cube up the roast and season the pieces with salt and pepper.
Then add them to a large skillet with a good drizzle of oil over medium-high heat and sear them on all sides until they have some color.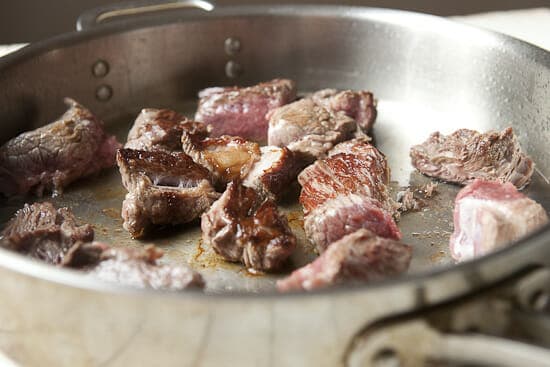 When the beef is browned, you can transfer it to the slow cooker right away.
You'll be left with a skillet that has lots of brown bits stuck to it. Don't wash it! Instead, add the onions, garlic, and ginger straight to the skillet with a little water and use that to scrape up those bits. That's all flavor!
Once these have cooked for a minute, transfer the aromatics and liquid to the slow cooker.
Spices for Korean Beef Tacos
These days you can find all of these things in any supermarket. I've even seen the gochujang chili paste at my local supermarket. Either way, it's worth hunting down, but if you don't have the time, you could leave it out.
If you leave out the gochujang, I would add something spicy like maybe a few spoonfuls of chili garlic sauce.
There's no science to this part. Just scoop all that stuff into your slow cooker with the beef and aromatics. Add about a cup of water just to give it some liquid to cook in.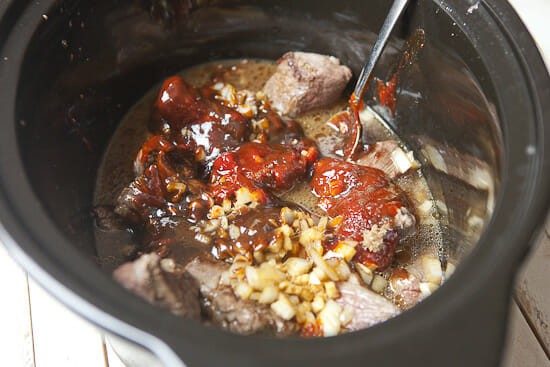 Let the beef cook for about six hours on low heat. If you have a programmable slow cooker, you can set it to switch over to warm after the cook time if you are going to be out of the house all day.
Can you Use a Pressure Cooker?
If you wanted to make this dish in a pressure cooker like the Instant Pot, you definitely can. I would still brown the beef and use some water to scrape up the pan bits. Add the water to the cooker along with all the spices and cook it on high for 45 minutes. Should work great!
When the beef is done, remove it all from the slow cooker and pour out any juice. Don't toss the juice, but remove it from the slow cooker to start.
Then shred the beef and add it back to the slow cooker with some of the cooking liquid. You won't need all of it, but pour back enough to make sure the shredded beef is nice and moist. I would start with about a cup and play it by ear after that.
This stuff will be super-flavorful and ready for a taco!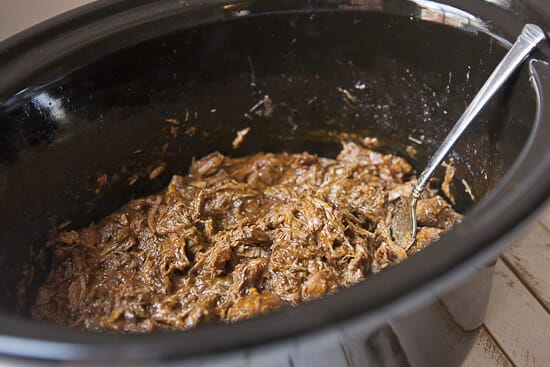 Finishing the Slow Cooker Korean Beef Tacos
There's no need for some of the toppings that you might think of for tacos. Namely, cheese.
Instead, mix up a quick batch of carrot slaw for these guys. Just grate a few carrots and stir together with shredded cabbage and a minced red chile.
Stir these together with some rice wine vinegar and a big pinch of salt and sugar and this will be the best topping for these tacos.
Making the Slow Cooker Korean Beef Tacos couldn't be easier. Warm up a flour tortilla and pile one some shredded beef.
Top with the slaw, some fresh cilantro, and sesame seeds.
If you're using medium sized tortillas, two or three of these is a fantastic meal.
The recipe makes a lot of the beef filling. It'll keep fine in the fridge for a week or so, but you can also freeze it for later. It's freezes beautifully!
Here are a few other great taco recipes to try!