Sometimes the only thing I want for dinner is a really good plate of pasta. Maybe it's the 1/4 Italian running through my veins but if I don't get a big plate of pasta once a week, I get pretty cranky. This simple Cherry Tomato Pasta ensures that I can have an easy and fresh plate of pasta any time of the year.
I usually don't do anything too fancy with the pasta, but I do go back and forth on jarredd pastas. I use them plenty as they make for fast meals, but many tend to be a bit sugary and gloopy.
But hey. It's summertime so I try to use fresh tomatoes these days. Of course the traditional way to make sauce is to buy large tomatoes, peel them, cook them down for hours, and flavor them with all kinds of spices.
I like that method just fine, but I don't always have time for that business. This is the way to cheat at tomato sauce by using cherry tomatoes!
Why use cherry tomatoes for pasta sauce
If you are reading this in late summer, you can probably find very good fresh tomatoes, but most of the time during the year, it's not worth using fresh tomatoes for pasta sauce. Just find a good jarred sauce that you like.
But, cherry tomatoes or grape tomatoes are the exception! They are fast-growing and are generally available and ripe throughout the year. There isn't a huge drop-off in ripeness from a cherry tomato in February and one in August.
So, if you are craving a fresh tomato pasta, then this cherry tomato pasta might be the thing for you!
Another perfect dish for your cherry tomatoes is this Pearl Couscous Salad with Burst Tomatoes!
Starting the cherry tomato sauce
Even though it's made from scratch, this is really a lazy man's pasta sauce. I start by just blistering the tomatoes in some olive oil.
I like to use a big skillet for this with high sides. I've made this dish in a huge variety of pans including a dutch oven. Whatever you have will probably work, but wider surface area the better because that ensures that the tomatoes aren't piled on top of each other.
Once your tomatoes start to blister a bit you can add in the onions and garlic. A pinch of salt and pepper wouldn't hurt!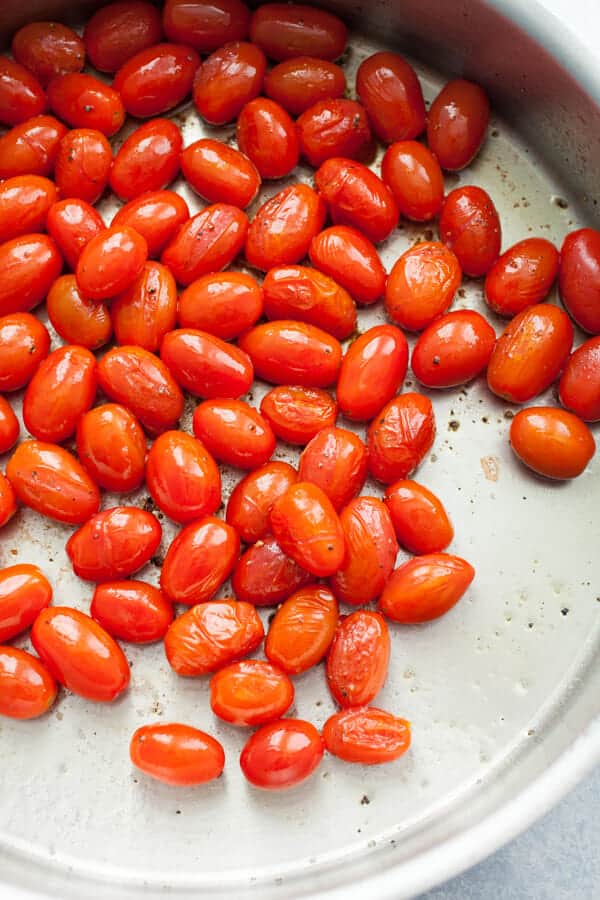 They'll sizzle and pop and smell good. Eventually, they'll start to kind of wilt and give up. This is when you can get aggressive and take a fork or spatula and start mushing them to bits. This part is more fun than it is work in my opinion.
NOTE: For those of you concerned about the skins or seeds or tiny cores in the tomatoes, it's really nothing to be worried about. You can barely even see them in the final product and the skins give a little texture to the dish which I find kind of nice actually. If you're going to peel and core the tomatoes though, by all means, use larger tomatoes.
Anyway, this is after about 10 minutes of cooking: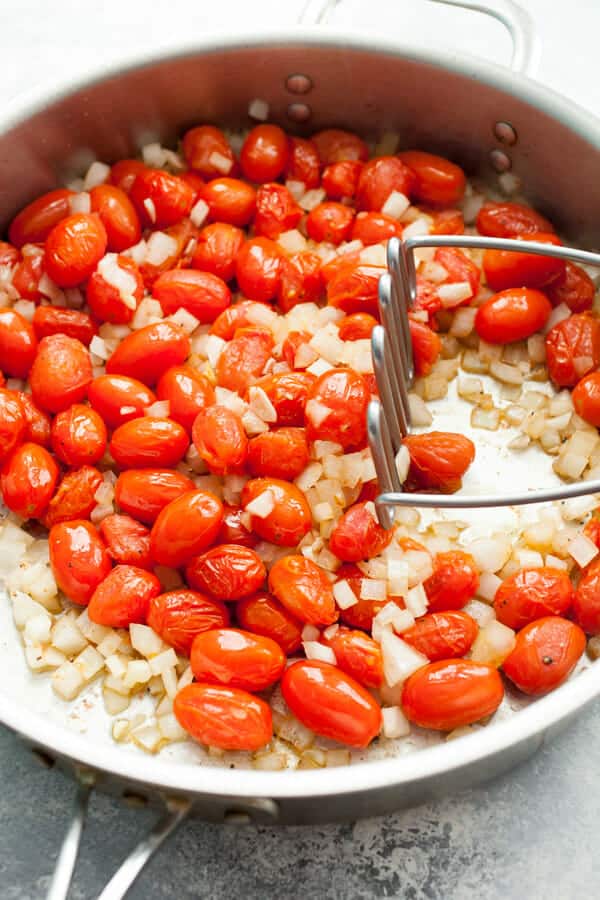 Turn the heat down to medium, add any extra spices you like (I like red pepper flakes) and let this simmer and reduce until it forms a pretty solid paste. Now would be a good time to hit it with some salt and pepper also.
You'll want to stir this every once in a while, but it's far from high maintenance.
Once you get it all reduced down, I would start cooking my pasta (your salted water should be boiling already dude).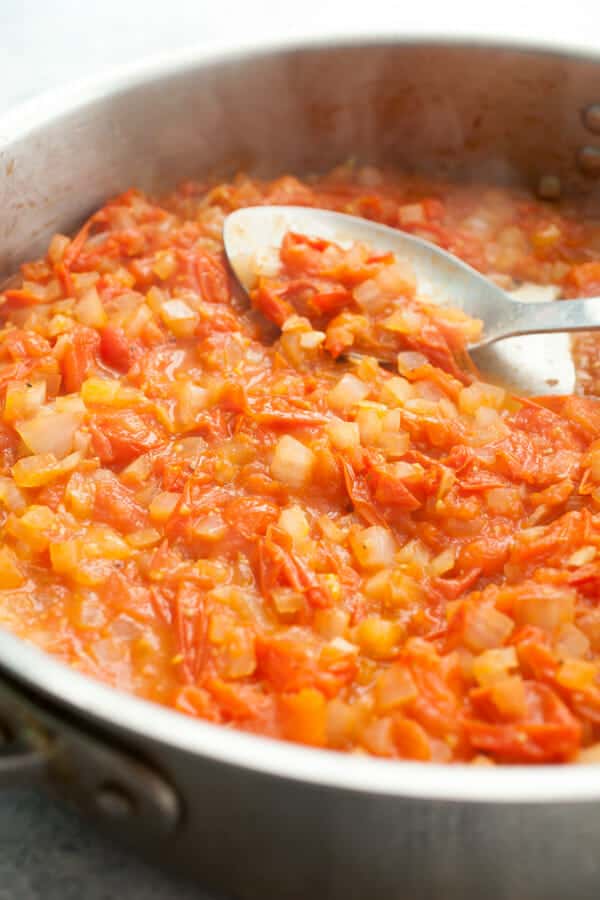 As your pasta cooks, you want to add some flavor BACK into the tomatoes. So add your white wine and use the liquid to scrape up any little bits that are in the pan. Also add the huge amount of chopped basil!
Stir this all together and turn the heat down to low on the sauce. The white wine should evaporate pretty quickly.
Hopefully, your pasta is ready now. If it's not and your sauce is getting dry then you might want to add a 1/4 Cup of pasta water (just scoop it out) to the sauce. This will thin it a bit but also add some starch to the sauce which will actually help out it's ending texture/flavor.
When Your Pasta is Done
When the spaghetti is al dente, just use some tongs to yank the pasta from the water and add it directly to the sauce. Pasta water should be dripping from the pasta. It's all good.
Once you get all your pasta in the pot give it a good stir and you're ready to go with your finished cherry tomato pasta!
I serve this cherry tomato spaghetti with a good bit of grated parmesan cheese, some fresh cracked black pepper, and maybe a side salad.
Very delicious.
So, if you've been timing this recipe you might notice that the pasta sauce itself does need to simmer for probably 35-45 minutes. So I'm not sure that I'd categorize this as a completely "quick" recipe, but the good news is that it requires very little chopping and very little monitoring.
The ending sauce is light yet really flavorful and has a great texture.
If you have a pasta fetish like me, this is a great summer option.
Substitutions and Variations
I would keep this base sauce pretty simple and as-written for this cherry tomato pasta, but there are some things you can change up if you would like!
Pasta switch! I used spaghetti here but using bucatini or any long pasta works well.
Add protein! Add some grilled chicken or sauteed shrimp to the skillet to make it more than just spaghetti!
Add toppings like fresh herbs or the crispy breadcrumb topping I used for this spaghetti recipe.
Reheating leftovers
You can absolutely store this cherry tomato pasta for later. While you can microwave it without too much worry, I find it reheats best in a skillet with a splash of water over medium-low heat.
Summer Tomato Pasta
Light angel hair pasta tossed with a no-cook cherry tomato pasta sauce. Perfect for really ripe summer tomatoes.
Ingredients
1

pound

angel hair pasta

3

Cups

cherry tomatoes

,

about a pound, halved and squeezed

2

Tablespoons

fresh basil

,

minced

1

Tablespoon

fresh marjoram

,

minced

1

clove

garlic

,

minced

1

Tablespoon

red wine vinegar

½

Cup

olive oil

½

Cup

kalamata olives

,

diced

Salt and pepper

Parmesan Cheese for topping
Instructions
Wash cherry tomatoes and cut them in half.

Squeeze each half into a large bowl.

Add olive oil, vinegar, chopped herbs, minced garlic, and diced olives to bowl. Stir to combine.

Let sit for 10 minutes, then taste for salt and pepper.

Cook pasta according to package. Be sure not to overcook it. It'll cook fast!

Drain pasta and toss it in with tomatoes. Toss well to combine.

Serve immediately with Parmesan cheese!
Nutrition
Serving:
1
plate
|
Calories:
471
kcal
|
Carbohydrates:
60
g
|
Protein:
11
g
|
Fat:
21
g
|
Saturated Fat:
3
g
|
Polyunsaturated Fat:
3
g
|
Monounsaturated Fat:
15
g
|
Sodium:
189
mg
|
Potassium:
343
mg
|
Fiber:
3
g
|
Sugar:
4
g
|
Vitamin A:
472
IU
|
Vitamin C:
18
mg
|
Calcium:
33
mg
|
Iron:
2
mg
Did you make this recipe?
Here are a few other recipes to try!