I'm a huge fan of making curry at home and have made a variety of versions. I've shied away from making panang curry at home because it can be tricky to find panang curry paste, but this Shrimp Panang Curry uses a nice little kitchen trick to get pretty close to panang curry!
I like to serve this shrimp curry over rice, but you could also serve it with naan.
What is panang curry?
Panang curry is a Thai style of curry that is usually simmered in coconut milk. While panang curry has lots of common curry spices like chiles, ginger, shallot, coriander, and fish sauce, it also has two key ingredients that are not in your standard red curry paste: peanuts and lemongrass.
These two ingredients give the curry a slightly sweet and nutty flavor and the sauce is a bit creamier when simmered with coconut milk. It can be a subtle difference from your standard red curry paste, but is really nice.
How to hack a homemade panang curry paste
While you can find Thai panang curry paste in many Asian grocers, if you don't have one in your area, you can still get pretty close by starting with red curry paste, available at most grocery stores, and then muddling in some lemongrass and peanuts! I like to use the lemongrass paste in the tube which stores well and is easier to work with than fresh lemongrass.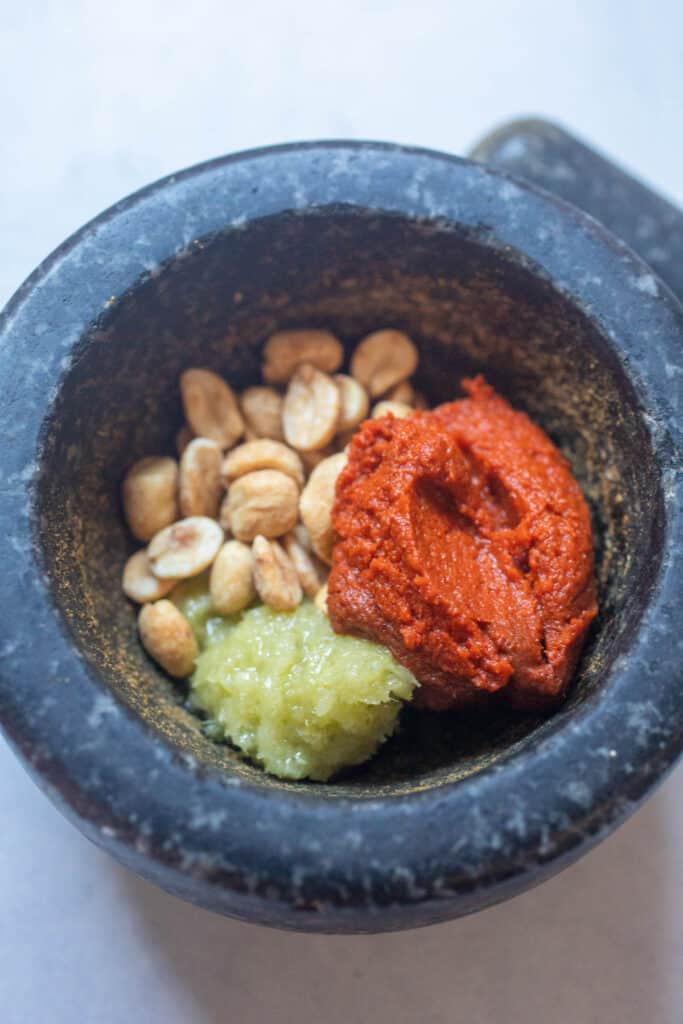 Once you mash everything together (or pulse it in a food processor) you are ready to use it in your panang curry recipe!
Starting the shrimp panang curry
I start my curry in a wok (but you can use a large skillet) and add some neutral oil over medium-high heat. I add shallot, garlic, and ginger, and while I do recommend some amounts in the recipe, it's hard to over-do it here. More ginger and garlic is just fine in my book. You could substitute yellow onions for the shallots, but I like the slightly sweet flavor of the shallots.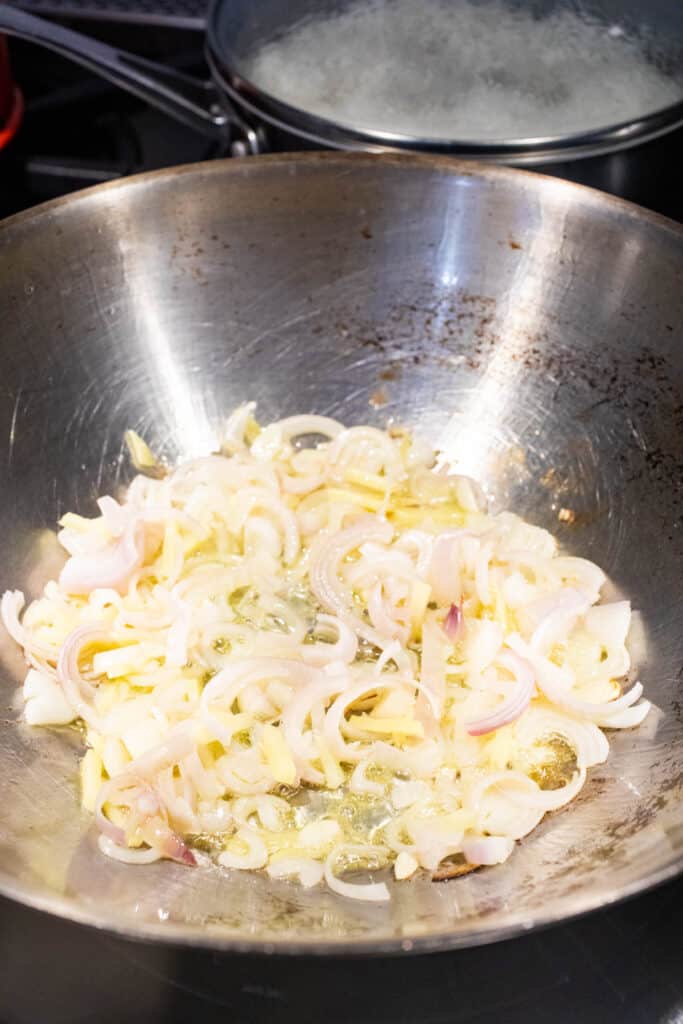 Once the veggies have started to soften, but not brown, add your curry paste. I would start with a few tablespoons of paste and you can always add more later as you simmer the sauce.
Most importantly, though, let the curry paste cook for a minute or two to develop some flavor before you add the stock and coconut milk. You could also add some coconut cream to the base if you wanted a richer, creamier sauce.
Bring the curry base to a simmer once you add the liquids and then turn heat down to low.
Prepping the shrimp for curry
I like to start with large prawns or shrimp for this recipe. You definitely want them raw and I recommend them with the shell on. Removing the shells from the shrimp is pretty straightforward.
Use kitchen shears or a paring knife and cut down the back of the shrimp shell. Then you can peel off the shell and tail. It's a good idea to do this prior to starting the curry so you aren't fussing with it while the curry cooks.
Other Panang Curry add-ins
Other than the shrimp and aromatics, I like to add some fresh green vegetables to my curry like peas or snap peas. There's a wide range of add-ins you could use though. Here are some ideas!
Bell pepper
Shredded carrot
Mushrooms
Galangal
Potatoes
Cubed chicken
Tofu (can substitute for vegan version)
Finishing the curry
Stir in the protein (shrimp) and let it simmer in the shrimp panang curry over low heat for about five minutes until it's cooked through and slightly pink. If you are adding sturdier veggies like potatoes or mushrooms, you could add them even earlier as you want to make sure they are tender.
For more delicate add-ins like peas, you can add them with just a minute or two left of simmer time to give them some flavor and poach them slightly but not overcook them.
Most importantly, taste the curry! Maybe it needs a little more panang curry paste, maybe a dash of fish sauce, maybe a little extra fresh lime juice!
Once it is to your liking, serve it up over rice or even rice noodles.
How to store and reheat the curry
This shrimp panang curry stores beautifully in the fridge for 3-4 days and you should reheat it gently on the stove over medium heat. For best storage results, store the curry and any leftover rice separately or the rice will just soak up all the curry.
You can freeze this curry as well for three months. Reheat it by thawing it and then reheating on the stovetop.
Shrimp Panang Curry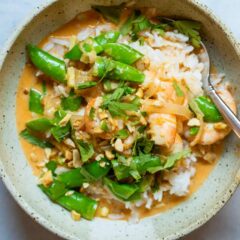 Shrimp Panang Curry is one of my favorite spicy, creamy curry styles. If you can't find panang curry paste, this recipe includes a quick homemade version mixed with peanuts and lemongrass.
Ingredients
Quick panang curry paste:
2

tablespoons

red curry

1

tablespoon

lemongrass paste

2

tablespoons

peanuts
Shrimp curry:
1

tablespoon

olive oil

3

shallots

,

sliced

4

cloves

garlic

,

sliced

1

inch

fresh ginger

,

chopped

3-4

tablespoons

panang curry paste

1

can

,

15 oz. coconut milk

½

cup

chicken stock

1

tablespoon

fish sauce

1

pound

large shrimp

,

peeled

1

cup

snap peas

Cilantro

,

garnish

Roasted peanuts

,

garnish
Instructions
To make quick panang curry paste, in a mortar and pestle or mini food processor, combine red curry paste with peanuts and lemongrass. Combine until mixture is in a uniform paste. Use in panang curry recipes.

To start curry, add olive oil to a large skillet or wok over medium-high heat. Add ginger, shallots, and garlic and cook for a few minutes until aromatics soften, but not brown.

Stir in panag curry paste and cook for a minute or two.

Pour in coconut milk, chicken stock, and fish sauce. Bring to a simmer and turn heat down to low.

Add shrimp and simmer for about 5 minutes. Add snap peas with a minute left and poach them gently.

Serve curry over rice garnished with chopped peanuts and cilantro.
Nutrition
Serving:
1
Bowl
|
Calories:
205
kcal
|
Carbohydrates:
11
g
|
Protein:
19
g
|
Fat:
9
g
|
Saturated Fat:
2
g
|
Polyunsaturated Fat:
2
g
|
Monounsaturated Fat:
4
g
|
Trans Fat:
0.01
g
|
Cholesterol:
144
mg
|
Sodium:
1044
mg
|
Potassium:
341
mg
|
Fiber:
3
g
|
Sugar:
5
g
|
Vitamin A:
3426
IU
|
Vitamin C:
19
mg
|
Calcium:
119
mg
|
Iron:
2
mg
Did you make this recipe?
Here are a few other great curry recipes!