How to Make Cod Curry Bowls
I've been making a lot of single bowl dinners recently and these Easy Cod Curry Bowls might be the favorite that I've made over the years. They have big flavor but are very healthy at the same time. While you could use other seafood like salmon or shrimp, I think cod is really wonderful in this green curry.
If you are looking to change-up dinner, I highly recommend trying this recipe out. It's a great intro to curry recipes and is a wonderful use of cod, a versatile fish that is flakey and wonderful in a curry broth.
Why cod works well in curry bowls
Cod is a white fish and is very mild, but it is also a really firm fish which is why it is used a lot in fried fish and chips. When simmered in a sauce, the cod soaks up all the flavor, but also stays in nice chunks and doesn't fall apart like some other white fish like tilapia, haddock, or hake would do.
If you are looking for a substitution for the cod fillets, I would recommend actually going with shrimp since they are firm and also fairly mild. Peel large shrimp and add them to the curry broth to cook while it simmers. They will cook very quickly and are a great substitution.
What kind of curry to use for these bowls
There is no hard and fast rule for the kind of curry to use here. My only advice is to use a curry paste instead of a curry powder. Curry powders need other aromatics to really come alive and curry pastes will have a lot of added items like lemongrass so they are very flavorful already.
Personally, I like a green curry paste for this which is mild and not super spicy but has loads of savory flavors. If you wanted a spicier curry, you would want to substitute a red curry paste which is much spicier. The spicier paste can overpower the subtle flavors in the fish though which is why I like a milder curry paste for this recipe.
If you do go with a spicier curry paste, start with a smaller amount of it. You can always add more but you can't get it out of the sauce once it's in there!
How to make the green curry sauce
This recipe starts with ingredients like so many delicious curry broths, with shallot, garlic, and ginger. I used coconut oil for my fat to start the aromatics but you could use any neutral oil. Saute the aromatics over medium heat so they don't burn and keep a close eye on them.
Once those have softened for a few minutes, stir in the green curry paste and continue to cook until fragrant. I prefer curry paste over curry powder for this recipe.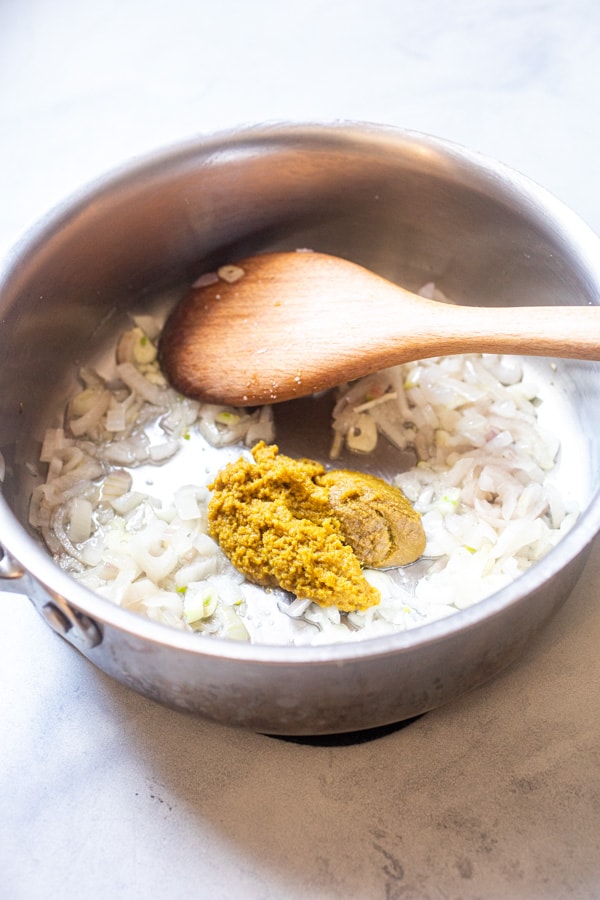 Then add the coconut milk, chicken stock, soy sauce, and fish sauce. This will immediately smell good and make your whole house smell wonderful.
Once the green curry sauce has simmered for a few minutes to thicken, add in the cod. I kept mine in pretty large chunks.
Turn heat down to low and continue to simmer until the cod pieces are just cooked and flakey (about 6-8 minutes). Then add the peas and asparagus. You might need to add a pinch of salt and pepper as well so taste and adjust to your liking. There is already some salt in the soy sauce and curry paste so adding salt isn't necessary, but you might need a pinch.
Make sure to buy thin asparagus so it cooks quickly. Save the thick asparagus for the grilling.
That's all there is to it for these easy Cod Curry Bowls. Serve them up over jasmine rice and garnished with cilantro, sesame seeds, and red chiles!
YUM!
Substitution ideas for the curry cod ingredients
As with so many curries, this one is incredibly flexible and I encourage you to try some of these substitutions if you are interested!
Substitute aromatics and spices – You can really be flexible here. Instead of shallot, a yellow or white onion would work. You can also add extra spices like coriander and cumin and even cayenne pepper for extra spice.
Change out the protein. While I love cod in this, you could substitute other seafoods like shrimp or even use chicken for a nice standard green chicken curry bowl.
Add more veggies. There are many vegetables that work well in curries. Try chickpeas, tomatoes, spinach, or even bean sprouts for some extra vegetable love.
Citrus flavors. Add some lemon zest or fresh lime juice for a wonderful citrus boost to the flavors. Citrus and seafood go really well together obviously!
Storage and Reheating
If you have leftovers, this actually keeps really well in the fridge for a few days. Reheat it gently on the stovetop and it's possibly even better than on day one as the flavors can meld together.
If you are in a dinner slump, definitely try this Cod Curry bowl recipe!
Easy Cod Curry Bowls
These easy Cod Curry Bowls are ready in about 30 minutes and are a delicious and different approach to cooking fish at home. You will love this flavorful and healthy dinner!
Ingredients
1

tablespoon

coconut oil or neutral oil

3

shallots

,

chopped

1

inch

fresh ginger

,

diced

2

cloves

garlic

,

chopped

2

tablespoons

green curry paste

1

14-ounce can coconut milk

1

cup

chicken stock

1

tablespoon

soy sauce

1

tablespoon

fish sauce

1

pound

cod

,

cut into cubes

½

cup

green peas

1

cup

chopped thin asparagus

White rice

,

for serving

Fresh cilantro

,

garnish

Red chiles

,

sliced for garnish

Sesame seeds

,

garnish
Instructions
In a large pot over medium heat, add coconut oil followed by shallots, ginger, and garlic. Cook for about 2 minutes until aromatics start to soften. Then add green curry paste and cook for another minute or two until very fragrant.

Stir in coconut milk, chicken stock, soy sauce, and fish sauce. Bring sauce to a slight simmer.

Add cubed cod pieces and simmer over low heat for 6-8 minutes until cod is cooked through and flakey.

Once fish is cooked, add peas and asparagus shoots (the thin ones work best). Simmer for another 3-4 minutes until asparagus is tender.

Divide rice between bowls and top with curry cod and broth. Garnish each bowl with sliced red chiles, cilantro, and sesame seeds. Serve while warm.

Leftover curry keeps well in the fridge for 3 days. Reheat gently on the stovetop.
Nutrition
Serving:
1
bowl
|
Calories:
497
kcal
|
Carbohydrates:
84
g
|
Protein:
31
g
|
Fat:
3
g
|
Saturated Fat:
1
g
|
Polyunsaturated Fat:
1
g
|
Monounsaturated Fat:
1
g
|
Cholesterol:
51
mg
|
Sodium:
760
mg
|
Potassium:
781
mg
|
Fiber:
3
g
|
Sugar:
4
g
|
Vitamin A:
1368
IU
|
Vitamin C:
11
mg
|
Calcium:
74
mg
|
Iron:
2
mg
Did you make this recipe?
Here are a few other great curry recipes!
If you are a curry lover, you might also like this Shrimp Panang Curry which is similar to this recipe but has a different curry base. For a vegetarian curry, I also love this Cashew and Chickpea Curry recipe. For a very different curry recipe, check out these pumpkin curry rice bowls or this Instant Pot Chicken Curry from Our Salty Kitchen!