I thought it was going to be a close poll last week, but a dip of some sort won by a landslide!
I'm big believer in the general philosophy that almost any appetizer can be made into a dip of some sort. It's really just simple physics. If it tastes good on it's own, it'll probably taste good processed down, baked, and put on a piece of bread or chip.
Sometimes, the dip is even easier to make then the original appetizer which is an added bonus.
That's definitely true for this Jalapeno Popper Dip recipe.
There are two ways to make jalapeno poppers that I know of, both of which are delicious but a bit of work. This recipe pushes both of those methods aside and just mashes a metric ton of jalapenos with cheese.
How could it not be delicious?!
Jalapeno Popper Dip
A quick and easy dip to make that tastes like jalapeno poppers. This is the perfect creamy and cheesy appetizer for a football game!
Ingredients
1

pound

cream cheese

1

cup

mayonnaise

1

cup

cheddar cheese

,

grated

5-6

jalapeno peppers

,

minced

1

poblano pepper

,

minced (opt.)

1

Tablespoon

olive oil

1

cup

Panko bread crumbs

½

cup

Parmesan cheese

,

grated

¼

cup

butter

,

melted

Tortilla chips

,

for serving
Instructions
Mince jalapenos and poblano. Leave the seeds in.

Add olive oil to a skillet and saute peppers over medium heat for about 4 minutes until they soften.

In a large bowl, mix together sauteed peppers with cream cheese, grated cheddar, and mayo. Stir well to combine.

In a small bowl, mix together Panko, butter, and parmesan cheese.

In a 1 ½-2 quart buttered baking dish, scoop in the dip and spread it evenly in the dish. Top with panko topping.

Bake for 30 minutes at 350 degrees until cheese is melted and topping is browned.

Serve immediately with tortilla cheese or toasted bread.
Nutrition
Serving:
1
Cup
|
Calories:
500
kcal
|
Carbohydrates:
21
g
|
Protein:
17
g
|
Fat:
39
g
|
Saturated Fat:
12
g
|
Polyunsaturated Fat:
15
g
|
Monounsaturated Fat:
10
g
|
Trans Fat:
0.3
g
|
Cholesterol:
52
mg
|
Sodium:
916
mg
|
Potassium:
270
mg
|
Fiber:
2
g
|
Sugar:
5
g
|
Vitamin A:
566
IU
|
Vitamin C:
22
mg
|
Calcium:
408
mg
|
Iron:
1
mg
Did you make this recipe?
Jalapeno Popper Dip
Pepper Overload
I know. This recipe has a lot of jalapenos in it. In fact, I'd bet that the only recipe you would ever make that has more jalapenos is if you were to make actual jalapeno poppers.
The truth though is that there is so much creamy stuff in this Jalapeno Popper Dip that the heat of the jalapenos is really reduced. If you only did one or two, you wouldn't get any heat at all from them.
And don't worry about seeding the things. Just wash them and dice them up. I like to quarter mine into segments and then dice them.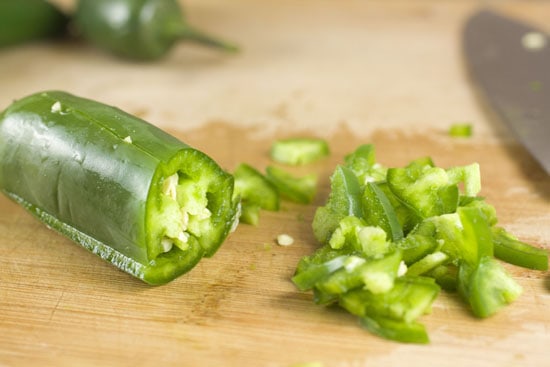 I threw in a poblano in my batch just for fun, but I'm not really sure it gave the final dip much flavor. You can leave it out without too much worry I think.
Once you have all your peppers diced, saute them in a skillet with a drizzle of olive oil over medium heat for a few minutes. You just want them to soften a bit and cook off some of the liquid.
Just a few minutes will do the trick.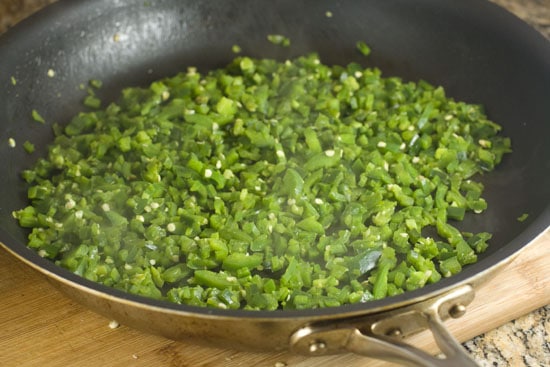 Mixing the Dip
There's a lot of creamy stuff in this Jalapeno Popper Dip. No doubt about that.
I just did the full fat version because, hey… this is for the Super Bowl!
If you wanted to make this somewhat healthier though you could:
1) Cut the mayo amount in half.
2) Substitute the mayo entirely for Greek yogurt.
3) Sub out a quarter to half of the cream cheese for whipped silken tofu.
The third one might change the texture slightly, but I doubt it would be very noticeable. It's a substitution that I frequently use in dips like this.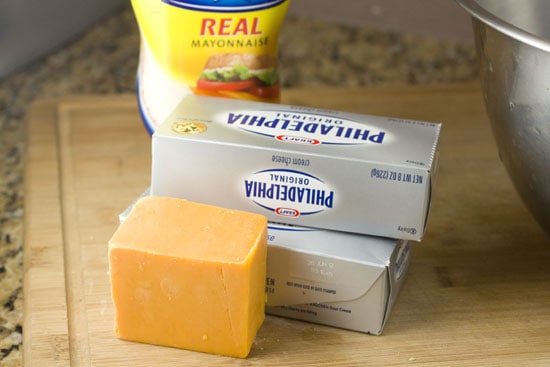 But like I said… this is for the Super Bowl so why not just do it all the way?!
Once your peppers are done cooking, just stir everything together. Pretty straightforward!
The Topping
Probably the most common type of jalapeno popper is the fried ones with a golden crust. To get the same effect in dip form, just mix together some Panko bread crumbs, Parmesan cheese, and melted butter in a bowl.
If you don't have Panko, you can definitely use normal bread crumbs.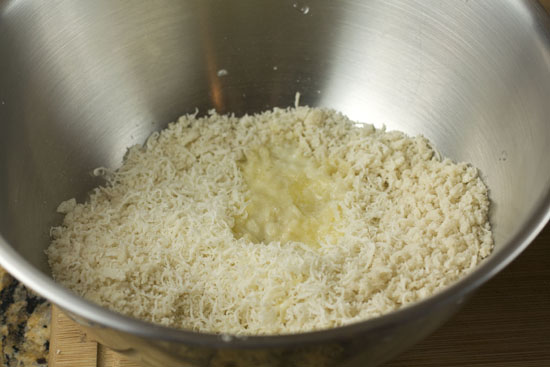 Baking the Dish
In a medium-sized casserole dish, scoop in your dip mixture and top it with your bread crumb topping.
I'd recommend buttering the dish before adding the dip just to make sure it doesn't stick badly. It would be horrible to lose some dip!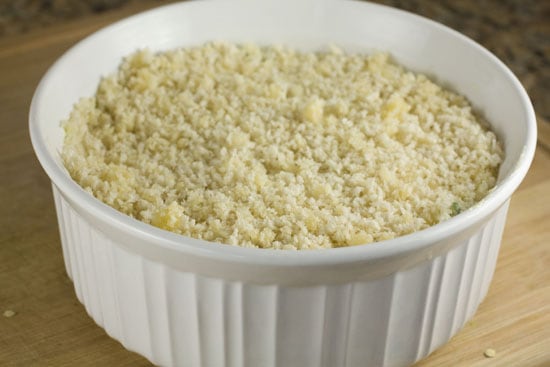 Bake this whole thing for about 25-30 minutes at 350 degrees.
It's done with the cheese is all melted and the topping is nice and browned.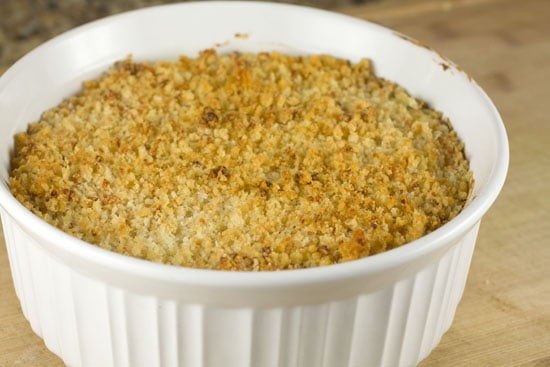 Serve this sucker as soon as possible with lots of tortilla chips or toasted bread.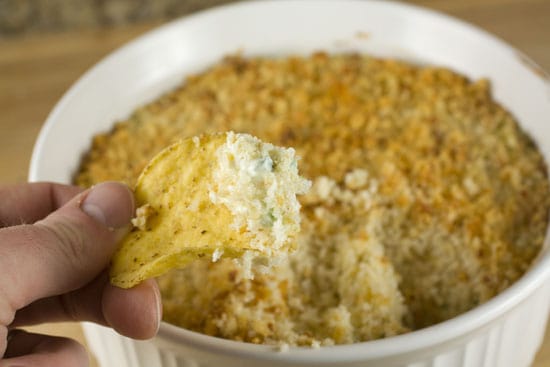 This Jalapeno Popper Dip is about as easy as a dip gets. It's definitely way easier than making actual jalapeno poppers, but the flavor is really very similar.
If you happen to have leftovers, let me tell you a little secret. Put a few spoonfuls of it in a rice and bean burrito. Amazingness.