Like so many people who grew up in the 80s and 90s, I grew up thinking that beets were absolutely disgusting. They were served out of a can and mushy and just not an attractive food. But, now they are one of my favorite foods. Roasted Golden Beets, chopped or sliced, can be served in SO many different ways. Let's make them!
While beets are one of the more intimidating veggies in the store for some people, they can also be one of the most delicious. If you've never tried them before, this is the post for you. While you can eat raw beets, I sometimes like them really crunchy in a salad, they are best if they are roasted.
When you roast golden beets, the flavor intensifies and they become sweet. This shouldn't be a surprise, because after all, sugar is made from beets (although a different varietal)! So there is a lot of stored deliciousness in that vegetable.
Golden Beets vs. Red Beets
There are many varieties of beets in the world, but the two most common ones in the US are the red beet and the golden beet. These taste pretty similar in my opinion, but there is one advantage and one disadvantage to the golden beet.
The advantage (which is a big one in my opinion) is that they don't stain every damn surface of your kitchen blood red. I love the flavor of red beets, but I had the clean up! Golden beets get around this problem because they are a nice neutral golden yellow color and don't stain a thing.
The disadvantage is that golden beets tend to be less popular. You won't always be able to find them and sometimes they are more expensive than red beets.
While they can't 100% be substituted in recipes (borsch for example probably isn't the same with golden beets), for most salads or sauteed dishes they can be switched without a problem.
What to do with the beet greens
If you are lucky, when you buy your golden beets, they will still have the greens on them. Sometimes markets will just cut these off as they assume that people won't want them and they make the beets bulkier to package.
But, if you can get them with your beets, save them! They are hearty greens and great in a number of ways! Here's a few ideas for using beet greens!
Wash the greens well, chop them thinly and use them as a salad base, similar to kale. (Could substitute them for this kale salad, for example).
Roughly chop the clean greens and sautee them with some garlic in olive oil for a warm greens side dish.
Save them for breakfast! Sautee them in a skillet and crack in an egg for a quick breakfast scramble.
Do you peel beets before roasting?
Obviously, there is more than one way to roast yellow beets. For ease, I don't like to peel mine until after they are roasted. This helps them from drying out and I think beets are easier to peel once they are roasted.
If you do want to peel them though, I would recommend cubing the beets into about 1/2-inch cubes, tossing them with oil and seasoning, and roasting them for about half the time (20-30 minutes).
Like so many things in the kitchen, you can do it however works for you, but my preference is to peel roasted beets.
Instructions for roasting golden beets
This is far from a hard recipe to master. Preheat your oven to 375˚F and chop the ends off the golden beets. That will just help them lay flat on a baking sheet.
To lightly season the beets, poke some holes in the beets with a fork or knife and drizzle them with a teaspoon of extra virgin olive oil per beet. Sprinkle them with salt as well.
Roast the beets until they are tender. A paring knife should easily slide into the beets. This will take somewhere between 45-60 minutes depending on the size of your beets. I usually check on mine at 50 minutes.
Once your beets are roasted, wrap them gently in foil to cool down. This will allow them to slowly cool and they will keep getting more tender as they cool. After they have cooled for a few minutes, you can unwrap them, peel, and use them however you like!
Easy Roasted Golden Beets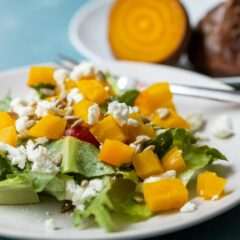 Method for roasting golden beets so they are tender and sweet. Easy to use in a number of recipes.
Ingredients
3

large

golden beets

3

teaspoons

olive oil

½

teaspoon

kosher salt
Instructions
Preheat oven to

375

°F

. Cut stem and root end off of golden beets and scrub them well to clean them. Poke holes in each beet with a fork or paring knife.

Drizzle beets with olive oil (1 teaspoon per beet) and a sprinkle of kosher salt. Place on baking sheet with stem side down.

Roast the beets for 50-60 minutes until they are tender. A paring knife should easily slide into the beets.

Remove beets and wrap tightly in foil for 10 minutes.

Unwrap beets and peel. Use immediately or store for later. Roasted beets will keep for a week in the fridge.
Notes
This method can be used to roast red beets as well.
Nutrition
Serving:
0.5
beet
|
Calories:
76
kcal
|
Carbohydrates:
13
g
|
Protein:
2
g
|
Fat:
2
g
|
Saturated Fat:
0.3
g
|
Polyunsaturated Fat:
0.3
g
|
Monounsaturated Fat:
2
g
|
Sodium:
300
mg
|
Potassium:
442
mg
|
Fiber:
4
g
|
Sugar:
9
g
|
Vitamin A:
45
IU
|
Vitamin C:
7
mg
|
Calcium:
22
mg
|
Iron:
1
mg
Did you make this recipe?
Seven Ways to serve golden beets
Here are eight ways you can use your golden beets now that you have them roasted. The beets will keep well in the fridge for a week.
Think fast salads! I will make fast lunch salads with greens, goat cheese, seeds, and roasted beets. You could also add them to this roasted golden beet salad obviously!
Appetizers. Slice up the golden beets into thin slices and top them with goat cheese (or feta) and fresh rosemary. Roasted beets are also great in a Bento Box Lunch!
Smoothie! You can add golden beets to a smoothie with other veggies or fruits and orange juice and it gives the smoothie a great color and a little sweetness.
Mash! Add the peeled and chopped golden beets to a pot with some cream and garlic. Simmer until very tender and then mash for a nice side dish.
Dip! Mince the golden beets very finely and add to a dip with minced nuts like walnuts or pistachios and add some oil and seasonings. Good to spread on crackers!
Risotto! I love blending golden beets into a risotto. Here is my Beet Risotto recipe!
Gratin! Try to thinly slice the golden beets and use them in a gratin!