Something very fortunate is happening this year. Cinco de Mayo is on a Saturday.
That means that you can bypass the jarred queso and quick Tex-Mex and make something really outstanding like these Rib nachos.
It also means that you can have more than a few cervezas but that's neither here nor there.
I wanted to give you all something a bit ambitious (but delicious) to work on this weekend if you are feeling the Cinco de Mayo spirit.
I consider myself a nacho expert and these were some of the best I've made. Yes. They take awhile, but most good things do. Crack open a cold one this weekend and spend some time with these bad boys.
Baby Back Rib Nachos
Slow roasted baby back ribs shredded and layered with a green chile sauce makes for some of the best nachos ever. Try these for Cinco de Mayo!
Ingredients
Baby Back Ribs:
1

full side pork baby back ribs

¼

cup

taco seasoning

1

cup

apple cider vinegar

,

for basting
Green Chile Sauce:
4

tablespoons

unsalted butter

4

tablespoons

all-purpose flour

2-3

cups

whole milk

,

room temp

1 4

ounce

can diced green chiles

2

cups

pepper jack cheese

,

grated

Salt and pepper
Other Ingredients:
Tortilla chips

Red onion

,

diced

Pickled jalapenos

,

diced

Shredded cheese

Salsa

Avocado

Sour cream
Instructions
Coat ribs thoroughly with taco seasoning rub. Rub them really well and let them sit for a few minutes.

Line a baking sheet with aluminum foil and back ribs, meat side down, at 250 degrees for 4 hours.

Every hour, flip the ribs and baste them well with apple cider vinegar.

Remove ribs when done and chop them up. Use a knife to slice off meat and chop all meat finely.

To make cheese sauce, add butter and flour to a medium pot over medium heat. Whisk until butter is melted and the roux starts to cook. After a few minutes it should turn a light brown color and be very thick.

Start slowly whisking in milk. Work slowly so the sauce doesn't get clumpy. You will need 2-3 cups of milk.

Once milk is stirred in, stir in green chiles and grated cheese. Turn heat down to low and keep warm until needed. If it gets too thick, stir in a bit more milk.

On two baking sheet, add a thick layer of tortilla chips. Top with shredded rib meat, red onions, and salsa. Bake at 350 degrees for 8-10 minutes.

Remove and scoop nachos onto plates. Drizzle cheese sauce over plates and top with shredded cheese, jalapenos, avocado, and any other toppings you want. Serve immediately!
Nutrition
Serving:
1
Plate
|
Calories:
618
kcal
|
Carbohydrates:
22
g
|
Protein:
33
g
|
Fat:
44
g
|
Saturated Fat:
24
g
|
Polyunsaturated Fat:
3
g
|
Monounsaturated Fat:
14
g
|
Trans Fat:
1
g
|
Cholesterol:
144
mg
|
Sodium:
1785
mg
|
Potassium:
499
mg
|
Fiber:
4
g
|
Sugar:
9
g
|
Vitamin A:
2430
IU
|
Vitamin C:
19
mg
|
Calcium:
615
mg
|
Iron:
3
mg
Did you make this recipe?
Rib Nachos
I do want my baby back!
Some people might ask why you would make ribs just to then use the meat on nachos.
I tell those people to stop asking so many questions and calm down.
If you want a real reason though, it's that one full rack of ribs will easily feed four people instead of one or two. It's a way to really make your ribs count.
There are some very complicated rib recipes out there, but this recipe doesn't require anything special. Since we are just shredding the meat and covering it with lots of toppings, it's not necessary to get super-anal about the preparation.
I just rubbed both sides of my ribs with a healthy amount of my taco seasoning. Then I laid them out on a baking sheet lined with foil.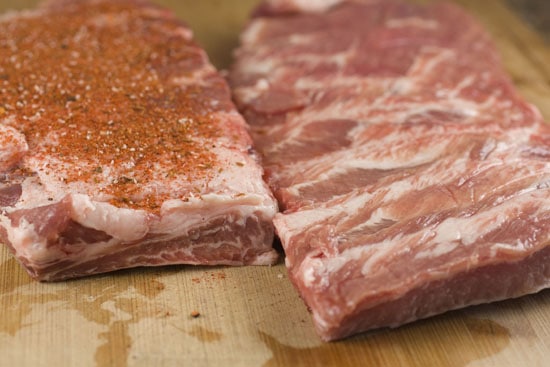 Ultimately, you will want to bake these beauties for four hours at 250 degrees. Of course, you can do other stuff while they cook low and slow… like drink margaritas.
One thing I do recommend is taking the ribs out every hour or so, flipping them, and basting them really well with apple cider vinegar. This helps keep them moist and the vinegar adds some great, but subtle, flavor.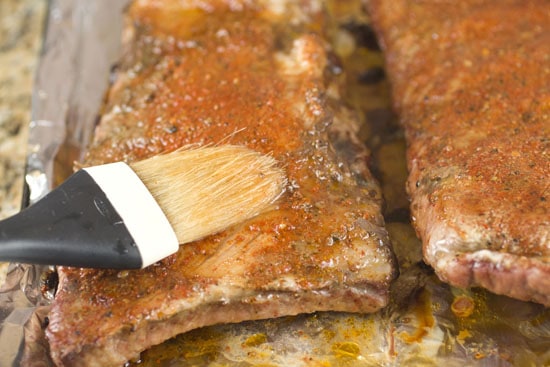 After four hours you'll have some really beautiful ribs. You'll be tempted to eat these as is.
As the chef you are entitled to snag a bit off of the end (which is the best part in my opinion). Save the rest for the nachos though.
Once the ribs cool a bit, cut them up and shred off the meat. You'll probably need a knife to cut the meat off the ribs and then just dice it up!
Keep the meat pretty chunky. You don't want it to disappear on the nachos.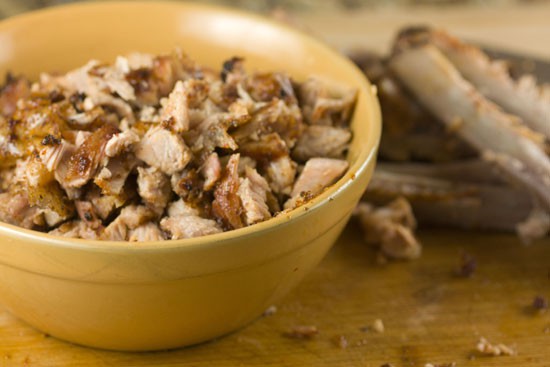 Of course, if you are hosting a party or something, you could do the rib cooking way in advance.
At some point while the ribs are cooking, you can also prep all your other toppings for the nachos. I went with some standard toppings for my version.
The Cheese Sauce
If you really want to make a proper plate of nachos, you need a good cheese sauce. There's no other way around it. You can just melt the cheese on the chips, sure, but as they cool the cheese will firm up and you'll be left with the famous block of chips and cheese.
With the sauce though, it stays fairly liquid even as it cools so the nachos are still easy to eat.
Some people are scared of making a cheese sauce, but it's really very straightforward.
Basically, just whisk together the butter and flour in a medium pot over medium heat. Once the butter melts the roux will slowly cook and start to turn a light brown color. When it's the color of the upper right photo, you are ready to start whisking in the milk.
It's not 100% necessary, but it helps to have your milk at room temperature or slightly warm for the sauce.
Just slowly whisk your milk into the roux. Work slowly and whisk constantly so the sauce doesn't have lumps in it. Once you get most of the milk in, go ahead and stir in the green chiles and cheese. Once the cheese melts, the sauce should be really thick and delicious.
You can keep this over low heat until you need it, stirring occasionally. If it gets too thick at any point, just whisk in some extra milk.
Even if you don't do the rib thing, this green chile cheese sauce is pretty awesome on any plate of chips.
Finishing the Rib Nachos
When you are ready to eat, just spred a good layer of sturdy tortilla chips on a few baking sheets and top with the shredded meat, red onions, and salsa.
Bake this at 350 degrees for 8-10 minutes. This just heats up the chips and gets the flavors mingling.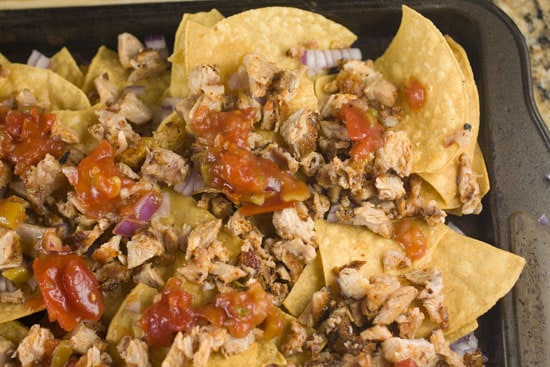 Once the chips come out of the oven, scoop a healthy serving onto each plate and pour the cheese sauce over the nachos.
Then you can top with some extra toppings like jalapenos, avocado, and a bit extra shredded cheese.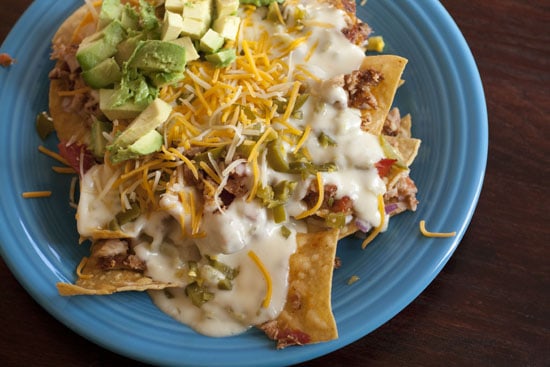 These Rib Nachos might seem a bit on the advanced end for a plate of nachos, but if there was ever a time to try something ambitious in the Tex-Mex world, it's this weekend.
Plus, how could you not want that plate of food?!