This Kale Salad with Pears is a salad that my Mom first served me many years ago and is still in my salad recipe favorites list. It has some fruit and avocado in it for a nice mix of fat and natural sweetness. I love it as a lunch salad or a hearty side dish for the holidays!
My mom doesn't think that she's a great cook, and while it's true that she rarely cooks super-fancy stuff, that doesn't NOT make her a good cook. The truth is that she has a great flavor palette and can come up with really fun flavor combos that I wouldn't have thought went well together.
After she served me this Kale Salad a few times, I had to ask for the recipe. I casually call it Babs's Kale Salad and Betsy and I just love it.
The salad has the perfect mix of crunchy and creamy, salty and sweet. Heck. I even used frozen raspberries for my version and it was still delicious.
Thanks for this one Babs!
Making the Raspberry Vinaigrette
My mom actually cooked this dressing on the stove to reduce it a bit and make it thicker, but that was an extra step that I'm not sure was 100% necessary.
I just combined all the ingredients including the raspberries, balsamic vinegar, honey, and olive oil in a small food processor and pulsed them until they were smooth. Again, I used frozen raspberries for this.
After the dressing comes together, season it with a pinch of salt and pepper and it's ready to go!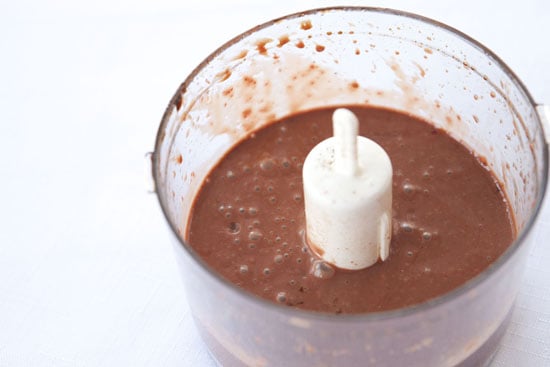 What kind of kale works for this salad and how to prep it
You could use a few different kinds of kale for this salad. I prefer lacinato kale which has the really tight ridges. You could use the more flat-leaf kale though if it's all you can find.
Probably the most important part of this kale salad, regardless of the type of kale you are using, is making sure you get your kale really clean. Because of all the creases in kale leaves, they are annoyingly good at hanging onto dirt and crud.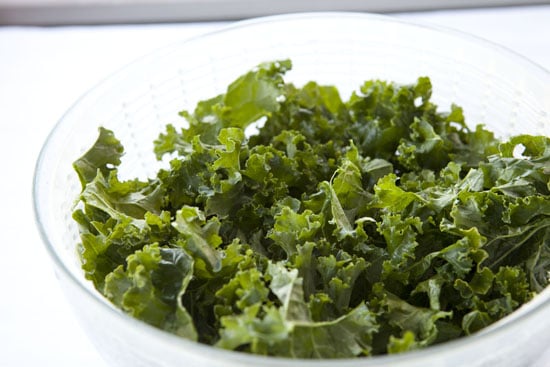 I just use my hands to rip the leaves off the stems and rip them into bite-sized pieces. Then I rinse them really well in cold water and give them a spin in a salad spinner. You could also pat them dry with a few paper towels, but you do want to dry them off so the dressing sticks to the leaves later.
In a pinch you could use chopped kale in a bag from the store. I find those to be not quite as fresh though and can sometimes have wilted kale which is hard to filter out in the bag. My preference for salads is always a full bunch of kale rather than a pre-chopped bag.
Finishing Ingredients for this Salad
My mom originally used apples for her version, but I switched out pears when I recreated it. Honestly, any crunchy fruit would go great in the salad.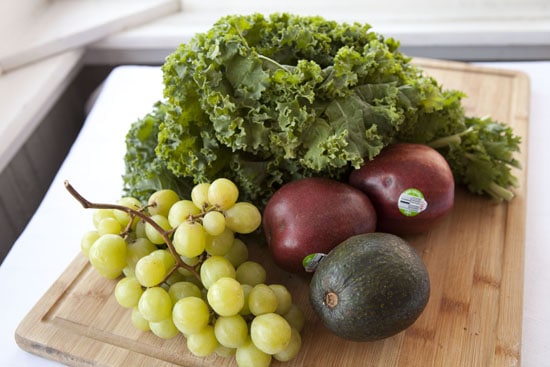 Then just dice up the pear and cut the grapes in half. Get seedless grapes so your eaters don't find little grape seeds everywhere.
I was a bit skeptical of the feta cheese in this salad, but it's actually a nice touch. It gives the salad some salty flavor and also a creamy element.
After all, when is feta cheese not delicious?
Remember, when pitting your avocados, the easiest way to do it is to slice them in half and then carefully chop into the avocado seed with a knife. Hold the avocado in a towel to protect your hand and give it a chop, a little twist, and the seed will pop right out.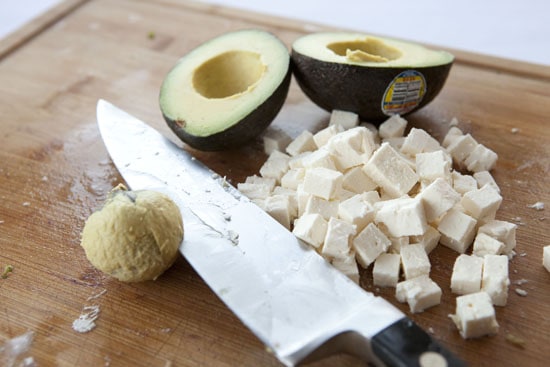 (NOTE: Be very careful when pitting avocados. Please use a towel to protect your hand and don't stab the seed. Watch this Youtube video for a walkthrough on how to do it safely.)
You can add a little dressing to the kale as you mix the salad, but serve most of the dressing on the side.
Substitutions and Ideas for this Kale Salad
There are a bunch of substitutions and ideas you could use on this kale salad with pears!
For sweeteners in the dressing, substitute maple syrup for the honey or use hot honey for a spicy kick.
For a fruitier dressing, substitute apple cider vinegar for the balsamic vinegar.
For extra crunch, add some nuts to the salad like pecans or toasted walnuts.
Change up the cheese and try goat cheese or crumbled gorgonzola cheese instead of feta cheese.
This is a great winter salad and really packs some great flavors. While you could obviously serve it as an appetizer, Betsy and I ate it for a meal with some crusty bread. It was really tasty!
This Raspberry Kale Salad has a reasonably short shelf-life once it's made, especially if you dress all of it. It'll keep okay for a day or two in the fridge but after that it degrades quickly. That said, we had no problem polishing it off before it went bad.
Thanks for the good salad Mom!
Kale Salad with Pears and Raspberry Vinaigrette
A hearty kale salad with chunky pears, grapes, feta cheese, and avocado is so nice on a crisp fall night. It also works well as a side dish for any holiday!
Ingredients
1

bunch

kale

,

chopped and washed

1

avocado

,

diced

1

pear

,

diced

2

cups

seedless green grapes

,

halved

4

oz.

feta cheese

,

crumbled

1

cup

fresh raspberries
Raspberry Vinaigrette
½

cup

raspberries

¼

cup

balsamic vinegar

¼

cup

olive oil

1

tbsp

honey

Pinch of salt and pepper
Instructions
For dressing, combine ingredients in a small food processor and pulse until smooth. Set aside until needed.

To prep kale: Using hands, rip kale into pieces and remove from large stems.Rip into bite-sized pieces and rinse well with cold water. use a salad spinner to dry kale or pat dry with paper towels.

Dice pear and halve grapes. Dice avocado and cube feta into small cubes.

Toss all ingredients together and top with fresh raspberries (I actually used thawed ones). Drizzle with raspberry dressing and serve immediately.

Leftover salad will keep for a day or two in the fridge.
Nutrition
Calories:
252
kcal
|
Carbohydrates:
23
g
|
Protein:
6
g
|
Fat:
17
g
|
Saturated Fat:
3
g
|
Polyunsaturated Fat:
2
g
|
Monounsaturated Fat:
10
g
|
Cholesterol:
10
mg
|
Sodium:
187
mg
|
Potassium:
393
mg
|
Fiber:
6
g
|
Sugar:
15
g
|
Vitamin A:
2257
IU
|
Vitamin C:
33
mg
|
Calcium:
75
mg
|
Iron:
1
mg
Did you make this recipe?
Here are a few other great recipes to try!