Generally, when I want to cook with pumpkin, I like to think of slightly savory things because people always forget how delicious savory pumpkin can be. Case in point: This Pumpkin Stuffed Shells recipe I posted last week. That's why this Savory Pumpkin Monkey Bread is a total stunner of a baked dish.
This Pumpkin Monkey Bread is, surprisingly, a great beginner baking project because the dough is really flexible and easy to make and shape. It's a fun one, layering the little cheese-stuffed balls in a bundt pan. And, even if you overbaked it by 10 minutes, it'd still be good.
To my surprise, my kids even loved this stuff (although I'll admit that my youngest child was basically just picking off the icing from the top). I'll call it a win.
Making the monkey bread dough
Many monkey bread recipes start with biscuit dough, but because I like to mix pumpkin into my dough, which makes it so delicious, you really have to make it from scratch. I get it adds a step to the process, but it's a wonderful entryway into bread-making. This is a seriously easy dough.
The dough for this monkey bread starts like any enriched dough. Warm milk, yeast, and sugar. Although in this case, I like to use maple syrup which goes well with the pumpkin flavors.
Add these ingredients to a bowl and once your yeast is bubbling, add in the pumpkin puree. Make sure not to buy pumpkin pie filling. This keeps the dough really moist and delicious. The flavor isn't super strong, but the color and texture are awesome.
After you add in the flour, mix the dough with a dough hook in a stand mixer for a few minutes (or you can knead by hand) and you'll end up with a very soft and elastic dough. It's okay if it's a little sticky.
Shape this into a ball, using a lot of flour, and let it rise at room temperature in a large bowl until it doubles in size. You can make the pumpkin monkey bread dough the night before you want to make this and let it chill in the fridge overnight for a slow rise. Just pull it out an hour or so before you intend to shape it so it warms up a bit.
Shaping the dough for monkey bread
When it's time to shape the dough, roll the dough out into a big rectangle (again, lots of flour) and sprinkle with grated Gruyere cheese. YUM. If you wanted something slightly sweeter, you could spread cream cheese over the surface of the dough.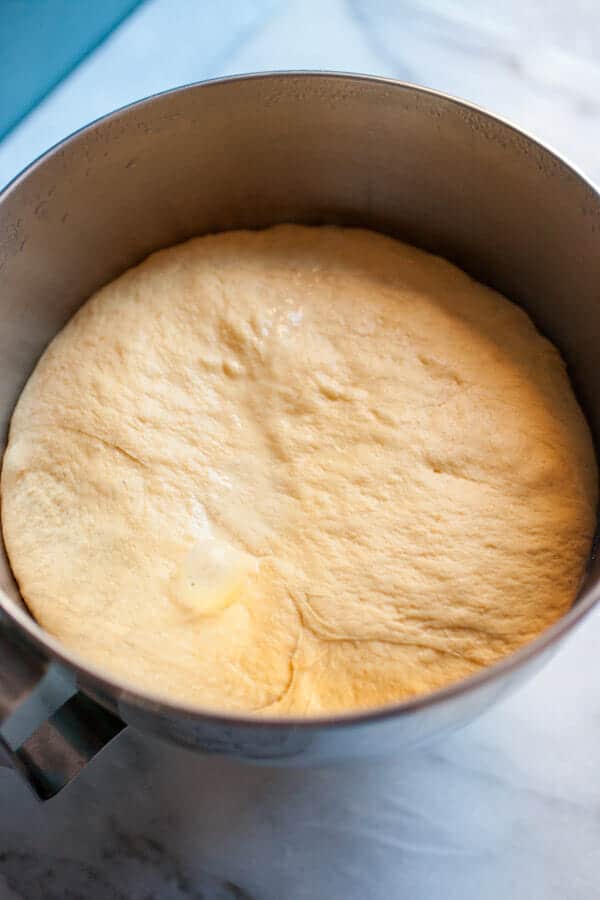 Note that this is a savory monkey bread recipe though so I skip some of the sweeter spices that some recipes use like nutmeg, brown sugar, cinnamon, and allspice.
Once your cheese is sprinkled on the dough, fold it over, roll it out again, and chop it up into a million little bites.
Building and baking the bread
You could many different pans for this recipe, but I like a large 12-cup bundt pan for my version. If you don't have one though, you could use two loaf pans or a large baking dish. It'll still be delicious!
Take each dough piece and dip it in melted unsalted butter and then in the sugar and chili mixture. The chili topping is pretty strong so no need to cover the whole ball. Just one side dipped in is good.
Then layer your pumpkin monkey bread bites in your bundt pan until you have used all the dough. I would recommend spraying the pan with cooking spray or rubbing with butter to make sure your monkey bread doesn't stick!
Cover that and let it rise a second time for about an hour at room temperature. Then bake this beauty for 35-40 minutes at 350 degrees F in the oven. The final result should be golden brown, slightly crispy on the edges, but very tender and moist on the inside. Pretty amazing.
If you are using a bundt pan, you can invert the pan after it has cooled slightly and flip the monkey bread out onto a serving plate.
Glazing the monkey bread
I'm not 100% sure that this monkey bread needs a glaze on it, but if you want to add one, then mix together your powdered sugar and water and drizzle it over the dough once it has cooled slightly.I did glaze my version just because my kids wanted an icing, but I'm not sure it's necessary.
Pumpkin Gruyere Monkey Bread, people. Get it.
Can you make this monkey bread in advance?
Because this recipe doesn't use refrigerator biscuit dough, it is a bit more prep time than some other recipes, but most of this monkey bread can be made in advance! You can make the dough and get the monkey bread completely made and in the pan in advance. Store it in the fridge for up to a day before baking.
The only trick to this is to make sure to take the dough out of the fridge at least an hour before baking so the chill can come off the dough and it can rise slightly at room temperature. Then bake it and enjoy!
How to make a sweet version of pumpkin monkey bread?
There is an easy way to sweeten up this monkey bread situation if you want it to be more like a pumpkin pie monkey bread. You could sub the gruyere cheese for cream cheese and then add some pumpkin pie spice and sugar to dip each bite in.
Sometimes you'll find recipes that mix the pumpkin with spice and stuff each bite with pumpkin, and that works, but I prefer to mix my pumpkin into the dough which gives it a wonderful color and flavor.
Pumpkin Gruyere Monkey Bread
This is my new favorite pumpkin item. It's the perfect blend of savory and sweet. Easy to eat, but hard to share!
Ingredients
Dough:
2

tablespoons

unsalted butter

,

melted

1

cup

milk

,

warm

1

cup

pumpkin puree

2

Tbsp.

maple syrup

2

teaspoons

instant yeast

2

teaspoons

kosher salt

4-4½

cups

all-purpose flour

,

plus extra for rolling

2

cups

Gruyere cheese

,

grated
Butter coating:
8

tablespoons

unsalted butter

,

melted

2

tablespoons

sugar

1

teaspoon

kosher salt

1

teaspoon

chili powder

1

teaspoon

garlic powder

½

teaspoon

black pepper
Instructions
Butter pan with 1 tablespoon softened butter and set aside for later.

In a bowl for a stand mixer, mix together milk, melted butter, syrup and yeast. Let sit until yeast is active and bubbly. Then stir in pumpkin and salt. Add flour by the cup and start to mix with dough hook. After dough comes together, increase speed to medium and mix until dough is shiny and smooth, 6 to 7 minutes. If at any point dough is very sticky, add more flour by the tablespoon.

If you don't have a mixer, just mix the ingredients in a bowl with a wooden spoon until the dough forms a rough ball. Then turn out onto a floured surface and knead the dough until it forms a smooth ball, about 5-6 minutes.

3)Turn dough onto lightly floured counter and knead briefly to form smooth, round ball. Coat large bowl with a sprinkle of flour. Place dough in bowl cover bowl with plastic wrap and let rise until dough doubles in size, about an hour.

For the filling, grate cheese.

To finish bread, remove the dough from the bowl, and roll into a large 10×14 rectangle. Sprinkle cheese mixture on half of the dough and fold it over. Then roll out again to a square. Using a bench scraper or knife, cut dough into tiny 1 inch pieces.

Melt butter for dipping and stir sugar, chili powder, salt, garlic powder, and pepper in a small bowl.

Dip each dough piece into the melted butter, then dip into the sugar mixture. No need to cover the whole dough ball. Then layer balls in the Bundt pan. Try to stagger the balls so they form a single thing. Occasionally sprinkle balls with extra sugar chili mixture.

Cover the Bundt pan tightly with plastic wrap and let rise for another hour until the balls are about 2 inches from the top of the pan (at least an hour).

Preheat oven to 350 degrees. Unwrap the pan and bake until the top is deep brown, about 35-40 minutes. Cool in the pan for 5 minutes, then turn out onto a late and allow to cool slightly, about 10 minutes.

OPTIONAL: Drizzle monkey bread with a simple powdered sugar + water glaze.
Nutrition
Serving:
1
slice
|
Calories:
583
kcal
|
Carbohydrates:
66
g
|
Protein:
20
g
|
Fat:
27
g
|
Saturated Fat:
16
g
|
Polyunsaturated Fat:
1
g
|
Monounsaturated Fat:
7
g
|
Trans Fat:
1
g
|
Cholesterol:
78
mg
|
Sodium:
1130
mg
|
Potassium:
263
mg
|
Fiber:
4
g
|
Sugar:
9
g
|
Vitamin A:
5642
IU
|
Vitamin C:
1
mg
|
Calcium:
401
mg
|
Iron:
4
mg
Did you make this recipe?
Here are a few other Savory Pumpkin recipes!