We have a close group of neighbors that we are trying to keep in touch with during these crazy times. One of the families had the great idea to drop off cocktails door to door to each family. Then we all had a virtual cocktail hour! We have now done three weeks in a row and it's a great way to keep in touch with some local friends! These Porch Palomas were our contribution to the group!
If you've never had a paloma, it's one of my favorite summer drinks. Done right, it's the perfect balance of salty, sweet, and sour. It also works well as a delivered cocktail because you can mix up the base grapefruit/tequila in a jar and then package some toppers and garnishes along with it!
Let's dive in and I can show you how I made these so you can share them with your friends!
NOTE: It should go without saying that if you are delivering cocktails to people, hygiene is beyond important. Make sure everything is very clean and use sanitizer while delivering the cocktails to protect your friends!
The Base Paloma Mix
You can use pretty much any tequila for palomas. The key is to make the base mix pretty strong since your friends are going to add some sparkling water/soda to it when they mix the cocktails.
So my base is basically 1 part tequila to 1 part grapefruit. Something like 4-5 ounces of tequila mixed with 4-5 ounces of grapefruit juice is what I recommend. If you have a little fresh lime juice or orange juice (I used blood oranges), you can add that in also!
Paloma Rim Mixture
You might be tempted to skip this step, but it's so important! The spiced rim on the drink totally makes it. It's really easy to stir up. I do a simple mix of salt, sugar, and mild chili powder. Mix it up and divide it into a few little bags for easier packaging.
How to Package Cocktails for Delivery
It's worth spending some time thinking about how you are going to package these for your friends. I recommend jars for the cocktail base and then packaging the salted mix and garnishes in little bags. Also, include a can of your favorite grapefruit soda or sparkling water. Fresca and Squirt make great grapefruit-flavored drinks. This is the sparkling touch that really makes the drink refreshing!
Of course, keep a few jars of porch palomas for yourself!
Everybody needs a good cocktail these days!
Oh, and if you wanted to print and include a little flyer for the drink with instructions, you can use mine! Click the below for a full PDF of the flyer that you can print and include in your gift bags.
I even included a fun little playlist I found on Youtube!
Thinking of ways we can stay connected to our friends is really important right now. For us, this weekly virtual cocktail hour has been a super fun thing to look forward to!
Porch Palomas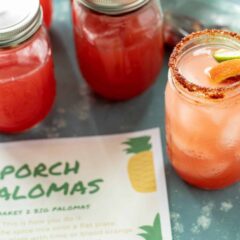 Bring your friends cocktails from a safe distance with these fun Porch Palomas! Jar them up, drop them off, and cheers! So refreshing and perfect for summer.
Ingredients
2

cups

tequila

2

cups

grapefruit juice

1

blood orange

,

juiced

Fresh limes

,

grapefruit, or oranges, garnish
Paloma Rim spice:
2

tablespoons

kosher salt

2

tablespoons

sugar

2

tablespoon

chili powder

Grapefruit soda or sparkling water
Instructions
In each clean jar, mix together 4-5 ounces of tequila with 4-5 ounces of grapefruit juice. Add a splash of fresh orange juice as well and seal jar. You should have 8-10 ounces of mix in each jar.

Mix together spice mix and divide between small bags.

Package one jar with one spice bag, one can of grapefruit soda, and sliced garnish.

Print out Porch Paloma instructions and deliver to your favorite people!
Nutrition
Serving:
1
cocktail
|
Calories:
373
kcal
|
Carbohydrates:
23
g
|
Protein:
1
g
|
Fat:
1
g
|
Saturated Fat:
0.1
g
|
Polyunsaturated Fat:
0.3
g
|
Monounsaturated Fat:
0.1
g
|
Sodium:
3557
mg
|
Potassium:
278
mg
|
Fiber:
2
g
|
Sugar:
21
g
|
Vitamin A:
1202
IU
|
Vitamin C:
34
mg
|
Calcium:
26
mg
|
Iron:
1
mg
Did you make this recipe?
Here are a few other great cocktail recipes!