Ok people. It's time to get serious for peach week. We're done with making baked peaches and peach salads. It's time to kick it up a notch.
Or twelve.
This recipe features a trifecta of flavors that go really well with peaches: pork, maple syrup, and bourbon. All of them are slam-smashed into one thing, rolled up, and grilled.
This might shock you, but it was really tasty.
Peach Stuffed Pork Tenderloin
A flavorful peach stuffing (with bourbon) wrapped inside of a pork tenderloin and grilled. Hard to wrong here!
Ingredients
1

3 lb

pork tenderloin

,

or 2 1.5 lb tenderloins

1

ripe peach

,

diced

2

Tablespoons

maple syrup

2

Tablespoons

bourbon

2

Tablespoons

chicken stock

1

Tablespoon

fresh thyme

2

Cups

breadcrumbs

,

approx.

Salt and pepper
Instructions
If you're making your own bread crumbs, toast bread in a 300 degree oven for about 20 minutes until very dry. Then crumble.

Stir other filling ingredients together and set aside until needed.

Slice tenderloin down the center (but not all the way through), then use a sharp knife to carve it open until it lays flat. Once it's mostly flat, cover it with plastic wrap and pound it out to an even thickness.

Add filling to tenderloin in a small layer and sprinkle with salt and pepper. Leave about 1/2 inch of room around the outside of the tenderloin.

Roll the tenderloin up and secure it with kitchen twine.

Grill the tenderloin over medium-high heat until it registers 135-140 degrees in the center. This should be around 16 minutes total. Use a meat thermometer to check the temperature occasionally.

Cover the tenderloin with foil and let it rest for 10 minutes.

Slice up the tenderloin into 1/2 inch coins and serve!
Nutrition
Serving:
2
slices
|
Calories:
185
kcal
|
Carbohydrates:
33
g
|
Protein:
5
g
|
Fat:
2
g
|
Saturated Fat:
0.5
g
|
Polyunsaturated Fat:
1
g
|
Monounsaturated Fat:
0.4
g
|
Cholesterol:
0.3
mg
|
Sodium:
275
mg
|
Potassium:
129
mg
|
Fiber:
2
g
|
Sugar:
8
g
|
Vitamin A:
137
IU
|
Vitamin C:
3
mg
|
Calcium:
79
mg
|
Iron:
2
mg
Did you make this recipe?
The Filling
When it comes to stuffing something like a pork tenderloin, you don't have a lot of room, so you want to make sure to maximize the flavors in the small amount of stuffing that you'll be using.
So I grabbed some of the most flavorful stuff I could think of.
Besides those flavors, you need a good absorbant base for the stuffing. You could use store-bought breadcrumbs but I like to make my own so they have some texture to them and aren't all the same size.
Just roast 5-6 slices of your favorite bread in a 300 degree oven for about 20 minutes. Then let the bread cool down and should be able to pretty much crumble it with your hands.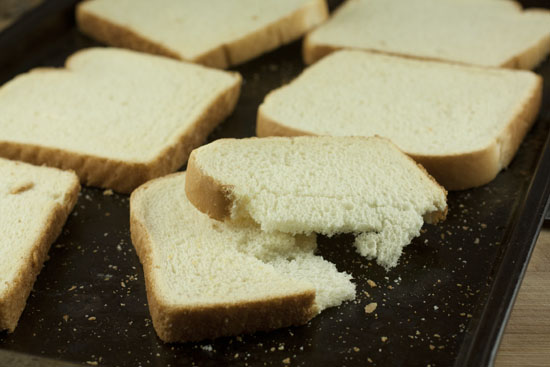 Stir all the filling ingredients together in a large bowl and you're all set!
I wish mine would've been a tiny bit dryer (I adjusted the recipe from what I used). Since the pork tenderloins cook relatively quickly, the stuffing won't have time to really absorb or lose much moisture. So what you put in is pretty much the texture that you're going to get.
I wish mine would've been just a tad bit dryer.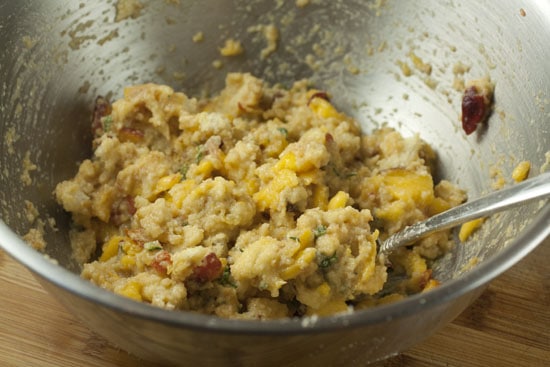 The Tenderloin
This looks like an intimidating dish, but it's 100% doable. The key part is to not rush cutting open the tenderloin and having a nice sharp knife. To start, slice the tenderloin down the center, being careful not to cut all the way through it.
Then carefully run your knife along the bottom of one side of the tenderloin. You kind of want to unroll it if that makes sense. Here's one of my sides after being "unrolled."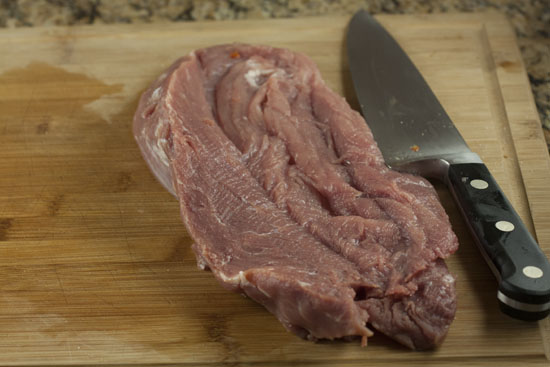 Do that to the other side as well again being careful not to cut through the tenderloin. Then put a piece of plastic wrap over the top of the tenderloin and lightly pound it out with a mallet. This just makes sure that it's a nice even thickness. There's no need to bash the thing to pieces. Light strokes will get the job done.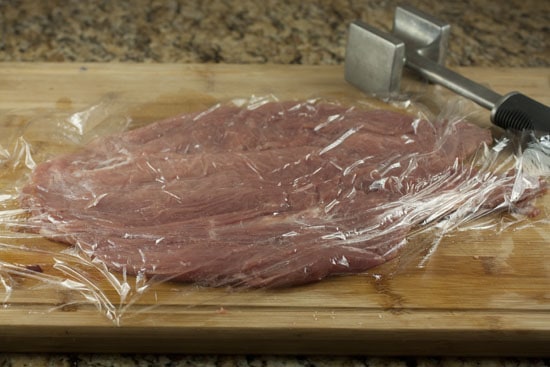 Now it's time to fill it! Depending on the size of your tenderloin, you'll need different amounts of filling, but basically you want a nice even layer all over the whole tenderloin. Try to make sure that it's not too thick in any one part and leave about a 1/2 inch around the outside of the tenderloin. Sprinkle it with a pinch of salt and pepper also before rolling it up.
Basically, just make it look like this:
Then, starting with the end closest to you, just roll it up! Try to make it as tight as possible without ripping the outside layer of tenderloin.
My first one had a small rip in it which will happen sometimes because, well, it's not everyday I stuff a tenderloin.
No worries though if yours has a small rip. It should still cook up just fine.
Tying the Tenderloins
Unfortunately, these tenderloins will NOT keep their shape on their own (although they will after they are cooked). So you're going to need to tie them with some kitchen twine to get them to stay in the right shape. It's always a good idea to tie stuff like this just to make sure everything stays in place.
Just cut off a big piece of twine and wrap it around each tenderloin a few times, criss-crossing it as you go. No need to do anything fancy with it. We're going for function over fashion here.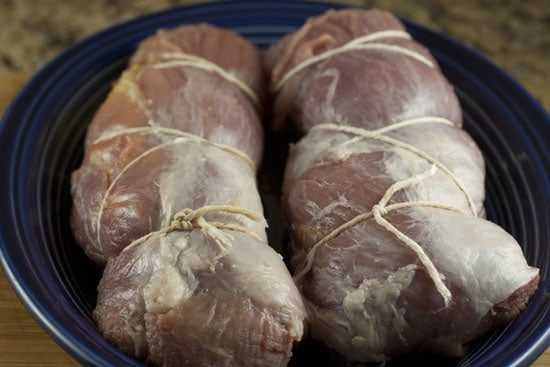 Grilling the Tenderloins
You could definitely roast these guys, but I prefer the hot heat of the grill. Just heat your grill up to medium-high heat and then toss on your tenderloins. Tenderloins cook pretty quickly, but this will take a bit longer than your average tenderloin due to the stuffing.
Mine took right around 16 minutes to get to the right internal temperature (135-140 degrees). In reality though, for something like this the only way to really know if your tenderloin is done is to use a meat thermometer, which I highly recommend.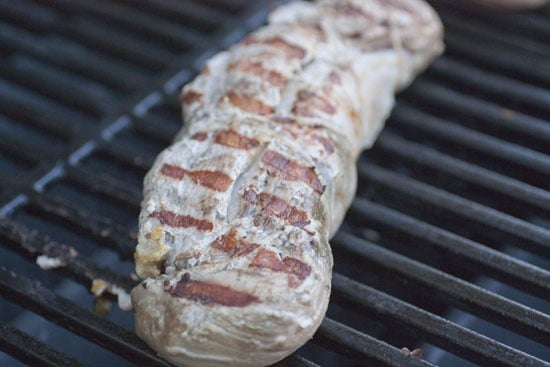 When the tenderloin comes off the grill, wrap them up with foil and let them rest for about 10 minutes. They'll continue to cook in the foil and the temperature will rise another few degrees.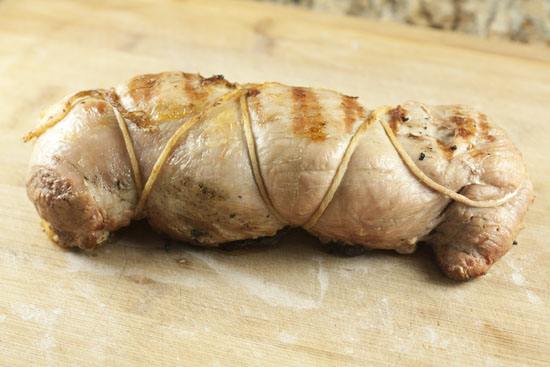 Once the tenderloin is rested, you can cut off the twine and slice it up! I like to shoot for about 1/2 inch coins of the tenderloin.
Assuming you don't overcook the tenderloin, there's no sauce needed for these guys. They are really moist and flavorful.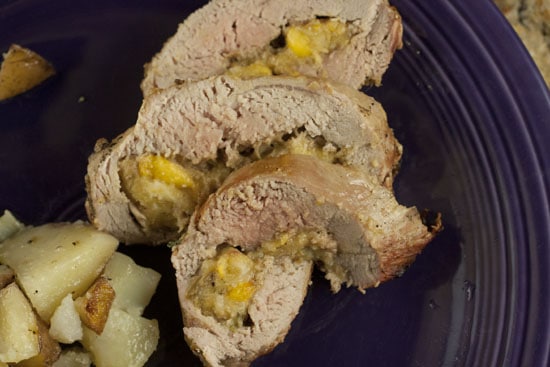 There's a few tricky parts about this recipe (wrapping the tenderloin, not overcooking it, etc), but if I can do it anybody can do it.
Just remember to give yourself plenty of time so you aren't rushed and maybe have a swig or two of that bourbon to calm the old nerves.
Then you can cook up a storm!