If I peeled back the veil of this humble food blog, you would see that during the Thanksgiving season, there is one recipe that bubbles to the top even though it was first posted 12 (A DOZEN!) years ago. It's this Thanksgiving Sausage Stuffing recipe. And with good reason, because it truly is the best stuffing recipe I've made.
This recipe is always on my Thanksgiving table each year and I probably get more texts and direct messages with photos of it than any other recipe on Macheesmo. It's a good one and a keeper.
The ironic thing is that this recipe isn't even MY recipe! Good credit must be given to the original creator, of course. Let's dive in and learn how to make this truly special recipe.
The History of Marquis's Marvelous Stuffing
Twelve years ago, before kids, before houses, before marriage, I was having Thanksgiving in DC with some friends. One of these friends, Mr. Marquis, called me up before the event and proclaimed that he had perfected stuffing. I was skeptical, but this friend was a very good cook and an engineer so if someone could perfect stuffing, I figured it might as well be him.
He brought me this recipe. I took one bite and knew that my Thanksgiving table would never not include it.
I now make this stuffing every year for Thanksgiving and sometimes in February for my birthday. It is that good. It has everything I look for in a stuffing: Nice bread, awesome meatiness, tons of spices, and some fruit and other good stuff. Oh. And lots of butter.
Over the years, I've tried small variations on this recipe, but never really like it as much as the original. So, I'll give some IDEAS for substitutions in this post, but unless you have a very good reason to modify it, I wouldn't.
Can you use this sausage stuffing to stuff a turkey?
Ironically, one thing I have never done with this stuffing is actually stuffed it inside anything (say, a turkey). It is always just so beautiful in the pan that I prefer to make it this way. In theory, I guess you could stuff a turkey with it, but I think it would lose some of its best features (texture).
Also, I'm a big fan of NEVER stuffing turkeys because it tends to lead to an overcooked turkey. If you do stuff it, just make sure you use a thermometer to ensure the turkey and stuffing reach a safe 170˚F in the very center, which, spoiler alert, will mean a pretty dry and overcooked turkey.
Toasting the bread for this stuffing
The first thing for this amazing stuffing is the bread. The original recipe uses a mix of whole wheat and white bread. Cut up your bread cubes and spread them out on two sheet pans. It's a lot of bread so you'll need two to make sure the bread cubes are in an even layer. Toast them in a 350-degree oven for 15-20 minutes. You want these cubes pretty toasty. Keep an eye on them though – burnt bread stuffing is not what we are making.
I recommend stirring the bread halfway through just to make sure they are toasting evenly.
Cooking the sausage and onions
While your bread toasts, take your pork sausage and onion and start it up in a large skillet over medium heat. I like to use a spicy Italian sausage for my version. At house macheesmo, you can tell it's Thanksgiving season when the smell of sausage and onions is coming from the kitchen.
While that is simmering away, chop up your aromatics listed above and get them ready. You can do this in advance if you want, but I like to multi-task.
Then add your celery, sage, thyme, and rosemary to your sausage mixture and cook for just 3 minutes to combine. This will smell really good.
Finishing the best sausage stuffing
Now get the biggest bowl you have. You might have to do this in two batches if you make the full recipe. Keep in mind that my version in the photos here is halved. Anyway, put your bread in a bowl.
Then add that amazing sausage mixture that has been simmering away.
Then add your apples, dried cranberries, and parsley.
Finally, add your stock and melted butter. The bread should be very moist, but you don't want any liquid left. All of the liquid should be absorbed. If you add too much, don't worry about it, just add another 15 minutes or so to the cooking time. Spread it out in a 9 by 13 baking dish. If you have a really large casserole dish, you might be able to fit it all in one dish.
NOTE: If you are making a full batch of this stuff, you will want two or need to make it in two batches.
Bake this at 350 degrees, cover for 30 minutes, and then uncover for 30 minutes. Stir this stuffing every 15 minutes. As I said, if after an hour the bread is still too moist, just cook for another 15.
Serve the stuffing with any and all Thanksgiving dishes. It's great with mashed potatoes, cranberry sauce, and goes well with any kind of gravy.
Substitution Ideas
Like I've said, I don't really recommend substitutions for this recipe. It's wonderful as-is and unless you have a particular reason to substitute something, I would make it as written.
For starters, the most flexible substitution in this recipe is probably the bread. While the recipe uses a mix of whole wheat and white bread, I've made it with a few different breads including potato bread or sourdough bread. It all turns out just fine.
If you aren't a sausage eater, it's tough to substitute, but you could sautee two pounds of mushrooms in olive oil and start with that as a base for the stuffing. Kind of a different beast, but also good if you are trying for a vegetarian version.
I'm usually fine substituting dried herbs for fresh herbs, but for Thanksgiving, I really try to use fresh herbs for this recipe. If you just can't find them, then you can use dried herbs. Just divide the amounts by about three. So a tablespoon of fresh thyme becomes a teaspoon of dried thyme.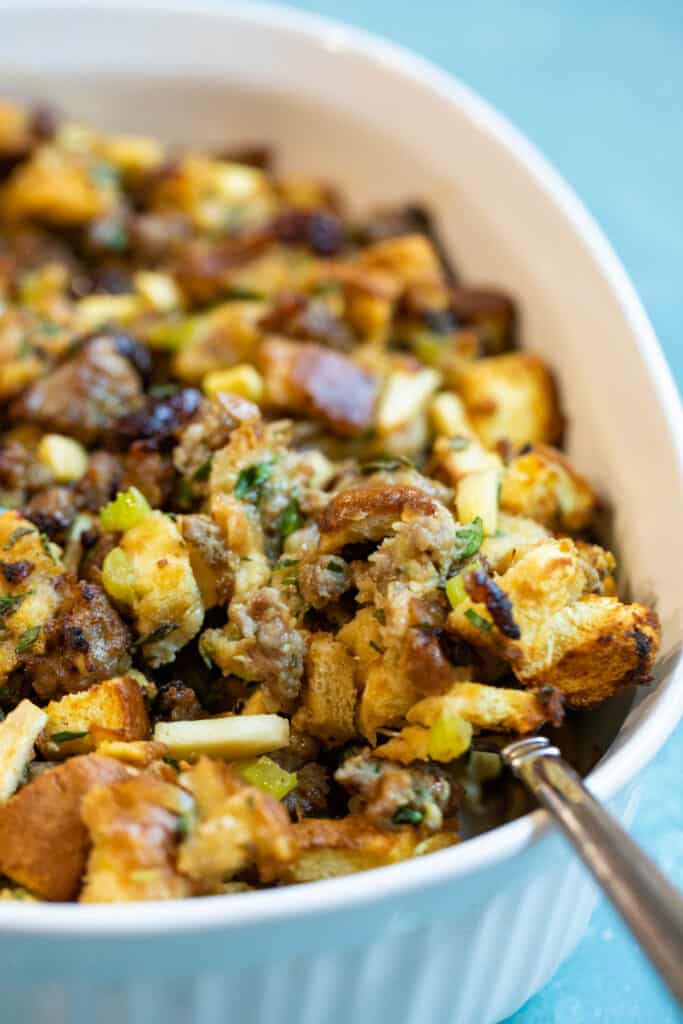 Leftover Stuffing Ideas
If you make the full version of this recipe, which serves 15-16 people, you will almost certainly have leftovers, which isn't a bad thing! Leftover stuffing is wonderful. It actually freezes really well if you wanted to stick some of it in the freezer for a few months. In an airtight container, it keeps fine in the fridge for a week or so.
Stuffing is great on a sandwich actually. Toast your bread well and add stuffing, turkey, and a little gravy and cranberry sauce. Perfect leftover turkey sandwich!
Another idea I've tried before is to stick leftover stuffing in a waffle iron! Make sure to oil the waffle iron well but the finished waffle is wonderfully crispy and is great with an egg on top!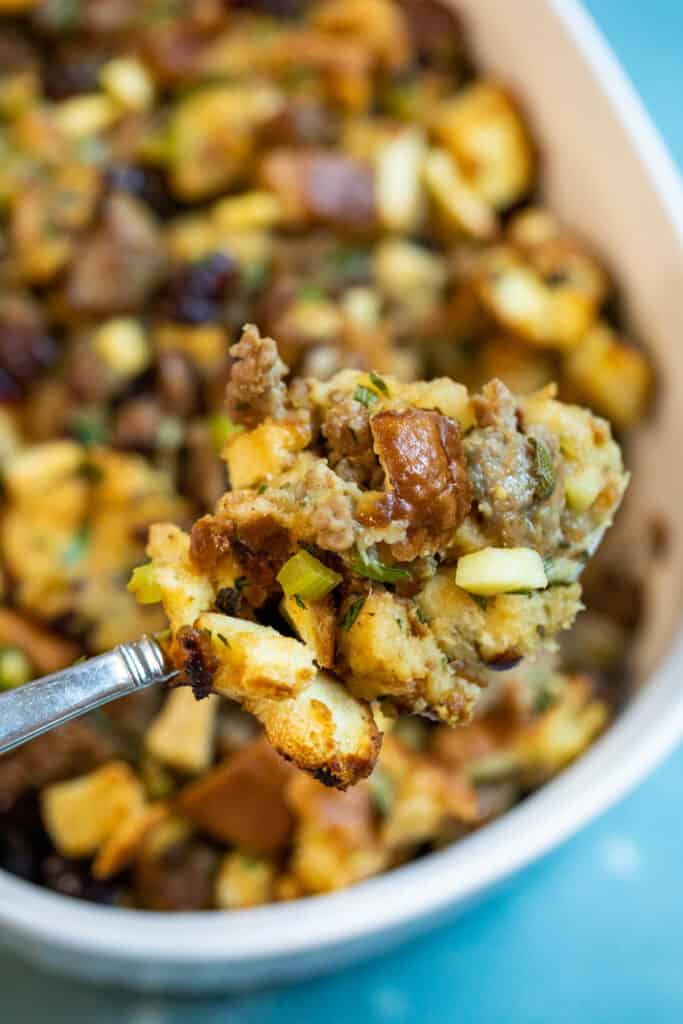 Try this recipe!
So that's it. While I would love it if you passed this post on to others, I also understand if you want to horde it so you can forever impress your friends, family, and lover(s) with it. And if you are Mr. Marquis, then I humbly thank you for your creation.
If you need more Thanksgiving side ideas, check out this Green Bean Casserole from Scratch!
Marquis's Marvelous Stuffing
Look no further for Thanksgiving than this Sausage Stuffing Recipe. It's packed with flavorful herbs, aromatics, and fruits and is baked until crispy on top.
Ingredients
¼

loaf cubed whole wheat bread

1

loaf cubed white bread
Sausage Mixture:
2

pounds

ground spicy pork sausage

1

large onion

,

chopped
Aromatics:
1½

cups

celery

,

chopped

5

Teaspoons

fresh sage

1

Tablespoon

fresh rosemary

1

Teaspoon

Fresh thyme
Other business:
2

Golden Delicious Apples

,

cored, peeled, chopped.

1½

cups

dried cranberries

⅔

cups

minced fresh parsley

3

cups

turkey or chicken stock

,

Note: this varies based on your bread. You might need more.

½

cup

melted butter
Instructions
Preheat oven to 350 degrees F. Cube up all your bread and bake for 15-20 minutes. You want these cubes pretty toasty. Keep an eye on them though.

Meanwhile, cook sausage and onion in a large skillet over medium heat until sausage is browned and cooked through.

Chop up aromatics listed above. When sausage is cooked, add aromatics to your sausage mixture and cook for just 3 minutes to combine.

In a huge bowl, toss together all the ingredients except stock and butter. Once it's well combined, start adding stock until the mixture is very moist but not soggy at all.

Pour out stuffing onto a few 9×13 baking dishes and drizzle butter over the stuffing. Bake until the stuffing for 30 minutes covered and then 30 minutes uncovered, stirring ever 15 minutes. It should be browned on top and cooked through. It'll still have some liquid in it but be not soggy. Don't be afraid to let it bake a little longer if it seems too soggy.

Serve while warm with traditional Thanksgiving stuff!
Nutrition
Serving:
1
Side
|
Calories:
318
kcal
|
Carbohydrates:
17
g
|
Protein:
11
g
|
Fat:
23
g
|
Saturated Fat:
9
g
|
Polyunsaturated Fat:
3
g
|
Monounsaturated Fat:
9
g
|
Trans Fat:
0.4
g
|
Cholesterol:
61
mg
|
Sodium:
523
mg
|
Potassium:
294
mg
|
Fiber:
2
g
|
Sugar:
13
g
|
Vitamin A:
529
IU
|
Vitamin C:
6
mg
|
Calcium:
30
mg
|
Iron:
1
mg
Did you make this recipe?
Here are a few other great recipes to try!