Tuna salad probably doesn't break most people's top 100 exciting dishes list. I get it. But, you probably think of tuna salad that I thought of before I started making it this way: Gloopy and fishy. It's one reason why I've yet to publish a classic tuna salad recipe in more than a decade of writing this blog. But this Lemon Tuna Salad is absolutely not boring!
The trick, it turns out, to making delicious tuna salad and saving it from itself, is to inject it with two things: Crunch and Zest. It needs bright textures and flavors to bring it back to life. By adding lots of lemon zest, capers, and crunchy veggies, this Lemon Tuan Salad can save canned (or packaged) tuna.
Believe it or not, I actually ate this Lemony Tuna Salad four days in a row for lunch. That's almost unheard of in House Macheesmo! It's worth giving a shot, even if you think you don't like tuna salad!
What kind of tuna to use for tuna salad?
Canned tuna is best for tuna salad and there are many on the market these days. You can get tuna that is packed with oil or water and either is fine to use for this recipe. Just know that the tuna packed in oil is richer while the tuna packed in water is lighter.
Personally, I use tuna packed in water for a salad like this since we are mixing it with a fatty dressing. The oil isn't really necessary.
If I'm eating tuna on its own though, I prefer the tuna in oil if I have the choice.
Adding crunch to tuna salad
It's important to use good tuna, in my opinion, for this recipe, but to be honest the star of the show is the lemon and the crunchy veggies.
And capers! I listed a normal amount of capers in the recipe but I love capers so much I can basically eat a whole jar on this salad.
Here's my salad base. Lots of lemon zest. Lots of capers. Lots of crunch!
Finishing the Lemon Tuna Salad
Once you have the vegetables diced and everything stirred together, then you can move to focus on the dressing.
I like a mayo base, but be careful not to overdo it on the mayo. It shouldn't be soupy but just hold everything together.
Finally, you can fold in your tuna. Your goal should be to not mix it too much once the tuna is added so the tuna stays in nice chunks.
Ideas for serving this tuna salad
My preferred way to serve this salad is on a piece of toast, open-faced, with a bed of arugula, the tuna salad, and extra zest and capers. It's relatively healthy and the toast gives some nice crunch to the salad.
But, there are other serving options!
Serve it as a true salad on a bed of arugula or butter lettuce.
Serve it for breakfast on a bagel or English muffin.
Add it to a pita with lettuce and red onion for a pita tuna sandwich!
Wrap it up in a flour tortilla for a wrap version (easier to take on the go)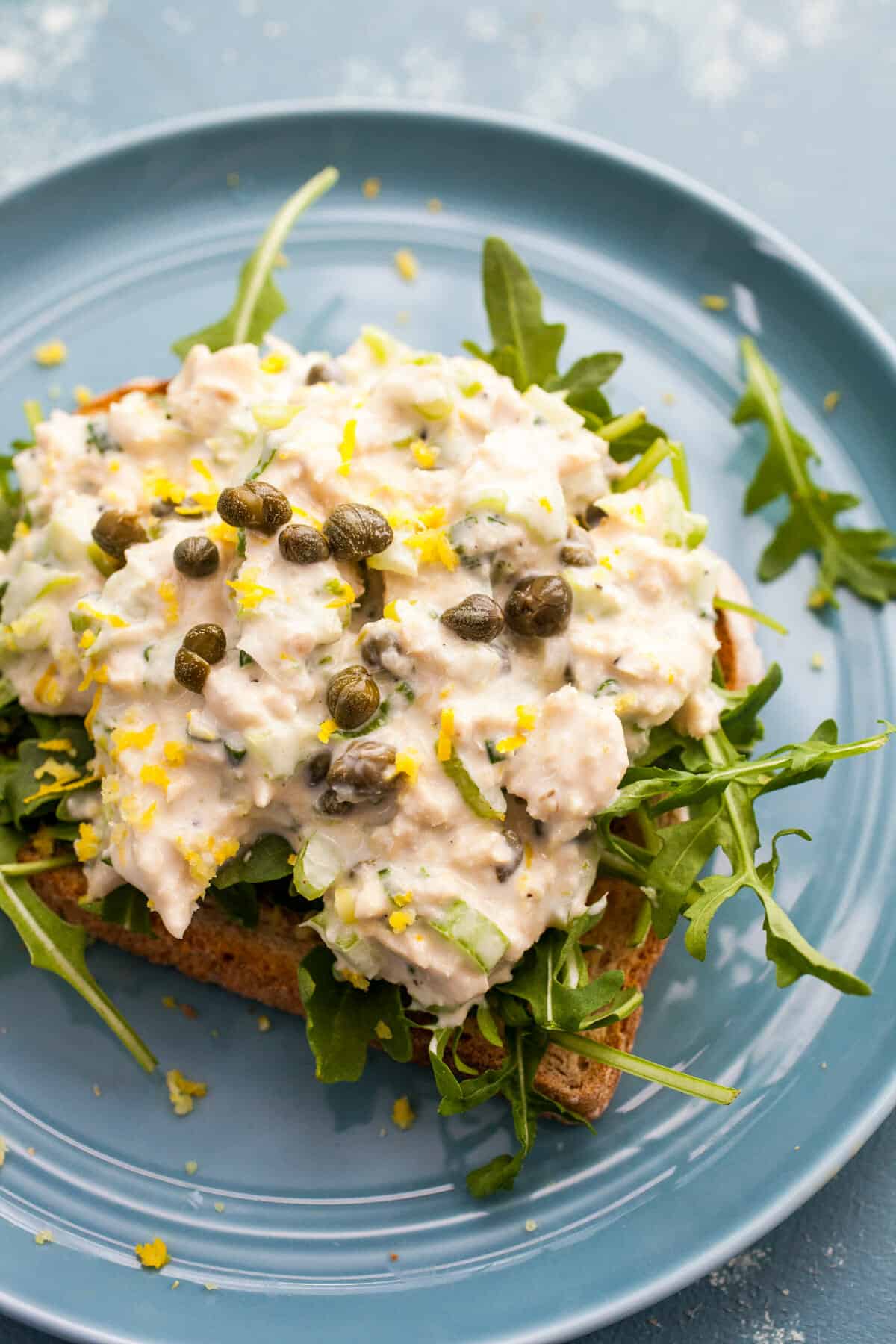 Lemon Zinger Tuna Salad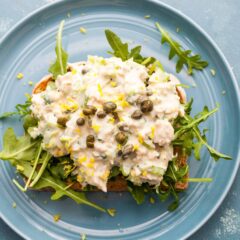 Not your boring tuna salad. This one is packed with crunchy veggies and bright lemons and capers. Great on salad or in sandwich form!
Ingredients
3

scallions

,

minced

1

stalk celery

,

minced

1

tablespoon

lemon juice

1

lemon

,

zest

1-2

tablespoons

capers

¼

cup

mayonnaise

4-5

ounces

tuna

Arugula

,

for serving

Toast

,

for serving

Salt and pepper
Instructions
Mince celery and scallions and stir together with capers, lemon zest, mayo, and lemon juice. Fold in tuna (drained). Taste and season with salt and pepper to taste.

Serve tuna salad on a bed of arugula either as a salad or on toast.

Garnish the salad optionally with extra capers and lemon zest.
Nutrition
Serving:
1
scoop
|
Calories:
266
kcal
|
Carbohydrates:
7
g
|
Protein:
12
g
|
Fat:
22
g
|
Saturated Fat:
3
g
|
Polyunsaturated Fat:
13
g
|
Monounsaturated Fat:
5
g
|
Trans Fat:
0.1
g
|
Cholesterol:
32
mg
|
Sodium:
418
mg
|
Potassium:
244
mg
|
Fiber:
2
g
|
Sugar:
2
g
|
Vitamin A:
257
IU
|
Vitamin C:
35
mg
|
Calcium:
42
mg
|
Iron:
2
mg
Did you make this recipe?
How to store the tuna salad
Tuna salad keeps pretty well for a few days in the fridge. After 2-3 days it gets a bit sad and the veggies start to lose their crunch. So I would plan to eat it within a few days of making it.
I don't think tuna salad freezes particularly well so I would just make small batches of the salad fresh when you are craving it.
Here are a few other great recipes you might like!