I'm positive that I never actually had tuna noodle casserole as a child because when I was thinking about recreating it, I called my mom to confirm that it wasn't in her regular cooking rotation.
That said, for some reason I have memories of horrible tuna noodle casseroles as a child. I'm not sure if these memories are from school cafeteria versions or just implanted nightmares of goopy dishes. After all, it's not a sexy dish and has had a bad reputation for as long as I can remember.
As with most dishes though, it should be no surprise that it turns out like crap if you put crap into it. Use some canned soup, cheap tuna, and flimsy pasta and you're going to end up with a disaster in a baking dish.
But we can do better. My Homemade Tuna Noodle Casserole gives this dish a chance for a rebirth!
Homemade Tuna Noodle Casserole
Homemade Tuna Noodle Casserole without all of the cans. Fresh ingredients make all the difference in this delicious comfort food classic!
Ingredients
8

ounces

fusilli pasta

2

tablespoons

olive oil

6

ounces

Cremini mushrooms

,

sliced

1

large shallot

,

diced

2

cloves

garlic

,

minced

½

jalapeno

,

seeded and minced

2

cups

purple kale

,

minced

3

tablespoons

all-purpose flour

1

cup

milk

1

cup

vegetable stock

1

cup

cheddar cheese

,

grated

¼

cup

sour cream

1

teaspoon

fresh thyme

6

ounces

flaked tuna fish

½

cup

Panko bread crumbs

½

cup

Parmesan cheese

,

grated

Salt and pepper

Unsalted butter

,

for pan
Instructions
Preheat oven to 350 degrees F. Cook pasta according to package. If anything, undercook the pasta slightly. Meanwhile, in a large pot, add oil over medium heat. Once hot, add mushrooms and cook for a few minutes until mushrooms lose their liquid and start to brown slightly.

Add in shallots, garlic, jalapeno, and kale to the pot and continue to cook until veggies are wilted and soft, about 3-4 minutes. Season with a pinch of salt.

Stir flour into the veggie mixture. Cook for a minute. The pan will be very dry at this point.

Slowly stir in stock and milk and continue to simmer until the mixture thickens. It should be the consistency of a light gravy.

Stir in sour cream, cheddar cheese, thyme, and season with salt and pepper.

Fold in flaked tuna, try not to over mix it at this point. Finally fold in noodles and combine everything together.

Transfer the casserole mixture to a buttered 2 1/2 quart baking dish. Top with breadcrumbs and parmesan cheese.

Bake dish at 350 degrees For 20 minutes until the top is lightly browned.

Serve while warm! If you need to reheat leftovers, you can do so in the microwave for a few minutes. Add a tablespoon of milk to it when you reheat a portion.
Nutrition
Serving:
1
bowl
|
Calories:
414
kcal
|
Carbohydrates:
42
g
|
Protein:
22
g
|
Fat:
18
g
|
Saturated Fat:
8
g
|
Polyunsaturated Fat:
1
g
|
Monounsaturated Fat:
6
g
|
Cholesterol:
45
mg
|
Sodium:
547
mg
|
Potassium:
471
mg
|
Fiber:
3
g
|
Sugar:
5
g
|
Vitamin A:
2739
IU
|
Vitamin C:
24
mg
|
Calcium:
381
mg
|
Iron:
2
mg
Did you make this recipe?
Homemade Tuna Noodle Casserole
The Veggies
I'm pretty sure that there are zero fresh veggies in my nightmare version of this dish. I decided to use a few veggies that can stand up well to the tuna fish: shallots, mushrooms, kale, and spicy jalapenos.
To start putting the Homemade Tuna Noodle Casserole together, make the pasta according to the package (I like fusilli), but it's okay to very slightly undercook the pasta. It will finish cooking in the casserole. Whatever you do, don't overcook the pasta or it'll just be a big pot of mush and your casserole rebirth efforts will be thwarted.
For the sauce, we need to start by cooking the veg. In a large pot, add a drizzle of olive oil and the sliced mushrooms. Cook them over medium-high heat until they brown slightly and lose some of their liquid.
Then add in the minced shallot, jalapeno, and garlic and continue to cook. A pinch of salt at this point wouldn't hurt.
Next add in the kale. The important thing about the kale is that it needs to be really diced finely. It's kind of hard to see in the photo but I almost treated like I would an herb. You just don't want any huge kale chunks in your finished casserole, but it gives the finished version some nice color.
Making the Sauce
Let this cook down a bit and the kale will start to wilt. Now for the fun part. Add the flour straight into this veggie mix and turn the heat down to medium-low. This will obviously make the pan really dry as the flour cooks, but make sure the flour is stirred into the veggies.
Once the flour is well-incorporated, it's time to add the liquid. Very slowly stir in the broth and milk and bring it to a simmer. This will thicken pretty quickly as it heats and eventually you'll be left with a thick gravy.
You can stir in your sour cream and thyme at this point also.
Next, stir in the cheddar and flaked tuna. Once you add the tuna, try not to stir the sauce vigorously. You want it to stay in nice, big flakes.
Also, one note on tuna: There are various kinds of canned or packaged tuna and for a dish like this, please spend the few extra bucks on a very nice brand. Line-caught, Albacore tuna stored in water is best for this dish.
If you buy cheap tuna for this dish, it will make your finished casserole taste really fishy so splurge on a packet or two of quality stuff.
Once the cheese and tuna is stirred in, add the pasta!
At this point, I recommend tasting this and try to see if it needs anything. It might need a pinch of salt and pepper.
A Quick Bake
Then transfer everything to a large, buttered 2 1/2 quart baking dish (or a 9×13 baking dish) and cover it with bread crumbs and Parmesan cheese.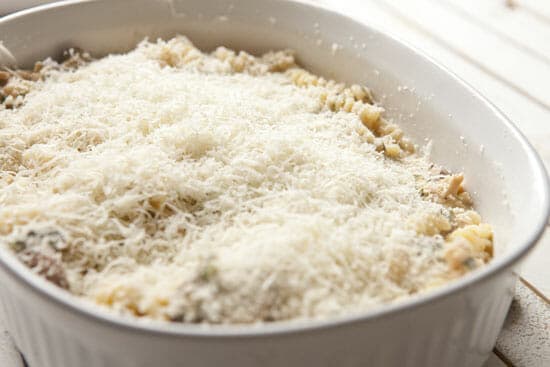 Bake this whole thing at 350 degrees for just 20 minutes until the crust starts to brown and it is bubbling around the edges.
Then serve it up!
Some of these flavors might seem incompatible (Cheddar? Tuna?), but if you spend some time and love on the dish, it really does work. Betsy and I were both shocked by how good this Homemade Tuna Noodle Casserole turned out and had no problem eating it for more than one meal.
The best part about the dish is that it isn't overpoweringly fishy. The tuna is subtle and almost not even the star of the dish.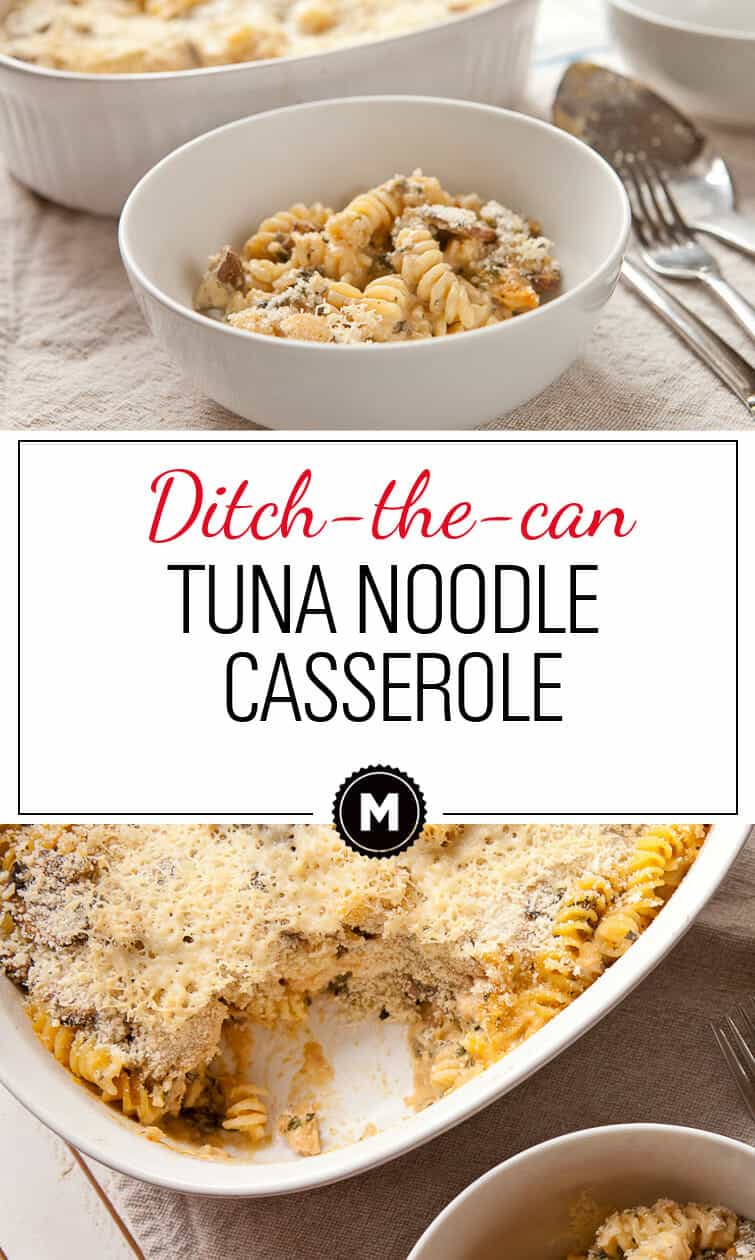 Do you have nightmares of bad tuna noodle casseroles? Leave a comment!
Need more Casserole ideas? Crunch Time has dozens of casserole recipes!