I've been on a cocktail kick lately and am basically trying to mix my way through an older, but classic cocktail book I have called Mix Shake Stir. It's a collection of cocktails from Danny Meyer restaurants and they are LEGIT.
This Kumquat Mojito was so tasty I just had to share it with you all. I hope you give it a shot! Cheers!
What are Kumquats?
The hardest part about this recipe will be finding fresh kumquats. You'll sometimes see them in your normal grocer. Whole Foods will normally have them, but Asian and ethnic grocery stores almost always have them.
If you've never had a kumquat, they are essentially a tiny, bitter orange the size of an olive. They are common in South-Asian countries, but you can find them in America if you hunt around a bit. They are worth the hunt! They have a unique flavor and texture and are hard to substitute for in a cocktail like this.
If you can't find kumquats, your best substitute is probably the tiny oranges that are available today. I'd muddle up a whole, small orange so you get some of the bitterness from the skin also.
Kumquats are great if you can find them though!
Making Kumquat Mojito
The trick to this cocktail is to really muddle well. Add your mint and kumquat to a cocktail shaker and go crazy on it with the muddler. Mash the skins and mint leaves really well to release all the oils in the fruits.
Kumquats have tiny little seeds in them and I'm extremely lazy so I just left them in. I'm sure if you order this at a fancy Danny Meyer restaurant they might remove the seeds, but it's not really necessary for a home version.
Add the rum, simple syrup, and fresh lime to the shaker with ice and shake it like crazy. It's very important to shake it for 20-30 seconds to mix everything well.
Pour your Kumquat Mojito into a cocktail glass and cheers! I garnished mine with a few sugared slices of kumquat, but it's good straight out of the shaker.
If you find this version a little strong, you can serve it with a splash of club soda to stretch out the alcohol a little bit.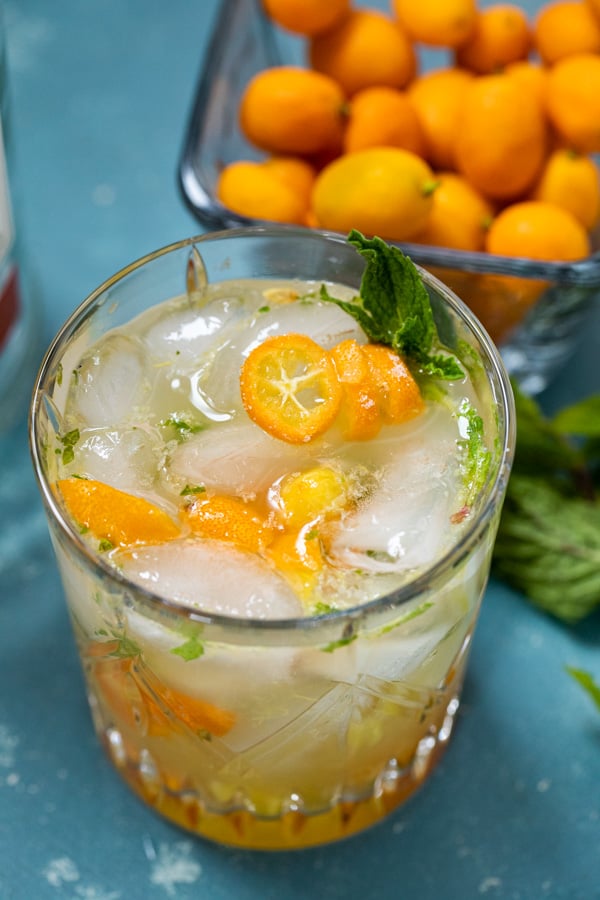 Hopefully, you are able to enjoy a few drinks with friends soon and adding a fancy cocktail to the menu is a great idea!
Cheers!
Kumquat Mojito
If you can get your hands on some fresh kumquats, this is a must-try cocktail. Refreshing and zesty and perfect for any occasion – winter or spring!
Ingredients
3

kumquats

6-8

mint leaves

2

ounces

white rum

½

lime

,

juice only

1

ounce

simple syrup

Sugared kumquat slices

,

garnish
Instructions
Make simple syrup in advance by heating water and sugar in a small pot until sugar is dissolved. Remove from heat and let cool.

Make a cocktail by halving kumquats and adding to a cocktail shaker with mint. Muddle well.

Add fresh lime, rum, simple syrup, and ice. Shake vigorously for 20 seconds.

Add mojito to a cocktail glass with all the ice from the shaker as well.

Garnish with slices of kumquat sprinkled with sugar and/or fresh mint leaves.

NOTE: Kumquats have lots of little seeds. Just muddle these into the drink. No need to strain them out.
Nutrition
Calories:
262
kcal
|
Carbohydrates:
34
g
|
Protein:
2
g
|
Fat:
1
g
|
Saturated Fat:
0.1
g
|
Polyunsaturated Fat:
0.1
g
|
Monounsaturated Fat:
0.1
g
|
Sodium:
25
mg
|
Potassium:
193
mg
|
Fiber:
5
g
|
Sugar:
27
g
|
Vitamin A:
437
IU
|
Vitamin C:
37
mg
|
Calcium:
65
mg
|
Iron:
2
mg
Did you make this recipe?
Here are a few other great cocktail recipes!