For my entire cooking career, I've been a pretty huge Mark Bittman fan. I like his books (especially How to Cook Everything and Food Matters), and we have similar goals with our writing which is to get people excited about cooking good food in their homes. I guess you could say that he's a bit better at it than me, but I have like 40 years to catch up so whatever.
In any event, one of my favorite things besides his books is his videos on the New York Times website. Most of them are under five minutes and have some inventive ideas. These nachos are lifted off of his rant on bar nachos with their orange cheese sauce and soggy chips. I definitely agree with him.
These Greek nachos are piled high with ground lamb, a feta cheese sauce and tons of toppings, so they lose none of the flavor. Even my traditional nacho-loving fiancee didn't have a problem polishing off a plate of these.
I've written about nachos before on Macheesmo. I did the near perfect nachos which in my opinion is the only way to make traditional nachos. Greek nachos are a departure from the standard nachos, but equally tasty.
Greek Nachos
Homemade pita chips with ground lamb, feta cheese sauce, and topping galore make these nachos different and excellent.
Ingredients
12

pitas

,

cut into eights

1 ½

pounds

ground lamb

1

Teaspoon

cumin

Olive oil

,

for drizzling on chips

Salt for chips
Feta Sauce:
1

Container

,

17.6 ounces Greek yogurt

1

Cups

Feta Cheese

1

Lemon

,

juice and zest

3

Tablespoons

fresh mint

2

Tablespoons

olive oil
Toppings:
1

red pepper

,

diced

¼

Cup

sun-dried tomatoes

,

diced

½

Cup

feta

,

crumbled

¼

Cup

kalamata olives

,

diced

½

red onion

,

sliced

1

cucumber

,

peeled, seeded, and diced

2

jalapenos

,

de-seeded and diced
Instructions
Place ingredients for feta sauce in a blender and blend. Zest off the lemon before juicing it.

Drizzle a bit of olive oil over the sauce (or mix it with the other ingredients).

Cut pita into eights without peeling them apart. Place pitas on a baking sheet and drizzle with olive oil and a pinch of salt.

Bake at 400 degrees for about 15 minutes (stirring once or twice while cooking).

Chop toppings.

Place lamb in a skillet with a pinch of salt and cumin. Let it cook for 15 minutes, stirring a few times until it browns.

Place pitas on a platter, add lamb, and a few spoonfuls of sauce.

Serve with toppings!
Nutrition
Serving:
1
plate
|
Calories:
817
kcal
|
Carbohydrates:
74
g
|
Protein:
39
g
|
Fat:
41
g
|
Saturated Fat:
17
g
|
Polyunsaturated Fat:
3
g
|
Monounsaturated Fat:
16
g
|
Cholesterol:
111
mg
|
Sodium:
1143
mg
|
Potassium:
777
mg
|
Fiber:
5
g
|
Sugar:
7
g
|
Vitamin A:
965
IU
|
Vitamin C:
45
mg
|
Calcium:
243
mg
|
Iron:
5
mg
Did you make this recipe?
Greek Nachos Sauce
The thing that differentiates this dish from normal nachos more than anything is the sauce. Instead of a gloopy, orange sauce, this sauce is actually cold and stays a perfect consistency no matter what. It's also very flavorful and pairs perfectly with lamb and pita.
Basically, just stick all your ingredients in a blender and give it a whirl. Be sure to get the zest off your lemon before you juice it. I like to use a microplane for this. It's a bit easier that way. The zest adds a lot of fresh flavor to the sauce to counter the sharpness of the feta and yogurt.
I like to drizzle a bit of olive oil over the sauce when it's done, but you can also just mix the olive oil straight in. The recipe above makes a lot of sauce and we didn't come close to using all of it for 4 plates of nachos, but it was great over the next few days on pita bread with some hummus.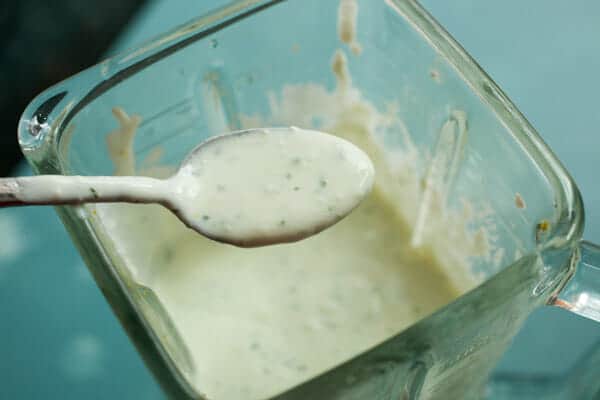 Making the Chips
For this recipe all I did was cut the pita into eights. Don't peel apart the two sides of the pita. Leave them whole which will make a thicker chip that will hold up better to loads of toppings.
Put your pitas on a baking sheet and drizzle them with some olive oil and a pinch of salt. Bake them at 400 degrees for about 15 minutes, stirring them once or twice while they are cooking. The chips may not become completely crisp, but they should be mostly crisp. I wouldn't recommend doing these too far in advance as it's kind of nice to have warm chips.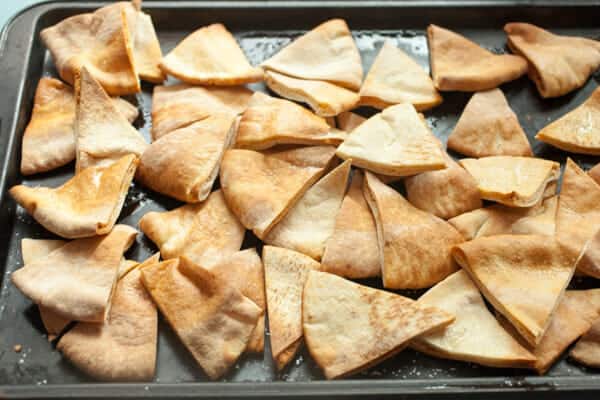 Other Toppings
While your pita chips are cooking, you'll have plenty of chopping to do. Here's the master shot of the whole spread. I usually just put everything in bowls or on a big plate and then people could pick and choose their toppings. Again, any leftovers make a great pita sandwich the next day.
Cooking the Lamb
Cooking ground lamb is just like cooking ground beef although sometimes lamb can be a bit fattier. So you may need to drain off some grease while it cooks. In any event, just throw the lamb in a skillet with a pinch of salt and some cumin and let it cook for about 20 minutes. Stir it a few times and let it brown really nicely.
Making the nachos
The nachos are pretty easy to make once you get all the pieces made. Start with a good layer of chips, then add the lamb and a few spoonfuls of sauce.
I put a heaping amount of every topping on my nachos. Some friends who I invited over picked which toppings they liked the best. It looked like the sun-dried tomatoes were a big hit and the jalapeños gave some needed spice to the dish in my opinion.
But yea, the end result was delicious.
I had a lot of leftovers from this meal and it wasn't a problem at all. I ate them all weekend and it was awesome. You could decrease the amount of toppings I gave in the recipe if you wanted to cut it close (the lamb and chips were about perfect though).
Anyway, props definitely go to Mr. Bittman for this idea. It was a huge success in my book. It makes up for the recipe I saw him make on the Today Show a while ago: Chicken Pot Pie without the Crust. That idea sounds about as good as apple pie without the crust. Why bother?!
Anyway, I'm getting off topic. The point is that these nachos rocked.