If there is any doubt that tossing something on the grill can improve it, even if it is already very good, I submit to you the Grilled Watermelon Salad.
Watermelon is great on its own, but by learning how to grill watermelon for a few minutes over high heat, you caramelize some of the sugars and intensify the wonderfulness even further.
Watermelon seems fragile, but it can honestly take the heat from a grill as long as you follow a few simple rules.
Once you have your watermelon grilled, you can eat it as-is or toss it with a few tasty ingredients for a great easy summer salad.
How to Grill Watermelon
I like to use seedless watermelon for grilling because the seeds in the watermelon will actually cause the watermelon to break down quicker (more holes).
My seedless watermelon actually had a few seeds in it, but they were very tiny and not an issue.
Here are the only things you need to remember to successfully grill watermelon:
Tip 1: Cut the slices nice and thick. If you cut them too thin, you'll run into trouble. I cut mine into about 1-inch thick slices so they will hold up nicely on the grill.
Tip 2: Use a little oil and drizzle it right on the watermelon and a pinch of kosher salt. This won't really change the flavor, but it will make sure the watermelon doesn't stick to the grill and help give it some good grill marks.
Tip 3: High heat! Seriously get your grill as hot as it will go and let it really preheat well. Since the watermelon is only going to be on for a few minutes, you want the grill to be as hot as possible.
Once the watermelon is on the grill, don't fiddle with it. Just let it do its thing and flip it once after a few minutes.
If you move it around too much, you won't get great grill marks on it.
Ingredients for my Grilled Watermelon Salad
Once the watermelon comes off the grill, let it cool a bit as it will be pretty hot. You can eat it by itself obviously, but I like to toss it with a few simple, but flavorful ingredients for a nice salad.
Once the watermelon is slightly cool, cut it off the rind and cut it into 1/2-inch cubes. Then add it to a bed of arugula with some fresh mint and cubed feta cheese.
Drizzle the salad with some good-quality olive oil and a small sprinkle of coarse salt. The olive oil and juice from the watermelon will make a light dressing for the salad.
It's about as simple as salad gets, but I guarantee if you make this for a group, it will impress. It's a beautiful plate and really delicious and light.
Other Grilled Watermelon Salad Ideas
You could add other ingredients to this salad if you are in the mood for something else. I make salads like this a lot with a huge array of ingredients based on what is fresh and available (or what I have in my fridge/garden). Here are some ideas:
Grilled Peaches – Also sweet and in season
Ripe tomatoes – Fresh ripe tomatoes with a little salt go really well with watermelon
Red onion – Pickled or raw sliced very thin. These add a nice bite to counter the sweetness
Seeds – Sunflower seeds go really well as a crunchy topping
Chili flake – A little heat pairs well with sweet watermelon
Storing this salad for later
This grilled watermelon salad doesn't actually keep very well once it has been tossed together. The greens break down really quickly.
That said, grilled watermelon keeps just fine in the fridge. So just make sure you are assembling enough salad to serve and then save the rest of the ingredients in the fridge and you can toss them together when needed.
Grilled Watermelon Salad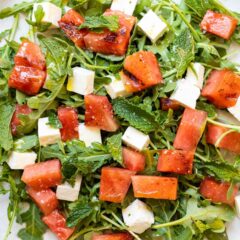 A quick tutorial on how to grill up a watermelon plus a recipe for a wonderful grilled watermelon salad!
Ingredients
½

small seedless watermelon

,

sliced and grilled

6

cups

fresh arugula

6

ounces

feta cheese

,

cubed

Handful fresh mint

Good quality olive oil

Kosher salt
Instructions
Cut watermelon into thick slices, about an inch thick is good. Drizzle both sides of each slice with a small amount of oil. Season with kosher salt.

Preheat grill to high heat and place watermelon slices right on grill. Let sit for about four minutes. Don't move the slices.

Flip slices once and grill on the second side for about 3 minutes. Remove from grill and let cool briefly.

When slightly cooled, cut watermelon off of rind and cut into 1/2 inch pieces.

Lay down a bed of arugula and top with cubed watermelon, cubed feta, fresh chopped mint, a drizzle of good olive oil, and a small pinch of coarse salt.
Nutrition
Serving:
1
plate
|
Calories:
220
kcal
|
Carbohydrates:
31
g
|
Protein:
9
g
|
Fat:
9
g
|
Saturated Fat:
3
g
|
Polyunsaturated Fat:
1
g
|
Monounsaturated Fat:
4
g
|
Cholesterol:
15
mg
|
Sodium:
262
mg
|
Potassium:
496
mg
|
Fiber:
2
g
|
Sugar:
25
g
|
Vitamin A:
2617
IU
|
Vitamin C:
33
mg
|
Calcium:
58
mg
|
Iron:
1
mg
Did you make this recipe?
Here are a few other great recipes to try!