You know it's finally summer around my house when the ice cream machine is out on the counter! The first time I made homemade frozen yogurt like this, my kids thought it was a magic trick. A delicious strawberry magic trick. After all, this is a very easy Three Ingredient Strawberry Frozen Yogurt and turns out to be a creamy and flavorful dessert.
This is the best time of year to make this and, in fact, I'm not sure I would bother making it unless you can find really great, ripe strawberries. Don't use frozen or those weird half-ripe February strawberries.
But bright red, sweet strawberries make for a perfect frozen yogurt base and you only need two other ingredients. Both of which you might already have! Read on to learn my tricks to make this delicious summer dessert!
What kind of yogurt works best?
The kind of yogurt you pick for frozen yogurt does make a difference, obviously, but there's no terrible choice. Just know that if you go with a low-fat or nonfat yogurt, there's a much higher risk of ice crystals forming in your frozen yogurt.
Personally, I prefer a whole fat yogurt which ends up with a creamy and smooth texture after freezing. You could use Greek Yogurt but I just prefer normal yogurt which isn't quite as thick and blends easier.
How to prepare the strawberries for frozen yogurt
Obviously you need strawberries for this. About a pound will do the trick. Find ripe ones!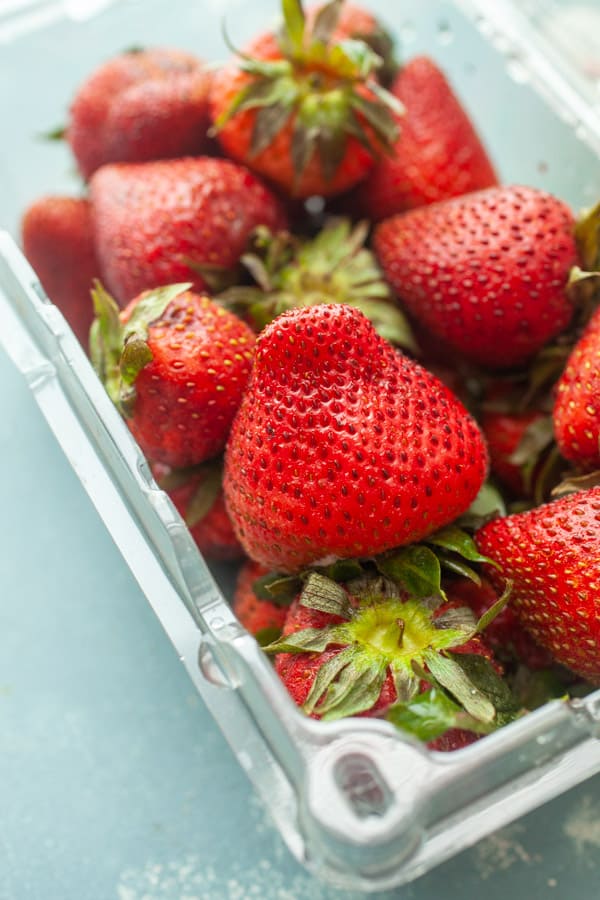 If you are shooting a really smooth strawberry frozen yogurt, then puree your strawberries. You could stir some chopped strawberries into your mix if you wanted a little texture to your dessert. I like a smooth frozen yogurt though.
Hull the strawberries and blend them up or process them in a food processor! Look at that color!
Important Step Alert: Strawberries have somewhere between 1 million and 1 billion little tiny seeds. You don't notice these while you are eating them whole, but in a smooth frozen yogurt they are annoying.
I recommend straining the strawberry puree to remove as many as possible. Yes, this is an annoying step, but otherwise this recipe is basic so do the little extra work to make it great!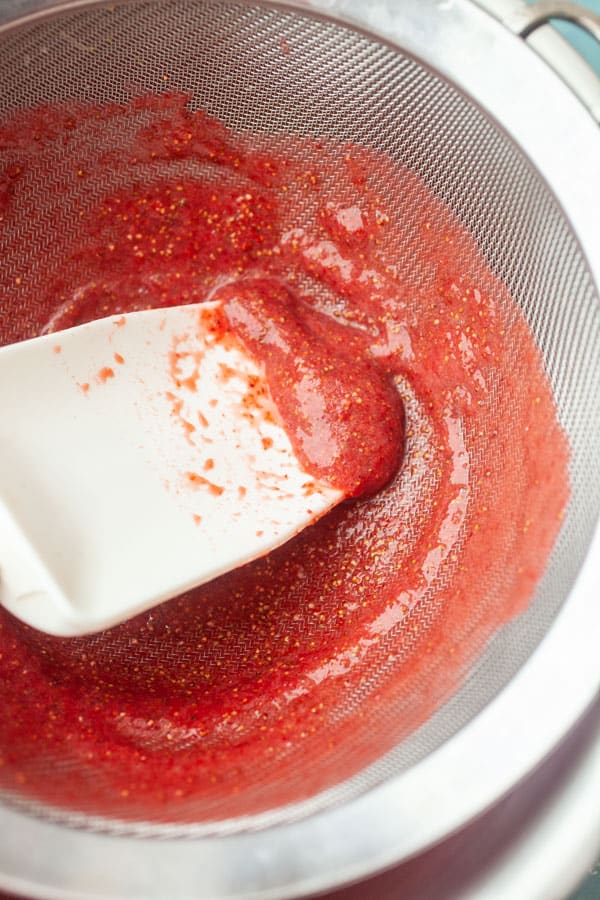 Then mix your puree with honey and yogurt. Honestly, you could probably even leave the honey out but I like the little extra sweetness. You definitely don't need to add any extra sugar on top of this though.
Tips for Making Frozen Yogurt
Here are my few basic tips for making good frozen yogurt.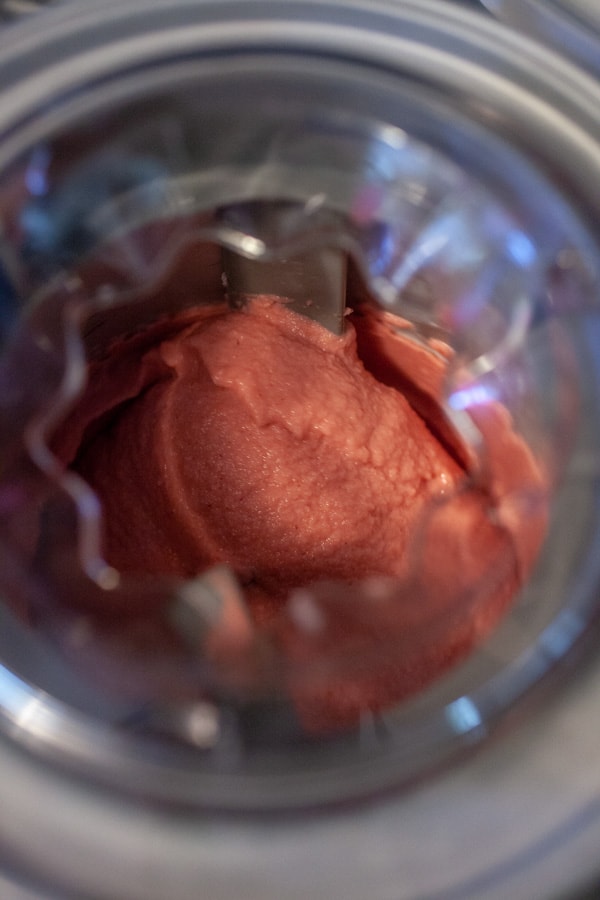 Use Whole Milk Yogurt! I think it needs the fat to get to be really creamy and delicious.
Chill the Mixture. Get your base mixture as cold as possible before you start churning it. You can either store it in the fridge for a few hours or put the bowl in an ice bath for a few minutes which will chill it down really quickly.
Get a Good Ice Cream Maker! For a while I hobbled along with a sub-par ice cream maker and upgraded a few years ago. It really makes a difference. I like the Cuisinart model I linked below the recipe.
Eat the Yogurt Soft-Serve. I think frozen yogurt is best at a soft serve (or slightly harder) consistency. So, it's great right out of the churner or if you do freeze it for longer storage, let it thaw for a few minutes before scooping it so it can soften up some.
That's all there is to it! Easy Strawberry Frozen Yogurt is a great way to beat the heat while strawberries are so delicious right now!
Substitutions and Ideas
Obviously once you get the hang of this frozen yogurt technique, you can go many directions. Here are a few ideas!
Change up the sweetener with something like maple syrup or agave syrup.
Add extra flavor by using a flavored yogurt (just make sure to get one without a lot of extra sweetness). Vanilla yogurt is always good.
Change up the fruit depending on what's ripe. Fresh peaches are an instant winner, for example.
Storing the frozen yogurt
I think this frozen yogurt is best eaten as soft serve so definitely scoop off a bowl of it fresh out of the mixer. Transfer the rest to a freezer-safe container with an airtight lid. To prevent big ice crystals, it helps to stir the frozen yogurt as it freezes solid, every 45 minutes to an hour until it's firm.
Most importantly, when serving the frozen yogurt out of the freezer, let it sit on the counter for a few minutes to take the chill off. It'll be a smoother consistency.
Three Ingredient Strawberry Frozen Yogurt
You are three ingredients away from creamy and tangy Strawberry Frozen Yogurt! This is so delicious and fast but there are a few tips to make sure you nail it.
Ingredients
1

pound

fresh strawberries

1

cup

whole milk yogurt

¼

cup

honey
Instructions
Hull strawberries and add them to a blender. Blend on high for a minute or two until they are in a smooth puree.

Pour strawberry puree through a mesh strainer into a medium bowl. Use a flexible spatula to work the mixture through the strainer to get out all the seeds.

Add honey and whole milk yogurt to the strawberry puree.

Chill mixture either in the fridge for a few hours OR you can place the bowl in an ice bath and stir it to rapidly chill the mixture.

Pour strawberry yogurt mixture into your ice cream maker and churn for about 30 minutes until it's nice and thick.

Serve frozen yogurt immediately for a soft-serve texture or press into a container and freeze for later. I think it's easiest to scoop if you let the frozen yogurt thaw for a few minutes before serving.
Nutrition
Serving:
1
Bowl
|
Calories:
138
kcal
|
Carbohydrates:
29
g
|
Protein:
3
g
|
Fat:
2
g
|
Saturated Fat:
1
g
|
Polyunsaturated Fat:
0.2
g
|
Monounsaturated Fat:
1
g
|
Cholesterol:
8
mg
|
Sodium:
30
mg
|
Potassium:
279
mg
|
Fiber:
2
g
|
Sugar:
26
g
|
Vitamin A:
74
IU
|
Vitamin C:
67
mg
|
Calcium:
94
mg
|
Iron:
1
mg
Did you make this recipe?
Here are a few other chill snacks!