You know the popular cookies. They get all the love at holiday parties. Maybe it's that one with green icing and sprinkles or something filled with chocolate.
Those popular cookies get all the love, ya know?
Meanwhile, back in the corner, these little unassuming Hazelnut Macaroons might sit. They are just kind of there… being all… secretly delicious. (And also Gluten-free!)
Then somebody takes a chance on one. Word spreads fast and in five minutes the plate is empty. That's how it will work if you make these and take them anywhere.
They are kind of the ugly cookie, but people will come around.
Hazelnut Coconut Macaroons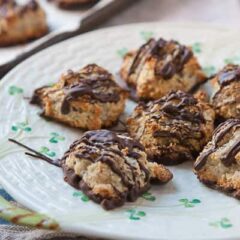 Ground hazelnuts mixed into classic coconut macaroons and drizzled with melted chocolate. These Hazelnut Macaroons are packed with flavor and Gluten-Free!
Ingredients
1

cup

hazelnuts

,

ground

8

ounces

shredded coconut

,

unsweetened

14

ounces

sweetened condensed milk

1

teaspoon

vanilla

2

large eggs

,

yolks separated

¼

teaspoon

salt

6

oz.

semisweet chocolate
Instructions
Preheat oven to 350 degrees F. In a small food processor, pulse hazelnuts until they are in a coarse ground meal.

Add ground nuts to coconut, sweetened condensed milk, egg yolks, vanilla and salt. Stir together.

Using a stand mixer or hand mixer, beat egg whites until they hold firm peaks. Then gently fold the egg whites into the coconut mixture.

Scoop coconut mixture onto parchment lined baking sheets in heaping tablespoon balls. You should get roughly 2 dozen.

Bake macaroons at 350 degrees F. for 25 minutes until they are nicely browned. Remove macaroons from oven and let cool.

Melt chocolate in a double boiler until it's silky smooth. Be careful to heat it gently so it doesn't seize. Ideally you want it to hit 120 degrees F.

Dip each macaroon in chocolate and return it to the parchment paper to cool. Drizzle macaroons with any extra chocolate.
Nutrition
Serving:
1
Macaroon
|
Calories:
194
kcal
|
Carbohydrates:
16
g
|
Protein:
4
g
|
Fat:
14
g
|
Saturated Fat:
8
g
|
Polyunsaturated Fat:
1
g
|
Monounsaturated Fat:
4
g
|
Trans Fat:
0.01
g
|
Cholesterol:
20
mg
|
Sodium:
55
mg
|
Potassium:
192
mg
|
Fiber:
3
g
|
Sugar:
13
g
|
Vitamin A:
68
IU
|
Vitamin C:
1
mg
|
Calcium:
62
mg
|
Iron:
1
mg
Did you make this recipe?
Hazelnut Macaroons
Just a Few Ingredients
These macaroons have a complex flavor, but they actually have fewer ingredients than most cookie recipes. They also happen to be gluten-free, but that wasn't really on purpose.
It does help to have some equipment for these. The right tools makes it really easy to make these.
First if you have a food processor, you can pulse up the hazelnuts quickly into a coarse meal. If you don't have one you'll have to just pulverize them in a bag. Not terrible, but definitely more work.
Then just mix the coconut, ground hazelnuts, milk, extract, salt and yolks in a medium mixing bowl. This will be a thick mixture.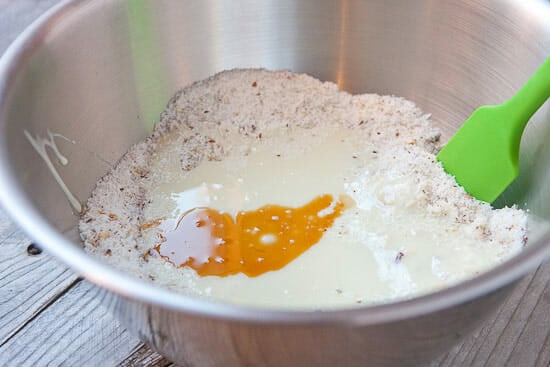 The Meringue
People get intimidated by meringue, but it couldn't be easier to make. Just whip the egg whites until they hold really firm peaks. My only tip is that you have to make sure your beater (or whisk if you're a crazy person) and bowl is very clean. A fleck of oil or fat will kill your chances at success here.
It'll take 4-5 minutes to get really nice stiff peaks on the egg whites.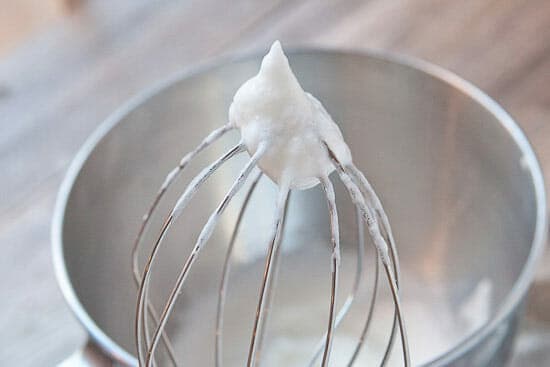 Then fold those into the coconut mixture. It will lighten the mixture a bit, but it'll still be pretty thick. That's what you want.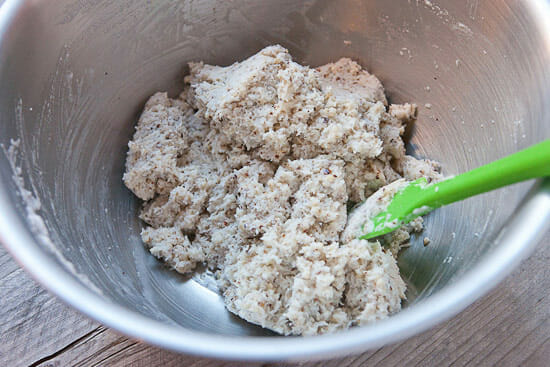 Baking and Dipping the Hazelnut Macaroons
Plop these guys on some baking sheets lined with parchment paper. Shoot for heaping tablespoons of the mixture. They will puff up a tiny bit as they bake.
Bake the macaroons in a 350 degree oven for about 25 minutes until they are golden brown and crispy around the edges.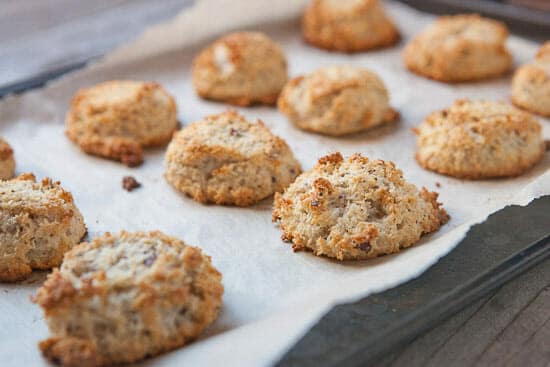 Then just gently melt your chocolate either using a steam bath or in very short pulses in the microwave. You don't want to overheat the chocolate or it will seize up. You're going for silky smooth.
Then give the cooled macaroons a quick dip and return them to the baking sheets to cool off.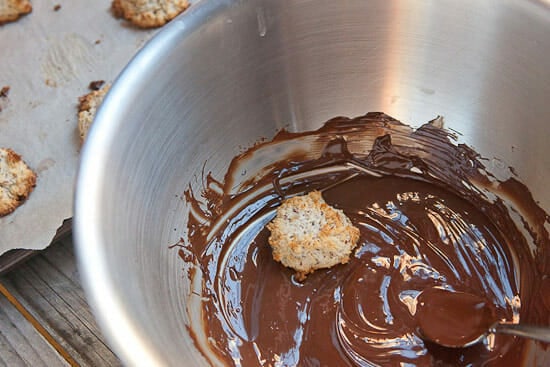 Any extra chocolate can be drizzled right on top.
Store these guys in an air tight container once they have cooled off.
Since I don't have a crazy sweet tooth, these Hazelnut Macaroons are the perfect cookie for me. They had just enough sweetness, but had lots of flavor and texture also.
Much love to the ugly cookie.