Pork butt (shoulder) is one of my favorite cuts of meat, but I'd be lying if I said I do much with it besides make pulled pork. That's why I was so excited when I recently saw this recipe for Grilled Pork Shoulder Steaks! I had to try them PRONTO.
The genius behind this recipe (which I first saw on the Bon Appetit From the Test Kitchen series) is a few different things. One, cutting the shoulder into steaks allows you to cook them over high heat and then slice them thin. They are super tender and perfect over rice or in lettuce wraps. I also think the strips would be a great addition to ramen, but that's for another day!
The second thing I love about this recipe is the simple marinade. I changed mine slightly from the original to add some citrus to it (lime). I like the extra acid and bright flavor the lime gives to the marinade. It's a pretty flexible marinade though and you can experiment with it without too much worry. Just don't skimp on the gochujang chili paste! That stuff is gold.
Before summer ends, throw your dinner guests a curve ball with these pork shoulder steaks. They are SO delicious and make for a great dinner party because people can add them to lettuce wraps and eat them casually.
Grilled Pork Shoulder Steaks
Pork Butt (or Pork Shoulder) can be used for other things besides just pulled pork! These shoulder steaks are marinated in Gochujang chili, grilled over high heat, and then sliced and served either with rice or in lettuce wraps!
Ingredients
3

pound

pork butt

,

sliced into 1/2-inch steaks

8

cloves

garlic

2

inches

fresh ginger

½

cup

gochujang chili paste

1

lime

,

juice only

½

cup

rice vinegar

¼

cup

olive oil

Rice for serving

Green leaf lettuce

,

for wraps

Cilantro

,

garnish
Instructions
In a food processor, combine garlic, ginger, gochujang, rice wine, olive oil, and lime juice. Process until the mixture is smooth. Set aside 1/3 of the mixture for serving with the pork steaks.

Using a sharp knife, slice pork butt into about 1/2-inch steaks. They can be different sizes, but try to make sure they are roughly the same width.

Add sliced steaks to a bowl and coat with marinade. Let rest for at least 60 minutes, but overnight in the fridge is best.

When ready to grill, heat grill to two-zone heat. One zone, high direct heat, and one lower indirect heat zone.

Wipe grates with oil right before grilling to prevent sticking. Grill steaks for 6 minutes per side over direct heat. Then move to indirect heat and allow them to cook slowly and rest for another 8-10 minutes. This helps some of the fat render out of the steaks. Finished steaks should have great char marks on them from the marinade and be juicy still when pressed slightly.

Remove steaks and let them rest for 5 minutes.

When ready serve, slice steaks into 1/4-inch slices and serve with rice, green leaf lettuce, cilantro, sliced cucumbers, and extra sauce on the side.
Nutrition
Serving:
1
Plate
|
Calories:
418
kcal
|
Carbohydrates:
9
g
|
Protein:
43
g
|
Fat:
22
g
|
Saturated Fat:
6
g
|
Polyunsaturated Fat:
2
g
|
Monounsaturated Fat:
12
g
|
Trans Fat:
0.1
g
|
Cholesterol:
136
mg
|
Sodium:
154
mg
|
Potassium:
891
mg
|
Fiber:
1
g
|
Sugar:
2
g
|
Vitamin A:
51
IU
|
Vitamin C:
8
mg
|
Calcium:
49
mg
|
Iron:
3
mg
Did you make this recipe?
How to Prep Pork Shoulder Steaks
You can probably ask your butcher to cut your pork shoulder steaks for you, but I wanted to try it myself. Mine ended up being a bit more "rustic" but they grilled fine and tasted amazing.
If you get a pork butt with a bone in it, it'll be inevitable to have a few misshaped pieces. No big deal though. Toss them in the marinade and grill them up!
The only advice I'd give here is to try to make sure your steaks are roughly the same width so they cook evenly. Some thinner parts are unavoidable, but try not to have 1/2-inch thick pieces and 1-inch thick pieces.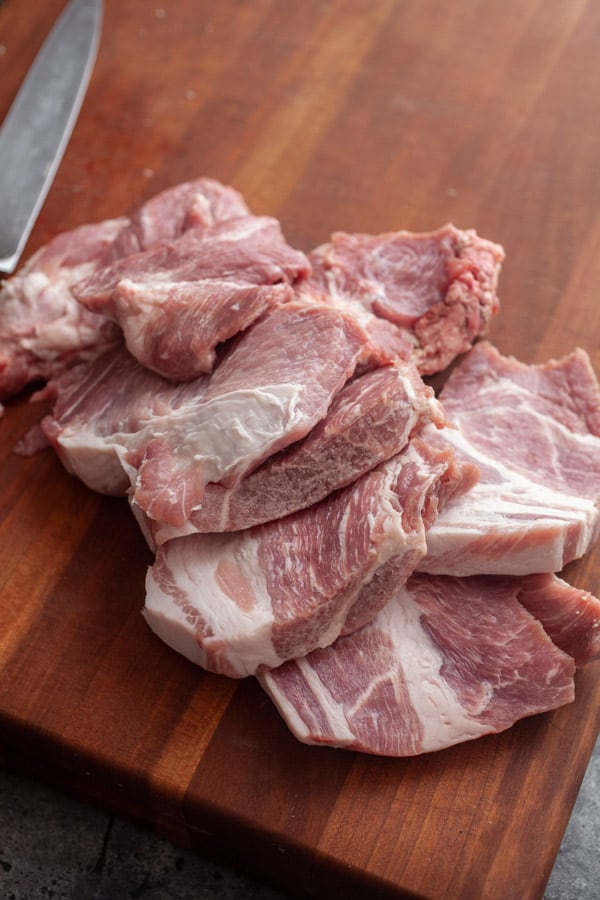 Some pieces will have more fat than others. You can trim off HUGE pieces of fat if you want, but personally I would embrace it. Pork butt is a fatty piece of meat and it'll keep the steaks nice and tender.
Let's talk marinade! You need some gochujang. You can find that at many stores these days. My grocery store carries it. If you have an Asian market near by though you can find a big vat of the real stuff which I always try to keep in my fridge.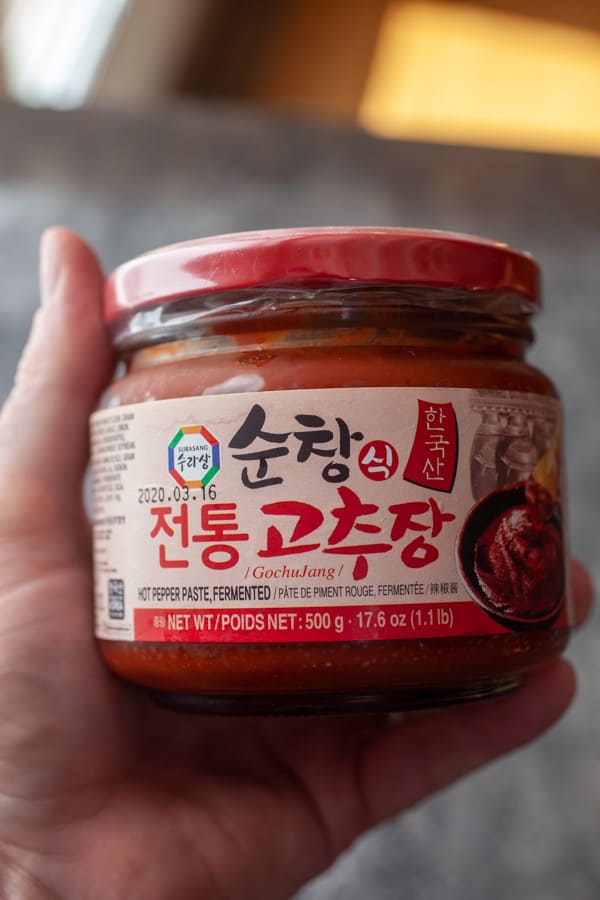 There is really nothing else like gochujang. It's very hard to substitute for. It's spicy, sweet, savory, and salty all rolled into one. It makes the perfect base for sauces and marinades. Use it liberally!
I pulsed mine with some garlic, ginger, rice vinegar, olive oil, and lime juice. Set aside about 1/3 of the sauce for serving but then toss the rest in with the pork steaks.
These should marinate for at least 60 minutes but overnight is best.
Grilled Pork Shoulder Steaks
Now for the grilling! You want to cook these over direct high heat first. These will char up beautifully over high heat after 5-6 minutes per side. If they are getting too charred, you might have to flip them sooner. Keep an eye on them. Embrace the char, but don't embrace the char. You don't want them to be black!
Once they grill over direct heat and get some nice char on all sides, I moved mine to indirect low heat to rest and continue to cook for another 8-10 minutes. This gives the steaks time to render out some of the fat and get really juicy. The Bon Appetit team doesn't do this with their version. They go straight to slicing and serving, but I like the extra low heat roast time.
Serving Pork Shoulder Steaks
These beauties are ready to go now!
Slice the pork shoulder steaks into about 1/4-inch pieces and drizzle on more sauce!
You can serve these with rice and/or with green lettuce and make little lettuce wraps out of the strips. That would be my preferred way to serve them, especially at a party.
Believe it or not, my kids actually liked these as well. The pork shoulder steaks weren't overly spicy and they were able to handle it! WIN!
Get yourself a good pork butt this summer and make some Gochujang Grilled Pork Shoulder Steaks. THEY GOOD.
Here are a few other great Pork Recipes!