This post is sponsored by Old El Paso. I was asked to be one of their Freshest Bloggers this year so you'll see some fun Tex-Mex action occasionally. This recipe is great with their Original Taco Seasoning Mix!

In my opinion, tacos al pastor is one of the holy grails of tacos. Everybody has theirs, but for me it's about as good as it gets. One slight problem with traditional tacos al pastor: It involves quite the setup as seen in this youtube video. At a minimum you're gonna need a lot of meat, some sort of large spit, and lots of time and patience.
I won't claim that these Al Pastor Kabobs are 100% there. But, what I will stand behind is that they are mostly there and doable on a Wednesday night so let's not make the perfect the enemy of the good when it comes to tacos right?
There are a few tricks involved here, but all the flavors are there and the tacos are above and beyond your standard weeknight beef tacos without a doubt. Dive into the al pastor world, but maybe there's not a need to order a six foot rotating spit just yet.
Tacos al pastor Kabobs
These marinated pork tacos have all classic flavors of Tacos Al Pastor without so much work. If you're a taco lover, this is a must try!
Ingredients
3

pounds

pork butt

,

trimmed and cubed

2

cups

pineapple juice

2

jalapeños

,

sliced

3

cloves

garlic

Handful cilantro

2

packets Old El Paso® Original Taco Seasoning

1

pineapple

,

quartered
Taco Fixings:
Corn tortillas

Minced white onion

Grilled pineapple

Fresh cilantro
Instructions
The day before you want to cook these, or at least a few hours in advance, stir together pineapple juice with Old El Paso® Taco Seasoning, jalapeños, garlic, and cilantro. Cube pork butt into about 1-inch cubes, trimming off any large pieces of fat. Add pork to marinade and let sit overnight or for a few hours.

When ready to grill, preheat grill to medium heat. Soak skewers in water. Skewer pork using two skewers for each kabob to keep them in place. Pack the pork on each skewer leaving no room between pieces.

When grill is hot, add kabobs and grill for about 8 minutes, flipping once hallway through to get a nice crust on the pork. Then move pork kabobs to a low heat section of the grill.

While pork grills, quarter pineapple and grill it over high heat for 4 minutes per side as well.

When you move pork to a low heat section of the grill, stack pineapple on top of kabobs so the juice soaks down. Grill kabobs for 15 minutes (approx.) over low heat until they reach 180-185 degrees F.

Remove pork kabobs from the grill and let cool slightly. Then remove pork pieces and dice. Also dice the grilled pineapple.

Serve pork as tacos on corn tortillas topped with white onion, cilantro, and grilled pineapple.
Nutrition
Serving:
1
Taco
|
Calories:
421
kcal
|
Carbohydrates:
31
g
|
Protein:
44
g
|
Fat:
13
g
|
Saturated Fat:
5
g
|
Polyunsaturated Fat:
2
g
|
Monounsaturated Fat:
6
g
|
Trans Fat:
0.1
g
|
Cholesterol:
136
mg
|
Sodium:
178
mg
|
Potassium:
1053
mg
|
Fiber:
2
g
|
Sugar:
23
g
|
Vitamin A:
173
IU
|
Vitamin C:
86
mg
|
Calcium:
65
mg
|
Iron:
3
mg
Did you make this recipe?
Tacos Al Pastor Kabobs
The marinade for these kabobs is fairly straightforward, but the pineapple juice is 100% essential. No substitutes and no skimping. Also, try to find really good pineapple juice, not one that is filled with sugar and is mostly concentrate. It'll cost you a few bucks extra but the flavor really comes through.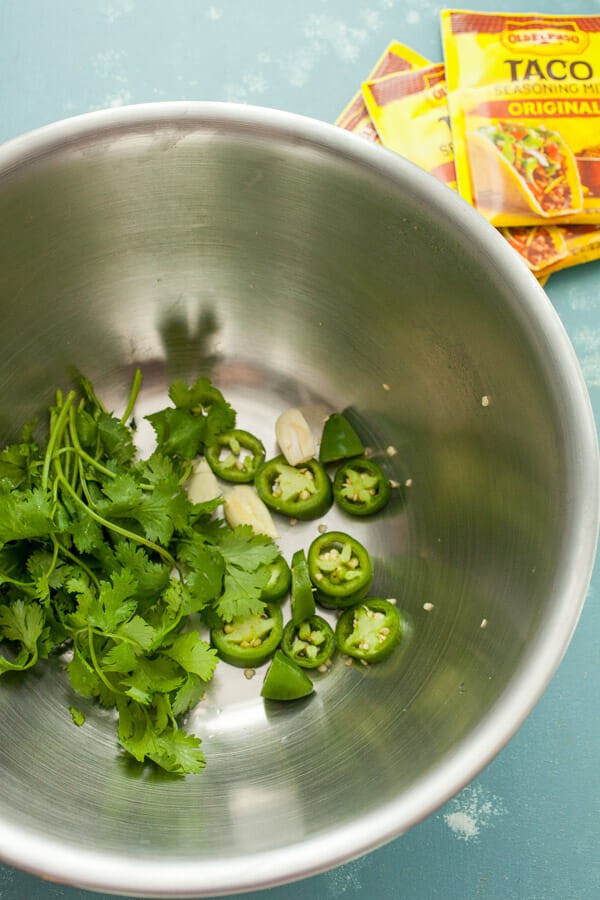 Mix together your taco seasonings with the peppers, cilantro, garlic, and pineapple. Then add in the pork! I recommend using pork butt which is pretty fatty. Trim off any large pieces of fat and then cube the pork into about 1-inch cubes.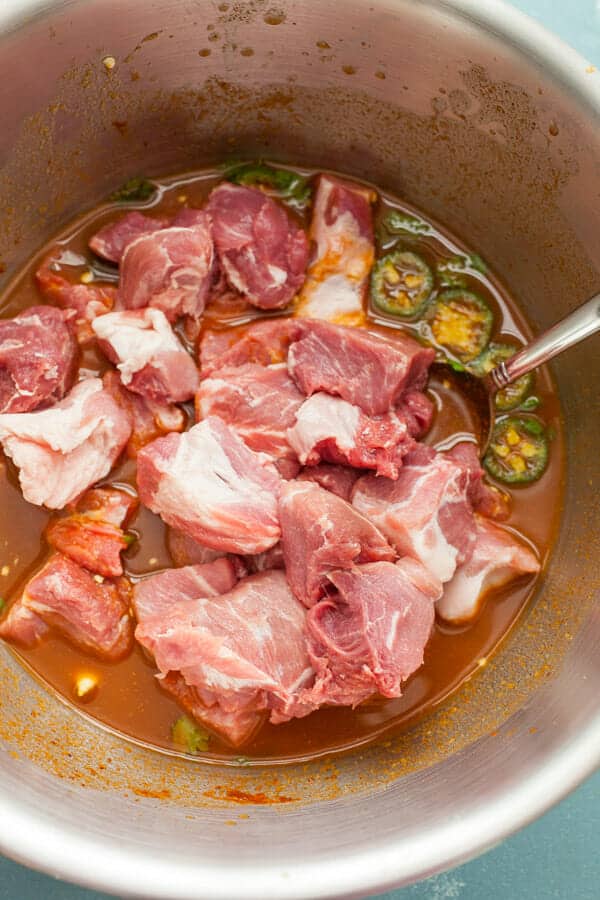 Ideally, this would marinate overnight but if you made it in the morning for an afternoon BBQ you'd be just fine.
Skewer the pork on soaked skewers and pack it on. The pieces should be really shoved together so they cook as one piece basically.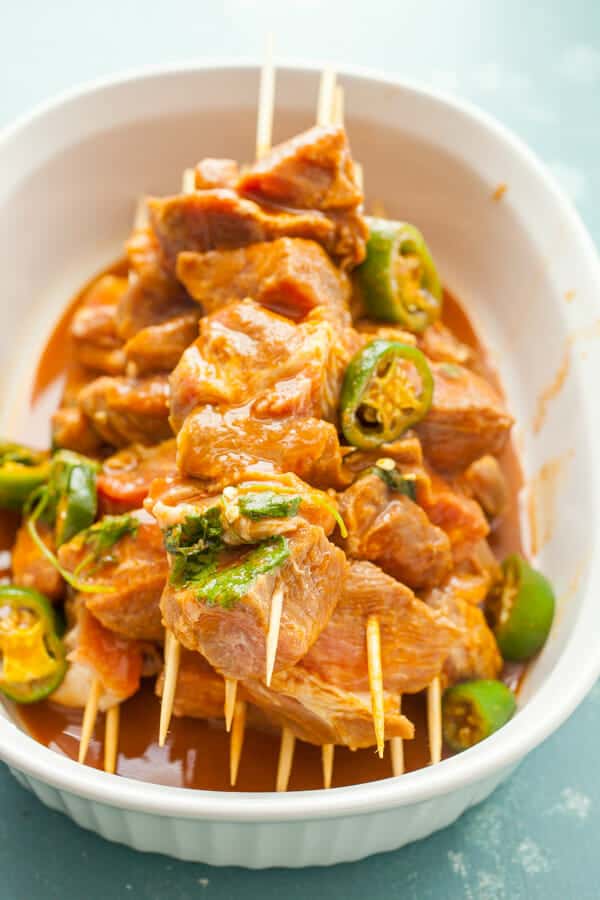 The Pineapple Trick
Here's the trick that takes these kabobs to another level. It's all about the grilling order.
First, grill the kabobs over medium-high heat so they get a little char on them. 3-4 minutes like that is good. They will still be essentially raw in the middle.
Then move the kabobs to a low heat, indirect heat, area of the grill. Grill some big pineapple chunks over high heat so the pineapple warms up (juicy!) and then place the pineapple on top of the kabobs!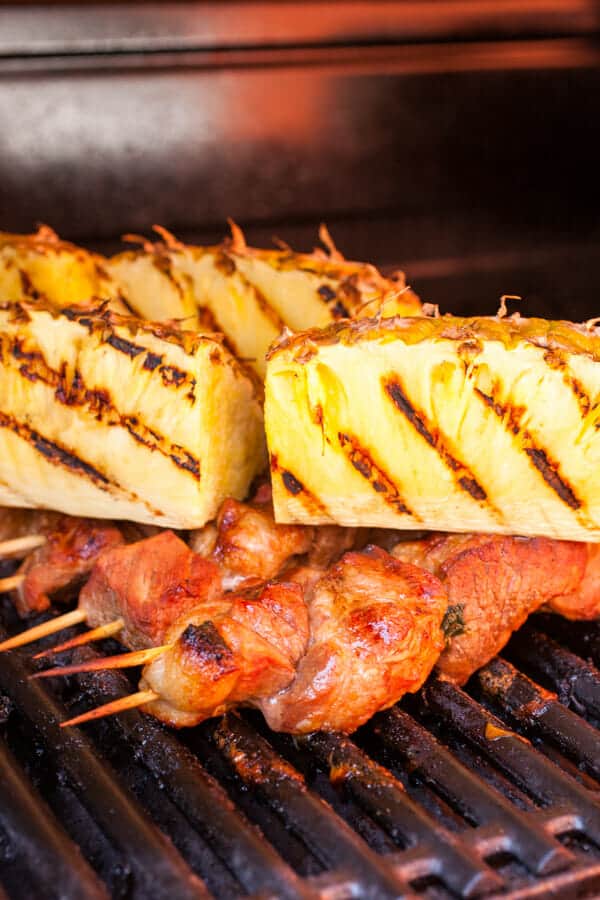 The kabobs will need to grill for another 15-20 minutes or so like this (flip them every 8-10 minutes). They might even need longer honestly. I recommend using a meat thermometer to test them. Ideally, the pork butt would hit around 180 degrees F.
Then you can pull them off and serve them up!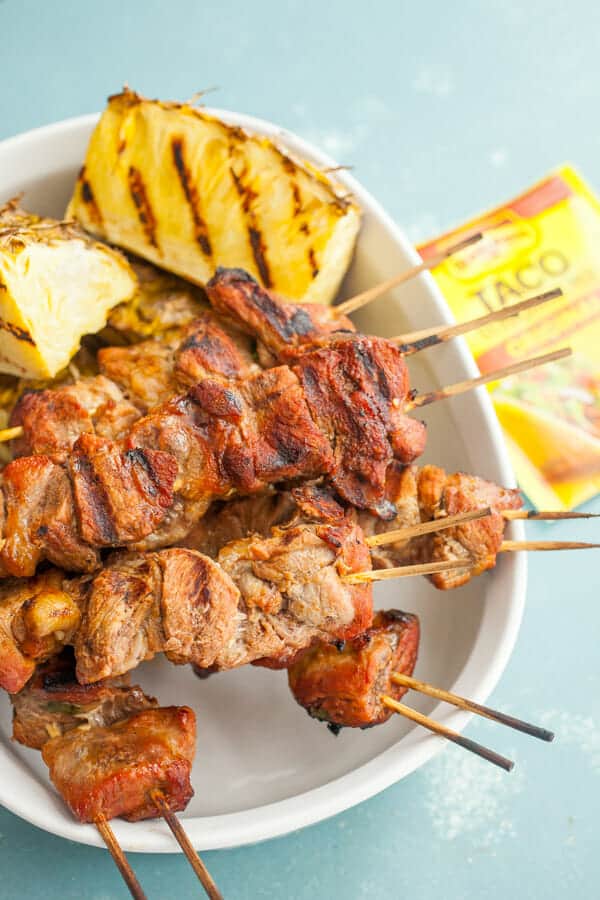 The pork will be in too big of chunks for tacos like this, so remove it from the skewers and chop it up.
The flavors are so good on these tacos al pastor kabobs that I don't recommend using a ton of other toppings. Toss on some fresh cilantro, minced white onion, and a healthy amount of the grilled pineapple and you're in taco heaven!