For many years, I lived in an alternate reality of shrimp and grits. I had a version of the dish that was popular in a few Washington DC establishments that involved the dish in a light broth. It wasn't until many years later that I discovered traditional Cajun Shrimp and Grits and its rich sauce component.
There are some restaurants out there that will charge you lots of your dollars for shrimp and grits, but I think it's important to remember that this dish is comfort food. It's supposed to be easy to make, fairly basic, and packed with flavor.
Getting too fancy with it kind of ruins the dish in my opinion.
I've played around with many versions over the years, but this is my go-to shrimp and grits version as of today.
There are many variations, but I think if you try this version, you'll be happy with it!
Cooking the Cheesy Grits
This meal actually comes together really quickly. Before you start cooking the shrimp, get your grits going. I prefer to use a stone-ground grits, since they have the best flavor and texture.
You can prepare the grits according to the package if you are using instant ones or just assume about a 3-1 ratio of liquid to grits. I like to use at least one cup of cream to get the grits very creamy.
Combine all your liquid in a saucepan and bring it to a simmer, then slowly add your grits while whisking. Continue to whisk it and after a few minutes it should thicken up. Then you can whisk in your cheddar cheese! Adding some butter to the grits near the end also takes them to another creamy level.
You can keep this over low heat while you prepare the other parts of the dish. If you notice it's getting to thick, just whisk in a few tablespoons of milk or water and it should loosen up.
How to Reheat Grits
Grits (or polenta) can take on many textures. While it will be creamy and smooth when you make it, if you make it in advance and stick it in the fridge, it'll turn into a brick. This is great news if your goal is to cut and fry the polenta cubes.
But, for this Cajun Shrimp and Grits recipe we want the grits creamy and smooth. To reheat them then, add about 1/2 cup of water to a pot and bring it to a simmer. Scoop in your your grits and as they warm, stir them well to bring them back to life. If they are too thick, add more water. If then end up too thin, just simmer them for a minute or two and they will thicken up!
Prepping the shrimp
It's very important to season your shrimp well for this recipe. The grits are creamy, but not necessarily packed with flavor so much of the flavor from the dish comes from the shrimp. If you have a good Cajun seasoning you can definitely use that, but I just mixed up a quick spice mix with paprika, red pepper flakes, and cayenne or chili powder.
If your shrimp aren't already cleaned, peel them up to the tails. Then use a paring knife to slice up the back and devein the shrimp. Then toss them with your seasonings.
Cooking the shrimp
Shrimp are very easy to cook. Just remember that they cook pretty fast and overcooked shrimp are not the best.
Just melt your butter in a skillet over medium heat and once it's melted and hot, add your shrimp to the pan. Leave them untouched on one side for 3-4 minutes, then turn them and cook for the same amount of time on the other side. The exact cooking time will vary based on the size of your shrimp. I used large (16-20 count) shrimp and they cooked in about 7 minutes.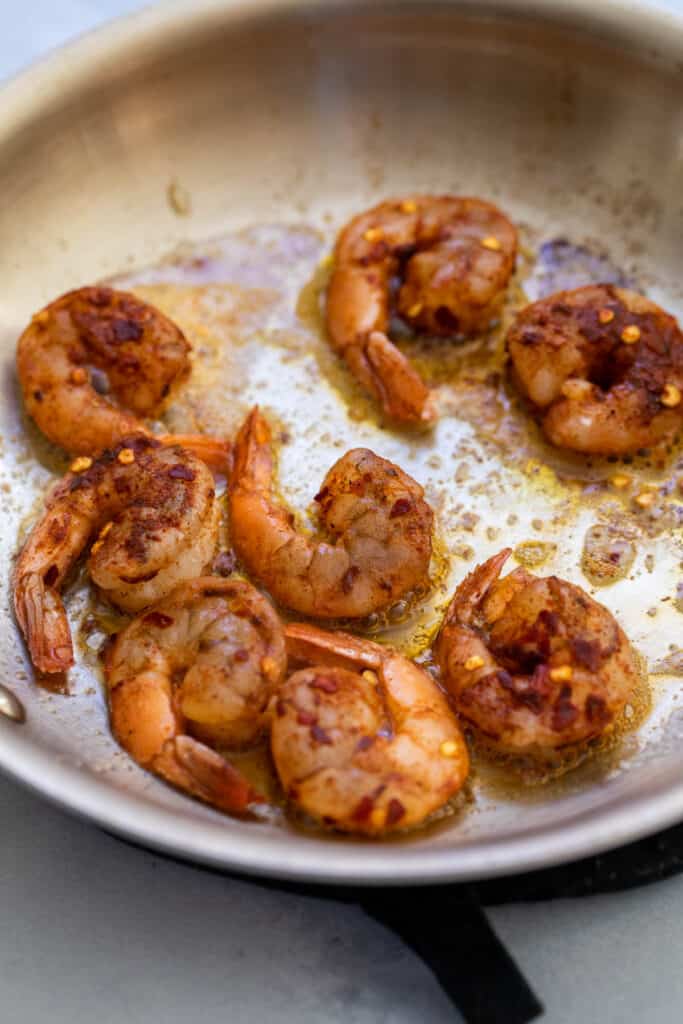 They should look like this.
Some recipes say to boil the shrimp, but I prefer them pan-seared so they get some crust on them.
Making the sauce for the shrimp & grits
The sauce for this Cajun shrimp and grits dish is really what makes it decadent. I must admit that I loved the thicker sauce over other versions of shrimp and grits I've had over the years.
After the shrimp come out of the pan, you'll have some bits of seasoning still in the pan. Leave all that in there! That's flavor. Just add your butter for the sauce straight in and scrape up any little bits. Once the butter is melted, add the green onions (white sections only) and garlic and stir. Let them cook and soften for a minute or two.
Then you'll need some clam juice or stock. I like to use seafood stock, but if you can't find that you can use chicken stock.
Next, add your flour to the pan and combine it with the butter, scallions, and garlic. Cook it for just a minute or two. It should start to turn a very light tan. This is your roux for the sauce.
Next add your clam juice or stock slowly and stir. It will steam and hiss but should stay pretty thick. This is right after I added my stock.
Then add your cream, hot sauce, and Worcestershire sauce. Add a pinch of salt and pepper and you should be good to go. It should have the consistency of a gravy basically. If it looks too thin, let it simmer for another minute or two. If it looks too thick, add a bit more liquid (stock, milk, or cream).
To plate the dish, you want a big serving of cheesy grits.
Then add 6 or 7 shrimp to each plate.
Then add some sauce on top and garnish with scallion greens and a few dashes of hot sauce.
Adding sausage or ham to the cajun shrimp and grits
I really liked this version of the dish, but there are other versions that have ham or sausage in the recipe. Usually they use andouille sausage or tasso ham. These are great add-ins and can definitely boost the taste of the shrimp and grits. Personally, I think the dish is plenty flavorful without these and they kind of complicate the seafood flavors.
If you want to add some though, add it to the sauce as it simmers and know you are in good company. Many recipes include it.
So there ya go! Shrimp and grits. Am I from the South? No.
Did I do shrimp and grits justice though? I think so! You tell me in the comments!
Shrimp and Grits
This mouthwatering Cajun Shrimp and Grits Recipe is so easy, and best of all, it's made from scratch! Try it with the easy Cheesy Homestyle Grits.
Ingredients
¾

lb.

large shrimp

,

peeled to the tail, de-veined

1

Teaspoon

paprika

1

Teaspoon

red pepper flakes

½

Teaspoon

cayenne

Pinch

of salt and pepper
Grits:
1

Cup

stone-ground grits

2

Cups

water

1

Cup

heavy cream

3

Tablespoons

butter

½

Cup

grated cheddar cheese

Pinch

of salt and pepper
Sauce:
2

Tablespoons

butter

2

Tablespoons

all-purpose flour

1

Tablespoon

garlic

1

scallion

,

minced (divide the green and white part)

1

cup

seafood stock or clam juice

½

Cup

heavy cream

1

Teaspoon

Worcestershire sauce

1

Teaspoon

hot sauce
Instructions
Peel and clean the shrimp but leave the tails on. Toss shrimp with spice mix.

For grits, cook according to package but I recommend using at least one cup of cream to get the grits very creamy. Once your grits are thick, whisk in the cheese.

If your grits ever get to thick, just whisk in a few tablespoons of milk.

Add butter to a skillet over medium-high heat. Once melted, add shrimp. Cook shrimp for 3-4 minutes per side depending on the size. I used 16-20 count and they cooked in about 6-7 minutes.

Once the shrimp come out of the pot, add butter straight to it and scrape up as many bits as possible. Add scallions and garlic and stir. Cook for a minute or two to soften the veggies.

Add flour to the pan and whisk together. Cook for a minute or two until the flour starts to turn a very light tan color. This is the roux for the sauce.

Next add stock to the pan and stir slowly.

Once the juice has cooked down and is simmering, add cream, hot sauce, Worcestershire sauce, and a pinch of salt and pepper. Continue to whisk until it has the consistency of a light gravy.

Plate this dish with a bed of the grits, add some shrimp on top, and finish with the sauce. Garnish with chopped scallions and/or hot sauce.
Nutrition
Serving:
1
bowl
|
Calories:
1138
kcal
|
Carbohydrates:
59
g
|
Protein:
39
g
|
Fat:
84
g
|
Saturated Fat:
51
g
|
Polyunsaturated Fat:
4
g
|
Monounsaturated Fat:
21
g
|
Trans Fat:
1
g
|
Cholesterol:
452
mg
|
Sodium:
1947
mg
|
Potassium:
614
mg
|
Fiber:
2
g
|
Sugar:
9
g
|
Vitamin A:
4536
IU
|
Vitamin C:
11
mg
|
Calcium:
444
mg
|
Iron:
2
mg
Did you make this recipe?
Here are a few other great recipes to try!