It's always important to remember that there's a world of difference between irreplaceable and Tastes Better. Something can be irreplaceable to you without necessarily being all that great of a thing. Like your raggedy childhood teddy bear or that special grungy T-Shirt that you refuse to let your spouse throw away. If you're me, you have at least two dozen such T-Shirts. Green Bean Casserole is a favorite Thanksgiving side dish in house Macheesmo and is just irreplaceable in my mind.
Something about the flavors of green bean casserole that those strange canned products create when smashed together just reminds me of my childhood.
BUT.
That doesn't mean that I can't make an objectively better version and leave it up to you whether or not you stray from the traditional soup can path this holiday season.
So this is a green bean casserole from scratch. And I must say that even if the traditional variety is irreplaceable to me, this variation is damn good.
Ingredients you'll need for Green Bean Casserole
Here are the must-have ingredients you'll need for this casserole. Of course, there are some substitutions that you can get away with, but these are the ingredients I'll go back to the store for if I don't have them.
Fresh Green Beans. Yes! You need fresh green beans for this casserole. They have a nice crunch and bright green color that is hard to replace.
Mushrooms. Mushrooms bring a lot of savory flavors to this casserole. I wouldn't skip them.
Onions. Pearl onions are the traditional ingredient for this casserole, but they can be hard to find so a diced sweet onion can work as well.
Garlic. Don't forget the garlic!
Butter. When making the gravy for this casserole, I like to make a classic roux which means butter and flour.
Crunchy Bits. I like to use a mix of breadcrumbs, Parmesan cheese, and slivered almonds. You want something crunchy on top!
Prepping the ingredients
So even though this dish is from scratch, it's actually really easy to make. Something that I'm sure the Campbell's and French's people don't want you to know. There's only one mildly tricky part which we will get to.
First, though, let's handle the green beans. You need to blanch them in a medium pot in salted water which should not scare you away. Basically, just wash the beans and chop off the tips. I like to use a pair of kitchen shears so I can clean up 5-6 at a time. Then chop all the beans in half.
Dunk them all in salted boiling water for about 90 seconds. They will turn bright green which is what you want. Then immediately drain them and rinse them with cold water to stop the cooking. You could also shock them in an ice bath or bowl of ice water if you wanted to.
You'll also need to slice up some mushrooms and get some pearl onions. If you can find pearl onions, use them but otherwise just dice up a sweet onion.
Also mince up a few cloves of garlic and some fresh oregano and/or thyme. Again, this is pretty easy stuff.
The Mildly Tricky Part – Making the Gravy
The next step is making the mushroom gravy base for the dish. Of course, this is the part that you usually get by using a big can or two of cream of mushroom soup.
Like I said, those flavors to me are irreplaceable, but it doesn't mean that we can't make something that tastes better.
Start by letting your butter melt in a medium-large pot or skillet (depending on how much casserole you're making). Once the butter is melted, add the mushrooms along with a pinch of salt.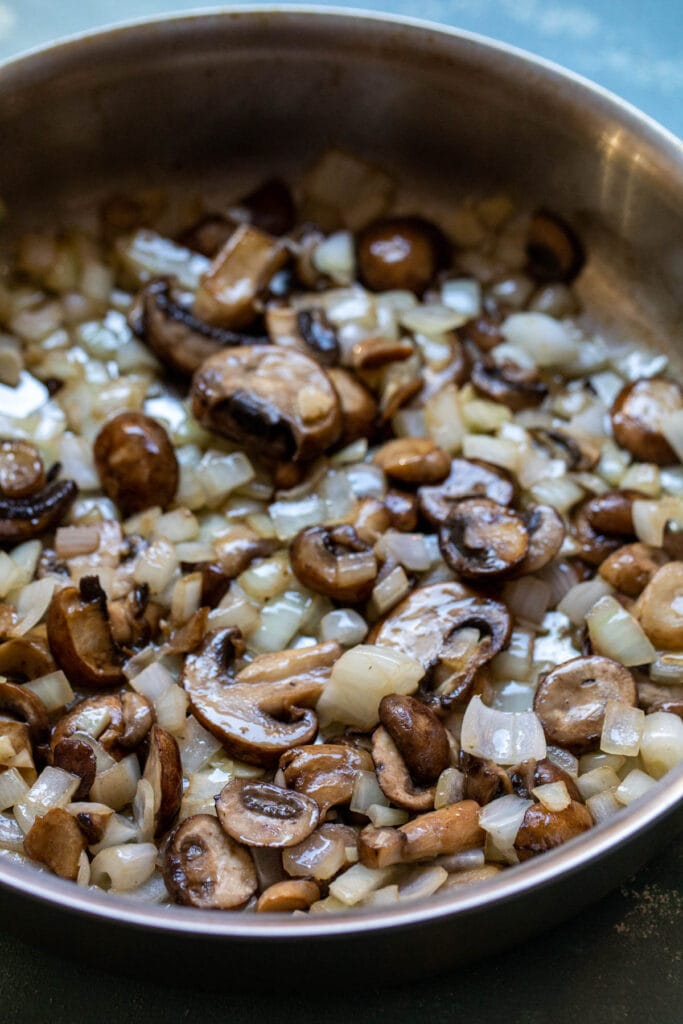 Let this cook for 5 minutes over medium-high heat until the mushrooms start to soften and release their liquid. When that happens, add the garlic, red pepper flakes, and fresh herbs.
Cook this for a minute or two and then add your flour to the pan. It will look pretty dry, but just stir it together and you should end up with a mushroom-paste situation. Cook this for about a minute just to cook out some of the flour taste. If it's really dry, like you can still see flour, then add a bit more butter or a drizzle of olive oil.
You just made a roux.
Or, as I like to call it, a mush-roux-m.
Once you have this roux ready, start slowly adding your chicken broth to the pot, stirring the whole time. Add in a few batches and stir stir stir.
Two cups should be about right but if it looks too thick, add more obviously. If it looks too thin, that's not a problem. Just let it simmer for a few minutes and it will thicken up.
Eventually, you'll end up with this wonderful mushroom gravy that smells amazing.
Ok. That's the only hard part of the whole deal. And I have full faith that you can do it.
Next, just dump in your peas and green beans and season with salt and pepper. Look how fresh and colorful this is!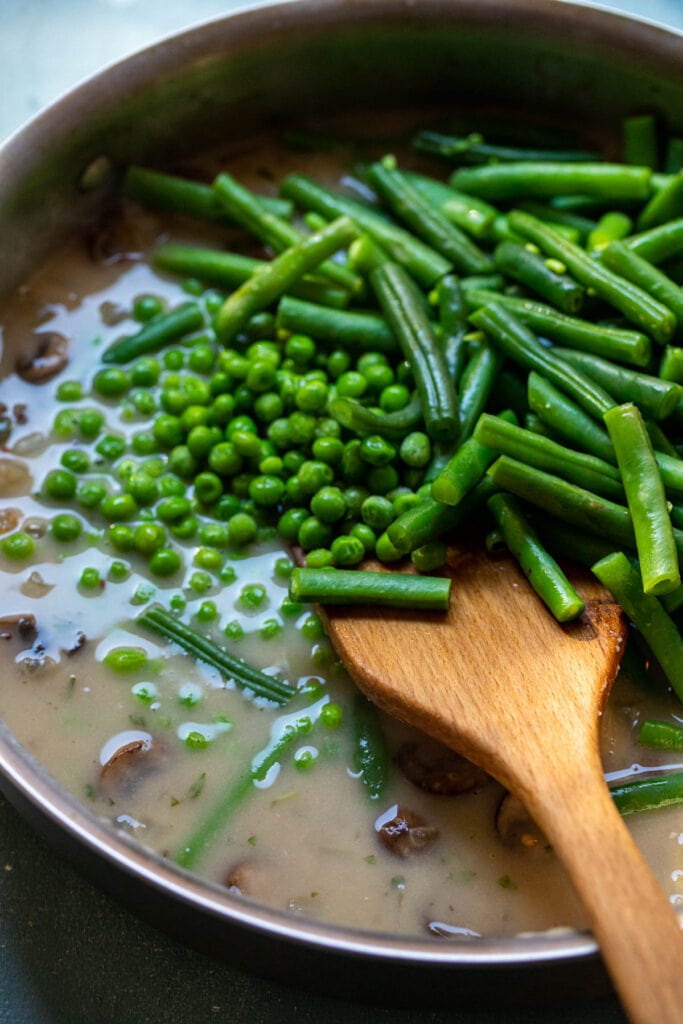 Assembling the green bean casserole
Lightly butter a casserole dish and then pile in your green bean mixture. Top it with some Parmesan cheese, breadcrumbs, and slivered almonds.
If you're addicted to the French's onions, you can also use those, but I wanted to branch out a bit on the toppings.
Bake this in your oven at 400˚F degrees for 20-25 minutes. The crust should be nice and crispy and you might notice some of the gravy bubbling up.
It's pretty much done when the crust is lightly browned though.
If you're looking for a from scratch version of the classic green bean casserole then give this guy a shot.
Can you make this casserole vegan?
Many Thanksgiving side dishes are hard to make vegan but this one is actually very easy. Just substitute the butter for coconut oil and use vegetable stock instead of chicken. For the crispy topping, just leave out the Parmesan cheese and you have yourself a vegan green bean casserole!
Making ahead of time and reheating
This is one of those casserole recipes that is great to make in advance. You can either just get it ready to bake or actually bake it and then reheat it until warmed through. Either way it will keep in the fridge for 3-4 days and be delicious when you need it!
Leftovers
If you have leftovers of this green bean casserole, that's great! It actually does okay in the microwave. Heat up just enough for a serving in a microwave-safe bowl. If you want to re-heat the entire casserole, the oven is probably best. Reheat, covered in foil, at 350˚F until warmed through.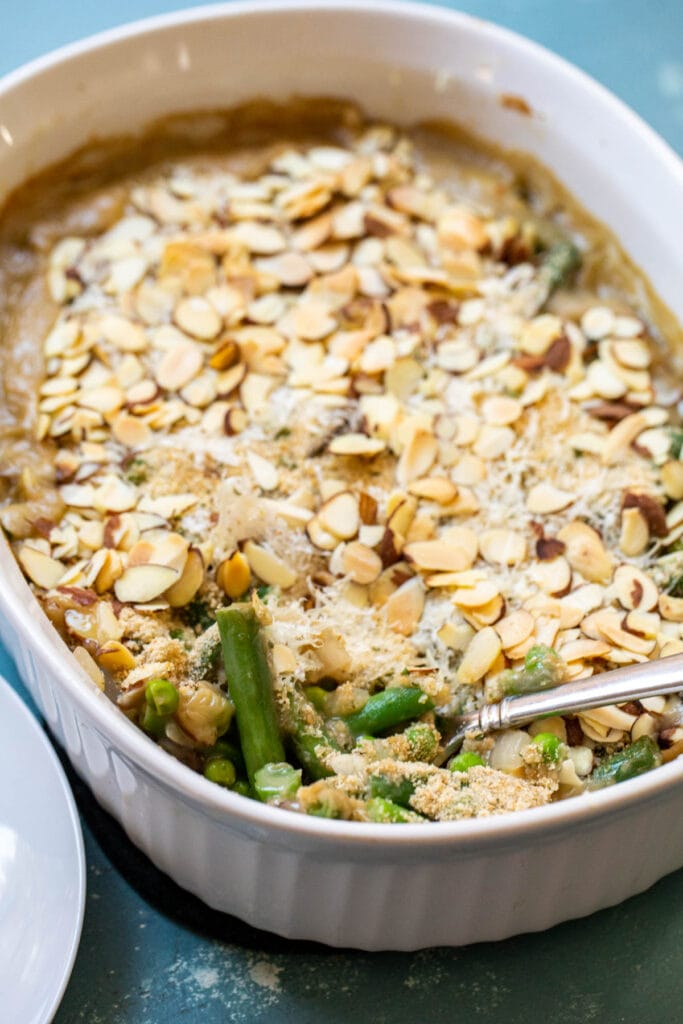 Green Bean Casserole from Scratch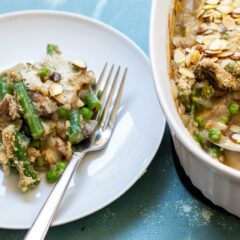 Ditch the cans of soup this year and try this green bean casserole with fresh vegetables and a creamy homemade gravy baked with a crunchy crust.
Ingredients
1

lb

fresh green beans

,

blanched and trimmed

½

lb

cremini mushrooms

,

sliced

½

cup

pearl onions

,

or diced sweet onion

4

tbsp

unsalted butter

4

tbsp

all-purpose flour

2

cloves

garlic

,

minced

1

teas

fresh oregano

,

minced

¼

teas

red pepper flakes

2

cups

chicken stock

½

cup

sweet peas

,

(optional)

½

cup

shredded Parmesan cheese

½

cup

breadcrumbs

¼

cup

slivered almonds

Salt and pepper

,

sprinkle
Instructions
Blanch green beans. Wash your green beans, trim off the ends, and chop them in half. Add the green beans in a pot of boiling, salted water for about 90 seconds. They should turn bright green and be slightly tender. Drain the beans and immediately dunk them in a bowl of salted ice water to stop them from cooking.

In a large pot or skillet over medium-high heat, melt the butter and then add the mushrooms and a pinch of salt. Cook for about 5 minutes until the mushrooms start to break down and release their liquid. Then add onions, garlic, pepper flakes, and herbs. Stir and cook for 30 seconds. (Note If you are using diced onion, add them earlier and cook for a few minutes until they soften.)

Add flour to the pot, stir, and cook for another minute to cook out the flour flavor.

Stir in the chicken stock in small batches. Don't just add it all at once. Stir it constantly as you add the stock so it stays creamy and doesn't get lumpy. If it's too thick, add more stock or water. If it's too thin, just simmer for a few minutes until it thickens.

Stir in green beans, peas, and pearl onions if you're using them and stir to combine.

Pour mixture into a buttered casserole dish and top with Parm, breadcrumbs, and slivered almonds.

Bake at 400 degrees for about 20 minutes until the top is nicely browned.

Let cool for a few minutes and serve immediately.
Nutrition
Calories:
263
kcal
|
Carbohydrates:
26
g
|
Protein:
11
g
|
Fat:
14
g
|
Saturated Fat:
7
g
|
Polyunsaturated Fat:
1
g
|
Monounsaturated Fat:
5
g
|
Trans Fat:
0.3
g
|
Cholesterol:
30
mg
|
Sodium:
532
mg
|
Potassium:
551
mg
|
Fiber:
4
g
|
Sugar:
7
g
|
Vitamin A:
953
IU
|
Vitamin C:
16
mg
|
Calcium:
156
mg
|
Iron:
2
mg
Did you make this recipe?
Here are a few other great recipes for Thanksgiving!