With the holiday season in full effect I thought I'd spend a week and post a few cookie recipes that have been swimming around in my head recently. Therefore, I'm un-originally calling this week Cookie Week. As an aside, it also happens to be cookie week on Tablespoon.com where I write once a week as well. So, basically, if you don't like cookies you might want to just ignore me for a week.
But who in their right mind doesn't like cookies?
I thought I'd start the week off with something simple: Ginger snaps. I like ginger snaps a lot mainly because they tend to not be too sweet. I usually don't like stuff that's super-sweet and these guys have a great balance of spice and sweetness.
I decided to jack up the ginger flavor a bit by using fresh ginger as well as ground ginger.
Double Ginger Snaps
A standard ginger snap recipe spiced up with grated fresh ginger. Fantastic for the holiday season.
Ingredients
¾

Cups

1 ½ sticks unsalted butter

½

Cup

sugar

½

Cup

brown sugar

1

large egg

2

Tablespoons

fresh ginger

,

grated

2

Teaspoons

ground cinnamon

1

Teaspoon

ground ginger

½

Teaspoon

vanilla extract

1

Tablespoon

molasses

2

Tablespoons

honey

2

Cups

all-purpose flour

1

Teaspoon

baking soda

Pinch

of salt

Coarse sugar for topping cookies

,

Optional but a nice touch
Instructions
Cream together butter and sugars using a hand mixer or stand mixer until mixture is light and fluffy. In a seperate bowl, combine all dry ingredients.

To butter mixture, add egg, vanilla, molasses, honey, and fresh ginger. Stir to combine.

Slowly add dry ingredients in a few batches and stir until dough comes together.

Scrape dough out onto clean surface and form a log out of the dough. Wrap the log in plastic wrap tightly and store in the fridge for an hour so the dough can firm up. You can also freeze the dough if you want to store it for a long time.

Slice off ¼ inch cookies using a sharp knife. Dip cookies in coarse sugar on one side and set sugared side up on a baking sheet lined with parchment paper or silicon mat.

Bake at 350 degrees for 8-10 minutes. Cool before serving.
Nutrition
Serving:
1
Cookie
|
Calories:
110
kcal
|
Carbohydrates:
16
g
|
Protein:
1
g
|
Fat:
5
g
|
Saturated Fat:
3
g
|
Polyunsaturated Fat:
0.2
g
|
Monounsaturated Fat:
1
g
|
Trans Fat:
0.2
g
|
Cholesterol:
18
mg
|
Sodium:
41
mg
|
Potassium:
31
mg
|
Fiber:
0.3
g
|
Sugar:
9
g
|
Vitamin A:
150
IU
|
Vitamin C:
0.04
mg
|
Calcium:
9
mg
|
Iron:
1
mg
Did you make this recipe?
Making the Snaps
There are a few more ingredients in these cookies than some others, but actually making the cookies couldn't be easier.
Start by combining your butter and sugars into a bowl and mix with either a stand mixer or hand mixer. Cream the butter and sugar together until it's nice and light and fluffy. This will take a few minutes.
Once the mixture is light and fluffy, add your egg to the mix.
In a separate bowl, combine all your dry ingredients. So that means the flour, baking soda, salt, cinnamon, and ground ginger. Mix those all together with a fork.
The Secret Ingredient
I was hoping to give the cookies a bit more of a spicy flavor by using some fresh ginger along with the ground ginger.
It worked really well actually. The key is to grate the ginger finely so it kind of dissolves into the cookies.
Combine the fresh ginger, honey, molasses, and vanilla extract in your mixing bowl with the butter/sugar/egg. Mix for a few seconds to combine.
Then add your dry ingredients in two or three batches, mixing slowly until the cookie dough is combined. Don't over-mix it or you'll end up with tough cookies. Nobody likes tough cookies.
When the dough is ready, scrape it out onto a clean surface and shape it into a log. The log should have about 1 1/2 inch diameter, but there's no need to measure it or anything. Just get it close.
Wrap this really tightly in plastic wrap and store it in the fridge so the dough can chill for at least an hour. This will just make it easier to work with.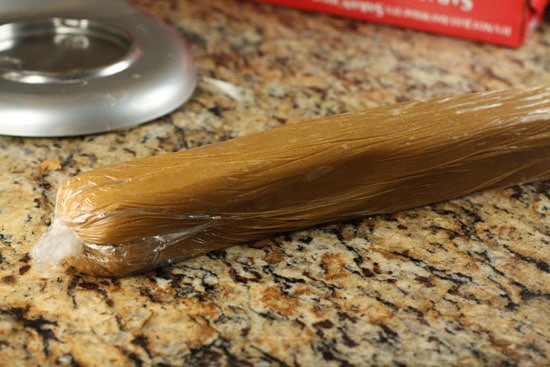 When you're ready to bake the cookies, unwrap your log and slice off as many cookies as you want to bake. I just baked them all at once, but you could definitely just bake them as you need them and keep the dough stored for later. It would keep in the fridge for a few days or you could freeze it for even longer.
Use a sharp knife to slice the dough about 1/4 inch thick.
Dip these guys in coarse sugar and lay them out on a baking sheet. Give the cookies plenty of room because they'll grow.
I actually over-crowded my pans a bit. I think 12 cookies per baking sheet is about the maximum. For best results, use parchment paper or a silicon baking mat with the cookies.
Bake these guys at 350 degrees for 8-10 minutes. I err on the side of undercooked because I like these a bit soft. Definitely check on them around 7-8 minutes and remember that they'll firm up a bit as they cool.
Let the cookies cool for a few minutes before eating them.
When I was planning out my cookie week lineup, these were the clear underdogs going in. I just wasn't sure that they would be fantastic.
But they're the kind of cookie that sits unassuming at a holiday party for a few minutes until someone tries one. Then word spreads and suddenly they are gone.
Check back tomorrow for a cookie with an even more hidden ingredient!