I'm far from picky when it comes to margaritas. If you're making them, I'll probably take one regardless of if it is homemade, store-bought, or any other way a margarita can come. But, in my dream world, these Jalapeno Margaritas would be available for all margarita scenarios.
Make no mistake – these pack a punch and your tastebuds will be hit with a spicy and citrusy flavor thanks to muddling or blending fresh jalapenos along with your standard margarita ingredients.
Need a bonus idea for a party? Check out my jalapeno jelly shots below! I use the same margarita recipe but mix them with some gelatin and pour them into jalapeno rounds. So fun!
Ingredients for Spicy Jalapeno Margarita
Nothing too crazy in this spicy margarita ingredient list. As far as cocktail recipes go, margaritas are really simple and easy to make at home.
Tequila. You can use a tequila blanco or a tequila reposado. Your preference here.
Triple Sec, Grand Marnier, or Cointreau. Some sort of orange liquor is essential for a good margarita.
Fresh jalapenos. I like to use 1/2 jalapeno for two cocktails so plan accordingly.
Lemon and limes. You'll need both and fresh is best!
Sugar. You'll need sugar or honey or agave syrup to make the sour mix simple syrup.
Salted rim. I like to salt my rim for margaritas and like to add in some Tajin for extra kick. You can skip it though!
How to make the sour mix for margaritas
A normal simple syrup that I use for cocktails is one cup of water and one cup of sugar. I start with that mixture for this sour mix, but also add in 1/2 cup of fresh lemon juice. This works out to about two large lemons.
Combine those three ingredients into a small pot or pan and heat until the sugar dissolves. Then cool the mixture and it's ready to use in margaritas!
TIP: If you need to cool this really fast, place the pot over a larger bowl of ice and it'll cool down in just a few minutes.
How to make these with a cocktail shaker
If I'm just making a few of these margaritas, I prefer to use a cocktail shaker to make them. Add half a fresh jalapeno to a cocktail shaker with the sour mix and muddle it well to mash the jalapeno into the margarita mixture.
Add the tequila, triple sec, orange juice, and ice and shake well.
Then strain this into your glasses with fresh ice and salted rims if you are using them! Cheers!
How to make jalapeno margaritas with a blender
If you are serving these at a party and want to make a large batch of the margaritas, you can use a blender for these.
I would recommend by starting with 3x of the ingredients which would make six margaritas. Add the ingredients to a blender and pulse until just combined.
Strain out the jalapeno chunks for a smoother margarita.
You could also add the ice to the blender after you strain out the jalapeno chunks to make a slushy margarita!
Pour your spicy jalapeno margarita mixture over fresh ice in margarita glasses or cocktail glasses of your choice and garnish with a lime wedge and fresh jalapeno slices!
My method for making jalapeno jelly shots
If you are up for a fun kitchen project, making jelly shots is always a hit with guests. For these I had the idea of making the shots in some jalapeno rounds, which was kind of a production, but also ended up pretty cool.
To make the jalapeno rounds, I cut the biggest jalapenos I could find into about 1 inch chunks and hollowed out the seeds with a knife.
To make these jalapeno rounds water-tight, I wrapped them with tiny pieces of plastic wrap with a rubber band to secure the plastic. Worked great!
When making the jelly margarita mixture, add a packet of gelatin to the sour mix. It'll dissolve best if you do this while it is warm. Then make the margaritas as normal (you can leave out the muddled jalapenos since you are putting it IN a jalapeno).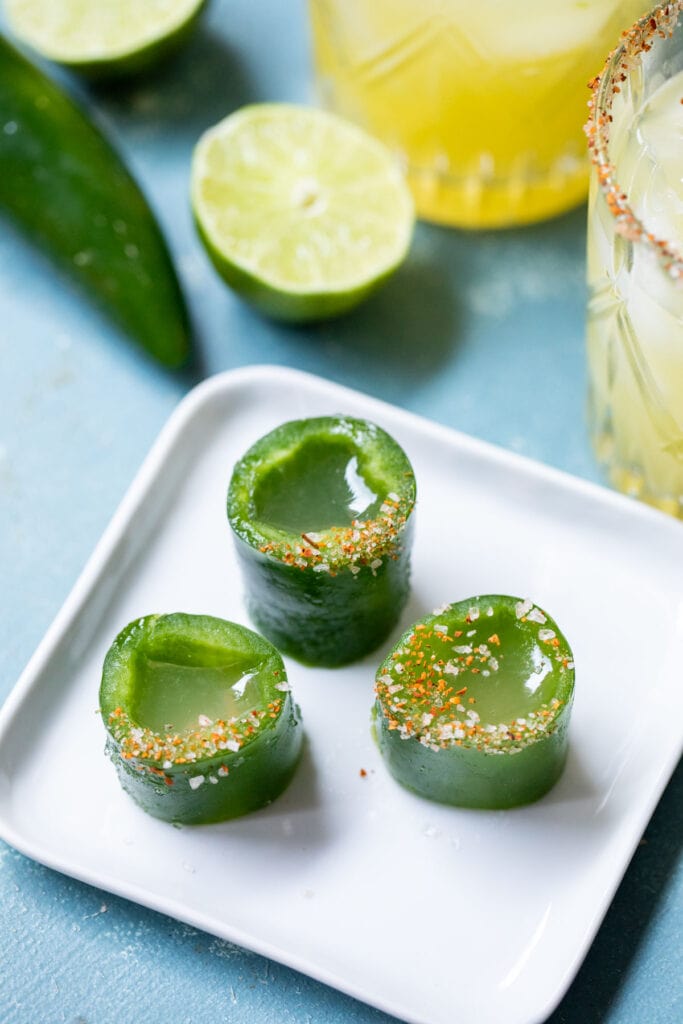 Pour the margarita mixture into your jalapeno rounds and let them set up in the fridge for a few hours! I like to top my jelly shots with some salt and Tajin. They are super fun!
Jalapeno Margaritas
One of my favorite game day cocktails. Muddle ingredients for this jalapeno margarita together or use a blender! Plus, check out the Jalapeno Jelly Shots!
Ingredients
½

fresh jalapeno

½

juice lime

1

oz

Cointreau

3

oz

tequila

3

oz

lemon simple syrup
Lemon SImple Syrup:
1

cup

water

1

cup

sugar

2

lemons

,

juice only
Salt Rim Mixture:
1

tablespoon

coarse salt

1

tablespoon

Tajin or chili pepper
Instructions
For simple syrup, add sugar, water, and lemon juice in a small pot and bring to a simmer until sugar is dissolved. Then cool before using in cocktails. To quick cool, you can place the pot in a bowl of ice and it will quickly cool the liquid. (If you are making jelly shots, you can add the gelatin to the syrup mixture so it dissolves well).

To make two cocktails, add 1/2 a fresh jalapeno to a cocktail shaker and muddle it with the juice from 1/2 a lime. Muddle well until the jalapeno is mashed up. Then add tequila, orange liquor, simple syrup, and ice. Shake it up well.

Strain the margaritas into cocktail glasses with fresh ice and salted rim. Cheers!
Nutrition
Serving:
1
cocktail
|
Calories:
290
kcal
|
Carbohydrates:
45
g
|
Protein:
1
g
|
Fat:
0.5
g
|
Saturated Fat:
0.1
g
|
Polyunsaturated Fat:
0.1
g
|
Monounsaturated Fat:
0.01
g
|
Sodium:
3494
mg
|
Potassium:
173
mg
|
Fiber:
3
g
|
Sugar:
37
g
|
Vitamin A:
65
IU
|
Vitamin C:
64
mg
|
Calcium:
49
mg
|
Iron:
1
mg
Did you make this recipe?
Other Game-Day Cocktails you might enjoy!