It has been almost a decade since I first made this cherry pastry roll. I really only make it once a year, if that, but I do look forward to it every spring. It's the perfect addition to a brunch table or sometimes I'll even just serve it as a dessert or snag a small piece with coffee for a breakfast.
It's versatile and very delicious. The only tricky part is making your own dough but it's a very simple dough to pull together so if you are new to homemade doughs, it's a great starter recipe.
This is such a beautiful, big cherry pastry. If you happen to try it out in the next few weeks, snap a photo and tag @macheesmo so I can see your work.
Enriched Dough Basics
The dough for this Cream Cheese Cherry Pastry is one of my favorite doughs to work with because it's very soft and easy to manage. There will not be any cursing when working with this dough. It rolls easily, rises fantastically, and tastes like you slaved away for hours.
It all starts with a good amount of yeast, warm milk, and a pinch of sugar. Stir that all together and after a few minutes if your yeast is bubbling then you are in good shape.
Stir in the egg, yolk, and sugar, and then add the flour and salt. You should have a dough that is pretty soft and slightly sticky at this point.
If you are working with a stand mixer, you should put on the dough hook to mix the dough now, but you can also just knead the dough by hand in a large bowl.
The kind of weird step about this dough is that once it is mostly mixed you add in 1/2 cup of unsalted butter that has been softened but not melted.
Mix this into the dough using your hands or the dough hook. At first it'll look like a mistake. The dough will start to kind of separate and your blood pressure my rise a bit. Don't worry. Eventually, it will come together.
The final dough should be very soft and slightly sticky. If it's very sticky, feel free to add a bit more flour to it. Then add the dough to a buttered bowl and let it rise for 90 minutes.
A substitution for the enriched dough
If you just can't be bothered to make this dough, you're best bet is to use store-bought puff pastry dough. I want to be very clear, on the record, that I do not thing this is as good because it won't have the same soft interior texture with crispy, browned eggs. But, the puff pastry will work.
I would use two puff pastry sheets and stick them together end to end. Add the filling to the pastry and roll it up just like you would the enriched dough. It will bake up just fine and be a really good cherry pastry even if not quite as good as the homemade dough version.
The Filling for Cream Cheese Cherry Pastry
While the dough rises, make your cheese filling. This is pretty straightforward. Just stir together the three ingredients in a small bowl.
After the dough has doubled in size, punch it down and roll it out on a lightly floured surface. You are shooting for about an 18-inch rectangle.
Again, the dough is super-easy to roll out so this shouldn't be hard.
Then spread the cheese filling all over the surface of the dough and brush the edges of the dough with egg wash (1 egg whisked with 1 tablespoon milk).
Now for the cherries! Just spread them out over the surface of the dough. If you can find fresh, great. I just used frozen though. If you use frozen or canned cherries, make sure to drain them really well so you don't add a lot of extra liquid to the pastry.
Most times of the year, unless I can find absolutely perfect fresh cherries, I just use canned cherries.
Now roll the dough into a tight cylinder and pinch the edges together. You can use your hands to even out the cylinder so it is roughly the same width.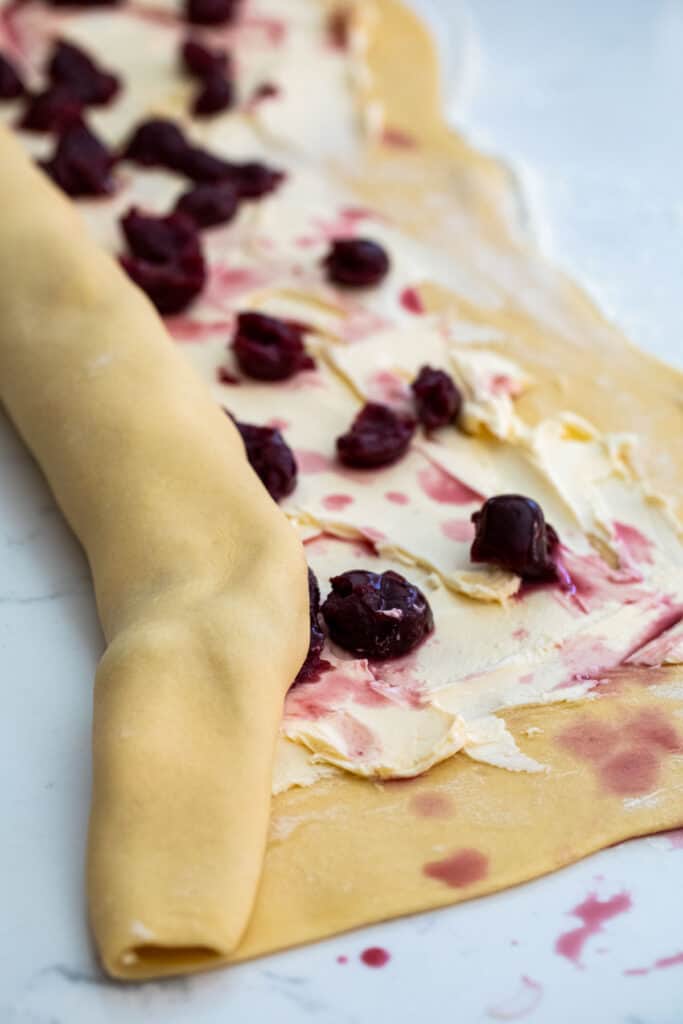 Now transfer the cylinder to a baking sheet lined with parchment paper and curl it into a spiral shape. Something like this…Get it?
Baking the Pastry
Once your spiral is made, cover the dough and let it rise for another 30 minutes while you preheat your oven to 350 degrees Fahrenheit.
Then brush the surface of the dough with egg wash and cut a few slits in the top of the roll. This is important to let steam vent from the roll. If you don't cut some slits in it, it might actually explode.
Bake this sucker at 350 degrees for 40 minutes, turning the sheet once halfway through. Then turn the temperature down to 325 and bake it for another 30 minutes until it is a golden brown color.
Yes. It really does need a full 70 minutes, at least, of baking time as it is really thick in the center.
Look at this monstrosity!
Let this thing cool for 20 minutes or so and then slice it and ice it with the simple powdered sugar glaze. I'm not really sure if there is a correct way to slice this thing. I just sliced it once down the center with a sharp knife, but a pizza cutter might also work.
This cherry pastry always turns out fantastic. It's slightly sweet, but not too sweet. I think if I were to make this again, the only change I might make is to add some lemon zest to the cheese filling to give it some citrus zing.
If you have the time and are looking for a show-stopper baked good, this Cream Cheese Cherry Pastry will do the trick!
If you have leftovers of this cherry pastry, it will keep okay on the counter for a day or so or you can keep it in the fridge for up to 3-4 days. I find it to be great cold, straight out of the fridge, but you could warm it up in an oven if you prefer it warm.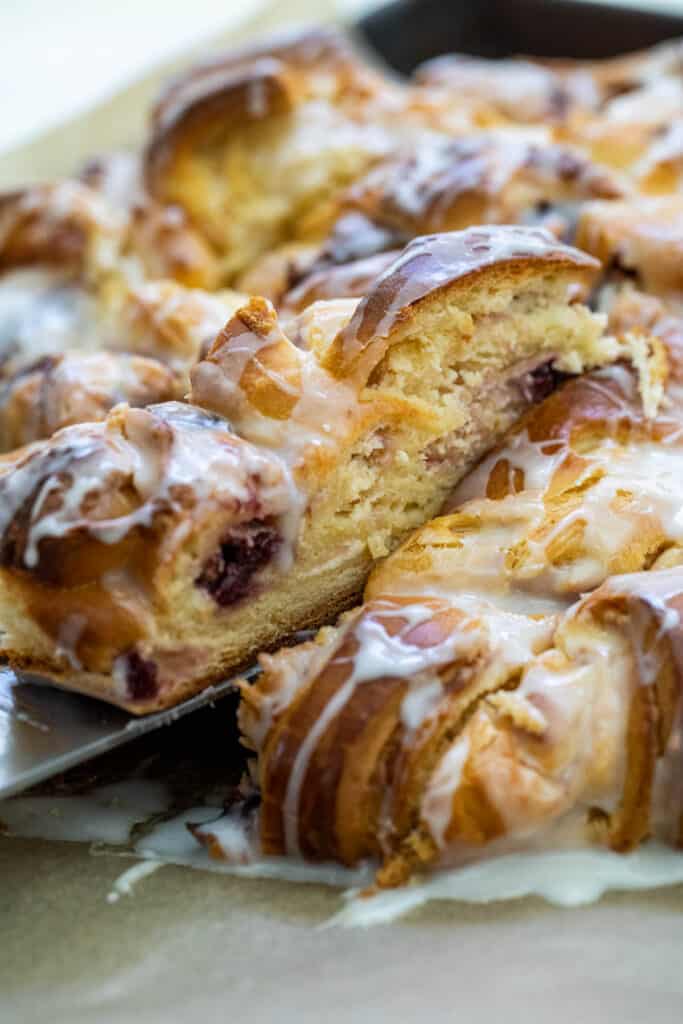 Cream Cheese and Cherry Pastry
A homemade enriched dough is the base for this cherry pastry stuffed with cream cheese and cherries. Perfect for big holiday Easter brunch!
Ingredients
Enriched Dough:
2 ¼

teaspoons

active dry yeast

,

1 envelope

⅓

cup

sugar

¾

cup

warm milk

1

large egg

1

large egg yolk

3

cups

all-purpose flour

Pinch

of salt

½

cup

unsalted butter

,

softened plus some for bowl

1

large egg + 1 tablespoon milk

,

for egg wash

1 ½

cups

cherries
Cream Cheese Filling:
12

ounces

cream cheese

1

large egg yolk

⅓

cup

powdered sugar
Simple glaze:
1

cup

powdered sugar

2

tablespoons

milk
Instructions
Whisk together warm milk and yeast with a small pinch of sugar in a mixing bowl. Let sit for five minutes so the yeast foams. If it doesn't foam, you need new yeast!

Mix in egg and yolk and then add flour, sugar, and a pinch of salt to the milk mixture. Stir until combined.

Once the dough is together, switch to dough hook if you're using a stand mixer and then mix in softened butter. It might look like a mess, but the butter should eventually mix into the dough. If the dough is super-sticky, add a bit more flour. It should be slightly sticky though. If you don't have a stand mixer, you can knead the butter in by hand.

When dough is mixed, remove from mixing bowl and add to a lightly buttered bowl. Cover and let rise for 1 ½ hours.

Meanwhile, make filling mixing together soft cream cheese, powdered sugar, and egg yolk.

After dough has risen, roll it out into a large 18 inch rectangle on a lightly floured surface. Brush edges of dough with egg wash (1 egg whisked with 1 tablespoon milk). Spread cheese filling over the surface of the dough.

Distribute cherries over the surface of the dough and roll it into a tight cylinder. Pinch ends of dough and roll it into a curl. Place roll on baking sheet lined with parchment paper.

Preheat oven to 350 degrees and let dough rise for 30 minutes while the oven preheats.

Brush roll with egg wash and cut a few slits in the surface of the roll to let steam escape.

Bake dough at 350 degrees Fahrenheit for 40 minutes, rotating pan once half way through. Then reduce heat to 325 degrees and bake for another 30 minutes until the roll is a nice brown color.

Let roll cool for 15-20 minutes before slicing and icing the pieces. Serve slightly warm or at room temperature.
Nutrition
Serving:
1
Piece
|
Calories:
336
kcal
|
Carbohydrates:
61
g
|
Protein:
12
g
|
Fat:
13
g
|
Saturated Fat:
7
g
|
Polyunsaturated Fat:
1
g
|
Monounsaturated Fat:
3
g
|
Trans Fat:
0.4
g
|
Cholesterol:
103
mg
|
Sodium:
264
mg
|
Potassium:
238
mg
|
Fiber:
2
g
|
Sugar:
14
g
|
Vitamin A:
450
IU
|
Vitamin C:
1
mg
|
Calcium:
167
mg
|
Iron:
2
mg
Did you make this recipe?
VIDEO walkthrough
What to serve with this cherry pastry
This is a nice sweet side dish or dessert option for breakfast so I would serve it with something savory like this quiche florentine or these Smashed Crispy Breakfast Potatoes. I would love it as a spring side alongside this Tex-Mex Quiche from Lauren at the Curious Plate also!