Every year during the holidays I put on my dessert hat for a week and try to come up with some fun (yet doable) desserts to try out over the holidays.
I roughly call it cookie week but not everything is cookies.
For example, to kick off cookie week this year I'm starting with a dessert bar!
These Chocolate Cherry Bars are rich and decadent and it's almost embarrassing how easy they are to make. The delicious dividends pay nicely on the amount of work involved. The worst step is that you really need to let them cool before you can chop them up.
Waiting really is the hardest part.
Magic Chocolate Cherry Bars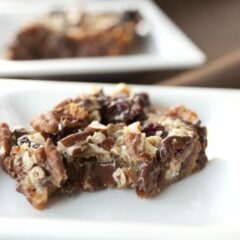 Chocolate Cherry Bars are rich, decadent and embarassingly easy to make! These delicious gooey cookie bars are packed with chocolate, cherries, and pecans.
Ingredients
2

cups

graham cracker crumbs

½

cup

unsalted butter

,

melted and cooled

Pinch

of salt

1

14-ounce

can sweetened condensed milk

10

ounces

semi-sweet chocolate chips

5-6

ounces

dried cherries

1

cup

chopped pecans
Instructions
Preheat oven to 350 degrees Fahrenheit. In a small bowl combine graham cracker crumbs, a pinch of salt, and butter with a fork until it's evenly mixed.

Press graham cracker crust into a 9×13 inch baking pan. Use a measuring cup or something to press the crust firmly into the pan.

Pour sweetened condensed milk over the crust and spread it out evenly. Top with cherries, chocolate, and pecans.

Press the toppings down lightly.

Bake cookie bars at 350 degrees for 25-30 minutes until the bars are lightly browned around the edges.

Let bars cool at room temperature for 30 minutes, then cover and move to fridge to cool completely.

Cut bars and store in the fridge.
Nutrition
Serving:
1
Bar
|
Calories:
273
kcal
|
Carbohydrates:
25
g
|
Protein:
3
g
|
Fat:
19
g
|
Saturated Fat:
8
g
|
Polyunsaturated Fat:
2
g
|
Monounsaturated Fat:
7
g
|
Trans Fat:
0.2
g
|
Cholesterol:
16
mg
|
Sodium:
73
mg
|
Potassium:
149
mg
|
Fiber:
3
g
|
Sugar:
14
g
|
Vitamin A:
505
IU
|
Vitamin C:
0.1
mg
|
Calcium:
34
mg
|
Iron:
2
mg
Did you make this recipe?
Chocolate Cherry Bars
The Crust
The base of these bars is just a really simple graham cracker crust. To make it you can pulse a few graham crackers in a food processor until you have 2 cups of crumbs or you can just buy the crumbs.
To the crumbs, add a pinch of salt and some melted butter and mix it together well. Then pack the mixture into a 9×13 pan. I like to use a measuring cup to really press the crust firmly in the pan.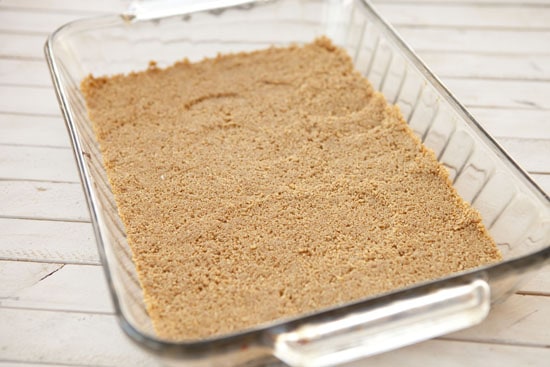 That's all there is to it for the crust! Nothing fancy.
Next, bust out a can of sweetened condensed milk. This stuff is kind of cheating but it's a great way to get a nice gooey texture in your bars. Plus, it doesn't get much easier than opening a can.
Spread it evenly over the entire crust.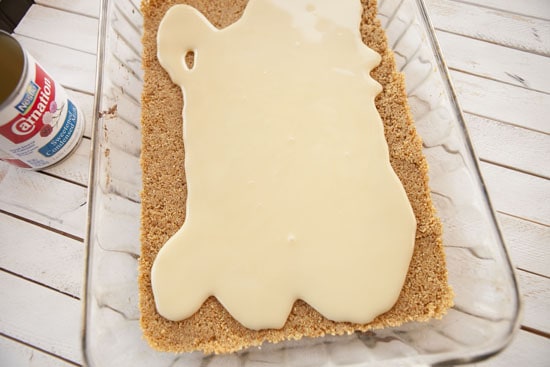 The Toppings
I've had magic cookie bars like this with tons of different toppings. Pretty much every bar has chocolate of some sort on it though. I like semi-sweet chocolate chips, but you could use anything really.
I added a good number of dried cherries also which are slightly tart.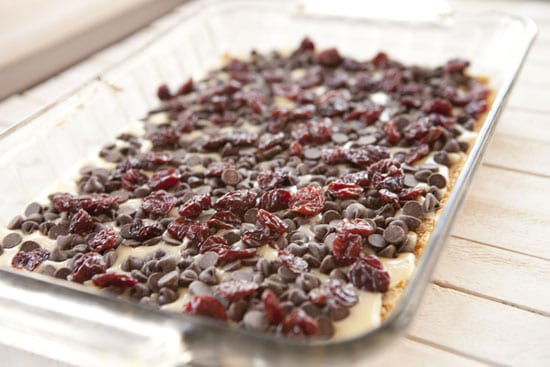 To add some texture to the bars, I very roughly chopped about a cup of pecans and sprinkled that on top.
Once all your toppings are evenly distributed, press down on the toppings lightly to sort of compress the bars a bit. You don't have to show off the muscles or anything, but pack in the toppings a bit.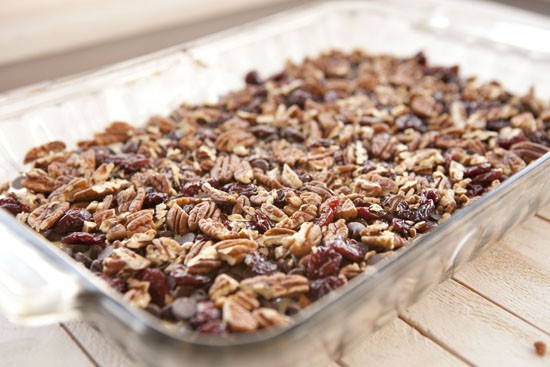 Bake the bars at 350 degrees Fahrenheit for 25-30 minutes. Mine needed the full 30 minutes to get nicely browned around the edges.
These were my finished Chocolate Cherry Bars. It's hard to see in the photo but they are very runny right now because of the condensed milk and melted chocolate. You can't really work with them when they come out of the oven.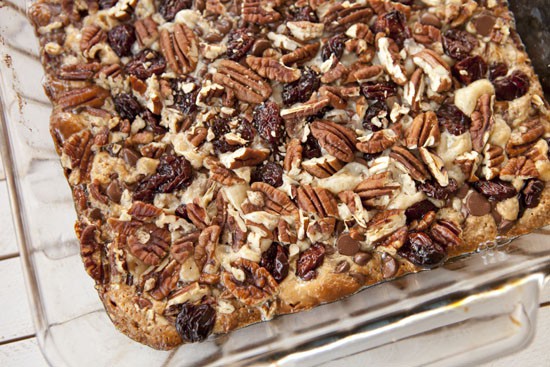 Let the bars cool at room temperature for about 30 minutes and then transfer them to the fridge to cool completely. They should chill for at least a few hours.
Then you can easily slice them up and divide them. Depending on how big you make your bars you should get 16-20 bars out of the pan.
I like these Chocolate Cherry Bars just fine by themselves, but if you wanted to get really crazy you could serve them with a big spoonful of vanilla ice cream on top.
If you serve these to a crowd, just don't tell them how easy the recipe is! They will think you toiled all day making these guys.