While I'm a carnivore through and through, I really value having delicious vegetarian meals to feed my family. That's exactly what you'll get from these chickpea patties. They are ready in under 30 minutes, easily, and are great served with the tangy yogurt sauce (Tzatziki Sauce).
The alternate name for chickpea patties is Falafel on Steroids. But really they don't taste that much like falafel other than the fact that they are made from chickpeas (Garbanzo beans depending on where you're from).
Keys to making these chickpea Patties
There are two parts to this meal that make it special. First, the garam masala, which is a wonderful fragrant spice mix that is available at most grocery stories these days. It's fantastic and I doubled it for my version over other recipes.
Second, the greek yogurt sauce is very good and isn't really optional in my opinoin. The crispy patties need something creamy to serve with them.
Don't get throw off by the longish list of ingredients in this recipe. It's essentially a stir-everything-together recipe.
Making the Tzatziki
It might be worth it to double this sauce. It would be so good on pita as a snack or on a ton of different sandwiches. In all seriousness, I could eat it with a spoon.
When it comes to the cucumber for the sauce, you have two options. If you are in a hurry, you can just chop up the cucumber and toss it with a pinch of salt. If you have the time, it's nice to shred the cucumber by peeling it and shred it with the large wholes of a box grater.
Sprinkle a pinch of salt on the shredded cucumber and let it sit for 10-15 minutes. It'll lose some moisture so you may want to set it over a bowl or a few paper towels.
Once your cucumber is ready, just mix up the rest of your tzatziki ingredients in a big bowl (don't skip the fresh lemon juice). It should be pretty thick. Take your time chopping your ingredients evenly so you don't get a big bite of scallion or something. The scallion and cilantro are optional, but they add a nice bite to the sauce.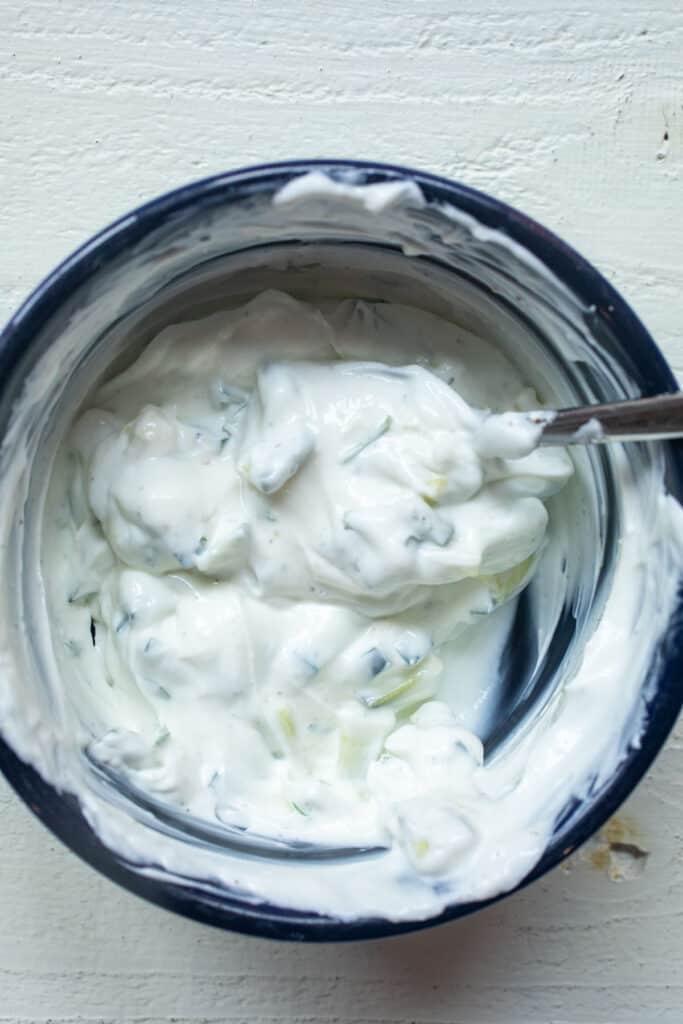 This will keep fine in your fridge for a day or two or probably longer but it won't last that long.
Instructions for making the patty mixture
These patties are pretty easy to make and while the original recipe only makes 6 patties, I was easily able to get 8 good-sized ones from the recipe.
To start, I added my breadcrumbs to a dry pan and toasted them over medium heat for about 5 minutes. You want them a light brown color, but definitely not burned. If you are in a complete hurry, this step is skippable.
Next, add all your drained and rinsed chickpeas into a large bowl and mush them up with either a fork or a potato masher. I used a fork and left mine pretty chunky actually. You could make it smoother if you wanted, but I'm lazy.
Add in the garam masala, breadcrumbs, garam masala, egg, sour cream, minced onion, cilantro, and salt.Mash together really well and you are ready to go. If the mixture seems very liquidy and won'thold its shape, add more breadcrumbs by the tablespoon until it thickens up.
You'll end up with this very thick paste of sorts. Again, it doesn't look great, but it'll smell really good and trust me it'll taste good also.
I realize this does not look appetizing.
Quick note: You can use a food processor to make these patties. I generally opt for a manual potato masher for them though as you can overprocess the chickpeas. Also, it's just one more thing you have to clean later and I'm not sure it's worth the work.
Cooking chickpea patties
Forming the patties is straightforward enough. Just divide the mixture into about 1/4 cup portions (you should get 8-10 patties) and then form round patties out of the mixture about 3/4 of an inch thick. Try not to press the mixture together too much. Keep it light.
Then fry the patties in a skillet over medium-high heat in olive oil or avocado oil. You'll probably have to work in two batches unless you have a really big pan.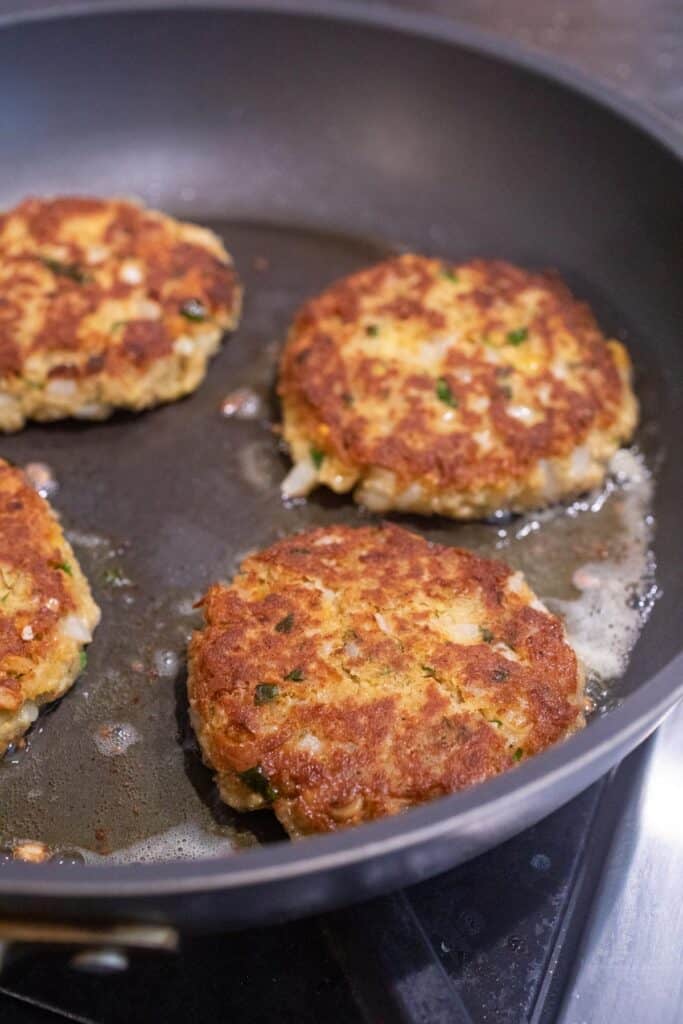 Four to five minutes per side and you should end up with these lovely, browned patties.
Making these vegan
If you want to make these vegan, it isn't too difficult. You will need to add some binder to the patties instead of the egg and sour cream. I would try mixing 1 tablespoon of chia seeds with 3 tablespoons of water and adding that to the mix, which can act as a thickener. You can leave out the sour cream or add a vegan sour cream product.
Instead of the yogurt sauce, I would serve these with a pesto sauce if I were serving them to a vegan guest.
What to serve with these patties
I served mine with a small salad and a good amount of yogurt sauce. Very tasty! They also work as an appetizer, although I would make them smaller if I were serving them as an appetizer.
Alternatively, you could serve these on a bun as a chickpea veggie burger!
Have leftovers? Stuff one of these patties in pita bread with tomatoes, lettuce, yogurt sauce, and some fresh herbs and it's almost like a make-shift falafel!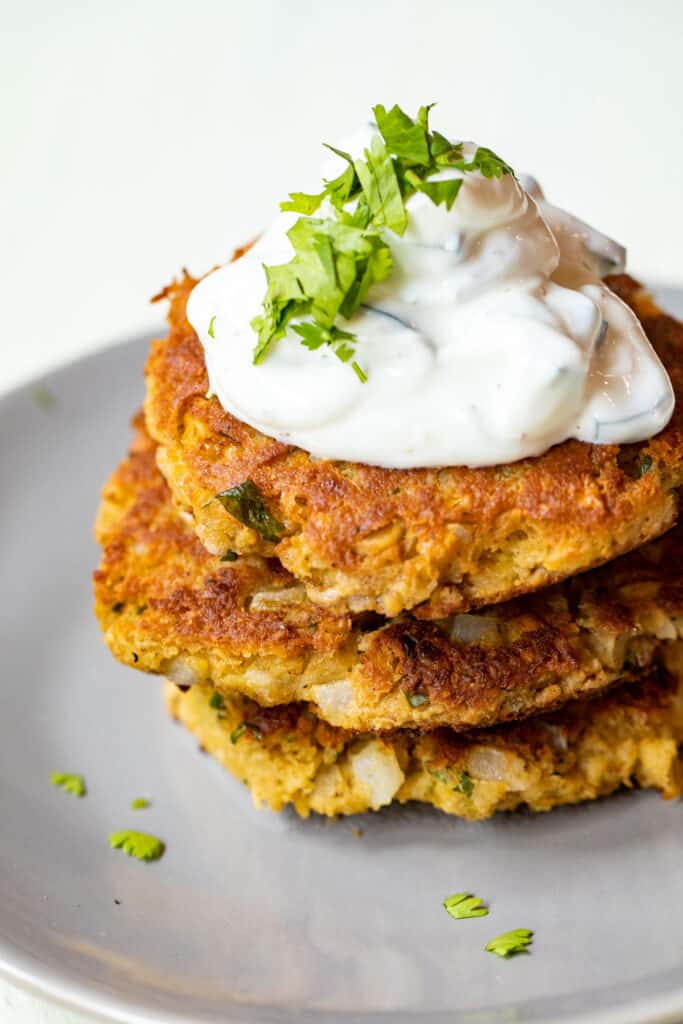 These are versatile and delicious little crispy patties. I didn't miss the meat for a second when I was done eating them!
Chickpea Patties with Yogurt Sauce
When you need a satisfying—and quick—dinner, these crispy chickpea patties are an easy answer. Serve with a tangy yogurt sauce.
Ingredients
2

15-ounce cans chickpeas

,

drained and rinsed

½

cup

white onion

,

diced

2

Teaspoons

garam masala

,

original is 1 tsp.

2

Tablespoons

olive oil

1

egg

½

Cup

toasted bread crumbs

½

Cup

sour cream

3

Tablespoons

cilantro

,

minced

Pinch

salt
Tzatziki Sauce:
1

Cup

Greek yogurt

1

cup

shredded or chopped cucumber

1

Tablespoon

cilantro

½

lemon

,

juice only

¼

teaspoon

kosher salt
Instructions
For the yogurt sauce, seed your cucumber and then grate it through a box grater into a colander. Add a sprinkle of salt and let the cucumber sit for 10-15 minutes.

Dice other yogurt sauce ingredients and combine with cucumber. You could make this in advance.

For patties, toast breadcrumbs in a dry pan for five minutes until they are lightly toasted. (optional)

Whisk together eggs, garam masala, oil, and a pinch of salt.

Add your drained chickpeas to a large bowl with the diced onions and mash them with a fork or masher. You could also pulse them lightly in a food processor.

Stir the egg mixture and breadcrumbs and other ingredients into the chickpeas and mix well.

Form eight even-sized patties with the chickpea mixture.

Cook patties in a pan with a drizzle of oil over medium-high heat for 4-5 minutes per side. They should be nicely browned on each side.

Serve the patties with the yogurt sauce.
Notes
Adapted from America's Test Kitchen 30 Minutes Suppers.
Nutrition
Serving:
1
Patty
|
Calories:
120
kcal
|
Carbohydrates:
9
g
|
Protein:
5
g
|
Fat:
7
g
|
Saturated Fat:
2
g
|
Polyunsaturated Fat:
1
g
|
Monounsaturated Fat:
4
g
|
Trans Fat:
0.004
g
|
Cholesterol:
30
mg
|
Sodium:
145
mg
|
Potassium:
122
mg
|
Fiber:
1
g
|
Sugar:
3
g
|
Vitamin A:
147
IU
|
Vitamin C:
5
mg
|
Calcium:
64
mg
|
Iron:
1
mg
Did you make this recipe?
Here are a few other great recipes!