It goes without saying that rice is a popular food and so many recipes call for it. But don't you ever get bored with it?!
*PUTS ON MY INFOMERCIAL SMILE* What if I could tell you the ONE thing you can do to rice to make it completely revolutionary? You will have people knocking down your door for your special rice!
The trick is to make it crispy.
I've been doing this with rice in a few different formats the last few months and finally thought I would share my method. The amazing part about this is how versatile it is. You can make crispy rice with (I think) any rice and can serve it with anything you would serve with non-crispy rice.
But it's so much better when it's crispy.
The recipe is barely a recipe, but the crispy rice devil is in the details.
Crispy Rice
A thorough walkthrough on two of my favorites methods on how to make crispy rice. I like serving it with tons of dishes or just with a simple egg.
Ingredients
2

cups

cooked rice

2

tablespoons

oil or butter

Salt
Instructions
If you are using freshly cooked rice, spread it out on a baking sheet and let it cool and dry for 5-10 minutes.

Add a tablespoon of oil to a nonstick skillet and melt warm over medium heat. Once shimmering, add a cup of cooked rice. Let rice sit without stirring for 2-3 minutes.

Gently stir rice occasionally until it is crispy. Season rice with salt and serve with egg or any other topping.

To make a crispy rice patty:

Pack about one cup of rice into a patty that sticks together. Slide the patty into the skillet after the oil is warm. Let cook, undisturbed, for 3-4 minutes. Carefully flip with a spatula and let sit for another 3-4 minutes. Serve with toppings!
Nutrition
Serving:
1
cup
|
Calories:
306
kcal
|
Carbohydrates:
45
g
|
Protein:
4
g
|
Fat:
12
g
|
Saturated Fat:
7
g
|
Polyunsaturated Fat:
1
g
|
Monounsaturated Fat:
3
g
|
Trans Fat:
0.5
g
|
Cholesterol:
30
mg
|
Sodium:
92
mg
|
Potassium:
59
mg
|
Fiber:
1
g
|
Sugar:
0.1
g
|
Vitamin A:
350
IU
|
Calcium:
19
mg
|
Iron:
0.3
mg
Did you make this recipe?
How to Make Crispy Rice: The Basics
The basics of making crispy rice is pretty straightforward. You need:
1) RICE. Any kind of rice will work but if you use freshly cooked rice, you need to make sure you dry it out first (more on that later).
2) OIL. Let your imagination go on this but you need something. Butter? Coconut oil? Olive oil? Lard? Anything will work.
3) A Good NONSTICK PAN. You can also use a cast iron skillet that's well seasoned, but you need something that the rice won't stick to while it gets crispy.
I'll walk through two different ways that I've made it recently to show you some of the options!
Leftover Flaky Crispy Rice
This is a fantastic way to bring old, leftover rice back to life. You don't have to reheat it or anything. I had some leftover black rice that I used for this version.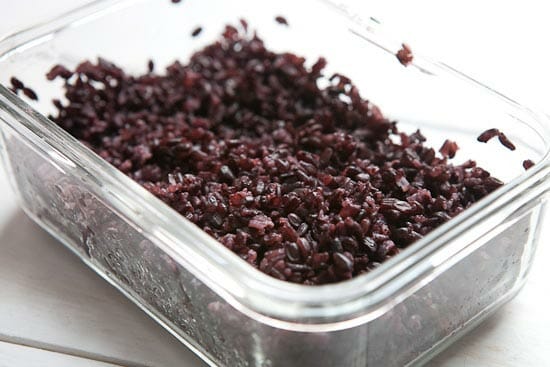 When your rice is selected, add some fat to the skillet and let it heat over medium heat. You don't want it to get too hot.
I used butter for this round, but seriously any kind of fat will do the trick.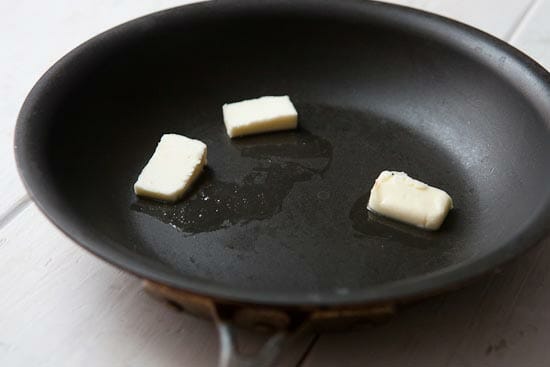 Then add your rice and let it sit without touching it for 3-4 minutes. That will give the rice a chance to crisp up.
Then gently stir the rice to keep the grains separate.
This method works really well for hearty rices like black rice, wild rice, and brown rice.
Because the grains stay separate, this dish ends up having great texture. Some of the grains are crunchy and some are soft and it's perfect for soaking up sauces and stuff. You could serve this method of crispy rice with any stir fry under the sun.
I kept mine simple with a poached egg and some chopped scallions!
Crispy White Rice Patty
The second version covers a very different scenario. I cooked a fresh batch of short grain white rice for this. You can use freshly cooked rice, but you want to dry it out so it crisps nicely.
After it's cooked, just spread it out on a baking sheet and let it dry and cool for a few minutes.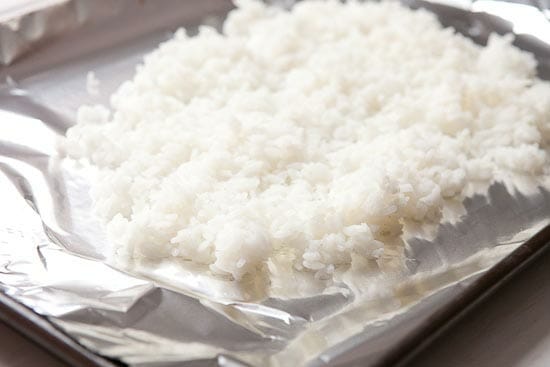 For this version I switched up my oil to coconut oil. Again, there's really no rhyme or reason to what oil you use. I think both butter and coconut oil give it a nice, light flavor.
For this version, I packed about a cup of rice into a patty with my hands and then slid it into the hot pan.
Again, let this sit for 3-4 minutes until it's getting crispy on the bottom.
This method will really work best with short grain and/or white rice. Sturdy grains won't stick together well for a patty like this.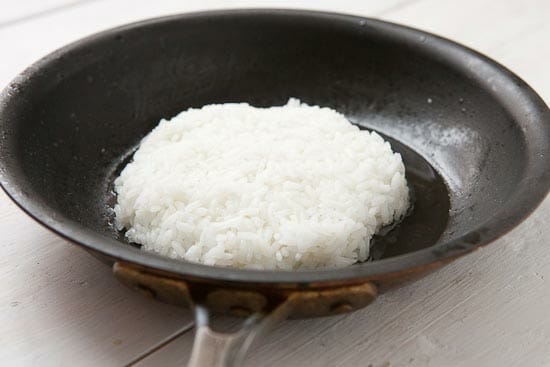 Carefully flip the rice cake after a few minutes and crisp it up on the second side.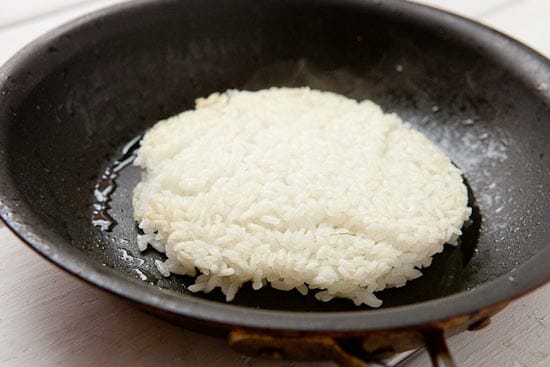 Again, I just served my version with an egg and some scallions on this day.
The crispy patty is really fun to cut into and has a great crust.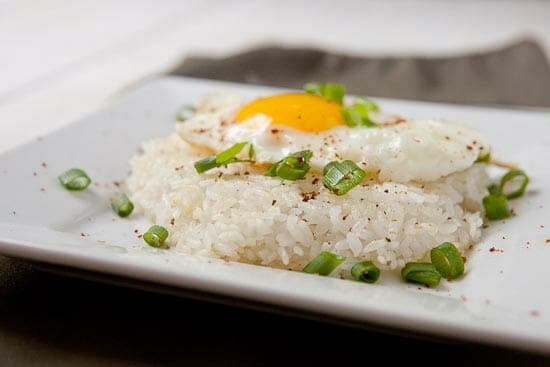 So that's it! My new favorite trick to bring something extra to rice!
Have you ever tried crispy rice? Thoughts?!
More great Rice Recipes!