I consider myself somewhat of an authority on chicken wings. It's a super-niche thing, for sure, but chicken wings are probably my favorite appetizer and I make them any chance I can get. While deep-fried and sauced are the standard, I absolutely love this cast iron chicken wing method, especially if you need a small batch of wings.
While some chicken wing methods are kind of involved, this recipe is about as low-effort as it gets. The work-to-results ratio is off the charts here!
I also decided to keep these wings dry so the crispiness stays intact but you could toss them in a sauce if you wanted to.
Let's dig in and make some wings!
Why a cast iron skillet works well for chicken wings
A well-seasoned cast iron skillet is pretty much the first thing I tell new cooks to buy for their kitchen. They are just so versatile.
While you can shallow fry in cast iron skillets, I prefer to roast the chicken wings for this recipe.
Cast iron works great for chicken wings because they distribute heat evenly, are generally non-stick, and you can move the skillet from stove top to oven.
The finished wings have a wonderful crispy skin and are very tender and juicy!
Bonus of the cast iron skillet is that clean-up is pretty much the easiest for any chicken wing recipe. Must easier than deep-fryer clean-up and also easier than a baking sheet.
How to prepare the chicken wings
I recommend cutting the chicken wings into flats and drummettes for this recipe. Sometime I'll keep chicken wings whole but for this recipe they work best cut into smaller pieces so you can fit more in the cast iron skillet.
Once the chicken wings are cut to size, you'll want to toss them in a little olive oil in a bowl and liberally season them with dry rub. You can use any dry rub seasoning you like, but my homemade dry rub is below, which is always a great option.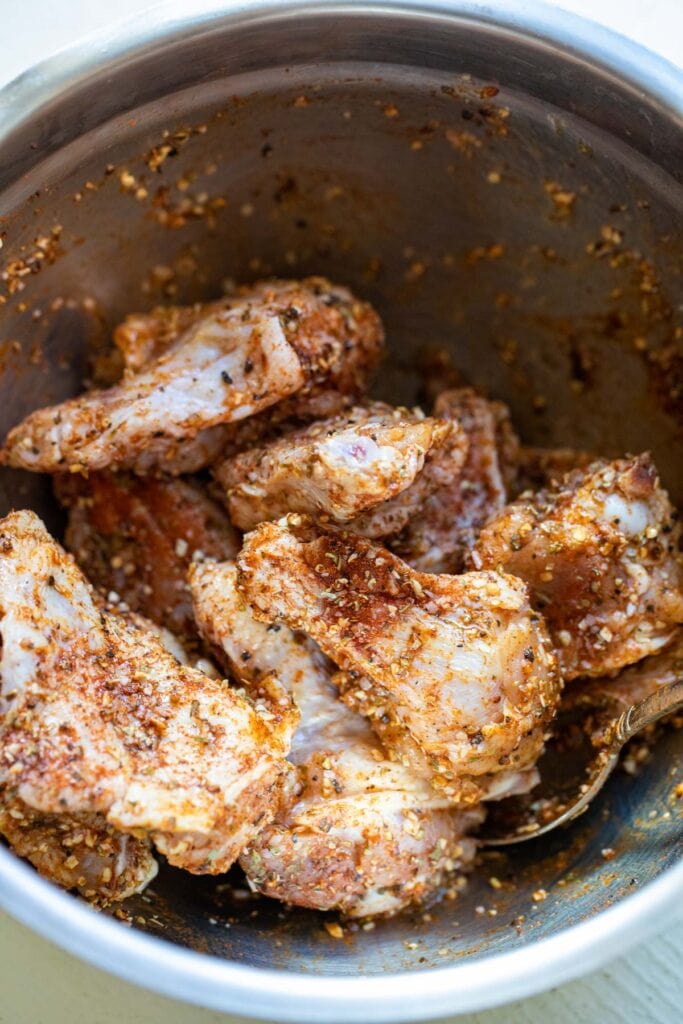 Making the dry rub
This dry rub is a really basic, all-purpose dry rub that I use on a lot of things. It's great on chicken, but also works well on steak and even heartier vegetables like mushrooms.
I just stir together the ingredients (kosher salt, granulated garlic, black pepper, paprika, dried oregano, and cayenne) in a bowl and then use it liberally to season.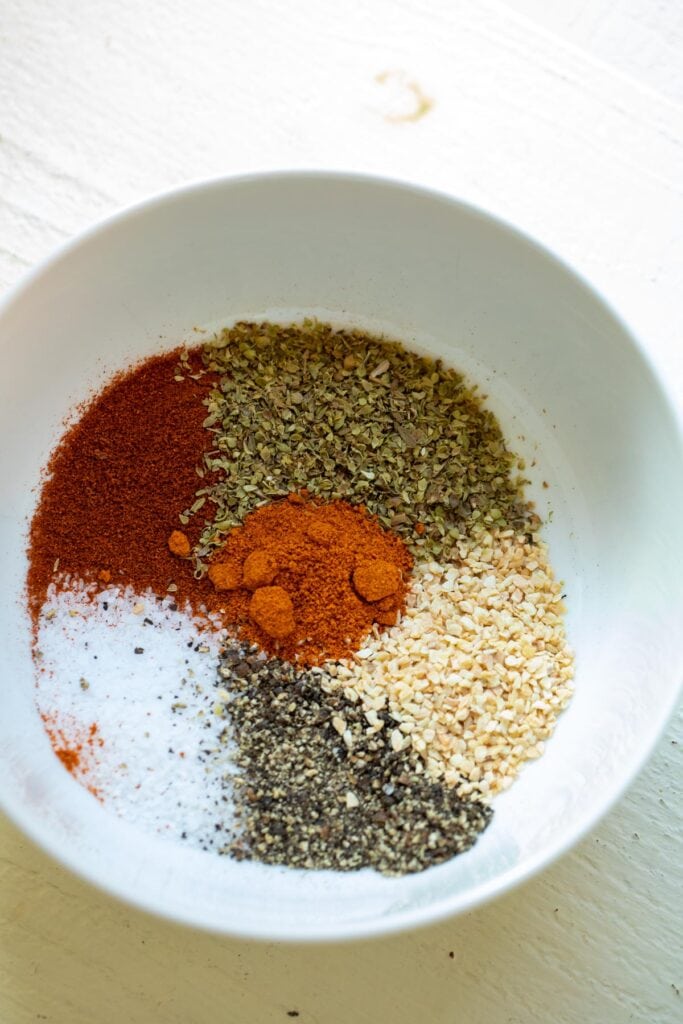 Usually, I'll make a double batch of the dry rub as you can keep it in an airtight container in the pantry for a month or two without issue.
If you make the dry rub recipe I listed in the recipe, you'll probably only need half of the dry rub recipe for a dozen wings.
How many chicken wings can you cook this way?
The one downside of using a cast iron skillet is that you are limited on the number of wings you can cook. I think this is okay because many times I'll want a small batch of wings, like a dozen or so, and this is perfect for that.
Ultimately, you can cook as many wings as you can fit in your skillet without stacking them. That's probably 12-15 wings if you are using a 12-inch cast iron skillet.
Can you substitute chicken thighs?
If you are looking for something more substantial or want to make this a part of a meal, you can easily substitute chicken thighs for chicken wings in this recipe. Use the same dry rub and start them skin-side down in a cold skillet. They will probably need an extra 10-15 minutes to roast to cook through completely, but the same recipe can be used.
How long to cook the chicken wings
Chicken wings are very flexible and you shouldn't worry too much about over-cooking them. I like to start the wings in a cold skillet for 15 minutes on medium-low heat and then flip them and move them to the oven.
In the oven they will probably need 30 minutes to finish roasting, but as with my low and slow chicken wings, you could roast them longer without too much concern.
What to serve with the cast iron chicken wings
Of course these wings go well with the standard wing side dishes: blue cheese dressing or ranch dressing and carrot sticks and celery are always great.
You could toss them in a sauce if you wanted to or use my spicy chili sauce to glaze the wings as they roast (I would glaze them for the last 5-10 minutes so it doesn't burn).
I don't think wings need much else, but any standard appetizers would go well with these! Try a good queso recipe or maybe just a dip that you can serve with vegetables like my veggie ranch dip!
Best way to Reheat Wings
This probably isn't going to be an issue for this particular recipe, because it makes a small batch, but if you do need to reheat wings, the best way to do so is either in a 350˚F oven for about 10 minutes or in an air-fryer at 350˚F for 3-4 minutes.
You can absolutely microwave wings and they are okay, but they will lose any crispy exterior in the microwave.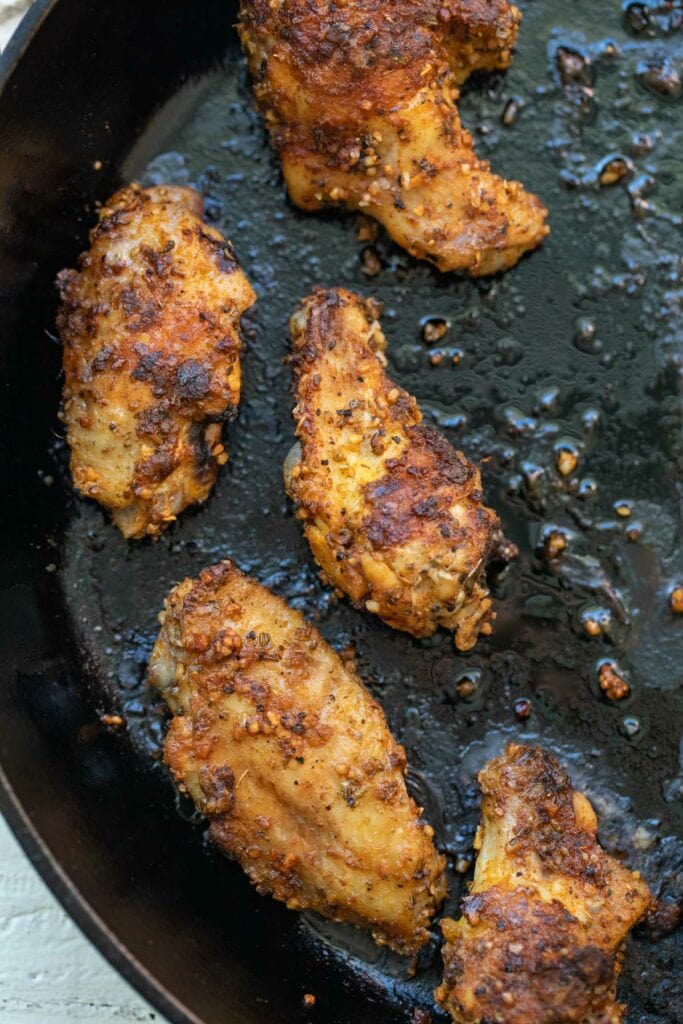 Cast Iron Chicken Wings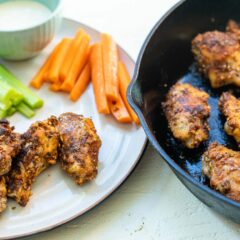 No need to bust out the deep-fryer for really good wings! Instead try these cast iron skillet chicken wings! They get crispy on the outside and are so juicy!
Ingredients
12

chicken wings

,

flats and/or drums

1

tablespoon

olive oil
Dry Rub:
1

tablespoon

kosher salt

1

tablespoon

granulated garlic

1

tablespoon

paprika

1

tablespoon

dried oregano

½

tablespoon

black pepper

1

teaspoon

cayenne pepper
Other ingredients:
Blue cheese dressing

,

for serving

Carrot sticks

,

for serving

celery sticks

,

for serving
Instructions
To make dry rub, mix together kosher salt, dried garlic (not garlic powder), paprika, dried oregano, black pepper, and cayenne pepper. Toss chicken wings with olive oil and coat liberally with dry rub. I used about half of the dry rub recipe for a dozen wings.

Preheat oven to 350˚F. Place wings, skin-side down, in a COLD cast iron skillet over medium-low heat. Cook without touching or flipping them for 15 minutes. Flip wings.

Move skillet to the oven for 30 minutes to finish cooking. Check wings and they should be crispy on the exterior and tender on the inside, reaching a temperature of 180˚F with a meat thermometer. You can roast chicken wings longer and they will just render more fat. Roasting them another 20-30 minutes would be fine.

Remove the wings from the oven and let cool briefly. Transfer chicken wings to a serving place with sides of carrots, celery, and blue cheese or ranch dressing.
Nutrition
Serving:
6
wings
|
Calories:
739
kcal
|
Carbohydrates:
8
g
|
Protein:
55
g
|
Fat:
54
g
|
Saturated Fat:
14
g
|
Polyunsaturated Fat:
11
g
|
Monounsaturated Fat:
24
g
|
Trans Fat:
1
g
|
Cholesterol:
222
mg
|
Sodium:
3705
mg
|
Potassium:
650
mg
|
Fiber:
3
g
|
Sugar:
1
g
|
Vitamin A:
2615
IU
|
Vitamin C:
3
mg
|
Calcium:
96
mg
|
Iron:
5
mg
Did you make this recipe?
Here are a few other great recipes to try!