Well, it's officially grilling season here in Colorado. The weather has been just fantastic and will hopefully continue to be amazing for the next few months before it starts getting unbearably hot.
I realize that depending on where you live you might be hating me right now. It's still very cold in large chunks of the country, but have no fear. Warm weather is on the way.
I've been working on a few different rubs that go really great on grilled food and I thought you might all benefit from them. These are all really good on meat, but I think most of them would work equally well on veggies or tofu.
Three Homemade Dry Rubs
The perfect quick dry rubs to use on any meat or veggies you happen to be tossing on the grill this year.
Ingredients
Coffee Rub:
2

Tablespoons

whole coffee beans

1

Teaspoon

cardamon seeds

,

or pods would work

½

small cinnamon stick

1 ½

Teaspoons

chili powder

1

Teaspoon

garlic powder

1

Teaspoon

paprika

1

Tablespoon

kosher salt

2

Tablespoons

sugar

1

Tablespoon

pepper
5 C's Rub
1

Tablespoon

coriander

1

Tablespoon

cumin seeds

1

Tablespoon

cardamon seeds

,

or pods

1

small cinnamon stick

3

cloves

1

Tablespoon

kosher salt

1

Tablespoon

sugar
All-Purpose Rub:
1

Tablespoon

dried oregano

1

Tablespoon

paprika

1

Tablespoon

chili powder

½

Tablespoon

garlic powder

1

Tablespoon

kosher salt

1

Tablespoon

fresh black pepper
Instructions
If the rub you're making has whole spices, it's always a good idea to lightly toast them in a dry skillet for a few minutes to bring out the flavors. Just toast them until they are fragrant.

Add whole spices to a grinder. Pulse them until roughly ground. You don't want them like a dust.

Mix in other spices.

If you're using rubs on meats, coat liberally. Go lighter on veggies or tofu.
Did you make this recipe?
A Salty Mix
If you've ever looked at the ingredients on most rubs that you can buy at the store they are mostly salt. This makes sense if you're trying to make a profit. Salt is cheap. It mixes well. It makes food taste great.
But when you're making your rubs at home you can cut back on the salt and replace it with real spices that pack a punch. You still want a good amount of salt in the rub, but it doesn't need to be 50% salt or anything crazy.
Let's make some rubs!
The Whole Spice

For all of these rubs except the all-purpose one, you're going to need a spice grinder to really get the full flavor of the rub. Sure, you can find ground versions of all of the ingredients, but it's so much better to use whole spices. They are more flavorful, the whole spices keep longer, and they are generally cheaper.
The Coffee Rub
For this rub I wanted a dark mix that would hold up well on flavorful meats. You wouldn't want to use this guy on light stuff like fish or chicken.
Start with whole beans, a small piece of cinnamon and some cardamon pods. (You can also use cardamon seeds.)
Grind up these spices and then add in all your other spices to the mix. This rub has the most ingredients in it and the resulting flavors are pretty complicated.
It's a very good rub though.
Once I had my rub mixed up, I coated a bone-in steak with it for testing and grilled it up.
The results were amazing:
The 5 C's Rub
For some reason a lot of spices start with the letter C. Or maybe just my favorite spices start with the letter C…
In any event, I thought I'd mix them all up and see what happened.
For this rub, I lightly toasted my cumin, cardamon, and coriander in a dry skillet for a few minutes until they were fragrant.
Then I just blended them up!
The 5 C's Rub is the lightest of the rubs I made for this post. It has an almost sweet flavor to it that would go well on chicken, pork, tofu, veggies, or maybe even a sturdy fish.
For testing purposes, I rubbed a few boneless pork chops with a heavy amount of the rub and grilled them up. DELICIOUS.
All Purpose Rub
While I was mixing up rubs, I thought I'd give you all the recipe for my favorite all-purpose rub. I use this stuff on everything. It's great on steaks, chicken wings, asparagus, roasted tofu… you name it.
There's also no grinding involved. Just take all the spices and stir them up. It takes maybe three minutes to mix up a batch!
Interestingly, this is my kiddo's favorite rub also. If it lightly coat some grilled chicken in this rub, he will eat as much as I put in front of him.
Grilling Season
Guys, I'm really excited about grilling season if you can't tell. I actually grilled all this stuff at once and had a beautiful homemade dry rub taste test.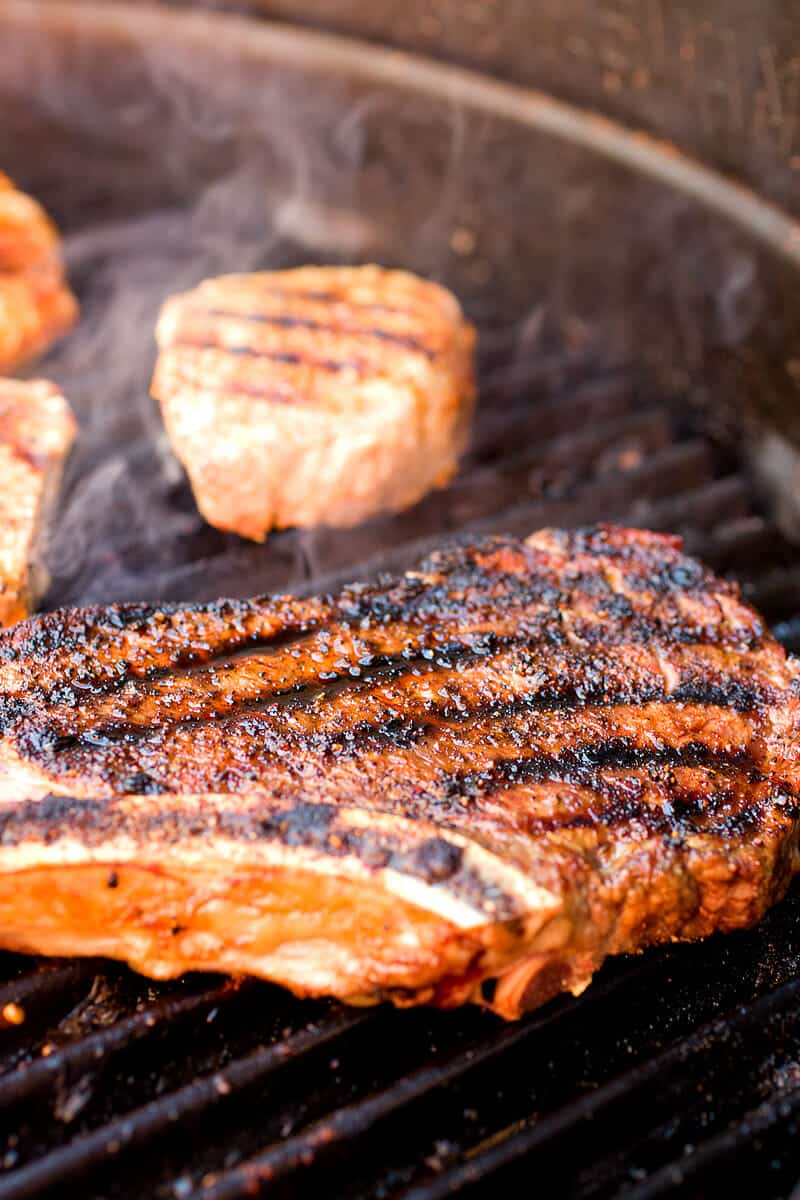 I loved all of these, but I really liked the 5 C's rub. It gave the pork a really bright flavor that was very unique.
These rubs will all keep for a month or two without losing much flavor. I keep mine in plastic bags, but if you had a few airtight containers, they would keep even better.
Not that there's any chance mine will last that long…