I find the name "home fries" a bit ironic when I see it on menus because I don't know too many people that actually make them at home.
They are found in diners and brunch joints across America, but it's rare to find a good version in a home kitchen.
I think this could be because this seemingly simple side can go wrong pretty quickly. You can over-cook or under-cook the potatoes. You can burn them and still have the centers raw. You can easily under season the home fries.
And don't even get me started with possible add-ins (onions, peppers, garlic, etc.)
Sometimes it's just too much to think about before noon so people just skip them.
But this is it. The most basic and fail-proof way to learn how to make home fries in your actual kitchen. It's far from hard, but there are a few little tricks that will guarantee success.
Prepping the Potatoes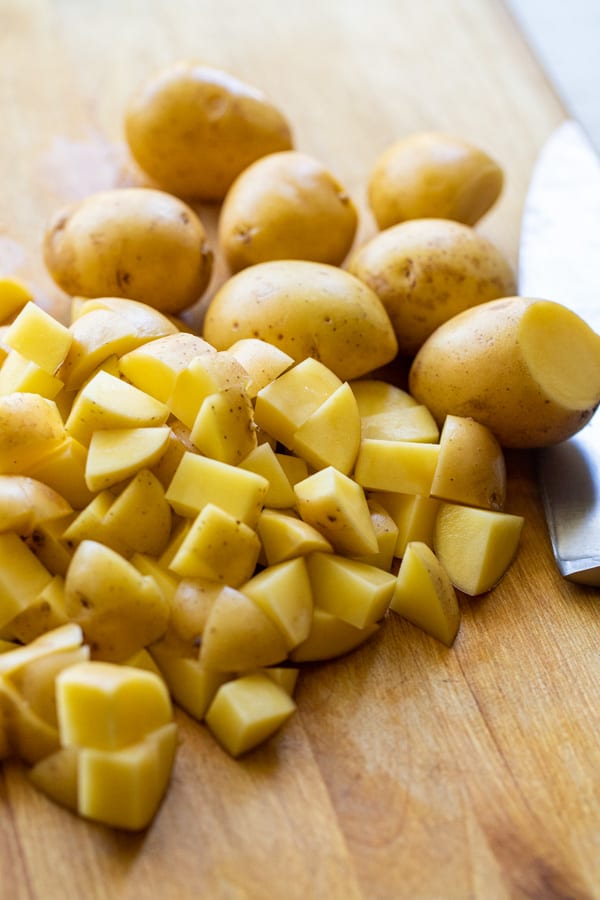 Can you use Russet potatoes for home fries? Of course. But, I think they are actually a bit harder to work with because they have more starch and you need to peel them.
For me, new potatoes are about as good as it gets for home fries. You can leave the skin on and everything which makes them easier to prepare.
When it comes to size, I shoot for about 1/2-inch cube. BUT, there is no rule when it comes to home fries. I've had cubes, wedges, and slices. I would start with cubes though because they are easiest to work with.
If you throw your potatoes into a hot skillet now, you're going to most likely be disappointed. It's just too hard to control the cooking temperature.
Instead, I recommend boiling the potatoes so they are tender, but not mashed potatoes tender. Just simmer them in lightly salted water for around 6 minutes. That time will vary if you use a different size cut obviously, but it's a good guideline.
Then just drain your potatoes and they are home fries ready to cook!
Seasoning for Home Fries
Like I said, there's a wide world of add-ins that will work for home fries, but I like to keep it as simple as possible to start. Once you get the potatoes only version down, it becomes really easy to add a diced onion, garlic, or anything else you want because you'll understand the timing of the dish.
For only potato home fries though, I like to use a heavy hand with the spice. For me, it doesn't get better than seasoned salt, coarse ground black pepper, garlic powder, and paprika.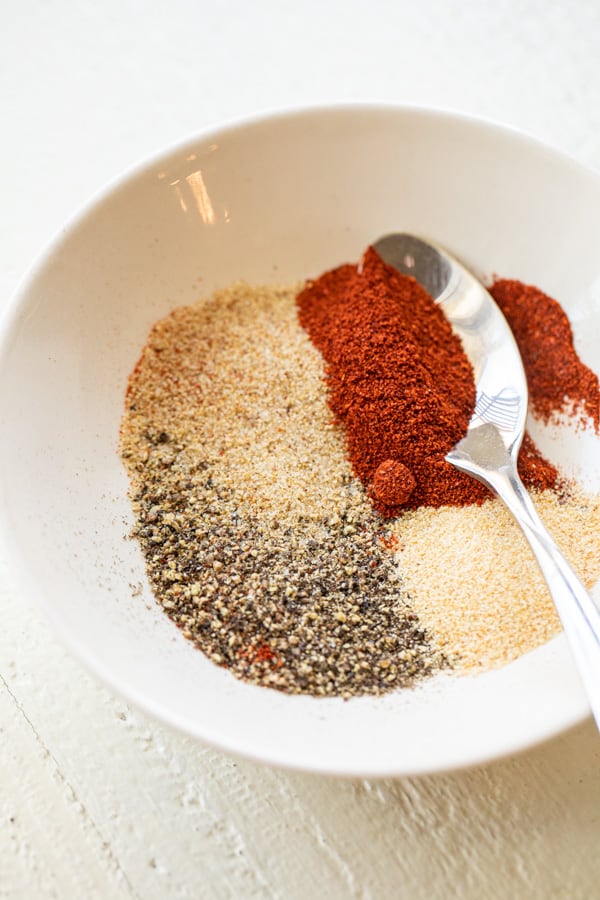 When you mix up the spice mix in the recipe, it'll look like a lot for two pounds of potatoes, but you'll want it all. A lot will stay in the pan.
How to Finish Cooking the Home Fries
You need a large, heavy skillet for this. A cast iron skillet is best, but any large skillet will work fine.
Add about three tablespoons of oil to the pan and heat it over medium heat. Don't go higher than that on the heat or you'll just burn the potatoes.
Then add the potatoes and try to spread them out in a single layer. It's okay if there's a little over-lap.
Here's the hard part: Don't touch it!
After the potatoes start to crisp a bit, you can start seasoning them. I like to add half of my seasoning now and then the second half closer to the end.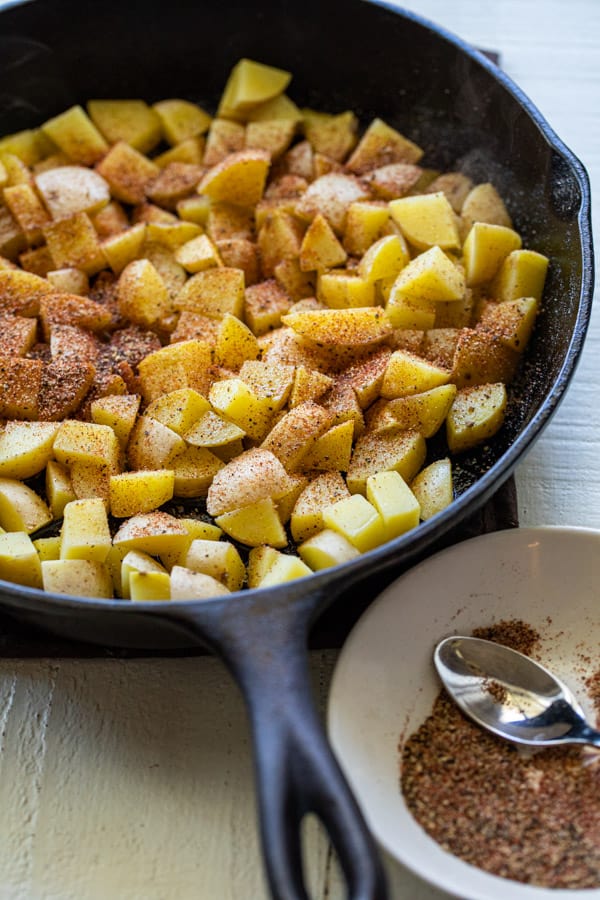 Let these cook for about five minutes and they will start to crisp up nicely on one side.
If you stir these too much, they will break down too much and you'll end up with some strange home fries mashed potato mix.
Don't worry about burning them. They will be fine. Just let them cook away and stir them every 4-5 minutes.
The actual cooking time now will depend on your heat, the potatoes you are using, and the size you cut them. Just don't get in a hurry or you'll just burn them unevenly.
Keep them on medium heat and just let them slowly crisp up and absorb that seasoning mix.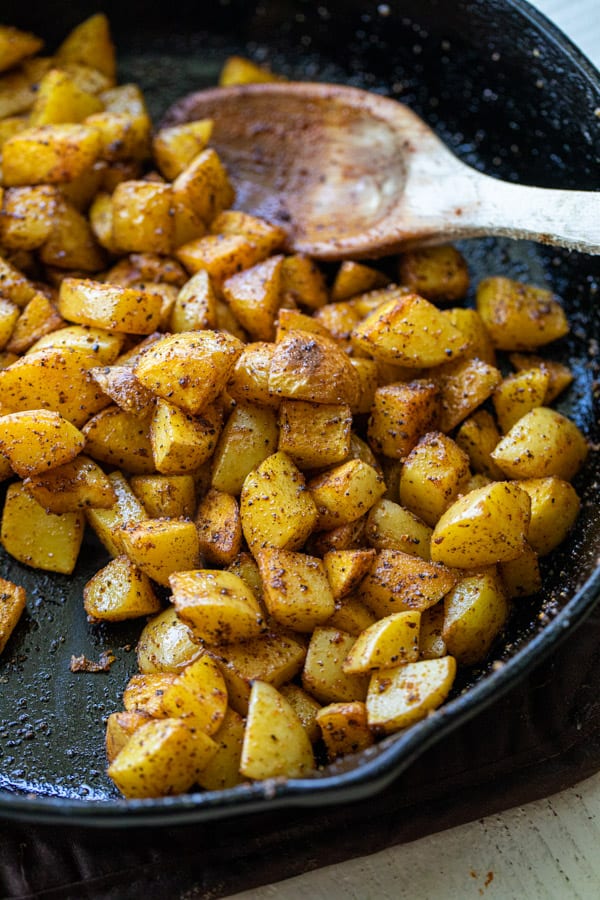 Mine cooked for about 18-20 minutes to get to the texture I liked. Then I seasoned them with the final dose of seasoning and they were looking really good.
What to serve with home fries?
To be honest, the only thing I like with my home fries (assuming they are really good) is eggs.
I don't need ketchup or anything to cover them up. They are perfectly seasoned and delicious just like this.
But eggs. Yes. Eggs are a must.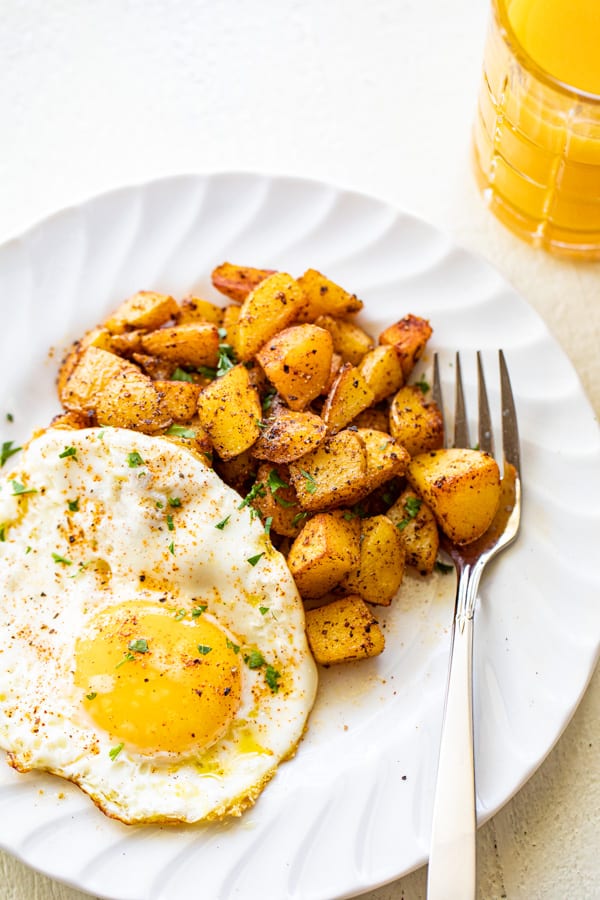 Storage and Reheating
Home fries are wonderful to make in advance. They store fantastic in the fridge for up to a week and you can reheat them in just a few minutes in a skillet with a drizzle of oil over medium heat.
Generally, this is how diners do it. They make huge batches and then just reheat them on the skillet to order!
Please, let's bring home fries back to where they belong.
In your home!
Homemade Home Fries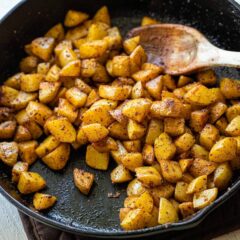 Make your own delicious fries at home that are tender and soft on the inside, slightly spicy, and crispy on the outside!
Ingredients
2

pounds

new potatoes

,

chopped

1

teaspoon

seasoned salt

1

teaspoon

black pepper

1

teaspoon

paprika

½

teaspoon

garlic powder

3

tablespoons

vegetable oil
Instructions
In a small bowl, stir together salt, pepper, paprika, and garlic powder. Cube potatoes into about 1/2-inch cubes. You can leave the skin on.

Bring a medium pot of salted water to a simmer. Add potatoes and boil until tender, about 6-8 minutes. Then drain potatoes.

Add oil to a large cast iron skillet (or heavy skillet) over medium heat. Add the drained potatoes and spread them out over the surface of the pan. Let sit for five minutes.

Stir potatoes once they are starting to crisp up a bit. Add half of the seasoning mix to the potatoes. Continue to let the potatoes cook over medium heat. Don't over-stir them. Let them sit and get crispy.

Keep cooking for 10-15 more minutes until the potatoes are nicely crisp. Add the rest of the spice seasoning near the end of cooking.

Serve the potatoes while warm with eggs and ketchup if that's your thing.
Nutrition
Serving:
1
plate
|
Calories:
269
kcal
|
Carbohydrates:
40
g
|
Protein:
5
g
|
Fat:
10
g
|
Saturated Fat:
2
g
|
Polyunsaturated Fat:
6
g
|
Monounsaturated Fat:
2
g
|
Trans Fat:
0.1
g
|
Sodium:
596
mg
|
Potassium:
977
mg
|
Fiber:
5
g
|
Sugar:
2
g
|
Vitamin A:
254
IU
|
Vitamin C:
45
mg
|
Calcium:
31
mg
|
Iron:
2
mg
Did you make this recipe?
Here are a few other great breakfast potato options!