Last week I got an awesome compliment comment on an old post.
They said, "Funny how I get some of my favorite vegan recipes from a non-vegan… I can always count on you for full flavor!"
It's true that I'm not a vegan but I do end up making a lot of accidentally vegan things. I keep meaning to make a vegan category for the site. It's on my lifetime to-do list. I promise.
This Black Pepper Tofu recipe might be one of the most flavorful and interesting vegan dishes I've ever made or had. The key is to make sure the tofu is fried perfectly so it's nice and crispy and add in about three times as much black pepper as you would think to add.
Trust me, it works. Whether or not you're a vegan, it'll probably be the most flavorful dish you eat all week.
Black Pepper Tofu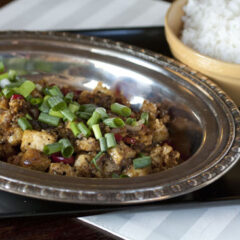 This is a simple, but spicy tofu stir fry recipe that gets most of its flavor from a lot of crushed black pepper, and it's vegan!
Ingredients
1

pound

extra firm tofu

,

pressed and cubed

2

cups

peanut or vegetable oil

,

for frying

Cornstarch

,

for dusting

4

tablespoons

unsalted butter or oil

,

use oil for truly vegan version of dish

2

red chiles

,

I like red jalapenos

½

cup

shallots

,

about 3 large shallots

4-5

cloves

garlic

,

minced

1-2

inches

fresh ginger

,

diced

3

tablespoons

soy sauce

1

tablespoon

sugar

1

tablespoon

sesame oil

1

tablespoon

black peppercorns

,

roughly ground

6

scallions

,

chopped

Rice for serving
Instructions
Slice tofu block into three or four large slices and press them between a few paper towels with some weight on top for about five minutes to press out some of the water.

Cube tofu and toss with cornstarch until the cubes are lightly coated. A few tablespoons of cornstarch will be enough.

Heat oil in a large wok or frying pan and fry tofu in two batches at 350 degrees until the tofu is nicely crisp, about 6-8 minutes per batch.

Remove tofu and let drain on a paper towel. Pour out oil. Don't worry about cleaning wok or pan.

Add butter to wok and once melted, add shallots, chiles, garlic, and ginger. Cook over medium-high heat until veggies start to get soft, about 3-4 minutes.

In a separate bowl, whisk together soy sauce, sugar, and sesame oil. Grind peppercorns roughly.

Pour soy sauce mixture into wok and let reduce for a minute or two. Add black pepper and tofu and toss to combine and heat tofu.

Serve immediately with rice and chopped scallions.
Nutrition
Serving:
1
Bowl
|
Calories:
2438
kcal
|
Carbohydrates:
36
g
|
Protein:
24
g
|
Fat:
251
g
|
Saturated Fat:
53
g
|
Polyunsaturated Fat:
76
g
|
Monounsaturated Fat:
109
g
|
Trans Fat:
1
g
|
Cholesterol:
60
mg
|
Sodium:
1674
mg
|
Potassium:
960
mg
|
Fiber:
5
g
|
Sugar:
18
g
|
Vitamin A:
1517
IU
|
Vitamin C:
78
mg
|
Calcium:
170
mg
|
Iron:
6
mg
Did you make this recipe?
Black Pepper Tofu
The Tofu
The thing I always remind people about tofu is that it's basically a big sponge. If you take it out of its water bath, slice it, and cook it, you are going to be disappointed unless you are using it in a soup.
If you want to fry it though, you need to get out as much of the liquid from the block of tofu as possible.
To do this, slice the tofu into thirds or quarters and then press them between layers of paper towels with some weight on top.
After a few minutes, a lot of water will be pressed out of them and the tofu will be much easier to work with.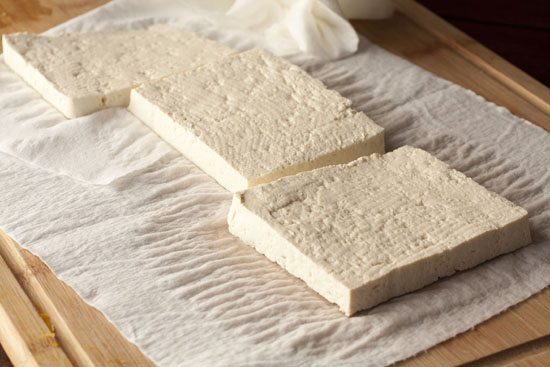 To make absolutely sure that the tofu gets nice and crispy, cube it up into about half inch cubes and then toss the cubes with some corn starch.
There's not exact amount of corn starch, but you should use enough so the cubes are mostly dry and coated very lightly in starch. When they fry, the starch will turn super-crispy almost like a batter.
I probably used between 3-4 tablespoons of corn starch for my version below.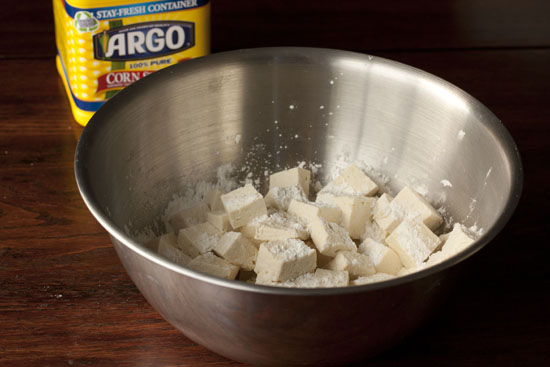 Add a few cups of oil (peanut or vegetable) to your wok or any large skillet really and heat it until it's at 350 degrees.
I highly recommend using a thermometer to make sure your oil is the right temperature.
Then add your tofu and fry it until it's lightly brown and crispy. You'll probably need to fry it in two batches so the pan doesn't get too crowded and each batch will probably take 5-6 minutes.
When they are done you can drain them on a paper towel until needed later in the recipe.
Flavor City
As the title implies, a lot of the flavor in this recipe comes from a rather large amount of black pepper, but there are some other things going on also.
These aromatics make a perfect base for the stir-fry.
For the shallots, just peel them and slice them thinly. Peel and cube up the ginger and mince the garlic. For the chiles, you can just dice them and leave in the seeds and everything.
I recommend using a mild pepper for this. You don't want them to be super-hot as there are a lot of other flavors going on.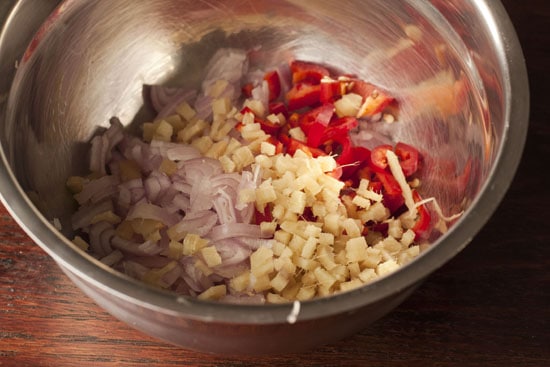 For the title ingredient, black pepper, make sure to get real black peppercorns and grind them yourself.
Please don't use ground pepper. It really does make a big difference in this recipe.
You want the peppercorns to be fresh and have a very rough grind. I recommend using a mortar and pestle for it or if you don't have a mortar and pestle, just pour the peppercorns on a cutting board and smash them with the back of a heavy pan.
That will roughly crush the peppercorns and release their flavor.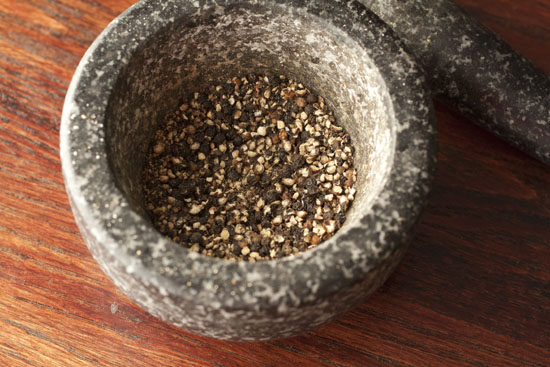 Finishing the Black Pepper Tofu
After you fry your tofu, pour out the oil and don't worry about washing the pan or anything.
Add the butter to the pan over medium high heat and once it's melted and bubbling, add the shallots, ginger, garlic, and chile peppers.
Cook this for about 3 minutes until the veggies start to soften.
Then pour in your simple sauce (soy sauce whisked with sesame oil and sugar).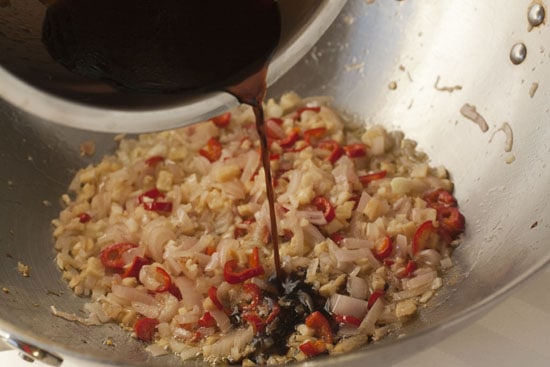 Once the sauce reduces for a few seconds, add the tofu back in and toss to combine.
Then toss in all your black pepper and stir to make sure everything is heated through.
It looks really simple, but the flavors are insane.
Serve the tofu with roughly chopped scallion greens and lots of rice.
As with any stir-fry you can serve it with some soy sauce on the side so people can add their own if they want more.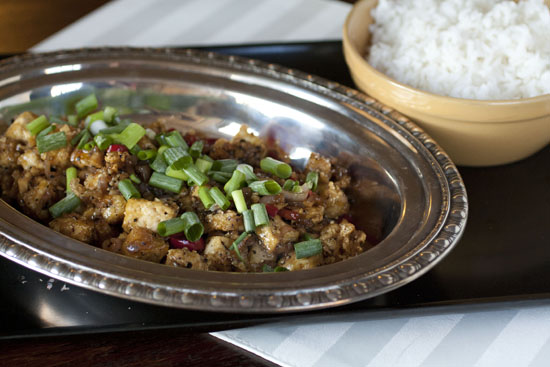 I've made and eaten a lot of tofu over the years and I can't think of a tofu dish that I liked more than this Black Pepper Tofu.
Give this a shot if you are a vegetarian, vegan, or just someone who likes delicious things.
Here are some other great recipes to try!