Be sure to check the end of this post for information about Blogsgiving 2015!
I'll be the first to admit that a "shrub" isn't the most attractive cocktail name I've ever heard. But, like some actual shrubs, the cocktail has deep roots. It dates back a few centuries at the least and has made a complete comeback recently.
Like many cocktails the shrub has roots in medicinal cures and I can vouch for feeling pretty good after a few of them. The ingredient that most people shrug at when it comes to the shrub is vinegar. That's right: Vinegar in a cocktail. Stay with me!
Typically, the vinegar sits in a fruit mash for days and the result is a sweet/sour syrup that can be used with club soda or with almost any booze to make something really delicious.
For the holidays though, we all have enough to do. Don't worry. I'm not going to instruct you to mash a gallon of vinegar with five pounds of fruit and store them for weeks to make a damn drink.
This is my shortcut apple cider shrub version and I think you'll be really happy with it.
Apple Cider Shrub Cocktails
The new trendy cocktail is actually a twist on an old cocktail: the shrub! This is an easy, perfect for the holidays version.
Ingredients
6

ounces

apple cider

3-4

ounces

bourbon

1

ounce

apple cider vinegar

1

teaspoon

sugar

1

teaspoon

lemon juice

lemon zest

,

garnish
Instructions
Combine all ingredients in a cocktail shaker with ice. Shake vigorously.

Strain cocktail into two short cocktail glasses with ice. Garnish with a lemon zest slice.
Nutrition
Serving:
1
Cocktail
|
Calories:
150
kcal
|
Carbohydrates:
12
g
|
Protein:
0.1
g
|
Fat:
0.1
g
|
Saturated Fat:
0.02
g
|
Polyunsaturated Fat:
0.04
g
|
Monounsaturated Fat:
0.01
g
|
Sodium:
5
mg
|
Potassium:
100
mg
|
Fiber:
0.2
g
|
Sugar:
11
g
|
Vitamin A:
1
IU
|
Vitamin C:
2
mg
|
Calcium:
8
mg
|
Iron:
0.1
mg
Did you make this recipe?
Apple Cider Shrub – The Vinegar
A good cocktail is all about balance. You need some sweet and some bitter. The sour elements of vinegar can work really nicely as long as you balance them correctly and measure carefully. This isn't really a cocktail for free pouring! Measure, people.
You could make an apple shrub by mashing a bunch of apples with vinegar and letting them sit. But this time of year really good apple cider is plentiful and also apple cider vinegar is a thing!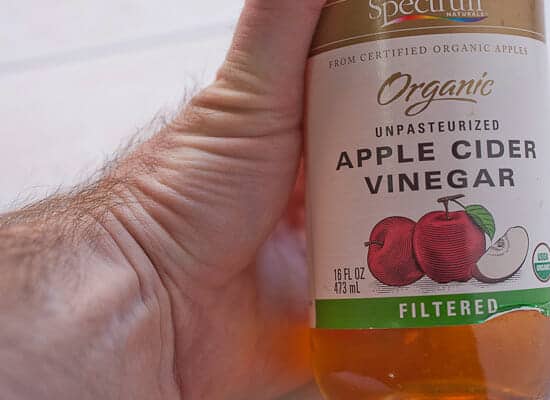 These two things combined have lots of great fruit flavors so there's no need to do the whole mash step.
Add a little fresh lemon juice to bring out the flavors and some sugar and you're in business.
Shake this together with a good (but no need for great) bourbon. Save the great good bourbon for just drinkin'.
Strain this into two small cocktail glasses with lots of ice.
I tried this cocktail warm and it was okay, but I thought it was best on the rocks. When you heat the vinegar it loses a little of its bite. Over ice, it's just perfect though.
I asked some friends how many of these they thought they could drink on a long day of cooking and celebrating (say Thanksgiving). They go down really easy and the consensus was in the high single digits.
Personally, I think you would probably hit a vinegar/apple wall around 3-4 rounds, but that's more than enough anyway!
The apple cider shrub is a really delicious and quick cocktail though and definitely different. Give it a shot if you're a cocktail hound.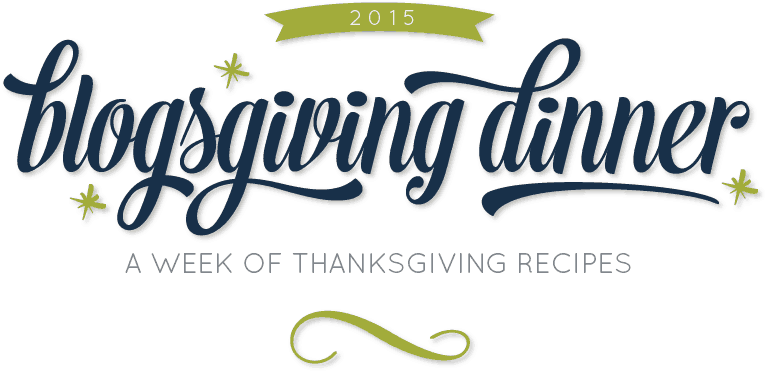 One of my favorite parts about Thanksgiving is sharing recipes with family and friends. Luckily, the food blogging community is all about these things as well! To celebrate the holiday, Meghan from Cake 'n Knife and Susannah from Feast + West are hosting Blogsgiving Dinner. There are more than 60 blogs sharing recipes this week!
The idea is based on an old-fashioned potluck dinner party. Each blogger is bringing one or more dishes to the party (or delicious cocktail in my case), so be sure to stop by each one and get some ideas for your own Thanksgiving meal. We are all using the hashtag #blogsgivingdinner, but you can see all the whole menu in Part 1 and Part 2 of the recipe round-up.