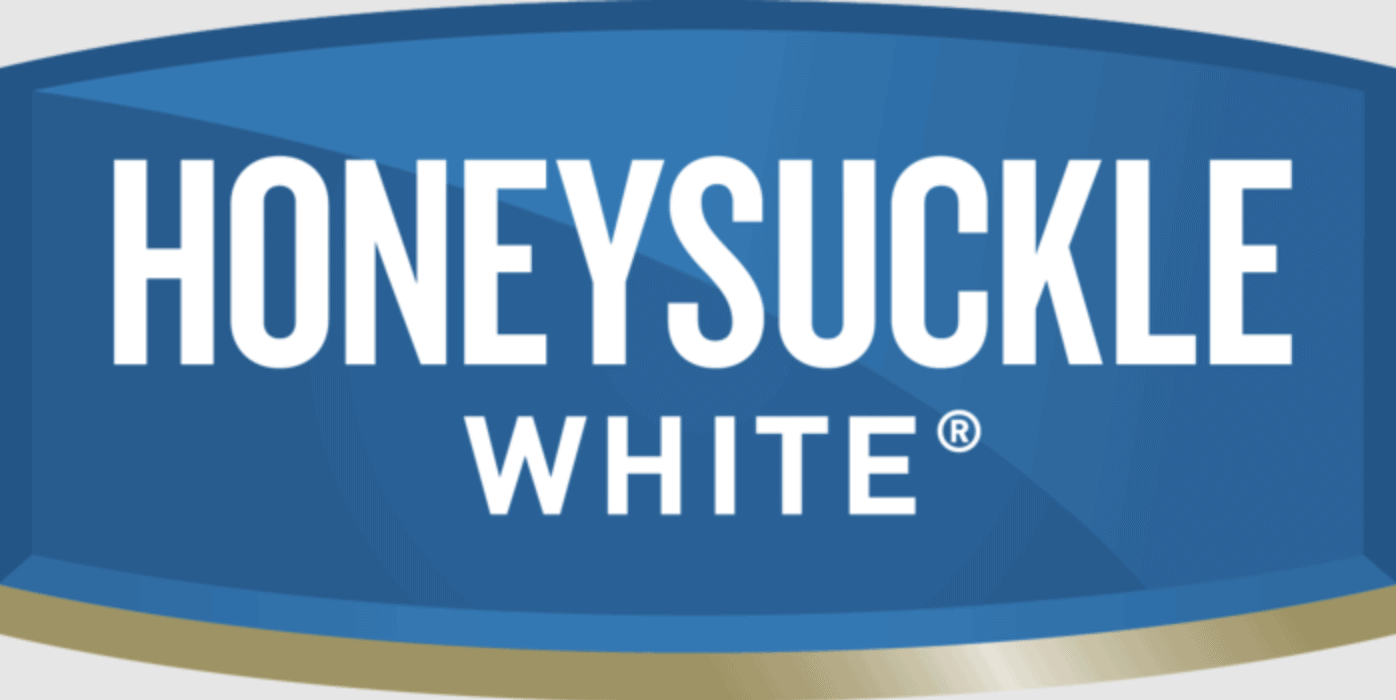 This post is sponsored by the Honeysuckle White. Delicious recipes are easy if you start with turkey. I used their Honeysuckle White Savory Seasoned Turkey Patties for these delicious crunch wraps. Find more inspiration on their website as well as a coupon for $1 off your next Honeysuckle White purchase, honeysucklewhite.com.
My family is a Tex-Mex family, through and through, and I'm always looking for ways to change up classic Tex-Mex recipes. This Turkey Crunch Wrap recipe is a wonderful switch on the classic version, which uses ground beef. Starting with savory turkey patties actually makes these much easier to make since you don't have to shape your own patties and turkey cooks up lean without as much fat so your Crunchwrap doesn't get greasy.
These end up being pretty substantial so I will generally split one Crunchwrap for kids, which is more than enough as a meal. My kids love anything they can dip and enjoy! If you have finicky eaters, you might want to leave out the veggie layer from the Crunchwrap or add it as a topping garnish before serving.
People might be intimidated by the crunch wrap process because the final product looks a bit intimidating. But, it's actually easy to make and more flexible than you might think. Read on to learn how I make this version using Honeysuckle
White Savory Seasoned Turkey Patties! If you are a Tex-Mex fan, these Turkey Crunch Wraps are a wonderful change-up to the recipe and are protein-packed. I had one for lunch one day and had zero desire for snacks all through the afternoon!
Cooking the Turkey Patties
It's important to cook the turkey patties before shaping the crunch wraps. Of course, I like to prep the other ingredients while these turkey patties cook to be more efficient (grating cheese, chopping lettuce and tomatoes, etc.).
To cook the patties, add them to a large skillet over medium heat with a drizzle of olive oil and a pinch of taco seasoning. They will need to cook for 4-5 minutes per side and are done when they reach an internal temperature of 165°F.
In an ideal world, the patties would have the exact diameter of your crispy corn tostadas, so you can press on them slightly as they cook to try and flatten them. Ultimately though, it's okay if the patties are slightly smaller than the tostada so don't worry about it too much.
Making the crunch wraps
When your turkey patties are done, it's time to make some crunch wraps! Add a soft, large flour tortilla on a clean surface and add a layer of mashed avocado and grated cheese. Top with the crispy corn tostada, right in the center of the tortilla.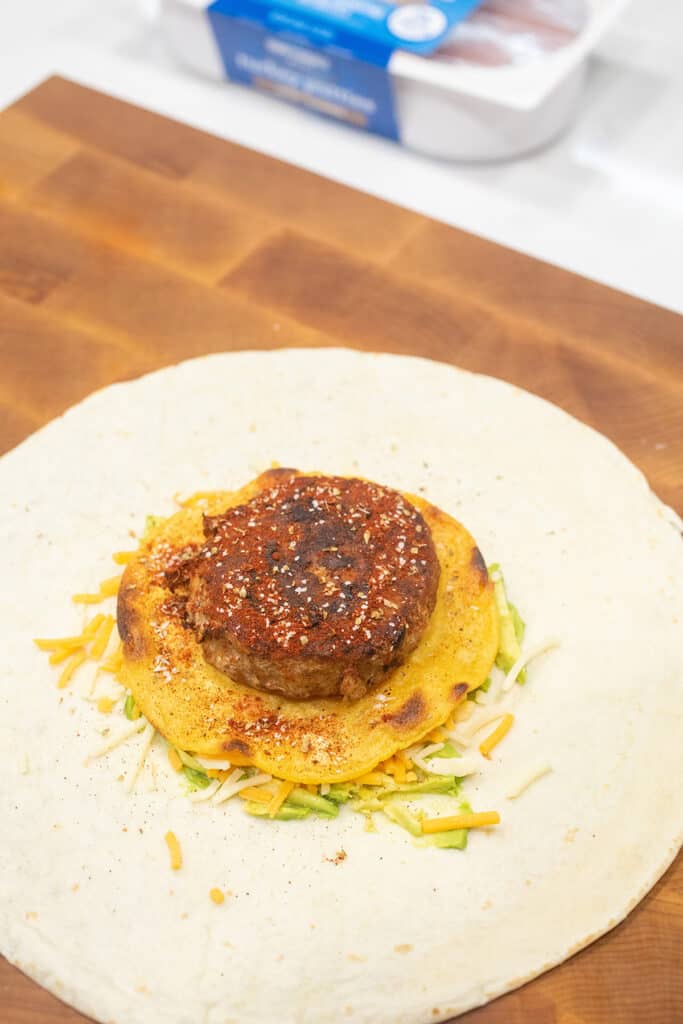 Then add your cooked turkey patty to the top of the corn tostada and top with lettuce and tomato. You could add other toppings if you wanted, but make sure you leave room to close up these suckers!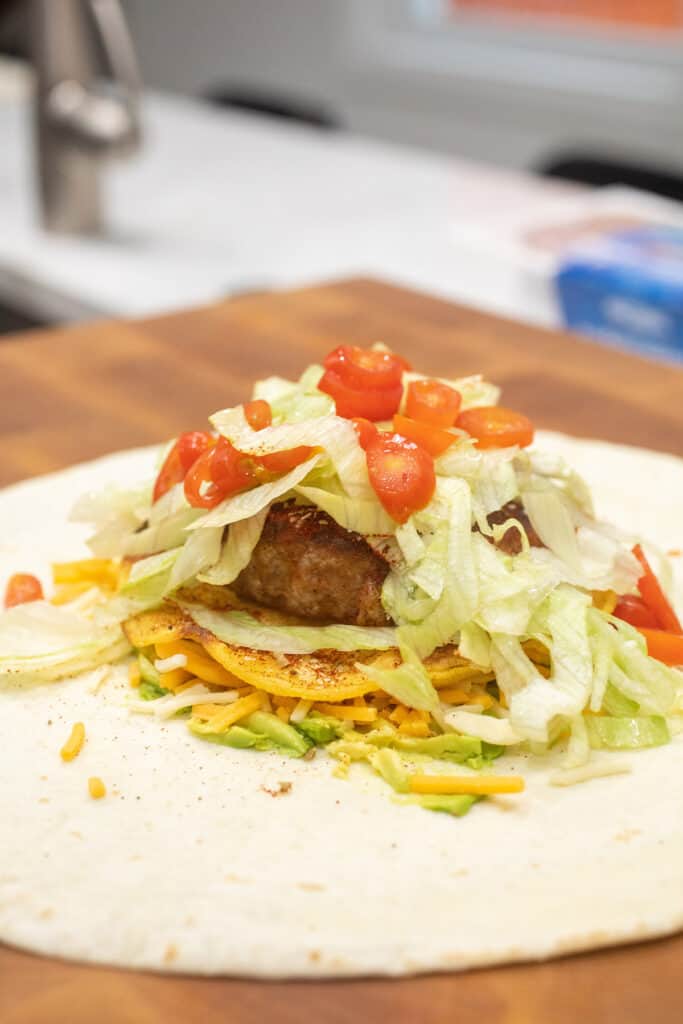 Once you have your fillings in place, start slowly folding the tortilla over, sealing up the crunch wrap. Ideally, the tortilla will completely close the fillings, but it's okay if there is a tiny hole in the middle. It will get sealed closed no matter what.
Cooking the crunch wraps
When you fold the tortilla, it will immediately want to pop open again. The way to truly seal it closes is to wipe out your skillet that you used for the turkey patties, add a fresh drizzle of oil, and then sear the crunch wraps over medium heat. Start with the folded end DOWN in the skillet and sear it for 2-3 minutes. The heat will crisp up the tortilla and it will hold its shape.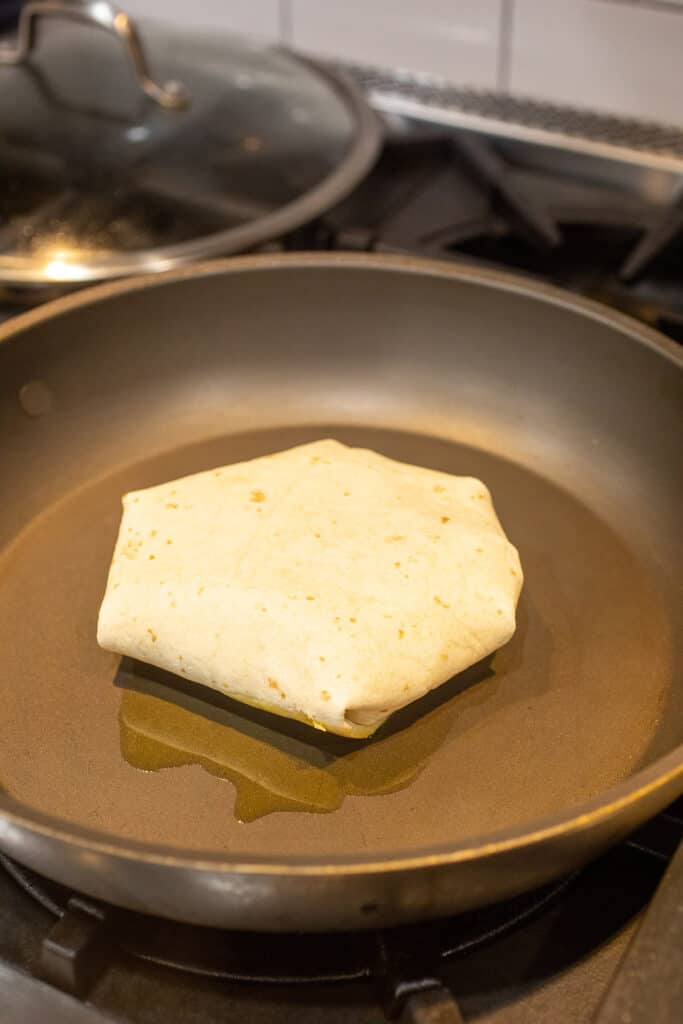 Flip the crunch wrap and sear it on the other side for 3-4 minutes which will melt the cheese on that side. Then it's ready to go! I recommend serving the crunch wraps with sour cream and salsa or hot sauce!
What to serve with the crunch wraps
I wouldn't overthink this too much. The crunch wraps are a pretty complete meal on their own, honestly, but if you wanted to toss some chips and salsa on the side or make some homemade guacamole, that would be a wonderful serving option.
I like this grilled salsa if you happen to have your grill up and running and you can't beat this molcajete guacamole if you want to make a truly traditional version of guac.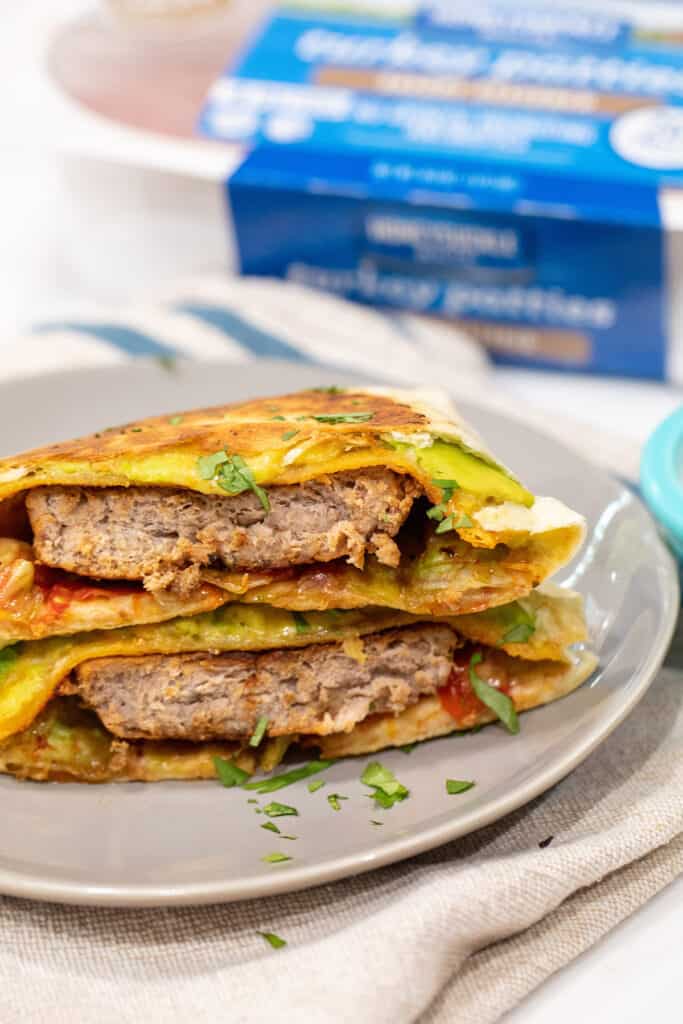 Turkey Crunch Wraps
Tex-Mex recipes are always a hit at my house and these Turkey Crunch Wraps are a wonderful lunch or dinner option. Fast, fresh, and so delicious dipped in sour cream and hot sauce.
Ingredients
4

Turkey Patties

2

tsp.

taco seasoning

2

tbsp.

olive oil

4

small

crispy corn tortillas

,

6 inch

4

large

flour tortillas

,

12 inch

2

ripe avocado

,

sliced

2

cups

grated cheese

2

cups

shredded iceberg lettuce

1

cup

diced tomatoes

Sour cream

,

for serving

Hot sauce

,

for serving
Instructions
Making the crunch wraps:

In a large skillet over medium heat, add olive oil and cook turkey patties for 4-5 minutes per side until they are cooked through to 165°F. Season patties with taco seasoning as they cook. Press down on the patties gently as they cook. Ideally, you could get them roughly the same diameter as your corn tortillas, but it's okay if the patties are slightly smaller in diameter.

When patties are done, lay out a large flour tortilla on a clean surface. Add half of your avocado to the center of the tortilla and half of the grated cheese. Place a crispy corn tortilla (tostada) right in the middle. Place the turkey patty on top of the corn tortilla and top with shredded lettuce and tomato. Carefully fold edges of tortilla up and over, sealing in the fillings.

Cooking the crunch wraps:

You can use the same skillet to finish the crunch wraps. Wipe the skillet clean and add a fresh drizzle of oil. Over medium heat, add the filled crunch wraps, folded side down, to the skillet. Let sear for 3 minutes which will seal the crunch wrap. Flip and sear for another 3-4 minutes on the second side which should melt the cheese on the inside and make the flour tortilla is really crunchy.

Remove crunch wraps from skillet, chop in half or in quarters, and serve with sour cream and hot sauce.
Nutrition
Serving:
1
crunch wrap
|
Calories:
843
kcal
|
Carbohydrates:
45
g
|
Protein:
50
g
|
Fat:
52
g
|
Saturated Fat:
15
g
|
Polyunsaturated Fat:
4
g
|
Monounsaturated Fat:
19
g
|
Cholesterol:
151
mg
|
Sodium:
1454
mg
|
Potassium:
778
mg
|
Fiber:
10
g
|
Sugar:
4
g
|
Vitamin A:
1016
IU
|
Vitamin C:
17
mg
|
Calcium:
564
mg
|
Iron:
4
mg
Did you make this recipe?