New Yorkers LOOK AWAY. This post is a tribute to your windy city competitor when it comes to pizza and hot dogs (and possibly underworld crime). Any time I'm thinking of making hot dogs at home, I quickly do a mental inventory to see if I have all the ingredients to make Chicago style Hot Dogs!
Don't get me wrong, I love a good New York street dog. The problem is that I don't really consider them a meal. I mean, sure, you could eat two or three of them and probably be okay.
Or you could eat one massive Chicago dog and be set for a while. I'm not exactly sure what the history is behind the dog, but I know that it has all of my favorite things packed on top of a hot dog. What's not to love?
Unless you are lucky enough to live in Chicago, having the steps to make these at home is very valuable. Here is my walkthrough on how to make these at home and make them as authentic as possible!
Ingredients for a Chicago Hot Dog
There are a few absolutely essential ingredients you'll need for a Chicago Hot Dog.
All Beef Hot Dog. I like Nathans or Hebrew National, but you can use a brand you like.
Poppy Seed bun! The first time I made these Chicago Dogs I left these buns out and it is honestly not the same. They are impossible to buy, but easy to make and worth the extra step.
Pickle Green Relish. You can make your own sweet pickle relish or use your favorite store-bought brand. Traditionally Chicago dogs have bright green sweet pickle relish which can be hard to find.
Sport Peppers. Tiny little pickled peppers are a classic Chicago Style Hot Dog addition. They are crunchy and spicy and salty and a perfect topper.
Celery Salt. A dash of celery salt is a must for these hot dogs.
White onion,Tomato slices, pickle spears. More vegetables to go on these hot dogs!
That's pretty much the full list of ingredients if you want to make your hot dog as authentic as possible. Go forth!
In Chicago and looking for an authentic Chicago Dog? Check out the locations for the Vienna Beef Stands!
How to make Poppy Seed Buns
This is one of the most important items in the Chicago Dog is the poppy seed bun. Omit it at your peril, especially if you are serving it to a native Windy City resident.
Making the buns is pretty straightforward though. Just brush your hot dog buns with melted butter and then sprinkle them liberally with poppy seeds. Bake them at 350˚F for 3-4 minutes to set the seeds and you are all set.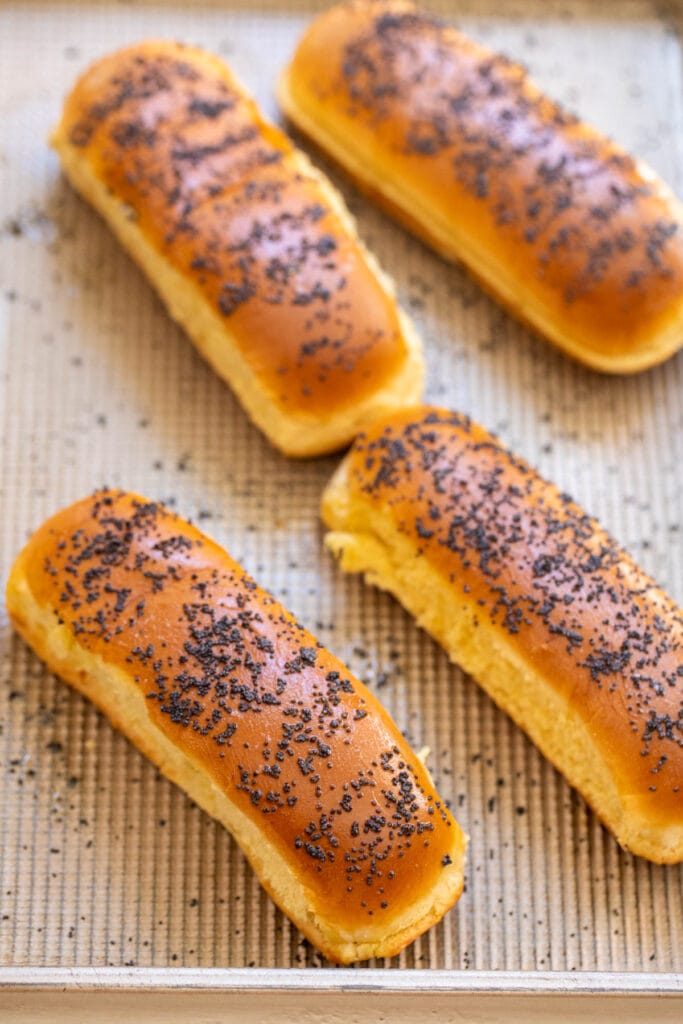 Different ways to cook hot dogs
Traditionally, Chicago Hot dogs are boiled or steamed, but I think we can take some liberties here. You could grill your hot dogs, cook them on a griddle, or even – shock – microwave them.
For me, on this particular day, I chose to simmer my hot dogs lightly to keep them plump and tender.
Making the sweet pickle relish
I've gone back and forth on the relish for these hot dogs. In the recipe below you'll find a quick homemade relish that is really good.
But, I've also made these Chicago Dogs with store-bought relish before so don't freak out if you can't find a perfect relish and don't feel like making one.
Traditionally, relish is made with pickles, but for my homemade version below I decided to use cucumbers for a bit more freshness. Of course, pickles are cucumbers so we aren't straying too far here.
Peel, seed, and dice your cucumber and stir it together with the other ingredients. Let this sit in the fridge for at least 15 minutes and you'll be well rewarded. It's awesome on a hot dog.
Building the Chicago Hot Dog
To be these chicago hot dogs can be a bit of a logistical problem. There are a lot of items, not all of which fit perfectly in a hot dog bun. This is just my best effort!
Layer on mayo and mustard followed by sliced stuff. Don't forget that poppy seed bun!
Then stick in your dog and top with onions, relish, dill pickle spear, tomato slice, and a sprinkle of celery salt.
You might think that celery salt is a weird ingredient for hot dogs, but just go with it. It's awesome.
Bring some napkins to the party. The first bite of these hot dogs can be a messy adventure, but the flavor is worth it!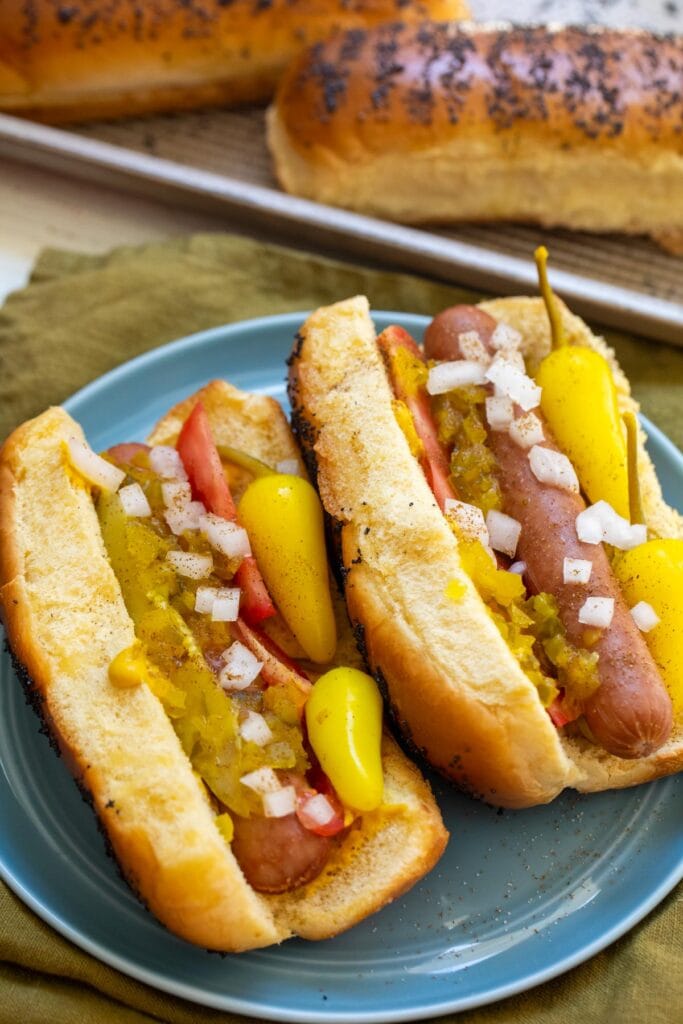 Here's my slightly more staged version.
This is about as staged as I get people.
Hopefully, I didn't just lose my entire New York readership.
Without a doubt, I give New York the pizza badge, but I think I might have to give these Chicago-style dogs to Chi-town.
The Chicago Dog
A completely stuffed hot dog done in the Chicago style. Piled high with tomatoes, pickles, onions, relish, mayo and mustard on a homemade poppy seed bun.
Ingredients
4

¼-pound

beef franks

,

boiled

Mayonnaise

Mustard

Pickles

,

sliced

Tomatoes

,

sliced

White onions

,

diced

Pickled Spicy Peppers

,

optional

Sweet pickle Relish

Celery Salt

4

Hot Dog Buns

2

tablespoons

melted butter

2

tablespoons

poppy seeds
Cucumber Relish:
1

Cucumber

,

peeled, seeded, minced

5

sweet pickled cherry peppers

,

seeded and minced

⅓

Cup

apple cider vinegar

2

Tablespoons

sugar

1

Teaspoon

kosher salt

,

or to taste
Instructions
For buns:
Melt butter and brush each bun with melted butter. Sprinkle liberally with poppy seeds.

Bake the hot dog buns at 350˚F for 3-4 minutes until poppy seeds stick on and buns are toasted.
For relish (optional):
Peel and seed a cucumber. Dice it small and mix it with the other relish ingredients. Let it sit in the fridge for at least 15 minutes before using.

To prep dogs, boil them in lightly salted water for 5 minutes.

Build dog with mayo and mustard. Add sliced tomatoes and pickles.

Add dog and toppings.

Serve with napkins. You'll need them.
Nutrition
Serving:
1
hot dog
|
Calories:
415
kcal
|
Carbohydrates:
44
g
|
Protein:
7
g
|
Fat:
24
g
|
Saturated Fat:
4
g
|
Polyunsaturated Fat:
14
g
|
Monounsaturated Fat:
6
g
|
Trans Fat:
0.1
g
|
Cholesterol:
12
mg
|
Sodium:
2304
mg
|
Potassium:
409
mg
|
Fiber:
4
g
|
Sugar:
15
g
|
Vitamin A:
510
IU
|
Vitamin C:
11
mg
|
Calcium:
132
mg
|
Iron:
3
mg
Did you make this recipe?
Here are a few other great recipes to try!