It's always a good idea to have a bunch of snacks out for people during a holiday feast. This is because it'll take you 2 hours longer than you expected to actually get dinner on the table.
Oh sorry. I'm projecting again.
I always like to have snacks out that way I don't feel pressured if dinner is a few minutes (120 say) late.
Peanut brittle is a great treat for just such a thing, but sometimes I find it to be too sweet so I thought I'd add some herbs and spices to it to change it up a bit. Betsy and I brought this big bag of Thanksgiving toffee to a party and the verdict was split: Betsy didn't like it. Everybody else did.
What's that they say about your loved ones being your biggest critics??
As an aside it happens to be my biggest critic's birthday today… so Happy Birthday Darlin'!
Ok. Sorry. Back to toffee.
Thanksgiving Toffee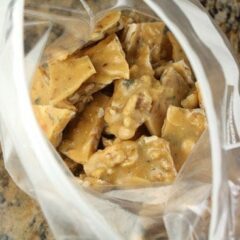 Traditional toffee made with peanuts and all the normal thanksgiving herbs: sage, rosemary, and thyme.
Ingredients
2

Cups

sugar

1

Cup

light corn syrup

1

Teaspoon

salt

½

Cup

water

1

Cup

peanuts

1

Cup

walnuts

½

Teaspoon

red pepper flakes

½

Teaspoon

fresh sage

1

Teaspoon

fresh rosemary

1

Teaspoon

fresh thyme

2

Teaspoons

baking soda

4

Tablespoons

butter
Instructions
Prepare all ingredients before you start cooking toffee.

In a large pot over medium-high heat, add sugar, corn syrup, and water. Stir and cook until sugar is dissolved and syrup reaches 280-285 degrees.

Stir in nuts, herbs, spices, and salt. Keep cooking until toffee reaches 310 degrees.

Remove from heat and stir in baking soda and butter.

Spread toffee out on silpats or parchment paper. Let toffee cool to room temperature.

Break toffee up and enjoy!
Nutrition
Serving:
1
Piece
|
Calories:
240
kcal
|
Carbohydrates:
39
g
|
Protein:
3
g
|
Fat:
10
g
|
Saturated Fat:
2
g
|
Polyunsaturated Fat:
4
g
|
Monounsaturated Fat:
3
g
|
Trans Fat:
0.1
g
|
Cholesterol:
6
mg
|
Sodium:
257
mg
|
Potassium:
83
mg
|
Fiber:
1
g
|
Sugar:
37
g
|
Vitamin A:
91
IU
|
Vitamin C:
0.2
mg
|
Calcium:
18
mg
|
Iron:
1
mg
Did you make this recipe?
The thing about toffee
Toffee is a really simple thing to make up to a point. You just stir a bunch of stuff together until it's ready and then spread it out and let it dry. Sounds easy right?
The trick is knowing when to stop cooking because if you cook it for a minute too long, you'll burn the stuff.
I'm getting ahead of myself though. To start, you need some sugar and corn syrup.
And some chopped herbs and spices. My favorite part of this toffee was actually the red pepper flakes. The spice worked great with the sweetness of the toffee.
I also overdid it on the sage. Sage is a pretty intense flavor and kind of overpowered my candy. I toned it down in the recipe though.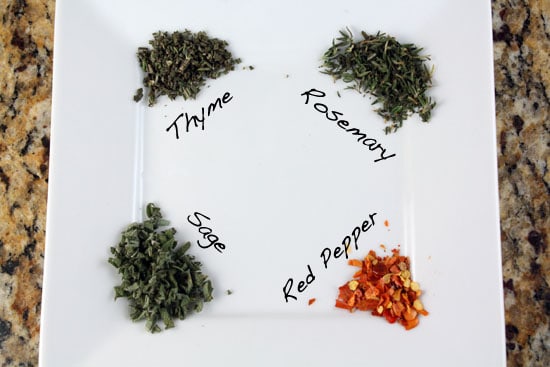 You could use almost any kind of nut for this. Peanuts are standard and you could use all peanuts if you wanted. I decided to throw in some walnuts also.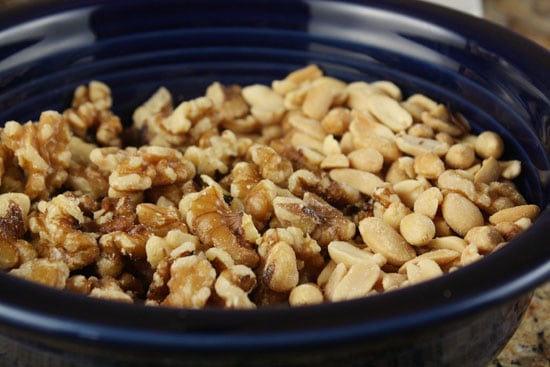 No matter what herbs or nuts you use, make sure you have everything ready before you start on the toffee because you don't want to have to waste time measuring or chopping once the toffee is going.
Making the Toffee
Start by adding the water, sugar, and corn syrup into a heavy pot.
You will 100% want to use a candy thermometer for this. The only reason why you would be able to do this without a candy thermometer is if you've made toffee for like 20 years and can tell when it's ready by sight. Of course, if you've been making toffee for 20 years then you probably also have a candy thermometer.
SO use a candy thermometer no matter what.
Stir this mixture until the sugar is completely dissolved and the temperature is 280-285 degrees. That's very hot by the way, so don't touch it or anything.
I know this because I accidentally drizzles some hot syrup on my skin and it burned like Hades.
Anyway, when your toffee mixture reaches the right temperature which will take about 10 minutes probably, very quickly stir in all your nuts, salt, herbs, and spices.
You'll end up with something like this. It'll be sticky for sure.
Keep stirring and keep it on the heat until it reaches 310 degrees. This part will go really fast and is the tricky part. Try not to let it go too far over 310 degrees or the sugar will start to burn.
You need to keep stirring it constantly and keep your eye on the temperature. For stirring, use a silicon spatula if you have one. The toffee mixture won't really stick to it.
Spreading the Toffee
Once your toffee reaches the right temperature, take it off the heat and quickly stir in the butter and baking soda. Then pour it out onto a silpat. If you don't have a silpat, get one. They rule.
But you can also use parchment paper I think. The toffee shouldn't stick to it.
Work quickly and spread it out as thin as you can.
I needed two Silpats for mine so plan accordingly.
Let the toffee cool to room temperature and then you should be able to break it up into shards. This is the fun part.
I thought this stuff was pretty addictive which is always the sign of a good toffee. In all honesty though, I think it would've rocked with just the spicy pepper flakes in it. That was the part that did it for me.
Toffee is an easy thing to play around with once you get the technique down.
What do you think? Does herbs in toffee sound like a good idea?