I'm starting to come to the realization that a good patty melt, like this Patty Melt with sauteed spinach and fontina cheese, may actually be the best of both sandwich worlds.
What are both sandwich worlds? Well, you have your grilled cheese, a classic. And you have your hamburger, also a classic. Of course, there are other kinds of sandwiches, I suppose, but I'm not concerned about those other sandwiches.
The patty melt is great because it's more substantial than just a grilled cheese, but not a huge hunk of beef. It's somewhere in between.
There are a few tricks to making a good patty melt, but the biggest one is basic and true for any sandwich: Use good bread. A nice sturdy sourdough bread makes all the difference in this bad boy.
How to Make the spinach for this sandwich
I really love the toppings on this patty melt. They kick it up a notch for sure. You could use frozen spinach, I suppose, but it doesn't take longer to just sauté up some fresh spinach. I just do it in a small skillet with a little oil over medium heat. Try to chop off any large stems from the spinach first.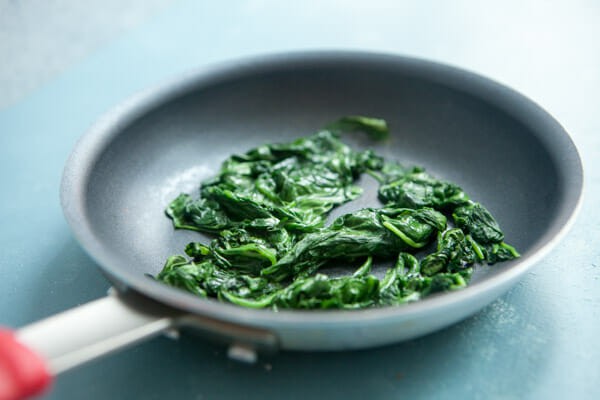 How to shape the patties for these melts
When it comes to the patty, use about 4 oz. of ground beef and try to shape it into roughly the shape of the bread you're using. Season it well with salt and pepper also. I recommend making it thinner than a normal hamburger.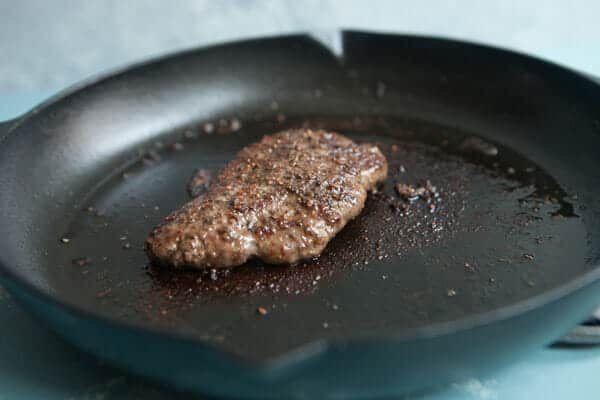 Sear it for about 4 minutes per side until it's cooked through. Then you can build your patty melt!
You could use other ground meats for your patty melt like ground chicken or ground turkey but a classic patty melt definitely has ground beef in it.
How to Cook the Sandwich
Butter some bread and smear on some mustard. Then add your cooked patty.
Add a few slices of cheese and a good amount of cooked spinach. Then add your top piece of bread (also lightly buttered).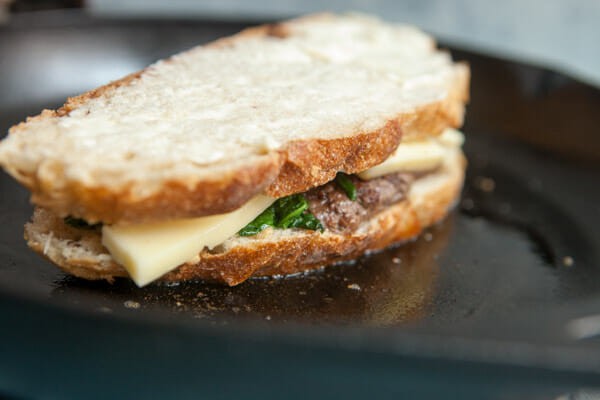 Cook the patty melt until the bread is nicely toasted (I turn my heat down to low to make sure I don't overcook it). The cheese should obviously be melted as well!
The sandwich will probably need to cook for 3-4 minutes per side over medium-low heat in a good sturdy skillet or on a griddle.
Remember that the patty is already cooked so you are just looking to melt the cheese and toast the bread.
This guy is good to go.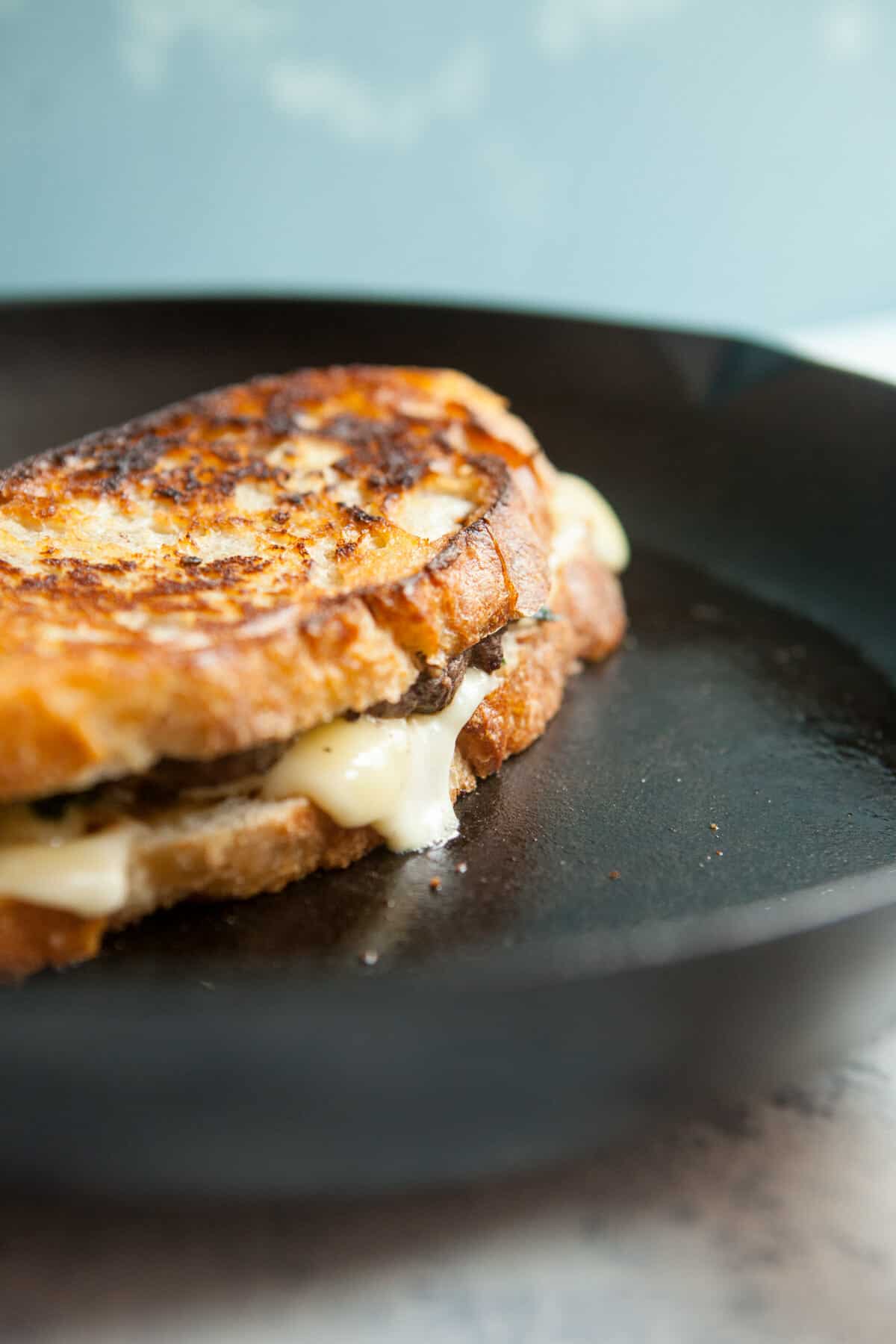 Slice the spinach fontina patty melt in half and you're ready to rock.
What a sandwich, right?!
Patty Melt Sandwich with Spinach and Fontina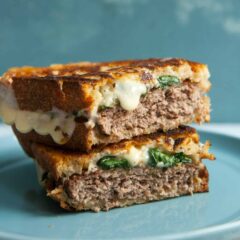 A fun twist on the classic made with fresh sauteed spinach and gooey fontina cheese. What a sandwich!
Ingredients
1

bunch spinach

1

tablespoon

olive oil

4

oz.

fontina cheese

8

oz.

ground beef

4

slices

sourdough bread

2

tablespoons

dijon mustard

1

tablespoon

butter

Salt and pepper
Instructions
Rinse and drain spinach well. Cut off any large stems. In a small skillet, add olive oil over medium heat. Once hot, add spinach and cook until spinach is wilted, about 2 minutes. Set aside.

Divide ground beef into 4 oz. patties that are slightly thinner than a hamburger and roughly the shape of your bread. Season each side with salt and pepper.

In a sturdy skillet over medium heat, add a drizzle of oil and cook your patties for 4-5 minutes per side until they are cooked through. Remove from the skillet.

Add two pieces of lightly buttered bread to the skillet, buttered side down. Turn heat down to low.

Add mustard to the bread and top with the patty. Then top with a few slices of cheese and spinach. Top with second piece of bread, buttered side up.

Cook patty melt for 3-4 minutes per side until cheese is well-melted and bread is nicely toasted.

Remove patty melts, slice in half, and serve while warm.
Nutrition
Serving:
1
sandwich
|
Calories:
978
kcal
|
Carbohydrates:
68
g
|
Protein:
49
g
|
Fat:
57
g
|
Saturated Fat:
25
g
|
Polyunsaturated Fat:
4
g
|
Monounsaturated Fat:
22
g
|
Trans Fat:
2
g
|
Cholesterol:
161
mg
|
Sodium:
1511
mg
|
Potassium:
519
mg
|
Fiber:
3
g
|
Sugar:
7
g
|
Vitamin A:
750
IU
|
Vitamin C:
0.2
mg
|
Calcium:
411
mg
|
Iron:
8
mg
Did you make this recipe?
Here are a few other great recipes to try!