Quiche is a great breakfast option and leftovers are easy to reheat for weekday breakfasts. This Sheet Pan Quiche with Spinach and Basil is my big boy version of the classic quiche. I stuffed this version with charred spinach, fresh herbs, and mounds of Parmesan cheese!
You could use store-bought crust, but you would need to piece them together to fit in your sheet pan. Personally, I just made my own batch of dough so I could roll it out in the shape I wanted.
I used a 10×15 Jelly Roll pan for my version. If you are using a larger sheet pan you might want to add two eggs to the mix to make sure you have enough filling!
The flavors in this sheet pan quiche remind me of spring. Fresh spinach and loads of herbs really bring a lot of flavor to the sheet pan quiche. It's a winner in my book!
How to Make Sheet Pan Quiche Dough
I used my standard pie crust recipe for this but just multiplied it by about 2 to make sure I had enough for the full sheet pan.
Once your quiche dough is shaped and chilled, roll it out and press it into your sheet pan. I kept my design simple for the crust and just crimped the edges with my fingers. No reason to overthink it!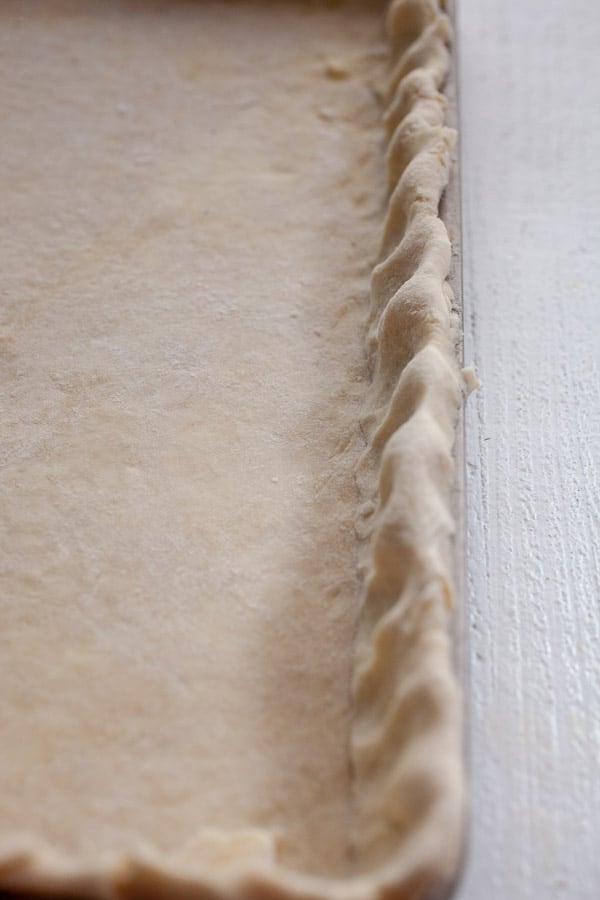 You need to pre-bake this crust because the eggs bake really fast and you want to make sure your crust is cooked through. To keep the crust in position, I recommend spraying some foil with nonstick spray and then pressing it into the crust. You could use pie weights if you have them but I didn't use any on this version and the foil did the job just fine.
Bake the crust at 425 F˚ for 12-15 minutes and it should be starting to brown around the edges. This quiche crust is ready to go!
Making the Spinach Quiche Filling
I recommend using fresh spinach for this instead of frozen. The frozen has a lot of water in it that will make your filling soggy. For fresh spinach, just add some olive oil to a skillet over medium heat and toss in the spinach. Let it wilt for a few minutes and then add the garlic and red pepper flakes.
Once the spinach is cooked, distribute it over the pie crust along with all the herbs. I used a good amount of basil and fresh thyme for my version!
Then pour in your egg mixture (whisked with milk or half & half) and add a liberal amount of Parmesan to the quiche.
This will need to bake for another 25 minutes or so at a lower 375 F˚. The finished sheet pan quiche is a think of beauty in my opinion!
I like how thin the pieces are. You can seriously just hold it like a piece of pizza. Kind of fun!
I served my spinach basil sheet pan quiche with some hot sauce and nothing else. It was perfect!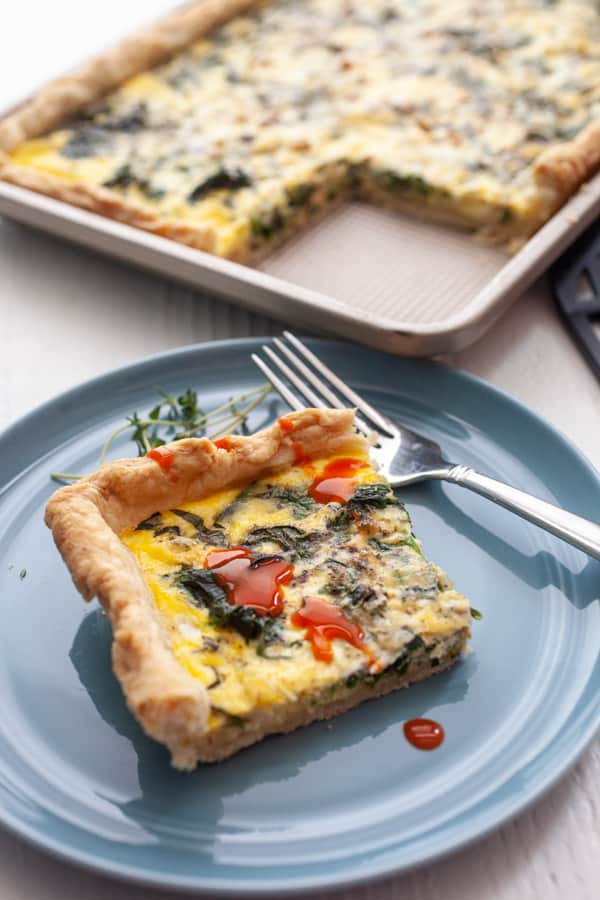 Other Filling Ideas for Sheet Pan Quiche
There are SO many things you could add to this quiche if you don't like the spinach and herb mixture. You might try:
Bacon and Cheddar
Caramlized onion and gruyere
Chorizo and queso fresco
Smoked salmon
Reheating Sheet Pan Quiche
This recipe stores great for a few days in the fridge. The best way to reheat the quiche is in a 350˚F oven until it's warmed through. While you can microwave it, the crust will get soggy.
Spinach Basil Sheet Pan Quiche
This sheet pan quiche is the perfect brunch dish or it also works great as quick weekday breakfasts since it reheats really well. I stuffed this version with charred spinach and fresh basil!
Ingredients
Dough:
2

cups

all-purpose flour

1 ½

teaspoons

kosher salt

1

teaspoon

sugar

12

tablespoons

cold butter

6-8

tablespoons

cold water
Filling:
1

tablespoon

olive oil

1

bunch spinach

2

cloves

garlic

,

sliced thin

½

teaspoon

red pepper flakes

½

cup

fresh basil

1

tablespoon

fresh thyme

1

cup

grated parmesan cheese

8

large eggs

⅔

cup

half and half

Salt and pepper
Instructions
For the crust:

Combine flour, sugar, and salt in a medium bowl. Add cubed cold butter to the dry mix and coat the butter cubes with flour. Then use a pastry cutter, fork, or your fingers to work the butter into the flour mixture until it's in pea-sized pieces.

Combine water and ice in a separate bowl. Add the liquid to the dry stuff a tablespoon at a time until the dough just comes together with some crumbs on the edges. You shouldn't need more than 1/2 cup of water.

Shape the dough into a large round disc, adding more liquid in small drops if needed to get the dough to stick. Once the dough is in a solid disc, wrap it in plastic wrap and store it in the fridge for at least an hour, but overnight is best.

When ready to make pie, Preheat oven to 425 degrees F.

Roll the pie crust out on a lightly floured surface until it's in a rectangle that fits in your sheet pan with an inch or so overhanging around the edge. Use a fork to crimp the pie crusts together in the sheet pan (trim the crusts if you have a lot of overlap but some is okay). Crimp around the edges as well.

Poke crust with fork a few times all over the surface. Gently cover the entire crust with foil (sprayed with nonstick spray on the side touching the crust). Press the foil to shape the crusts. Optionally use pie weights to hold foil in place.

Bake the crust at 425 degrees F. for 12 minutes. Then carefully remove the foil.

For the Filling:

Add olive oil to a medium skillet over medium heat. Once hot, add the spinach and garlic. Cook for a few minutes until spinach wilts.

Spread out cooked spinach on your pie crust along with chopped basil and thyme. Sprinkle fillings with red pepper flakes and a pinch of salt and pepper.

In a separate bowl, whisk together eggs and half and half. Then pour the egg mixture over the fillings in the pie crust. Use a fork to move around fillings and eggs to make sure it's evenly distributed. Then sprinkle parm over the entire quiche.

Turn oven heat down to 375 F˚. Bake the quiche for 25 minutes until the eggs are set and crust is golden brown.

Let quiche rest for a few minutes before slicing and serving. Serve quiche with hot sauce!

Leftover quiche keeps well in the fridge for 5 days. Reheat quiche in a 350˚ oven until heated through, maybe 10 minutes.
Nutrition
Serving:
1
piece
|
Calories:
569
kcal
|
Carbohydrates:
37
g
|
Protein:
18
g
|
Fat:
39
g
|
Saturated Fat:
21
g
|
Polyunsaturated Fat:
3
g
|
Monounsaturated Fat:
12
g
|
Trans Fat:
1
g
|
Cholesterol:
302
mg
|
Sodium:
1157
mg
|
Potassium:
220
mg
|
Fiber:
1
g
|
Sugar:
2
g
|
Vitamin A:
1483
IU
|
Vitamin C:
3
mg
|
Calcium:
233
mg
|
Iron:
3
mg
Did you make this recipe?
Here are a few other great sheet pan recipes!