Even though February has some good things going for it (namely, my birthday), I couldn't be happier to see it behind me this year. I don't think there was a single day in the entire month that someone in my family wasn't sick. Most days more than one of us has the crud.
It was a rough month filled with coughs, sniffles, teething (just for the little dude), and just general BLAHHH.
I tried many things throughout the month to try and help us all recover, but last week this Winter-crud-curing soup seemed to push us over the edge. We all sat around, yes even T, slurping noodles, sipping rich miso broth, and felt better almost instantly.
There are some involved miso recipes out there on the Internets, but this one is fairly easy. After all, if you're not feeling great, the last thing you need is an involved recipe. I made this Simple Miso Soba Soup on a Wednesday without a struggle.
Simple Miso Soba Soup
The easy 30-minute soup that will cure your winter sniffles! Loaded with umami flavors and just enough spice!
Ingredients
1

tablespoon

olive oil

½

yellow onion

,

diced

1

clove

garlic

,

minced

1-2

red Fresno peppers

,

diced

2-3

tablespoons

miso paste

1

cup

water

4

cups

vegetable stock

1

cup

shiitake mushrooms

12

ounces

firm tofu

,

cubed

Dash of soy sauce

6-8

ounces

soba noodles

Grated carrot

,

for serving

Cilantro

,

for serving

Scallions

,

for serving

Sesame oil

,

garnish

Chili oil

,

garnish
Instructions
Dice onions and Fresno pepper and mince garlic. Rinse and roughly chop the mushrooms. Whisk together water with miso paste.

In a medium pot add oil over medium heat. Add onions, peppers, and garlic. Cook for 3-4 minutes until onions soften. Add mushrooms and cook for a few more minutes.

Add in miso paste and water and bring to a simmer. Add cubed tofu and turn heat down to low. Season with soy sauce.

Cook soba noodles according to package. Once cooked, drain and rinse with cold water. Toss with 1 teaspoon sesame oil.

Serve soup in big bowls ladled over soba noodles and garnished with slivered carrot, scallion, cilantro, chili oil, and sesame oil.
Nutrition
Serving:
1
Bowl
|
Calories:
301
kcal
|
Carbohydrates:
44
g
|
Protein:
16
g
|
Fat:
8
g
|
Saturated Fat:
1
g
|
Polyunsaturated Fat:
3
g
|
Monounsaturated Fat:
4
g
|
Sodium:
1604
mg
|
Potassium:
329
mg
|
Fiber:
3
g
|
Sugar:
5
g
|
Vitamin A:
546
IU
|
Vitamin C:
5
mg
|
Calcium:
140
mg
|
Iron:
3
mg
Did you make this recipe?
Simple Miso Soba Soup
Let's Talk Miso
Miso paste comes in a variety of forms. If you have a decent Asian market in your area, you'll probably have more than one option. To be honest, I'm far from an expert here, but I do use and like Marukome Boy paste. If you can't find that version, I wouldn't be shy about asking someone at the store for their recommendation.
I go heavy with my miso flavor because I want an intense broth so I use about 3 tablespoons of paste and whisk it into some water to make sure it isn't clumping. You should probably start with 2 tablespoons if you aren't sure about the strength of your paste.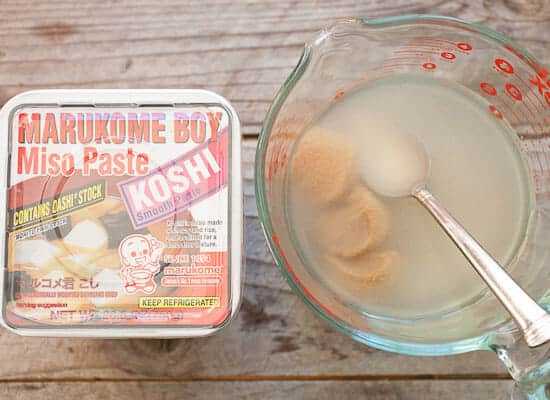 Cooking the Soup
This soup is pretty easy actually. Start with a drizzle of oil in a medium pan over medium heat.
Add the onions, garlic, and peppers and cook them until they soften (3-4 minutes).
The other additions to this soup are shiitake mushrooms and tofu. I like to leave my mushrooms in large chunks (halves or quarters). Betsy thought they were too chunky, but I liked them like this.
Add those into the pot along with the vegetable stock and dissolved miso paste water.
Bring that all to a simmer and simmer it for a few minutes.
Then in with the tofu!
Let that continue to simmer over low heat while you make the soba and stuff. Season it with a dash of soy sauce and taste it and adjust! Make it your own!
Soba Noodles
This soup is pretty good with no noodles honestly, but pouring it over some cooked soba noodles makes it a full meal for sure.
Soba noodles cook fast. After they cook in boiling water, drain them and rinse them with cold water to prevent them from sticking. They are notorious for sticking!
Then toss them with a dash of sesame oil. These are ready to go!
Serving the soup is straightforward. Pile some noodles in a bowl and ladle over the soup. Then toppings galore: carrots, cilantro, scallion, chili oil, sesame oil. You need and want it all!
If you have even the slightest itch in your throat, or if you just want a great bowl of soup, make this simple miso soba soup happen!