People deal with stress differently. For me, if I've had a long day or a stressful day, I will sometimes treat myself to a meal of chicken wings. For some reason I find these baked Cajun Chicken Wings to be particularly comforting and also the perfect plate of food for your a game-day snack. (Is there a big game or something this weekend?)
A few times a year, I make a batch of chicken wings that I don't share with a soul. They are mine and they make me happy. Usually, I keep it simple and if I have the time my slow cooked chicken wings is my favorite method of cooking them. But, on this particular day I changed up the rub with some Cajun spices and really liked the subtle difference over a traditional rub.
If you need something to make for a game day celebration or if you just need some solo comfort food, don't forget the humble chicken wing!
What is in Cajun spice rub?
You can buy many Cajun or creole labeled spice seasonings at the store these days. A traditional Cajun seasoning will use lots of paprika, garlic, black pepper, cayenne pepper, dried herbs like thyme, and brown sugar for some sweetness.
For this recipe, I like to start with a store-bought spice seasoning (I like Tony Chachere spice) and then I boost the flavors with extra spices to finish the Cajun dry rub!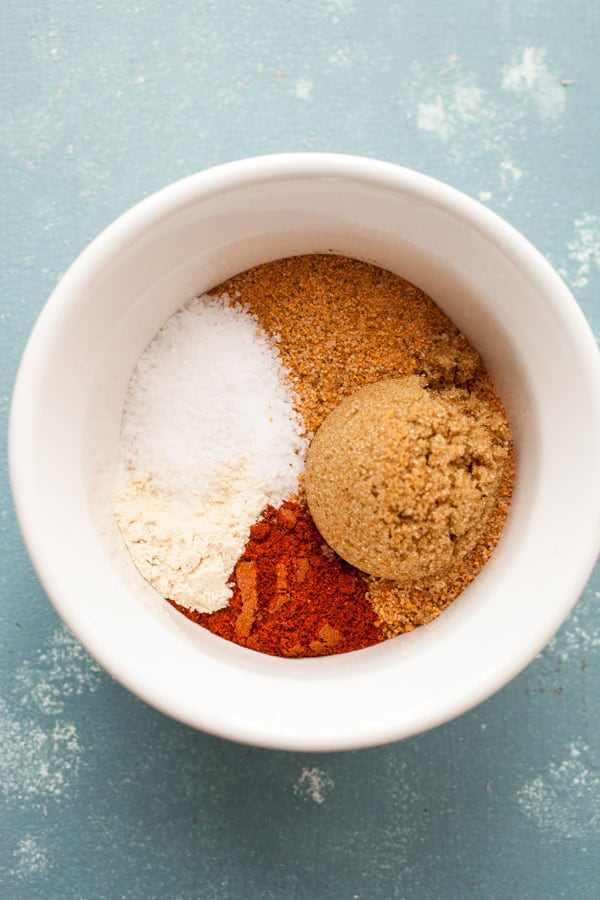 You can use any cajun seasoning for this rub. If your seasoning is particularly spicy, then you might want to dial it back a bit. The brown sugar cancels out some of the heat though so you can go heavy on the rub.
Rub this spice rub very liberally on the wings.
How to break down fresh chicken wings
There are many ways to buy chicken wings these days. You can find them already broken down into flats and drums, but you will pay more for that. I like to buy whole chicken wings which include a tip, flat, and drum section and then you need to cut them apart yourself.
This isn't that hard to do. Use a sharp knife to slice through the joint between the flat and the drum. Then chop off the tip of the wing. You can discard the wing tips or save/freeze them for chicken stock later.
If I'm serving these to a group, I'll take the time to cut the wings into more traditional drumettes and flats. If I'm just eating them myself, I actually like to leave them in larger pieces like I did for these photos.
Baking vs. Frying wings
You can bake or fry these wings. I actually prefer baking them because the dry rub gets kind of crusty on top of the chicken wings and the clean-up for baked wings is a little easier than frying them.
Frying of course involves a whole big pot of oil or a deep fryer and you have to keep an eye on the chicken wings as they fry.
Of course, baking them in your oven will take longer (45-60 minutes) while frying them will get you finished chicken wings much faster.
Can you make these chicken wings in the air fryer?
Of course, you can use an air-fryer for these cajun chicken wings. Add them to your air fryer basket and fry them for 14-15 minutes at 350˚F. You will have to fry them in batches, but they will come out crispy and wonderful.
Baking these Cajun Chicken Wings
If you don't have baking racks like the above, you can line a baking sheet with foil or parchment paper and bake them that way. The wire rack just helps them cook more evenly and will let the fat drip off as they bake, leaving you with a crispier wing.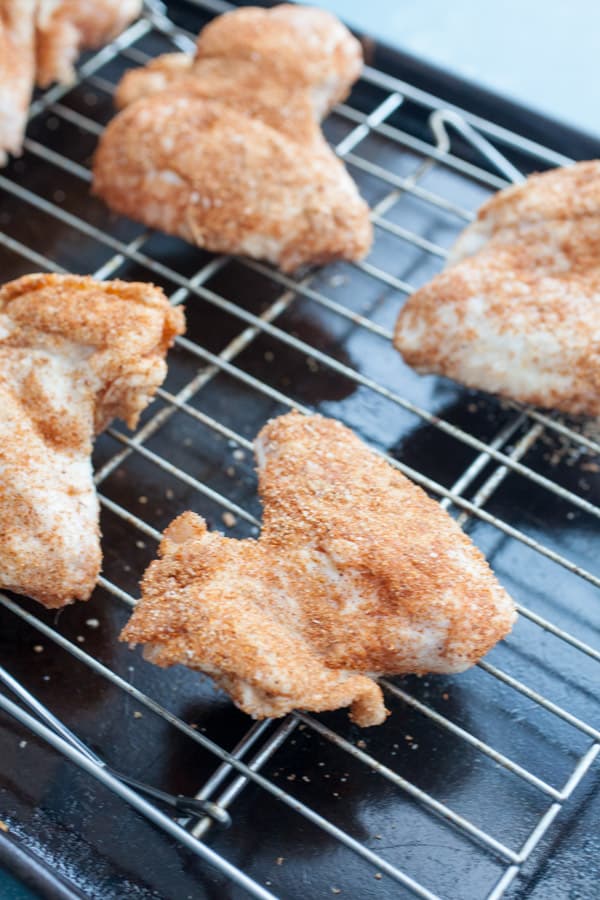 While the wings bake, I mixed up a quick sauce with hot sauce and butter. This isn't totally necessary as the dry rub wings are pretty good as is, but a little sauce makes them even better.
While you could toss in the sauce in a large bowl, I like to drizzle in this case to preserve the crispy baked skin.
Speaking of… cajun chicken wings are done!
If your sauce gets butter lumps in it, you can microwave it for a few seconds to warm it up and melt the butter. That'll make it easier to drizzle.
Serve these baked cajun chicken wings with the normal sides or maybe this Spicy Ranch Dip. If you're a chicken wing lover, this will be a nice change in your recipe arsenal!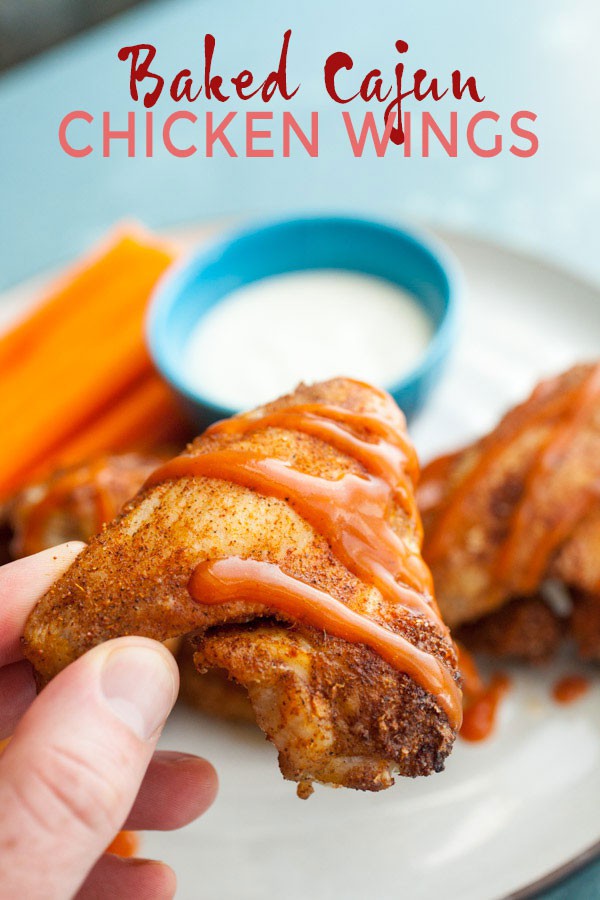 Baked Cajun Chicken Wings
These easy baked chicken wings pack an addictive spicy punch thanks to a homemade Cajun spice rub. Perfect for game day!
Ingredients
3

pounds

chicken wings

2

tablespoons

cajun seasoning

1

tablespoon

brown sugar

1

teaspoon

kosher salt

1

teaspoon

smoked paprika

1

teaspoon

garlic powder

Carrots

,

for serving

Blue cheese

,

for serving
Quick Wing Sauce:
2

tablespoons

melted butter

2

tablespoons

ketchup

½

cup

buffalo sauce
Instructions
Preheat oven to 350 degrees F. Mix together cajun spice, salt, garlic powder, paprika, and brown sugar. Rub onto wings liberally although you might not need all of the rub. You can either leave wings whole or cut them into flats and drum pieces.

Place wings on a baking sheet lined with foil or on a baking rack (my preference). Bake wings for 45-60 minutes until they are cooked through and the skin is crispy and browned.

Meanwhile, mix together sauce with warm butter. If the sauce clumps because the butter cools, microwave it for 15 seconds to warm the ingredients.

When wings are cooked, either A) toss them in the sauce or B) drizzle with sauce. I prefer to drizzle these with sauce so the dry rub is the star, but they still have some sauce.

Serve with standard chicken wing sides!
Nutrition
Serving:
3
Wings
|
Calories:
327
kcal
|
Carbohydrates:
5
g
|
Protein:
23
g
|
Fat:
24
g
|
Saturated Fat:
8
g
|
Polyunsaturated Fat:
5
g
|
Monounsaturated Fat:
9
g
|
Trans Fat:
0.4
g
|
Cholesterol:
104
mg
|
Sodium:
1168
mg
|
Potassium:
276
mg
|
Fiber:
1
g
|
Sugar:
3
g
|
Vitamin A:
1636
IU
|
Vitamin C:
1
mg
|
Calcium:
25
mg
|
Iron:
2
mg
Did you make this recipe?
Here are a few other great Spicy recipes: