Pasta Chips are something that I saw on Tiktok and was immediately confused by. After trying it once though, it is an admittedly decent way to make a snack. I wanted to amp up my version a little bit though and these Sausage Stuffed Pasta Chips are my answer!
Most pasta chips are made with penne pasta and since penne (or ziti) pasta are hollow, it seemed like a good idea to stuff the pasta with something before baking (or air-frying) it. I chose some cheese and sausage for my filling and it turned out great!
The recipe is a bit of work, sure, but it's a nice twist on the classic pasta chip recipe!
What kind of pasta to use for pasta chips?
You need to use a hollow pasta for this pasta chips trend. Generally, penne pasta is used, but try to find a penne pasta that has a wider opening in it. Some pasta chip recipes use the mini penne that is available and those won't work for this recipe as you won't be able to actually stuff them.
A standard size penne will work or rigatoni is a great choice as it tends to have a wider opening as well. I actually found a pasta type called penne rigatoni for my version which is some mash up of the two pasta types and it worked well.
If you can find it, I would use rigatoni. It has the widest opening and will be easiest to stuff.
How to prepare pasta for pasta chips
To get your rigatoni ready to stuff, boil the pasta in a large pot of salted water. I recommend subtracting one minute from the recommended cooking time and then testing the pasta. You want it to be al dente or even slightly less cooked.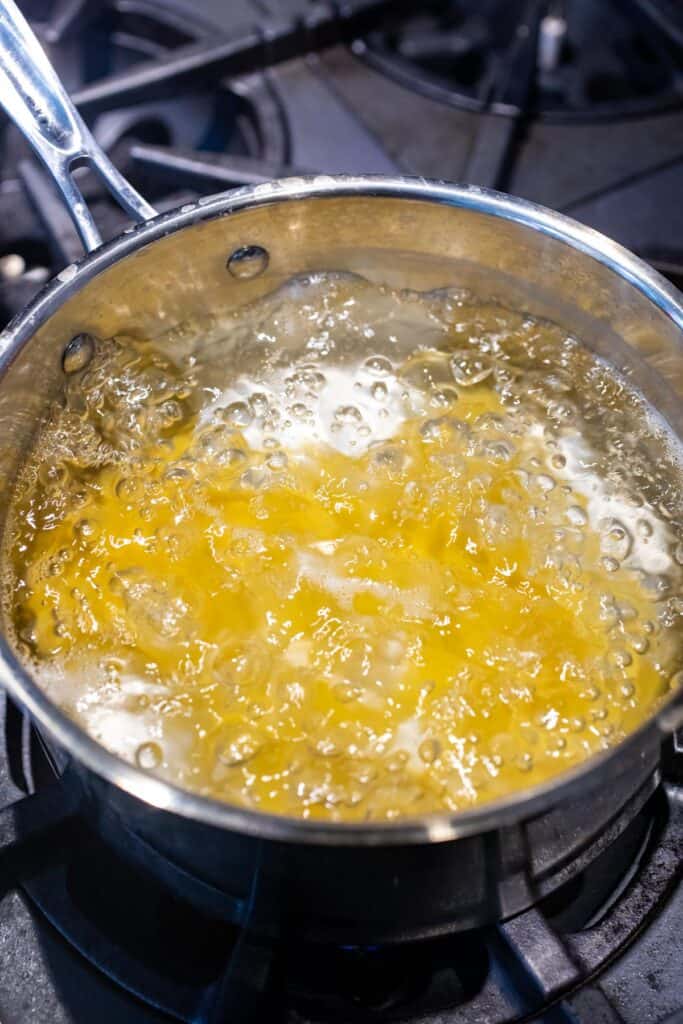 The worst thing would be to have overcooked pasta as you won't be able to stuff them without tearing the pasta.
Once your pasta is cooked, drain it well and rinse it with cold water to stop the cooking and make it easier to handle the pasta.
Ingredients for Stuffed Pasta Chips
You don't need many ingredients for this recipe, which is nice. I like to use an Italian sausage with a little heat to it. You don't need very much to make a whole bunch of pasta chips. It's hard to get more than a tiny amount of sausage in each chip.
Optionally, you can also add some cheese to these. I tried this with mozzarella and it worked okay, but I'm not sure that the amount of cheese is worth it and it makes the stuffing process much more involved since you have to stuff the pasta with cheese and then sausage on both ends.
If I make these again, I think I'll just use sausage for the stuffing since that's relatively easy and still results in very good flavor. You also need some breadcrumbs to lock in the sausage and cap off each pasta chip.
You can spice up the pasta chips however you like. Toss them with some olive oil so they get nice and crispy. You could also add some garlic powder, Italian seasoning, or just salt and pepper to the pasta chips.
Serving them with marinara sauce after they are baked is a no-brainer.
Stuffing the Pasta Chips
Once you cook pasta and cool it, you're ready to stuff. If you are using cheese, grate the cheese and put the sausage you are using in a bowl. Also get your breadcrumbs in a bowl for easy dipping.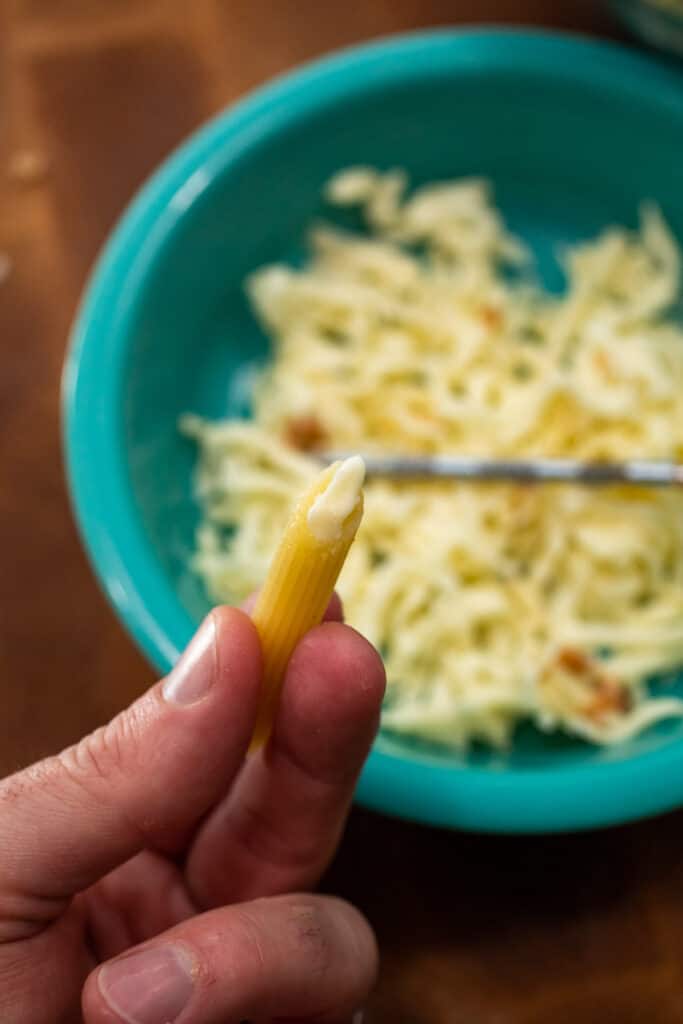 Working with one pasta at a time, add a thin piece of cheese to the middle of the pasta (again, optional), and then stuff some sausage on both ends of the pasta. Then dip each end in breadcrumbs. Put the stuffed pasta chip on a baking sheet.
Repeat this process until you are all done with your pasta! It's kind of a tedious process, no doubt, so put on some music and get in a groove.
Baking the Pasta Chips
I thought it was easiest to bake these chips. Preheat the oven at 400˚F. When your pasta chips are stuffed, drizzle them all with olive oil and season to your liking. Bake the pasta chips for 15-17 minutes. Then finished chips should be golden brown and crunchy, with a little bite to them.
Cooking these in an Air Fryer
You can absolutely air fry these guys. Lay them out on a single layer in your air fryer basket and fry them at 380˚F for 8-10 minutes until they are crispy and golden brown.
Honestly, I found it easier to bake them all at the same time on a sheet pan rather than bust out the air fryer, but if you already have the air fryer out or want to do a smaller batch, then the air fryer might be a good idea.
Serving the Appetizer
I think these crispy pasta chips are wonderful as an appetizer with some warm marinara sauce as a dipper. You could also serve them with a pesto sauce. The chips are a bit on the dry side so they do need some kind of dip in my experience.
These are a super fun appetizer and a fun way to serve pasta.
If you try out my stuffed version, leave a comment or tag me in a photo on Instagram or TikTok (@macheesmo).
Sausage Stuffed Pasta Chips
A riff on the viral TikTok recipe, these Sausage Stuffed Pasta Chips also have cheese in them for a fun snack. I like to dip them in marinara sauce!
Ingredients
8

ounces

rigatoni pasta

,

cooked al dente

2-3

ounces

grated mozzarella

,

optional

3

ounces

spicy Italian Sausage

1

cup

breadcrumbs

2

tablespoons

olive oil

½

teaspoon

garlic salt

,

optional

Marinara Sauce

,

for dipping
Instructions
Preheat oven to 400˚F. Cook pasta in salted water until al dente. I recommend pulling the pasta about 1 minute before recommended cooking time and testing it. Don't overcook the pasta or it won't work.

Drain pasta and rinse with cold water.

working with one pasta at a time, add one tiny piece of grated cheese to the middle of the pasta. Then stuff each end of the pasta with sausage. Dip each end in breadcrumbs and add pasta to baking sheet. Repeat with all your pasta pieces.

Drizzle stuffed pasta with olive oil and season with garlic salt and any other seasonings you like.

Bake pasta chips for 15-18 minutes until they are golden brown and crispy.

Serve pasta chips while warm with marinara sauce.
Nutrition
Serving:
0.25
Cup
|
Calories:
247
kcal
|
Carbohydrates:
31
g
|
Protein:
9
g
|
Fat:
10
g
|
Saturated Fat:
3
g
|
Polyunsaturated Fat:
1
g
|
Monounsaturated Fat:
5
g
|
Cholesterol:
14
mg
|
Sodium:
368
mg
|
Potassium:
122
mg
|
Fiber:
2
g
|
Sugar:
2
g
|
Vitamin A:
48
IU
|
Vitamin C:
0.2
mg
|
Calcium:
68
mg
|
Iron:
1
mg
Did you make this recipe?
Here are a few other great recipes to try!