There's a long-running food joke that if a dish isn't quite meeting expectations, the way to save it is to put an egg on it. Eggs are delicious and whether you fry them, poach them, or soft-boil them, they will probably make the meal better.
I feel like the calzone is the Italian equivalent of that concept. As far as I know almost anything is better if you wrap it in dough and bake it.
The key to a good calzone is making sure you have a good filling-to-bread ratio. This Sausage and Chard Calzones recipe does that. There's plenty of filling in each calzone but you'll still have some good edges that are just crispy calzone bread.
The recipe does take a few hours though. If you're crunched for time, you could use store-bought pizza dough and it should get the job done also.
Sausage and Chard Calzones
Homemade calzones with spicy Italian sausage, chard and lots of cheese. These are some seriously delicious calzones!
Ingredients
Calzone Dough:
4

cups

22 ounces bread flour

1

packet instead yeast

,

2 ¼ teaspoons

2

teaspoons

kosher salt

2

tablespoons

olive oil

1 ½

cups

warm water

Filling:

1

pound

ricotta cheese

8

ounces

mozzarella cheese

,

grated

1

large egg yolk

1

tablespoon

fresh oregano

,

minced

1

large bunch of rainbow chard

1

pound

spicy Italian sausage

3

cloves

garlic

,

minced

1

tablespoon

olive oil

Extra olive oil and salt for calzones
Instructions
For dough:
Stir together flour, yeast, and salt in a mixing bowl. Stir in olive oil and then add water, mixing on medium speed with a dough hook. You can also mix the dough with a large spoon until it comes together and then knead it for about ten minutes until it's smooth. If you're using a dough hook, mix dough on medium for 8-10 minutes. If at any point the dough is very wet and sticky, add more flour by the tablespoon. If the dough is very dry and cracking, add more water by the tablespoon.

When dough is ready, add to a lightly oiled bowl, cover, and let rise for two hours.
For filling:
Stir together cheeses, yolk, and oregano in a medium bowl. Set aside.

Remove casing from sausages and add to a large skillet with a drizzle of oil over medium-high heat. Cook until browned nicely, breaking up the sausage as it cooks. It should take 8-10 minutes to cook through.

Add garlic to sausage and cook for just a minute. Then add washed and chopped chard. Cook until it wilts down, about 5-6 minutes. Season with a pinch of salt and pepper.
Making Calzones:
Preheat oven to 400 degrees Fahrenheit. If you have a pizza stone, heat the stone in the oven also.

Divide dough into six even pieces (about 5-6 ounces each). Roll each piece of dough out until it's a 7-8 inch circle. Add a sixth of the cheese mixture (about a third of a cup) to half of the bread. Then top with a sixth of the sausage mixture.

Fold dough over and try to press out as much air as possible. Seal edges well by rolling them over. Brush calzone with olive oil and sprinkle with kosher salt. Cut a few slices in the top of the calzone so steam can escape.

It's easier to transfer the calzone in and out of the oven if you put it on parchment paper. Slide the calzone in and bake for about 25 minutes at 400 degrees until the calzone is a deep golden brown and cooked through. Remove and let cool for a minute or two before serving.

Extra calzones can be reheated in the oven for 15-20 minutes at 350 degrees or you can freeze them as well. If you freeze them, you should be able to transfer them straight from the freezer to the oven but you'll have to reheat them for an extra 10-15 minutes.
Nutrition
Serving:
1
Calzone
|
Calories:
885
kcal
|
Carbohydrates:
66
g
|
Protein:
39
g
|
Fat:
51
g
|
Saturated Fat:
21
g
|
Polyunsaturated Fat:
5
g
|
Monounsaturated Fat:
22
g
|
Cholesterol:
158
mg
|
Sodium:
1652
mg
|
Potassium:
435
mg
|
Fiber:
3
g
|
Sugar:
1
g
|
Vitamin A:
1140
IU
|
Vitamin C:
4
mg
|
Calcium:
400
mg
|
Iron:
3
mg
Did you make this recipe?
Sausage and Chard Calzones
The Dough
If you have the time, this dough is pretty easy to pull together. It's practically a pizza dough. Just stir together the flour, yeast, and salt in a mixing bowl and then add in the olive oil and warm water. If you have a stand mixer you can use the dough hook to mix everything together for about eight minutes until the dough is nice and smooth.
Alternatively, you can stir the ingredients together and then knead the dough for 8-10 minutes until it's smooth. If at any point the dough is really sticky, add a bit more flour. If it's really dry and cracking, add more water by the tablespoon.
Either way works fine and when you have your dough formed, just add it to a lightly oiled bowl. Let it rise for about two hours.
Ideally your dough will at least double in size. I think my quadrupled because I left it for 3-4 hours. Yikes!
The Fillings
There are two fillings for these calzones and neither are particularly hard. The first filling layer is a simple sausage and chard combo. Pretty classic Italian here. I like to use the spiciest pork sausage I can find, but feel free to use any sausage really.
On the chard, be sure to rinse it really well with cold water. The leaves will hang onto dirt like crazy.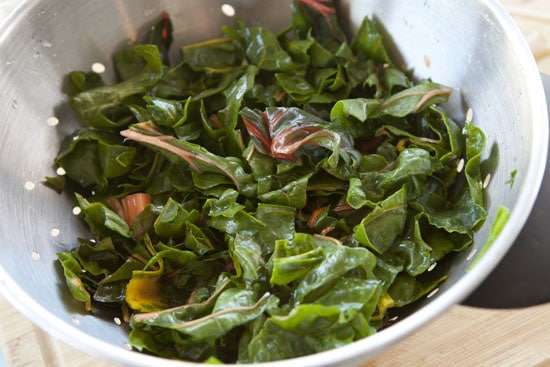 Remove the casing from the sausage and add it to a large skillet with a drizzle of oil. Cook it over medium-high heat until it's nicely browned and cooked through. Break it up as it cooks.
Then add the garlic and chard and continue to cook until the chard has wilted down, just a few more minutes.
For the cheese filling, just stir together the ricotta, grated mozzarella, egg yolk, and oregano. Pretty easy.
Making a Calzone
The dough recipe that I gave in this post makes six really large calzones. I ended up with about 34 ounces of dough which I divided into roughly six even pieces. So if you're using store-bought dough, you'll need at least two pounds to get the job done.
When your dough is divided, roll one piece into about an eight inch round. I like to work on parchment paper which makes it easier to transfer to and from the oven later.
When the dough is rolled out, layer on about a sixth of your cheese mixture. You can just eyeball it.
Then a big scoop of the sausage mixture. You get the idea.
Then fold the dough over and crimp the edges to seal it well.
Brush the finished calzone with olive oil and sprinkle it with kosher salt.
Bake this sucker on a pizza stone if you have one that's been preheated to 400 degrees Fahrenheit. I just literally moved the whole parchment paper thing to my stone and let it bake for 25 minutes.
The parchment paper makes it easier to remove also and will catch any fillings that spill out.
Let these cool briefly before biting into them.
If you have leftovers, you can store them in the fridge once they cool and reheat them in a 350 degree oven for 10-15 minutes. You can also wrap them tightly in foil and freeze them. If you freeze them, you can move them straight from freezer to oven, but they'll need closer to 25-30 minutes to thaw and reheat.
These Sausage and Chard Calzones are a bit of work, but they are some seriously delicious calzones.