It's a snowy, cold week here in Denver, which means I'm craving warming comfort food like this Root Vegetable Stew. It's packed with delicious, healthy vegetables but is also a wonderfully hearty soup that is all I want on a chilly day.
It's no surprise that one of the most common New Year's resolutions is to eat healthier, but whenever I hear that from people I try to convince them to change their resolution to COOK MORE. If you feel comfortable in your kitchen and just spend more time making your food, it'll be healthier.
This stew, for example, does require some prep work. There's some serious peeling and chopping, but once you get that done, it's a simple, one-pot meal.
What is a Ribollita Stew?
I made this root vegetable stew in the style of a classic Ribollita, which is an old-world Italian stew that uses leftover bread to thicken the stew. You can use any leftover bread you have to thicken the stew or buy a nice loaf from your bakery. Sometimes you can even get a good deal on a loaf that's a few days old, which is perfectly fine for this stew.
The Vegetable preparation
As with many recipes, the hardest part of this recipe is just chopping and peeling all the veggies: onions, carrots, celery, parsnips, and beets. If you are trying to make this stew on a weeknight, I recommend doing this part in advance. You could chop this stuff the night before and have it ready.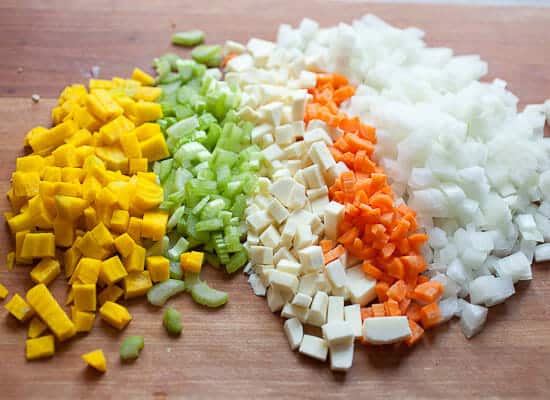 Just try to get everything roughly the same size. It doesn't have to be perfect.
Heat a large sturdy pot (like a dutch oven) over medium heat. To make the last part of this recipe easier, it helps if your pot is oven (broiler) safe.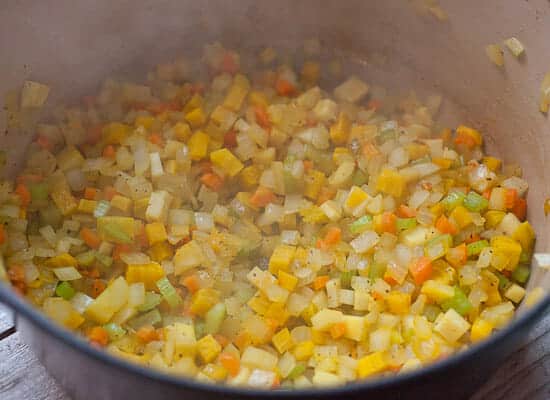 When the oil is hot, add all the chopped veggies and let them cook until they soften (5-6 minutes). Season them with kosher salt and pepper obviously.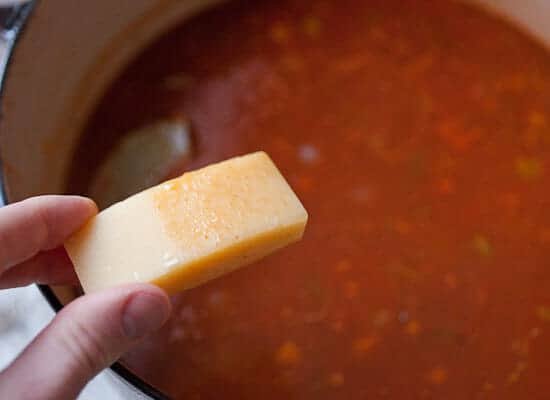 Next, add the tomato paste and garlic and stir that into the veggies for 30 seconds. Then add the diced tomatoes and vegetable stock.
Now for two flavor add-ins: a bay leaf and a Parmesan rind! You need a fair amount of Parmesan for the cheese bread toppers for this stew, but if you don't have a parm rind, you can just leave it out. You can also leave out the parmesan rind if you want to make this a vegan soup.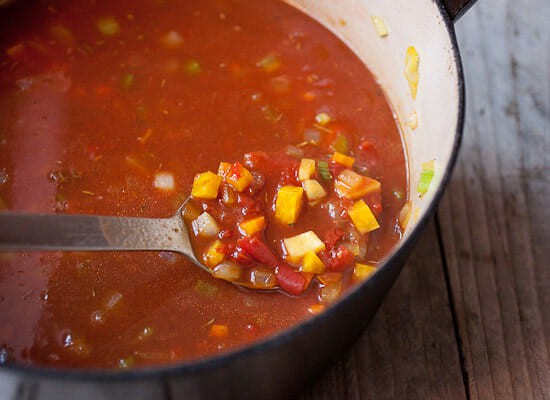 Bring that mixture to a simmer. It'll be looking good already!
Finishing the Root Vegetable Stew
Now for the finishing pieces: Kale, white beans, and bread. You can use any bread to thicken this stew, but a good sturdy bread like sourdough is best.
Stirring in these ingredients will give the stew some extra texture and really make it feel like a full meal. It's much more than a soup appetizer!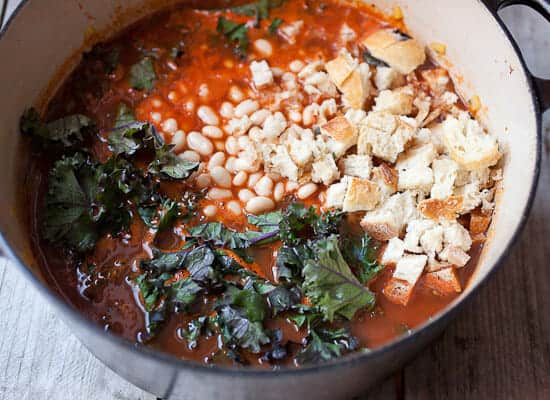 The Cheese Bread Toppers
There's some bread in the ribollita that helps thicken it, but I like to add these to the top of the stew also for an extra touch.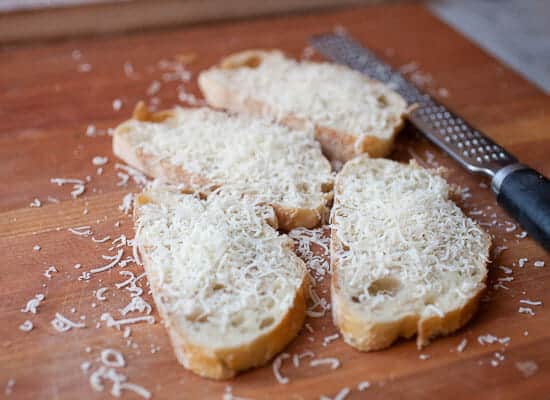 Just cut a few slices of sturdy bread and top them with a good amount of grated Parmesan (maybe 2 tablespoons per piece).
Then preheat the broiler in your oven and nestle the bread pieces in the finished root vegetable stew.
Stick the whole thing under the broiler for 1-2 minutes until the bread is crispy and the cheese browned.
Then you can serve it up!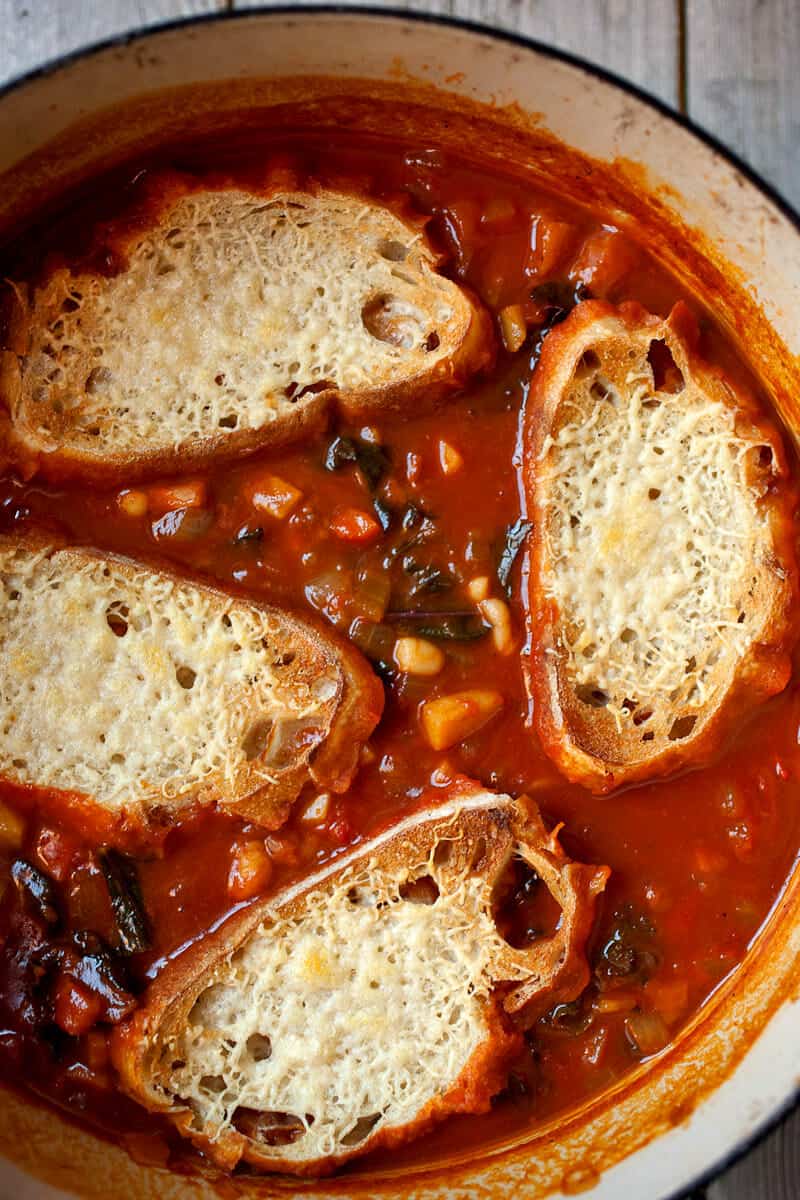 If you aren't sure if your pot is broiler-safe, don't risk it. You can just make the cheese bread toppers on a sheet pan and serve them with the root vegetable stew! The nice thing about broiling them in the stew is 1) less dishes and 2) the bread soaks up some of the stew but gets crispy on top!
If you're looking for a good way to kick off a healthy year, try cooking more and start with this awesome root vegetable stew!
Root Vegetable Stew
This hearty winter stew is packed with root veggies like parsnip and golden beets and thickened with any bread you have on hand.
Ingredients
3

tablespoons

olive oil

1

medium onion

,

diced

2

medium carrots

,

peeled and chopped

2

celery stalks

,

chopped

2

medium golden beets

,

peeled and chopped

1

medium parsnip

,

peeled and chopped

2

cloves

garlic

,

minced

1

tablespoon

tomato paste

1

28 oz. can diced tomatoes

1

quart

vegetable stock

2

cups

chopped kale

1

15 oz. can cannellini beans, drained and rinsed

2

cups

stale bread

Parmesan rind

,

opt.

1

bay leaf

Salt and pepper
Cheese bread toppers:
4

slices

sturdy bread

½

cup

grated Parmesan cheese
Instructions
Chop all the vegetables (onions, carrots, celery, beets, and parsnip) so they are roughly the same size. They don't have to be perfect.

Add olive oil to a large oven-safe pot like a dutch oven over medium heat. Add the chopped vegetables and cook until they are softened, 5-6 minutes. Season with salt and pepper.

Add garlic and tomato paste to the vegetables and cook for 30 seconds, stirring the paste into the veggies. Then add diced tomatoes and vegetable stock. Bring stew to a simmer and turn heat down to low.

Add chopped kale, bread, drained beans, Parm rind, and bay leaf. Stir together, turn heat down to low, cover, and simmer stew for 20 minutes.

Remove bay leaf and rind and season stew to your liking with salt and pepper.

For bread toppers:

Preheat broiler in oven. Slice bread into 1/4-inch slices. Top each piece with a layer of grated parmesan cheese. Nestle the cheese bread pieces in the stew and place under the broiler for 1-2 minutes until bread is crispy and cheese is melted.

Serve stew in big bowls with a cheese bread topper in each bowl.

(NOTE: If your sturdy pot isn't broiler safe, you can make cheese toppers on a baking sheet and then just serve them in the stew.)
Nutrition
Serving:
1
bowl
|
Calories:
431
kcal
|
Carbohydrates:
62
g
|
Protein:
15
g
|
Fat:
14
g
|
Saturated Fat:
3
g
|
Polyunsaturated Fat:
3
g
|
Monounsaturated Fat:
6
g
|
Trans Fat:
0.03
g
|
Cholesterol:
7
mg
|
Sodium:
1312
mg
|
Potassium:
543
mg
|
Fiber:
8
g
|
Sugar:
12
g
|
Vitamin A:
6095
IU
|
Vitamin C:
30
mg
|
Calcium:
281
mg
|
Iron:
5
mg
Did you make this recipe?
Here are a few other great recipes to try!