As you might imagine, over the year I've received many (MANY) kitchen-related gifts from relatives and friends. But the truth is that I've pretty much amassed all the tools I need for the kitchen and rarely love something that is gifted to me.
But this year I got a super cool gift that I've always had my eye on and just never got around to buying for myself: A BIG molcajete!
After seasoning and making the obligatory guacamole, I turned my attention to cooking in my cool new kitchen tool and this Queso Molcajete was the result.
What is a Molcajete?
A Molcajete is the Mexican version of a mortar and pestle. You can buy them in various sizes, but the big ones are particularly wonderful. They are HEAVY and usually carved out of a volcanic rock.
Molcajete are great for grinding dried chiles, spices, or lightly grinding up avocados for a great guacamole recipe.
One thing that people don't think of is that because a molcajete is made out of volcanic rock, it can be actually put in the oven without issue. It's so heavy that it retains heat super well and is great for cooking and keeping food warm!
A Big Warning on Heating a Molcajete
You should always check your instructions on your molcajete before putting it in the oven. Most are fine to cook in, but there might be exceptions!
Also, if you do cook in the molcajete be very careful to let it cool completely before adding water to it. If you were to stick it in the sink while it is hot, it will most likely crack and you will down one molcajete!
No Molcajete? Try my Microwave Queso with Green Chiles!
Seasoning the Molcajete
If your molcajete is brand new it will probably include instructions on seasoning it. This process just helps to fill in some of the holes in the molcajete and remove any loose pieces of rock from the surface. My version recommended grinding a lot of white rice in the molcajete. I did that a few times until the rice was no longer greyish after grinding. Pretty easy!
You can also clean the molcajete with a brush and water. If you use any soap, use a very mild soap with no fragrance and rinse it really well and let it dry completely after washing!
Okay… all of that said, onto the cooking!
Roasting Poblano peppers
I like to roast my poblano peppers right on the gas stove. it takes just a few seconds and is the fastest an easiest way to get some char on them. You can also place them under a broiler if you don't have a gas stove.
Once the peppers are charred, put them in a bowl and cover them with plastic wrap. Let them steam for a few minutes and then you can peel them easily under running water.
Making the Queso in a Molcajete
I started by sautéing the red onion and garlic in a skillet with a drizzle of oil or butter. I used these to top my queso as it
For the queso mixture, I used mozzarella and queso fresco for my queso, but feel free to take some liberties with the cheeses you use!
Also, stir in some spices. I used cumin, chili powder, and salt and pepper. Pretty standard!
Now for the fun part, transfer the queso to your molcajete and add the poblanos on top along with the sauteed red onions and garlic.
The downside of using a molcajete to make queso is it takes much longer to bake it in the oven. Depending on your molcajete you'll need to bake this queso for probably at least 40 minutes. I ended up baking mine for close to an hour to get it bubbly and delicious.
The UPSIDE of baking the queso in a molcajete is worth the baking time. The queso stays beautifully melted for SO long. The stone retains an insane amount of heat and slowly warms the queso. You can serve the queso right out of the molcajete. Just keep it on a baking sheet or something to protest your surfaces from the direct heat.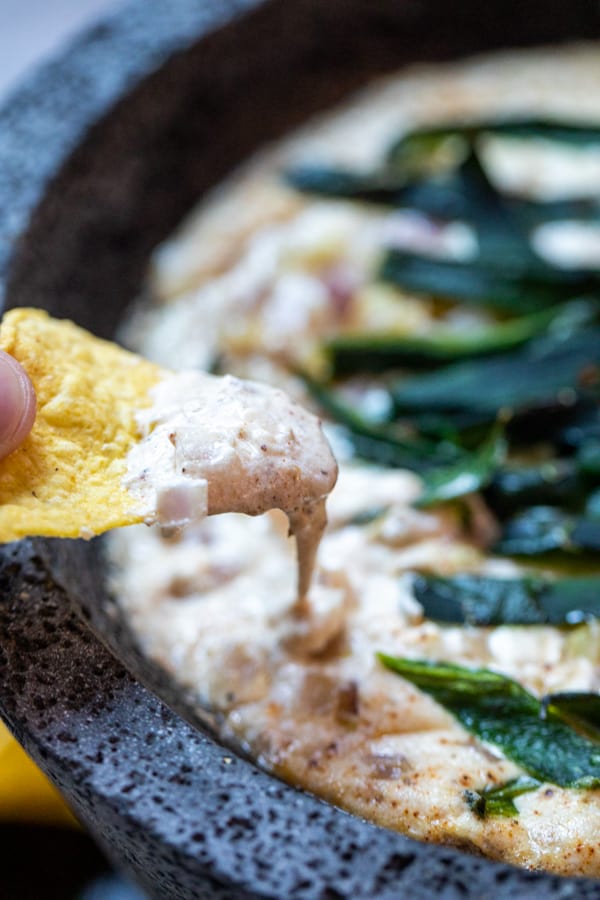 As an experiment, I left my queso molcajete out on the counter and it was still melted an HOUR after I cooked it. That would be unheard of if you used traditional bakeware.
Oh… and the queso was delicious!
If you don't have a molcajete!
No worries. You can still make this baked queso. Prepare it the same way and add it to a greased baking dish or cast iron skillet. It'll need less baking time, probably 25-30 minutes but will be great right out of the oven.
Anybody have a molcajete? Leave a comment with other ideas or tips!
Queso Molcajete with Roasted Poblano Peppers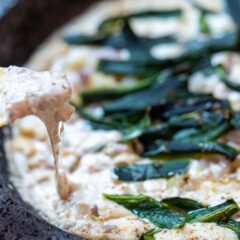 Making baked queso in a molcajete is a great way to keep queso warm for much longer than normal. I used a mix of cheeses and spices along with roasted poblano peppers.
Ingredients
2-3

poblano peppers

,

roasted and peeled

½

cup

diced red onion

2

cloves

garlic

,

minced

1

cup

grated mozzarella cheese

8

ounces

queso fresco

,

crumbled

1

cup

crema

½

cup

sour cream

1

teaspoon

ground cumin

1

teaspoon

chili powder

½

teaspoon

black pepper

½

teaspoon

salt

Tortilla chips

,

for serving
Instructions
Preheat oven to 375˚F.

To roast poblanos, if you have a gas stove, place them directly over the flames, turning every few seconds with tongs until well charred on all sides. You can also roast under a broiler until the skins are charred. When poblano peppers are well charred on all sides, place in a bowl and cover with plastic wrap. Allow to steam for 5 minutes, then peel the poblano peppers under cold water.

To prepare the queso, saute red onions and garlic in a small skillet over medium heat with a drizzle of olive oil until they are soft, 2-3 minutes. Then remove and add to a bowl along with mozzarella, queso fresco, crema, sour cream, and spices. Stir together well.

Transfer queso mixture to a seasoned molcajete (refer to your molcajete instructions on how to season well). Place sliced poblano peppers on top of the queso.

Place molcajete on a baking sheet and transfer to oven. Bake molcajete for 50-60 minutes until cheese is bubbling hot.

Serve the queso with tortilla chips straight out of the molcajete. It will keep the queso hot for much longer than a normal baking dish.
Nutrition
Serving:
0.5
cup
|
Calories:
294
kcal
|
Carbohydrates:
9
g
|
Protein:
13
g
|
Fat:
23
g
|
Saturated Fat:
9
g
|
Polyunsaturated Fat:
1
g
|
Monounsaturated Fat:
4
g
|
Trans Fat:
0.3
g
|
Cholesterol:
73
mg
|
Sodium:
771
mg
|
Potassium:
195
mg
|
Fiber:
1
g
|
Sugar:
5
g
|
Vitamin A:
978
IU
|
Vitamin C:
33
mg
|
Calcium:
404
mg
|
Iron:
1
mg
Did you make this recipe?
Here are a few other great queso recipes!