I call this my best friend chorizo queso dip because that's the only person you will want to share this with.
Luckily, the dip is fairly rich so eating a whole batch of it by yourself is a seriously tall order. So, find a best friend (okay, or two) and share this big bowl of wonderful.
If you don't have a best friend, make this dip and invite anybody over. You can then become best friends while devouring this chorizo queso dip.
After all, I've always said cooking brings people together!
Just don't bring too many people together or you'll be wishing you hoarded this stuff.
Chorizo Queso
Chorizo queso with spicy chorizo sausage stirred into a creamy cheese dip makes for one of the best queso recipes out there.
Ingredients
¼

pound

spicy chorizo sausage

¼

cup

diced onion

3 ½

ounce

can green chilis

2

tablespoons

all-purpose flour

½

cup

light lager beer

8

ounces

grated cheddar and/or monterey jack cheese

Kosher salt

Fresh cilantro

,

garnish

Tortilla chips

,

for serving
Instructions
Place a medium cast iron skillet over medium heat. Add chorizo sausage and cook until browned. Break up the sausage as it cooks. Add onion and a pinch of salt and continue to cook until onions are soft. Scoop out a few tablespoons of the chorizo mixture for a topping.

Add green chilis to the pan and stir to heat through.

Stir in flour to the mixture and cook for a minute or two to cook out the flour taste.

Stir in beer and it should start to thicken. Once beer is incorporated, add grated cheese and stir to melt the cheese. If queso is too thick, add another splash of beer.

Garnish dip with reserved chorizo and fresh cilantro. Serve immediately with tortilla chips!
Nutrition
Serving:
1
bowl
|
Calories:
235
kcal
|
Carbohydrates:
6
g
|
Protein:
12
g
|
Fat:
18
g
|
Saturated Fat:
9
g
|
Polyunsaturated Fat:
0.5
g
|
Monounsaturated Fat:
3
g
|
Cholesterol:
50
mg
|
Sodium:
449
mg
|
Potassium:
66
mg
|
Fiber:
0.5
g
|
Sugar:
0.4
g
|
Vitamin A:
501
IU
|
Vitamin C:
6
mg
|
Calcium:
276
mg
|
Iron:
1
mg
Did you make this recipe?
How to Make Chorizo Queso Dip from Scratch
There are many queso versions out there that use processed cheese, and those have their time and place. This version though uses real cheese and make a smooth cheesy sauce! It's worth the work for sure!
Starting this dish with spicy chorizo is really important. Some of the fat renders out of the sausage and makes a base for the roux for the cheese sauce, but also it just adds a really rich depth to the queso.
I think chorizo, a spicy Spanish or Mexican sausage, is the best choice, but you can use spicy Italian sausage in a pinch or even spicy veggie sausage. If you use the veggie stuff, you'll have to add a drizzle of oil to the pan.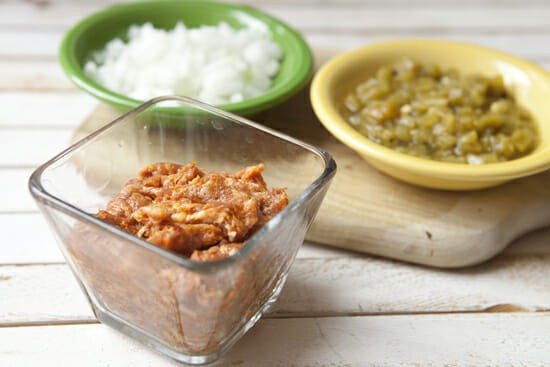 There is no better dish for this queso than a medium-sized cast iron skillet. It heats evenly and you can serve the dip in the same skillet!
The skillet I used for this version was about 8 inches in diameter. If you used a 12 inch pan, you could easily double the recipe.
Start the pan out over medium heat and brown the sausage well as you break it up. Once the sausage is browned, add the onion and a pinch of salt. Cook until the onions soften, just another few minutes.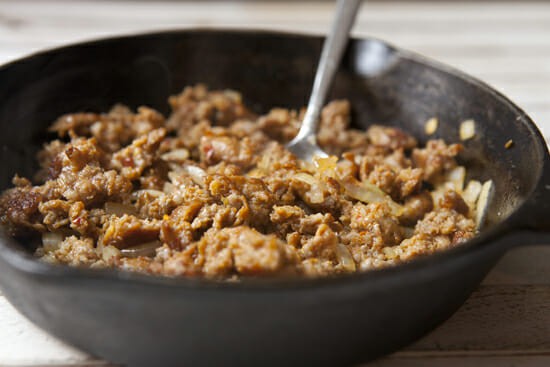 If you want to make the dip pretty later, scoop out a few spoonfuls of the chorizo now and top it on the chorizo queso later.
Then stir in the green chilis and flour. There will be a second when this looks like a mistake, but just trust me. It'll work out.
Making the Queso Sauce
Stir the flour into the mixture and it will get really thick. Keep cooking for a minute to cook out the flour flavor and then stir in the beer.
Now you will have some sort of spicy sausage gravy. To be honest, I think you could pour this on enchiladas and be in pretty good shape.
But, to make queso, you need cheese.
So add cheese now!
I used cheddar and monterey jack for this version because they both melt really well. You can use any cheese that melts well though.
When the cheese is melted, it's ready to go. I recommend seasoning it with a pinch of salt.
Like I said, you can serve this in the skillet you cooked it in. Top with the reserved chorizo and a handful of fresh cilantro.
I had to take a bite immediately.
This is an amazing game day appetizer and if you happen to still be interested in March Madness this weekend, you could do much worse than a big skillet of this queso.
I guess you should probably invite a friend or two as well, but I won't tell if you don't.